Four Seasons Biltmore Santa Barbara Wedding | Tara & Dan
Enjoy this stunning wedding at the Four Seasons Biltmore in Santa Barbara featuring Tara & Dan.
Special thanks to Wedding Kate for coordinating such a gorgeous event!
Read Tara & Dan's review on Yelp!
5 STARS – "Choosing Lin and Jirsa Photography for our wedding and engagement photography was the best decision we have ever made, next to deciding to get married in the first place! Pictures and videos are so important to us…our friends joke that our lives are the most well-documented out of anyone they've ever seen. When it came time to start thinking about wedding planning, the first and most important thing we did was the search for photographers. I remember I had seen an amazing shot on Facebook from an acquaintance's wedding, and I needed to find out who took that photo. Sure enough, it had the Lin and Jirsa logo along the bottom and the rest was history. Every photo on their website is flawless and looks like a work of art. My first concern was location; I was temporarily devastated when I thought they only worked in LA and Orange County, but thank goodness, they travel! They were eager to work at our wedding in Santa Barbara. Our initial meeting with Pye Jirsa was one of the most fun afternoons my family and I have ever had. He is so easy to get along with and feels like instant family! This is so important when meeting photographers; to feel that level of comfort and to be real and honest with what you want for your special day. We couldn't wait to spend more time with him!

They went above and beyond at our engagement session on Victoria Beach in Laguna. Every idea I wanted to try was accepted and built upon in a way I could never have dreamed. Their level of innovation and thinking outside the box was exactly what we were looking for. They spent an extra 2 hours on the beach with us so that we could incorporate the beautiful stars into our pictures! We had the best time and every photo looks like it could be in a magazine.

Our wedding day was perfect. Everything that we had discussed in our pre-wedding meeting was executed to perfection. Pye and his team were everywhere and added so much to the wedding prep. More than just photographers, they were our friends and we were so happy to share those special moments with them! They arrived so early in the morning to scout out perfect locations for our couple's portraits. I truly knew they were amazing when it started raining and they had to think on their feet to come up with new locations to shoot given the weather. The images that they created with the rain, umbrellas and the most beautiful backgrounds I have seen with the water dripping across the photos are out of this world. We could not have asked for a more perfect situation. It was obvious we were dealing with real professionals who wouldn't be thrown by anything! All 1400 photos we received were breathtakingly beautiful, and I don't know how we are ever going to decide which to hang on the wall!

Our video is absolutely beautiful. It brings tears to our eyes within the first 4 seconds! They did a spectacular job of integrating the wedding speeches with touching moments during the ceremony and reception. It looks like a movie you would go see in a theater. The cinematography team was genuinely friendly and a delight to be around on our special day! We are so thankful for these videos to cherish and remember the best day of our lives. Everyone in the studio was very friendly as well and answered all questions so promptly and happily. Jackie is amazing! Using Lin and Jirsa was the best decision and we will definitely use them for any future events!"
Also, be sure to follow us on our Google Plus Page for updates and the latest with LJP, Los Angeles!
Four Seasons Resort The Biltmore Santa Barbara Jewish Wedding Highlight | Tara & Dan from Lin and Jirsa Studios on Vimeo.
Wedding Preparation
Superstition says that rain on your wedding day symbolizes good fortune for the newlyweds – is that reigns true, Tara & Dan must be one lucky couple! We traveled to the Four Seasons Biltmore Resort in Santa Barbara California where we were surprised with a downpour of rain.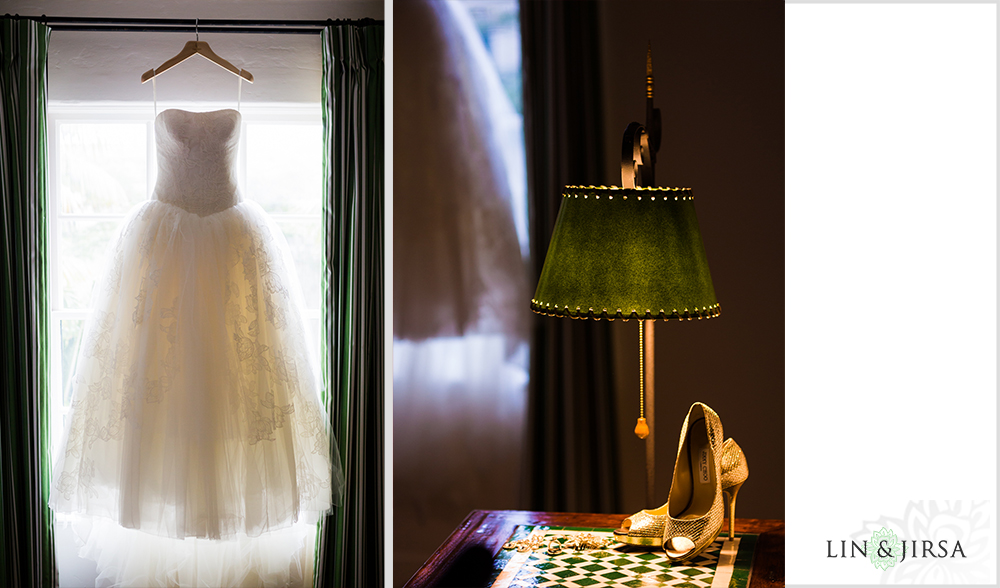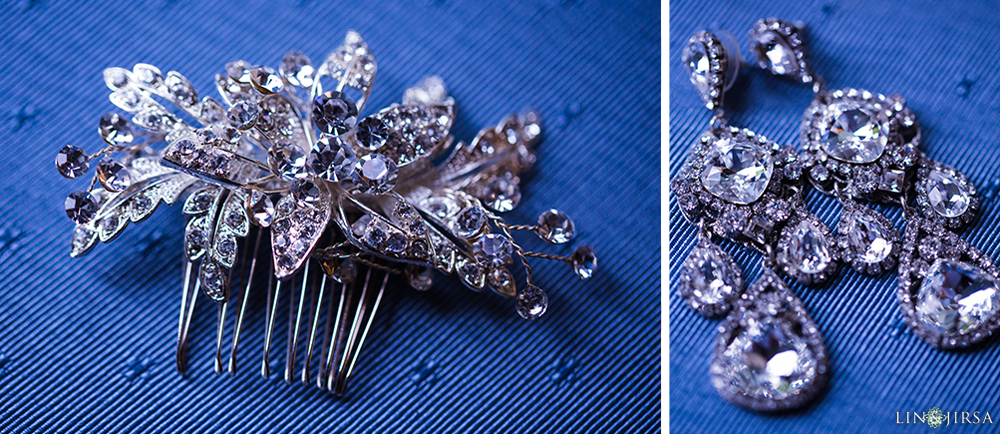 We met our Bride at the lovely Jose Eber Salon at the Hotel, where she and her three beautiful bridesmaids were getting dolled up for the big day.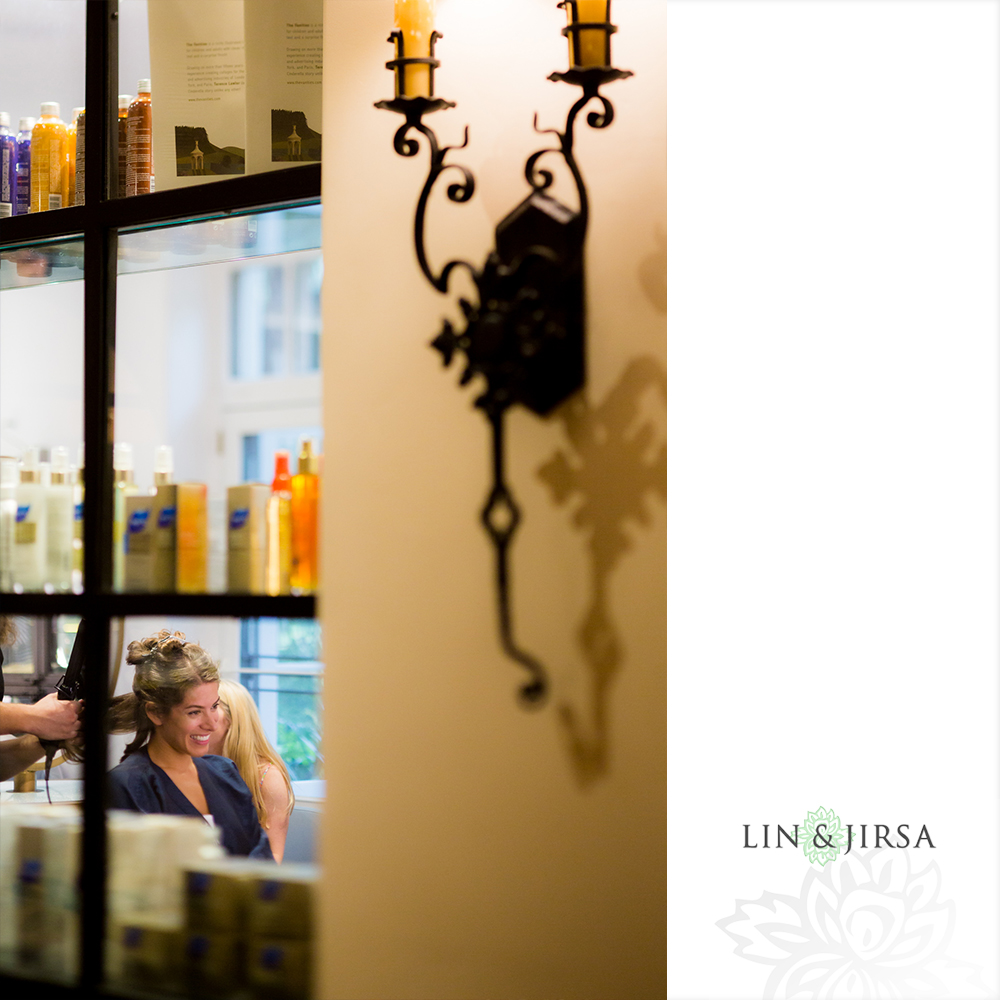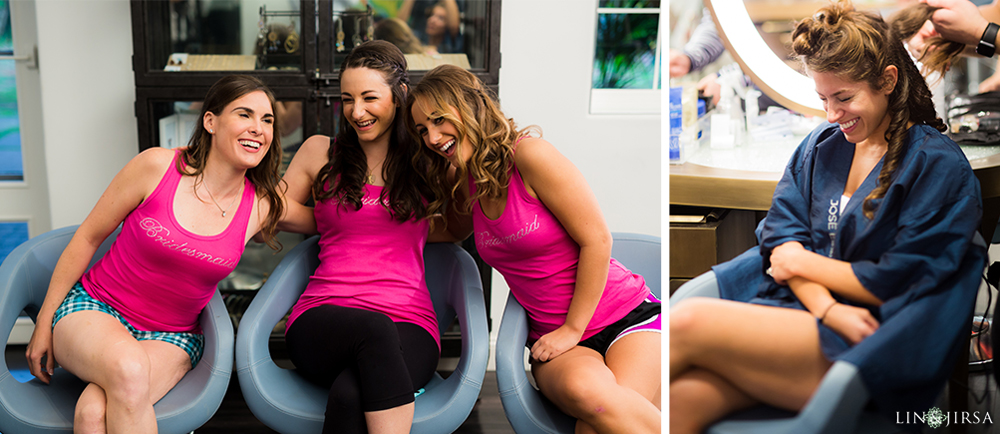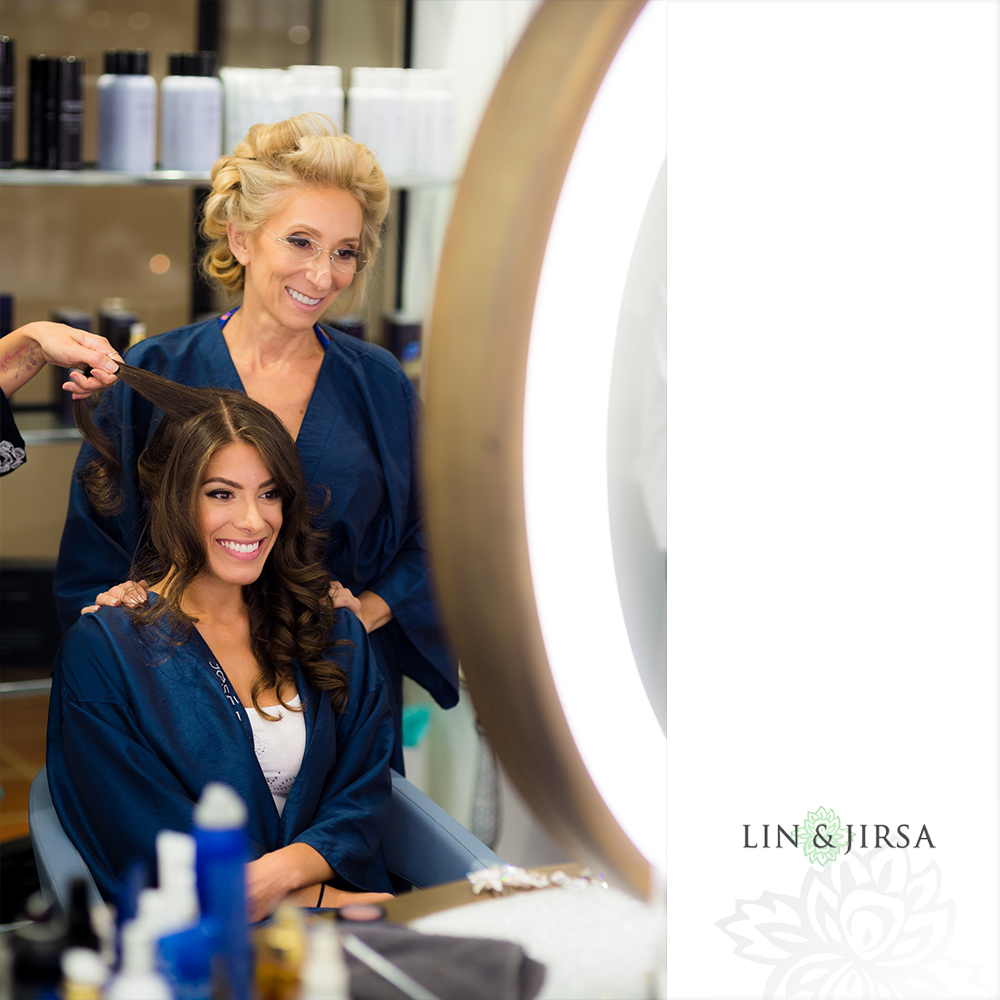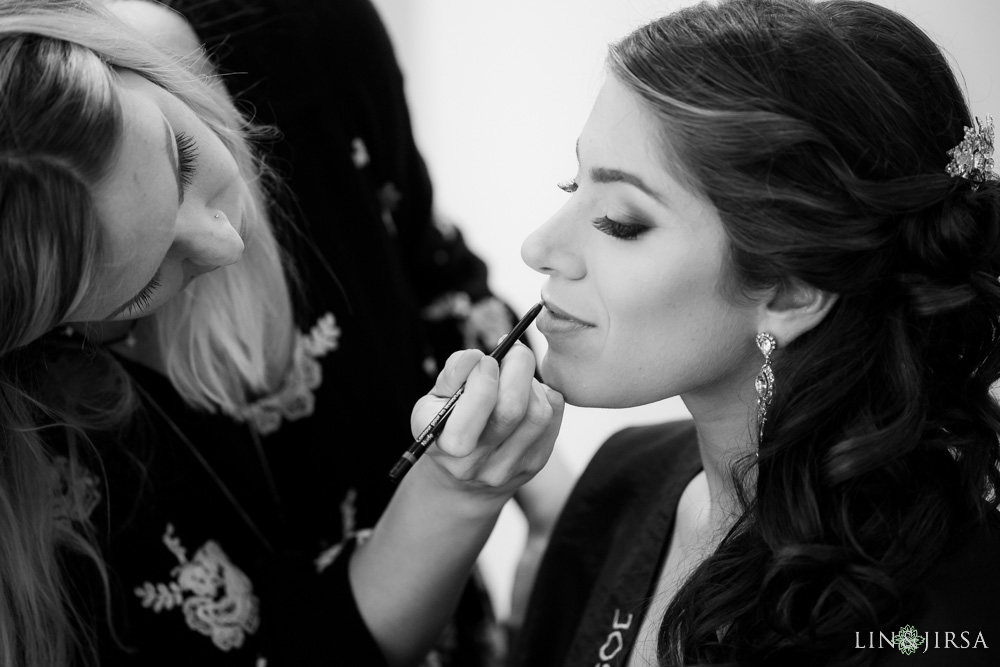 Fun shots like this are a great way for our Bride & her bridesmaids to loosen up and start out the day in a lively way – plus they make for great anticipated candid moments.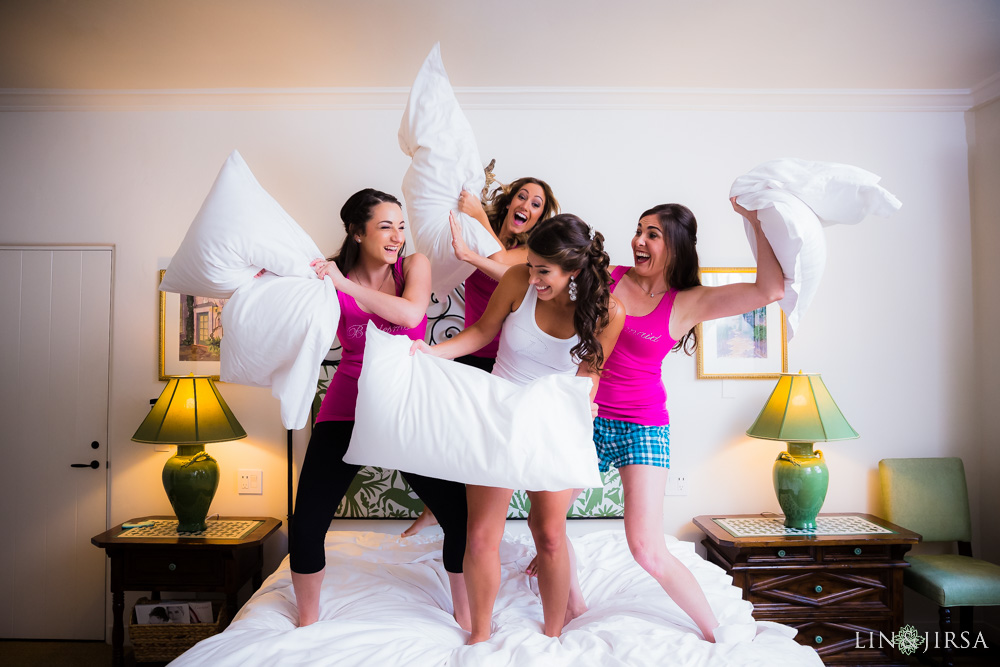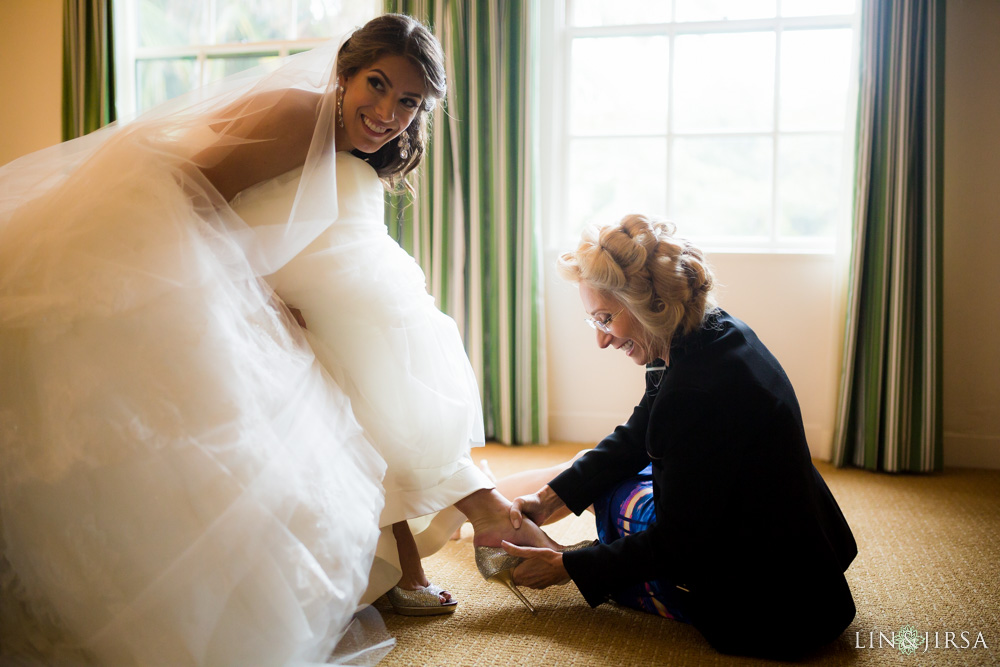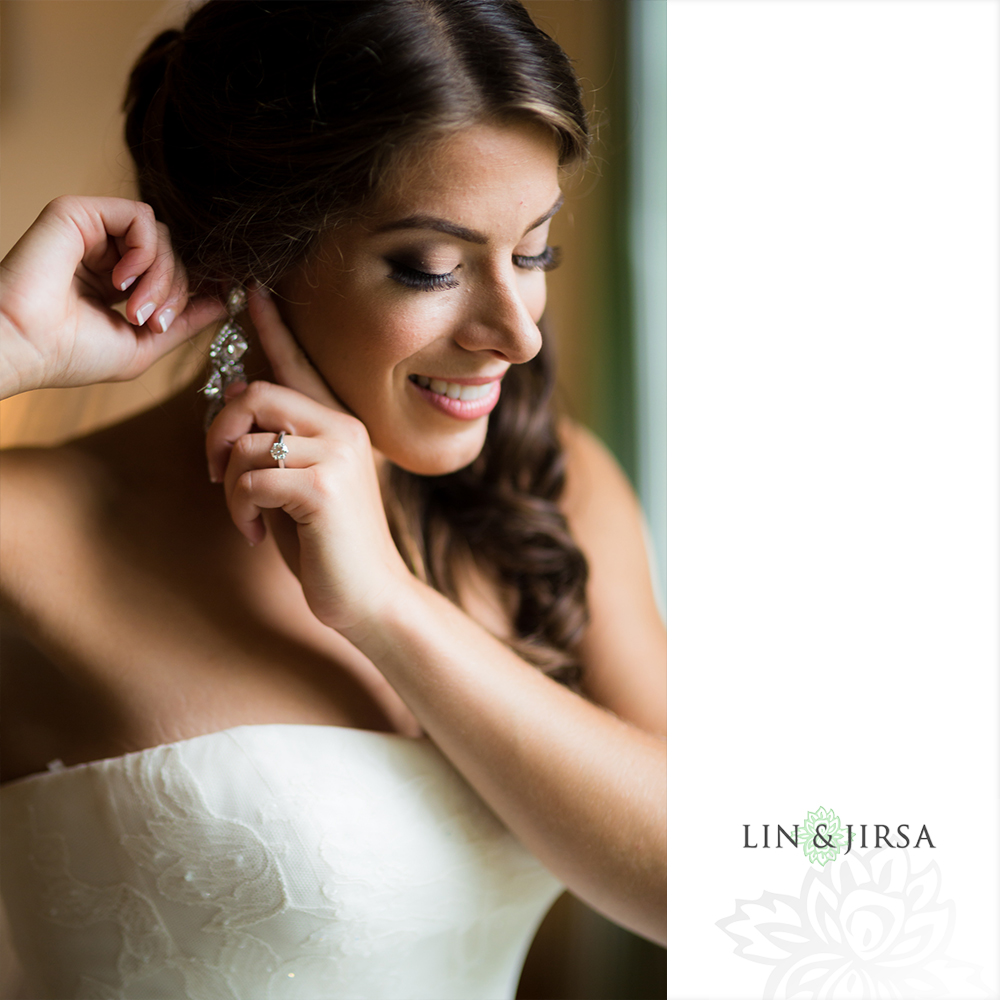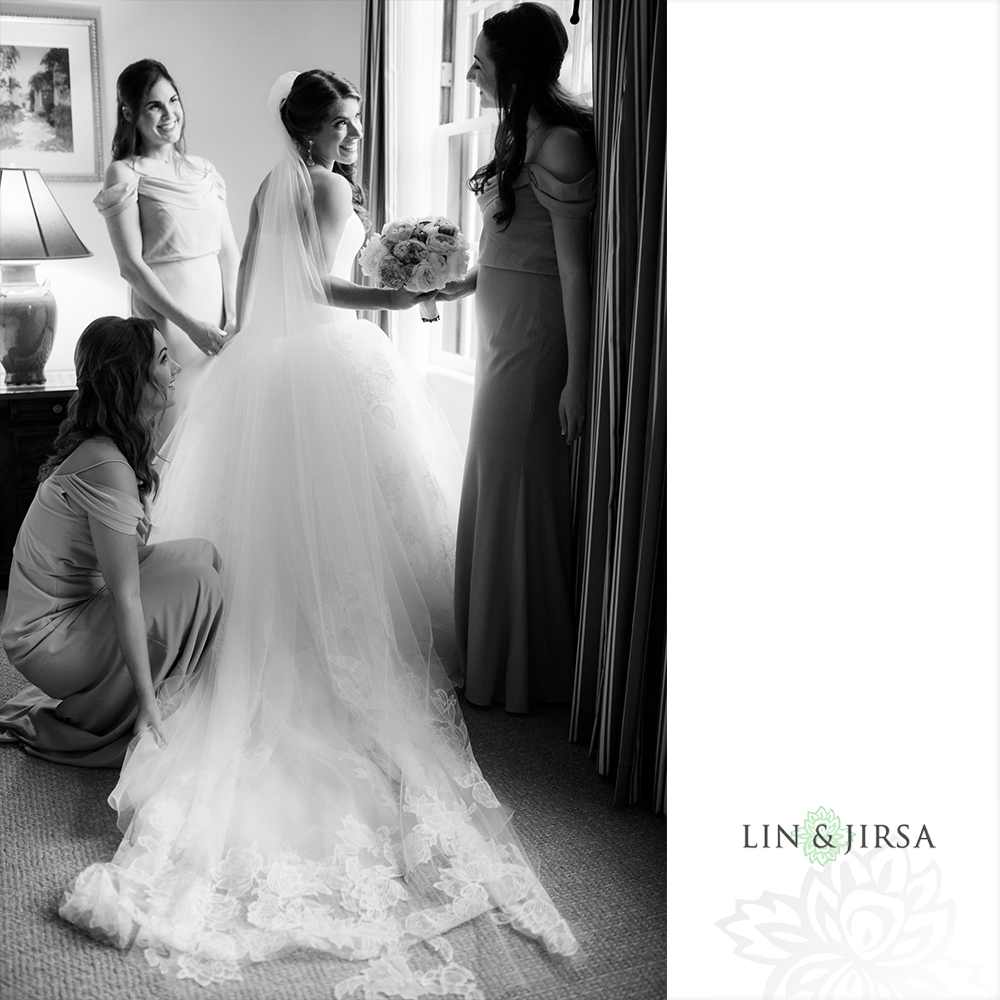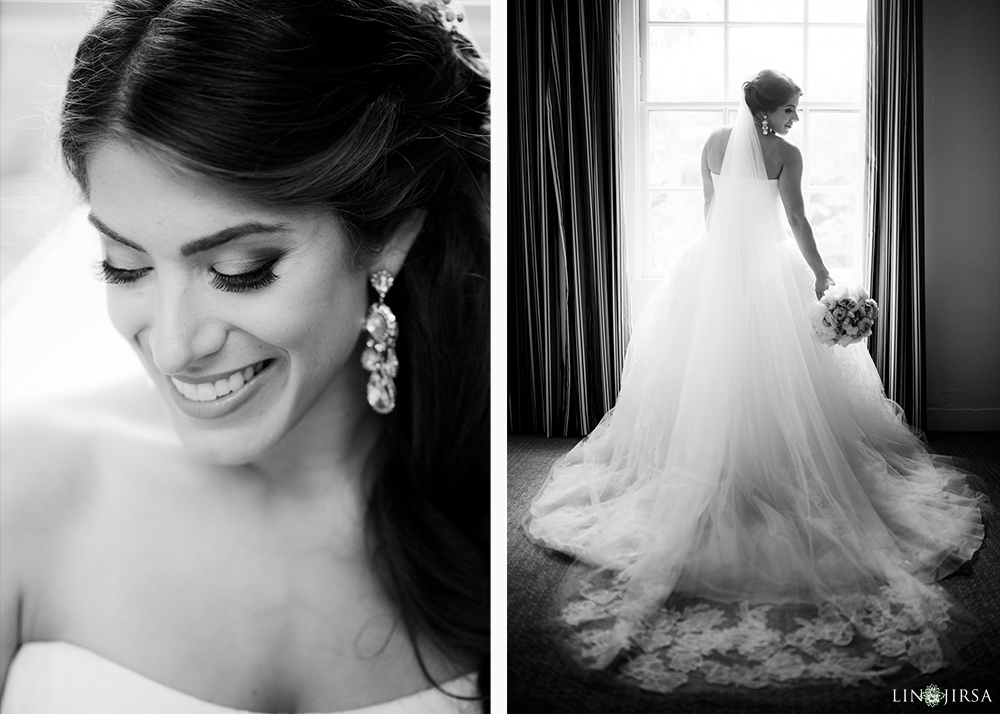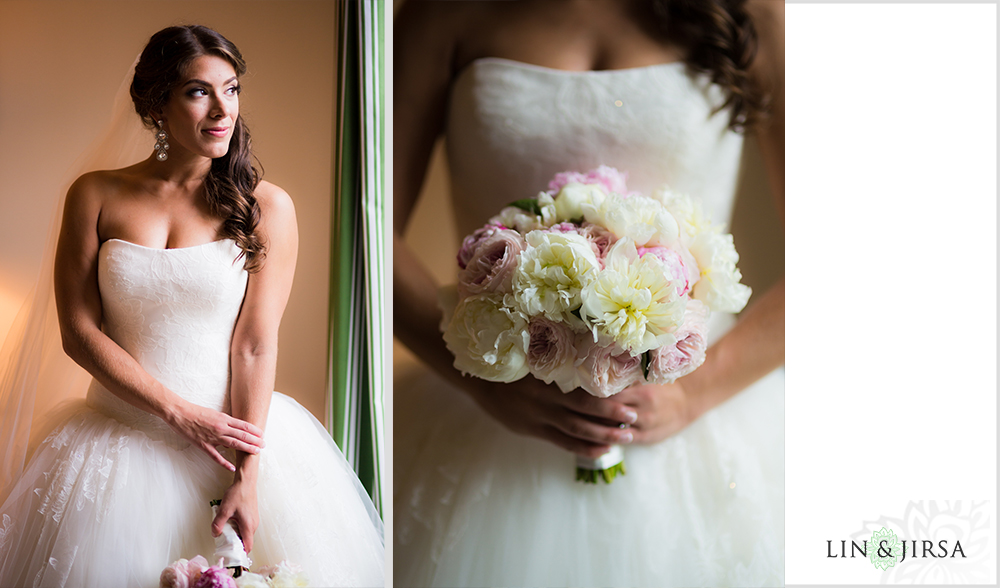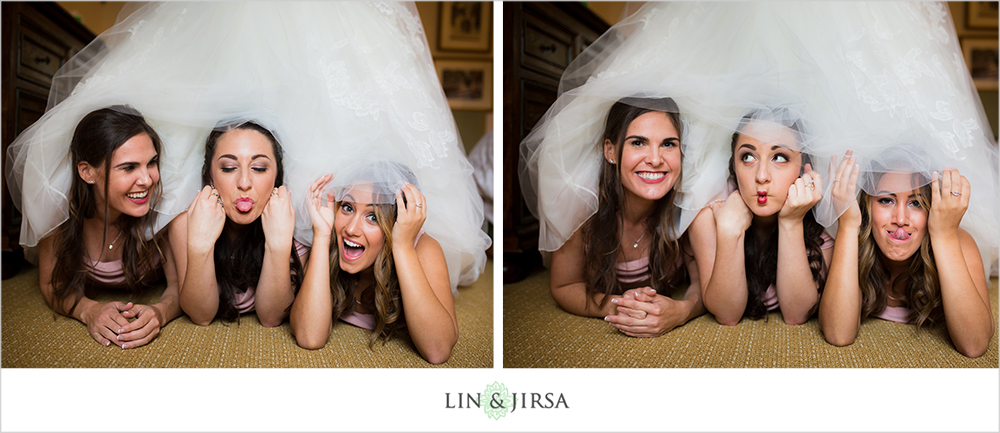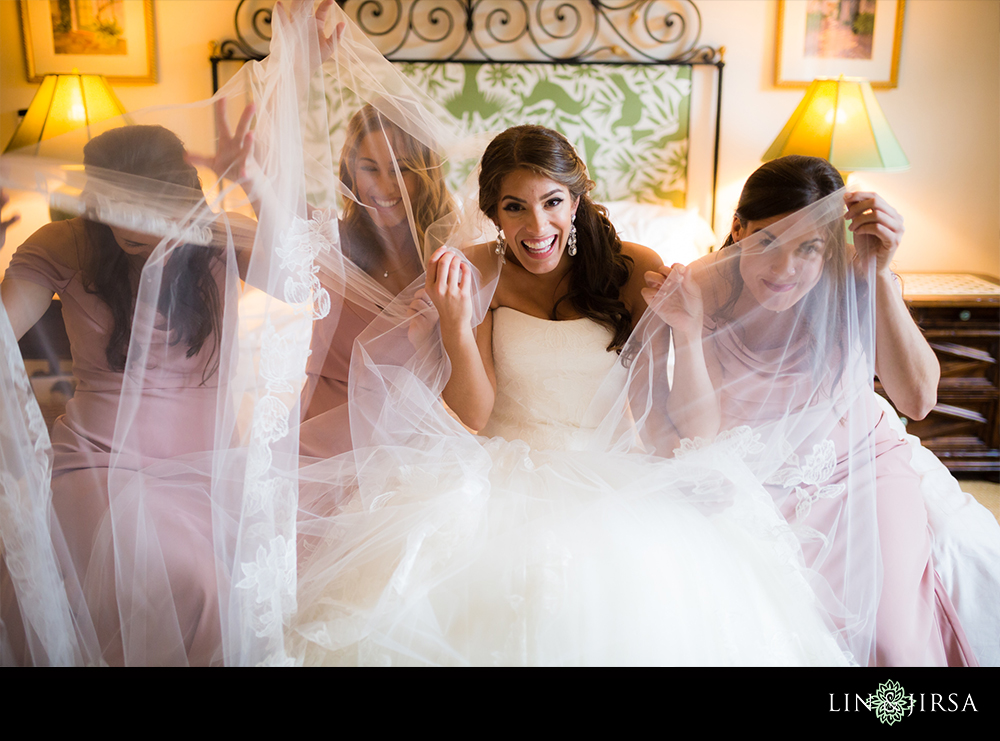 We were able to capture this intimate moment between Tara and her mother as they set out into the rain to meet Dan in the courtyard.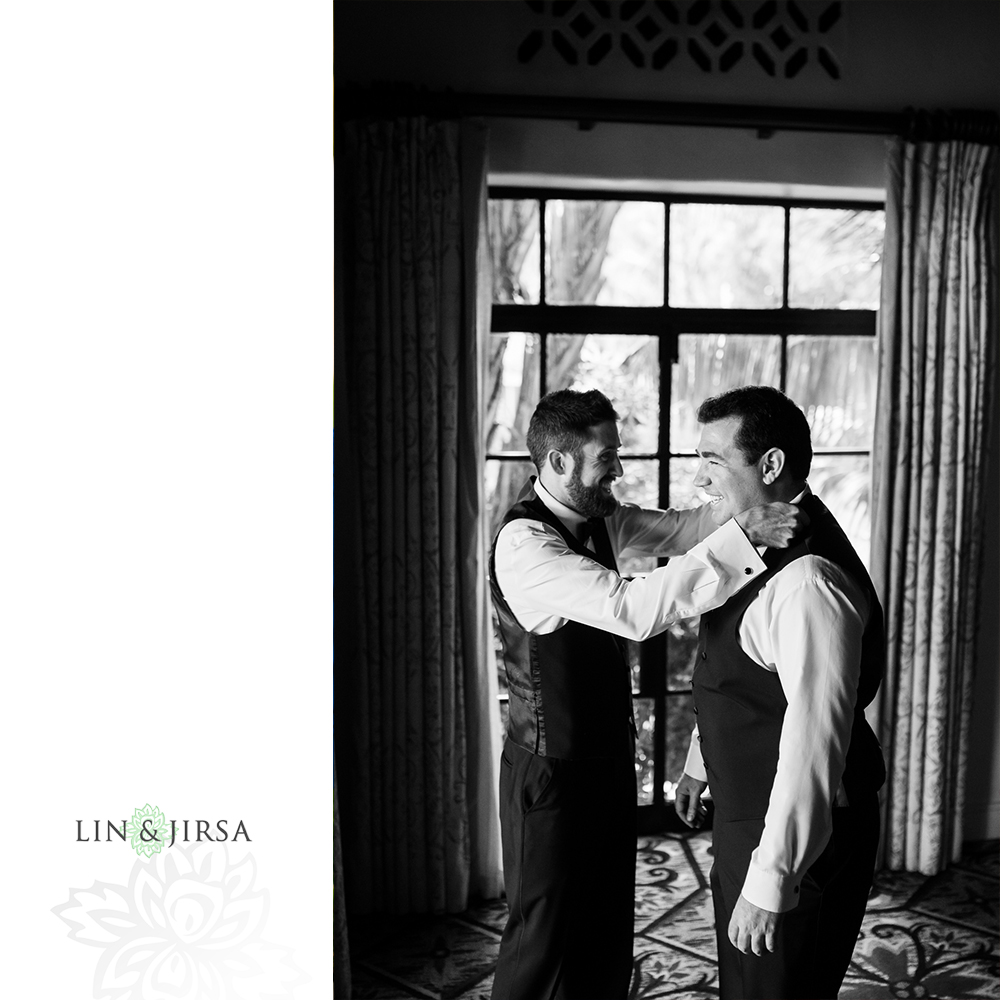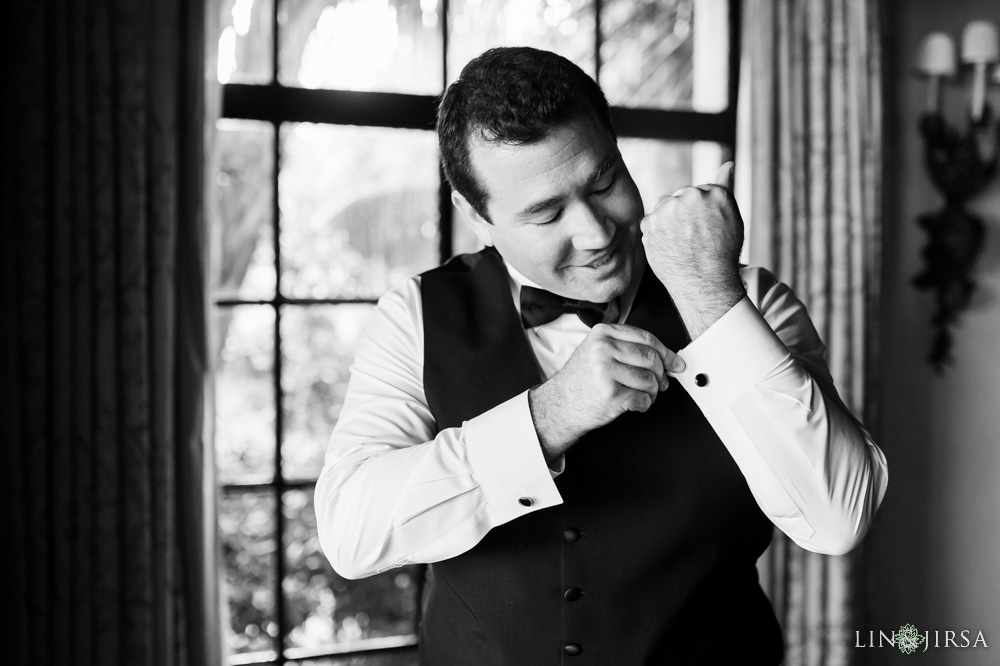 The overcast sky made for a perfect window fill light for these portraits of Dan. We love the dramatic shadow created by the direction of light when we place subjects in front of window light.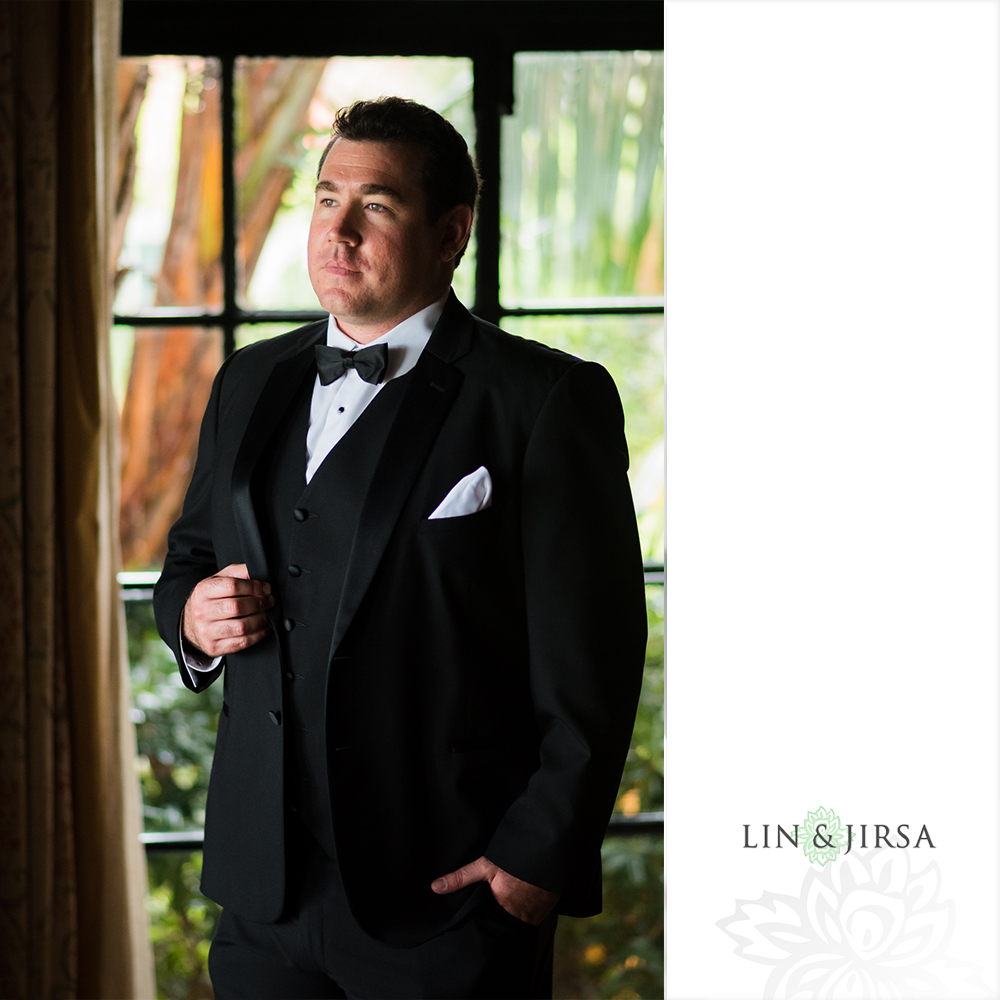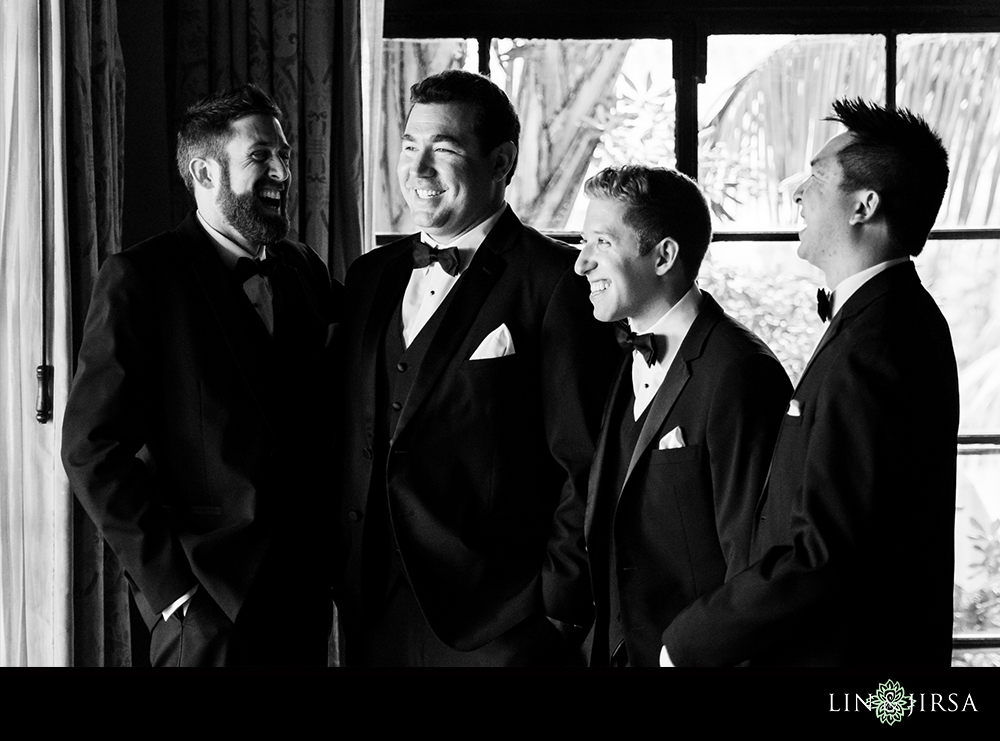 First Look
The Four Seasons Biltmore has an magnificent view of the ocean as well as beautiful Spanish style decor and architecture. We chose this courtyard as our first look location because of this specific walkway- it was the prime spot to capture both Tara & Dan's expressions while also including the architecture and natural elements of the hotel.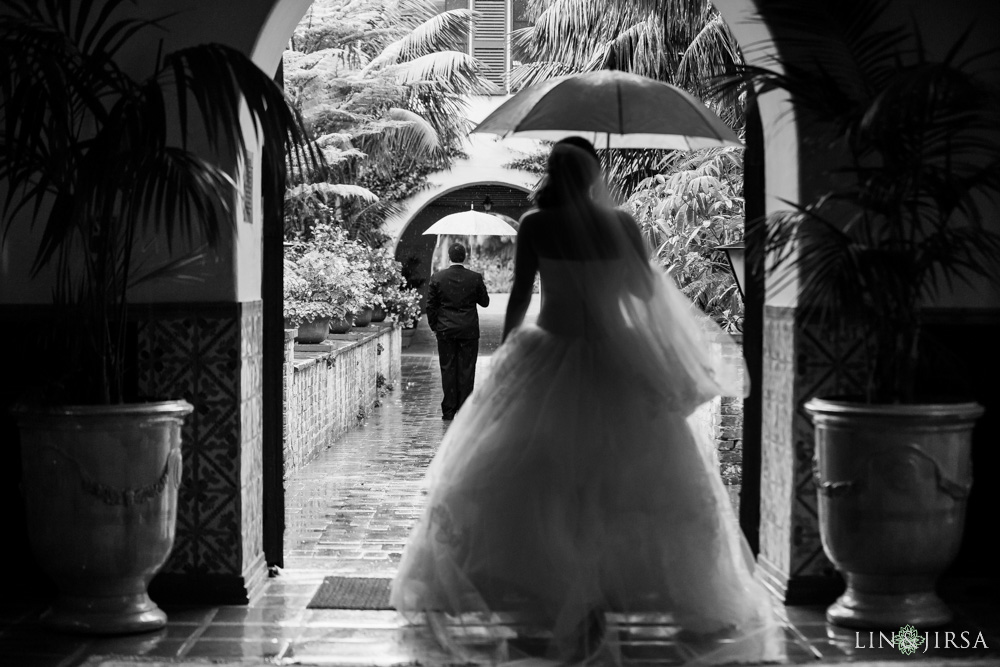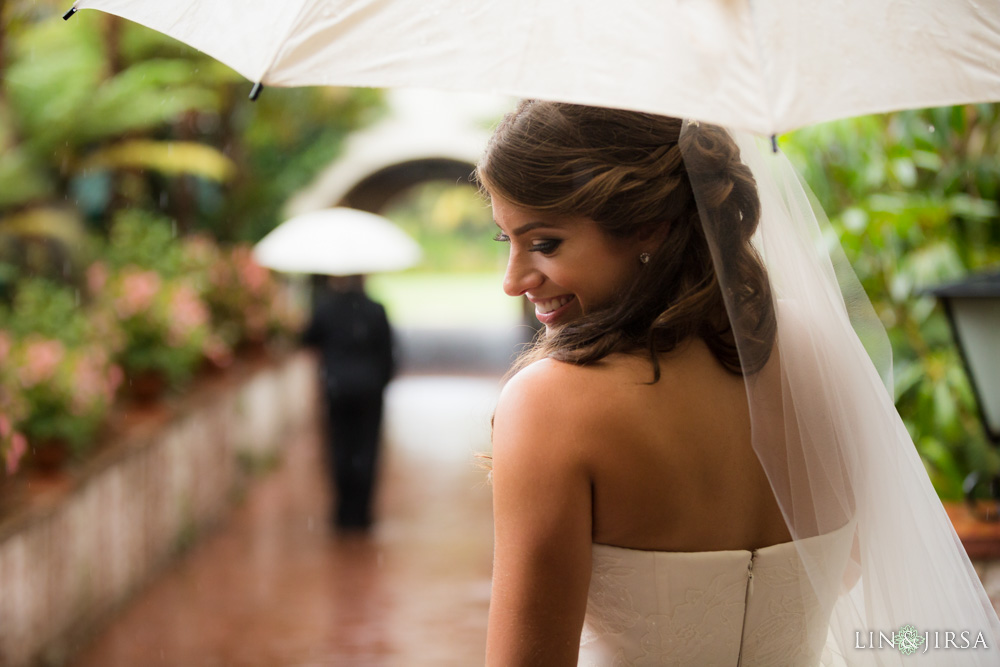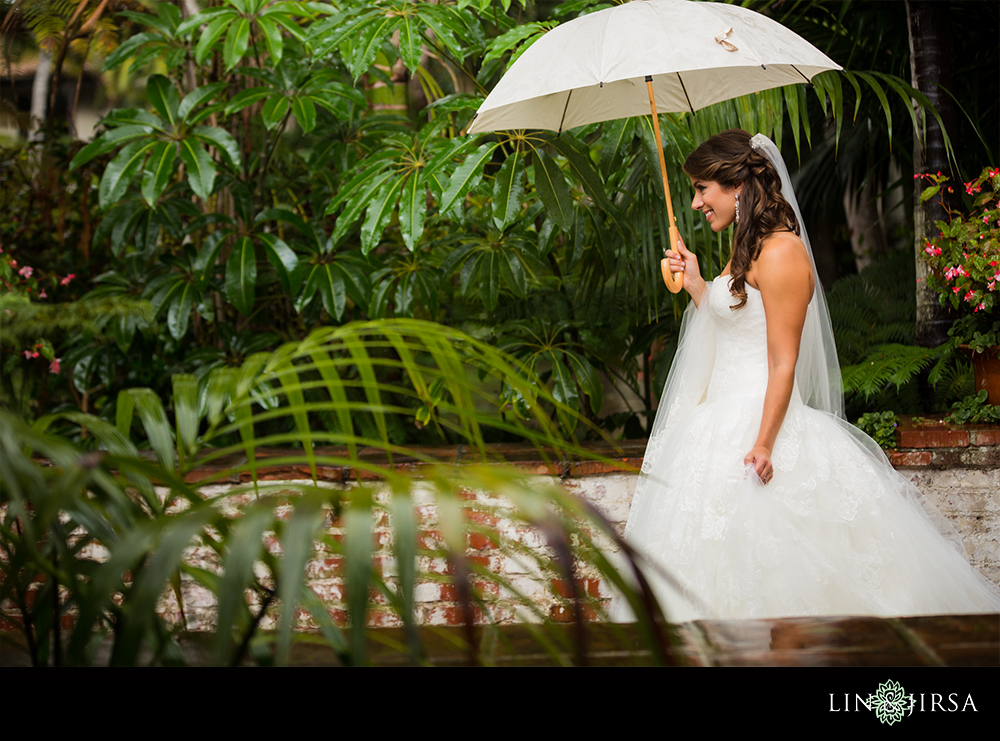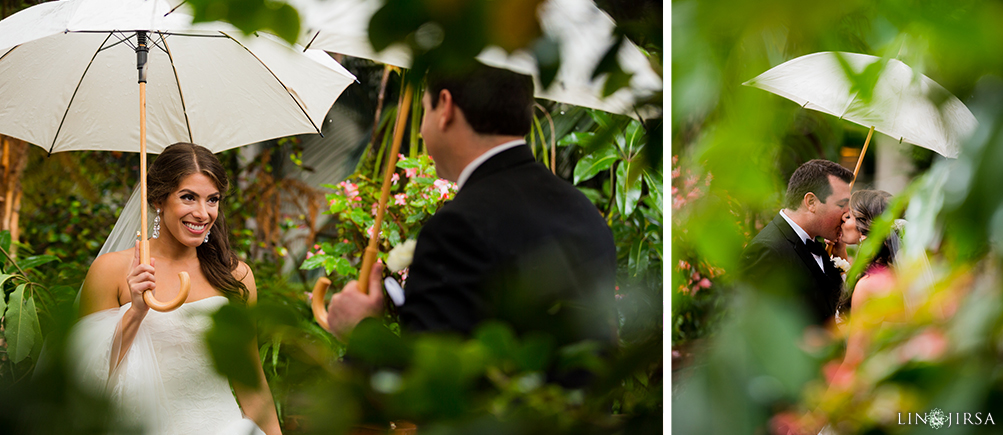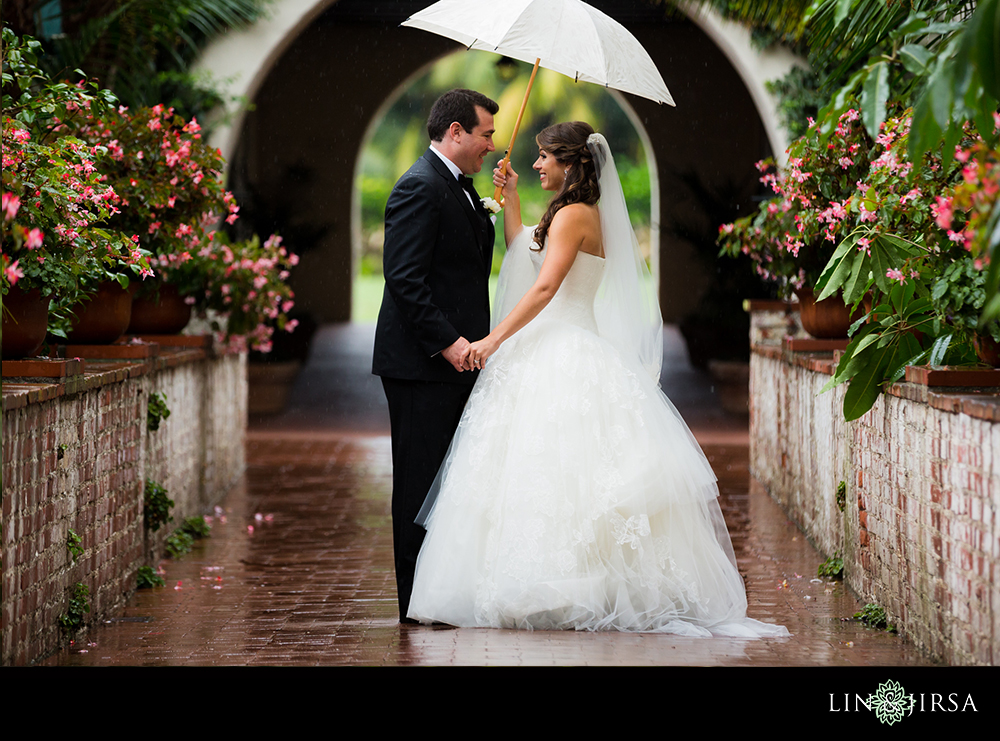 The rain didn't stop us from photographing or filming this special moment between our couple – it added for the perfect journalistic element for this scene. It isn't too often that you get to photograph a Bride kissing her Groom in the rain here in Southern California, so we took advantage of it not knowing if we could be able to have the opportunity later in the day.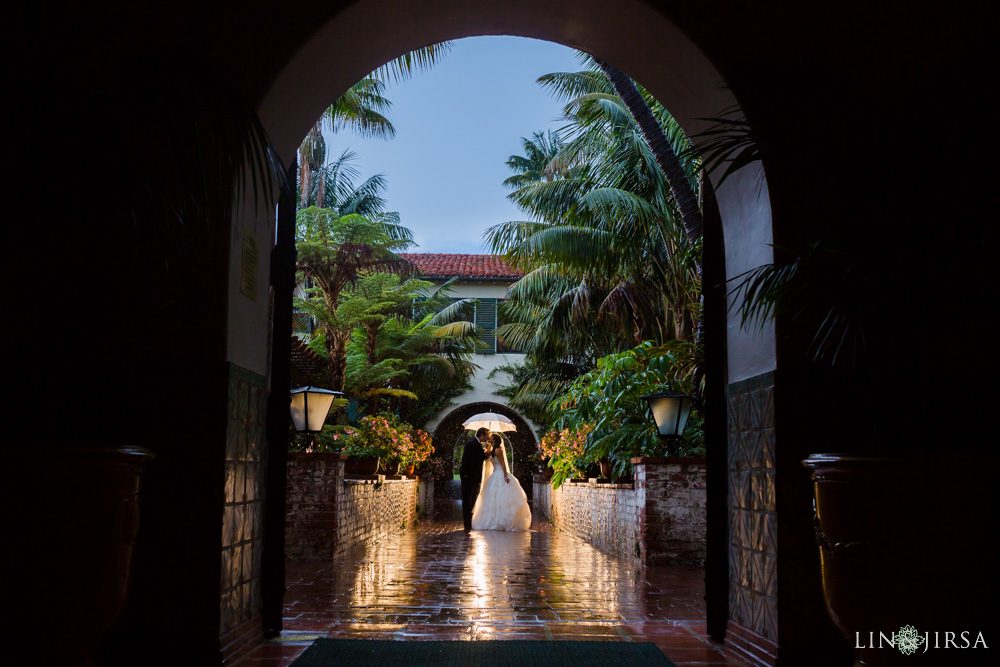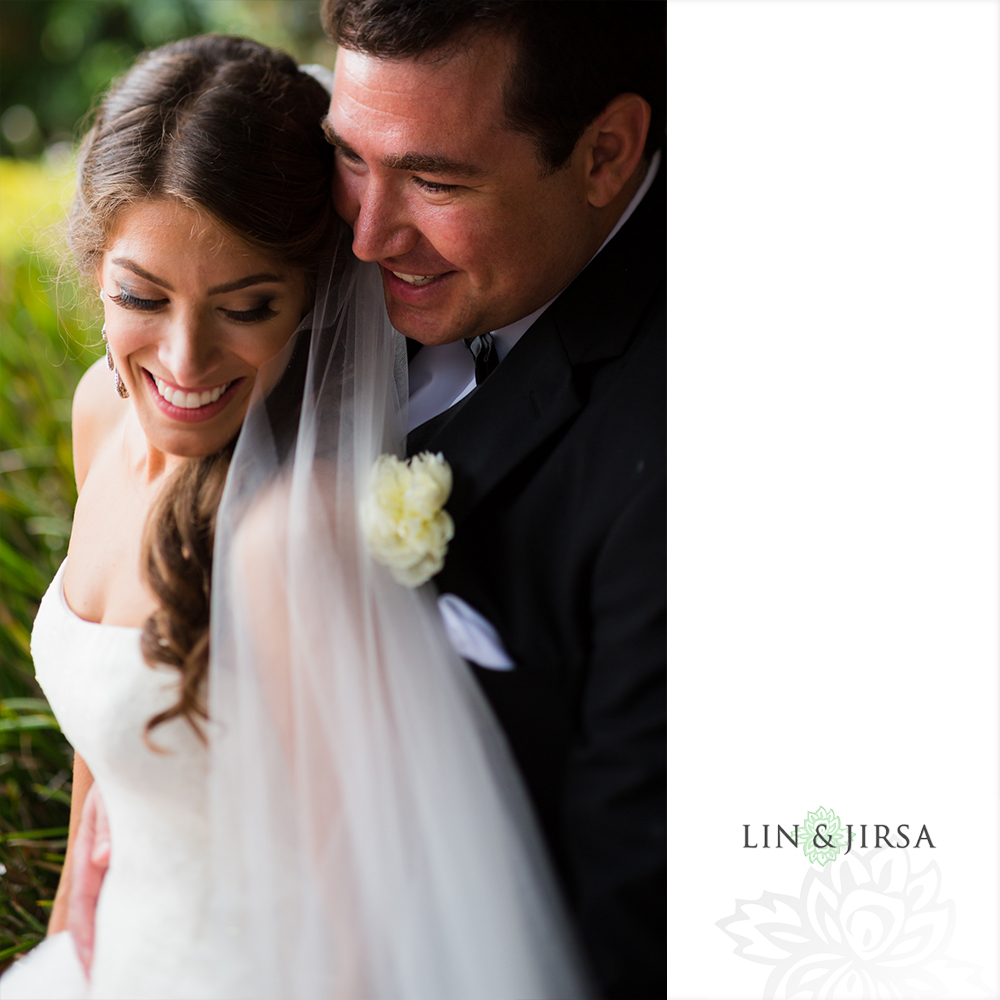 Wedding Party
Sure enough, the clouds cleared and the sun came out just in time for our wedding party group shots! We took this time to grab some a couple photographs of Tara and Dan goofing around with their bridesmaids & groomsmen before we all headed off to the ceremony site.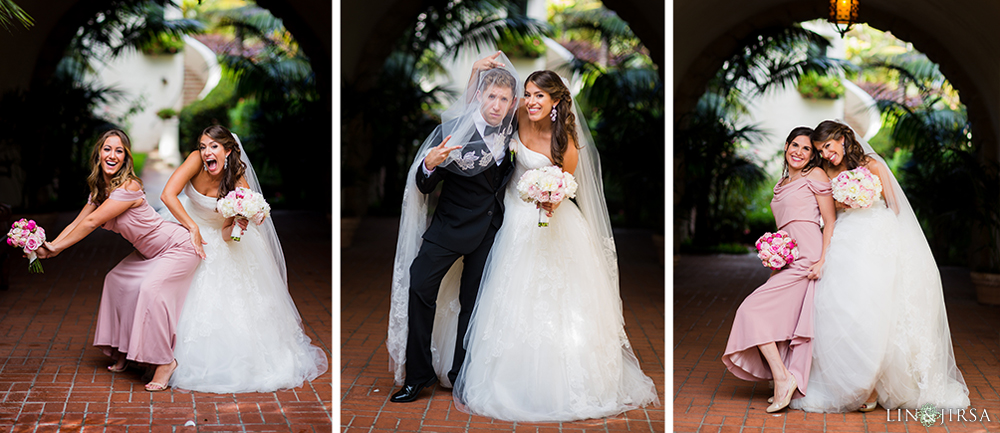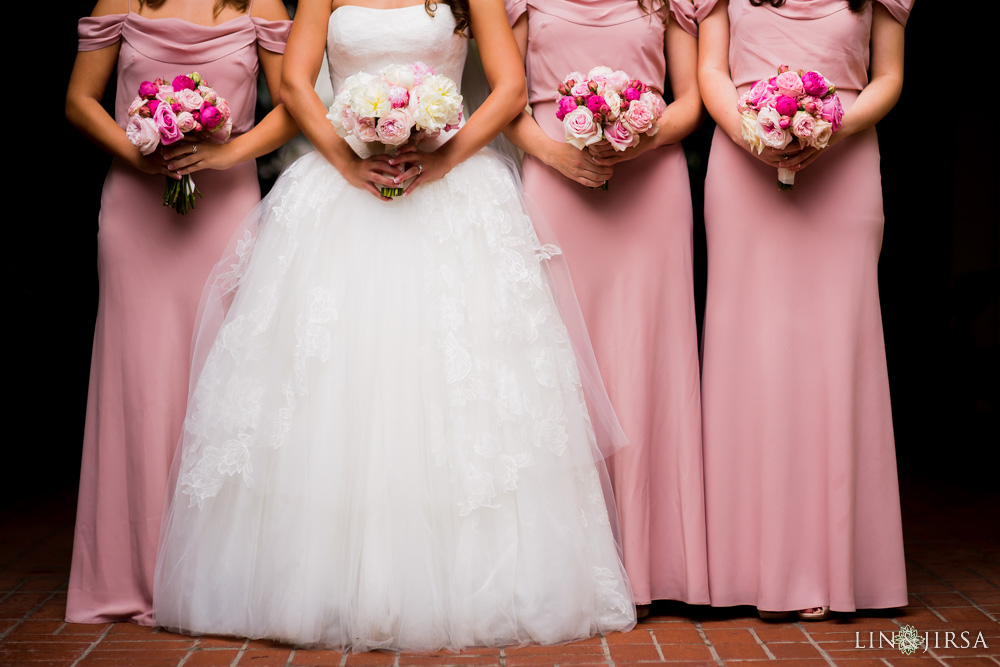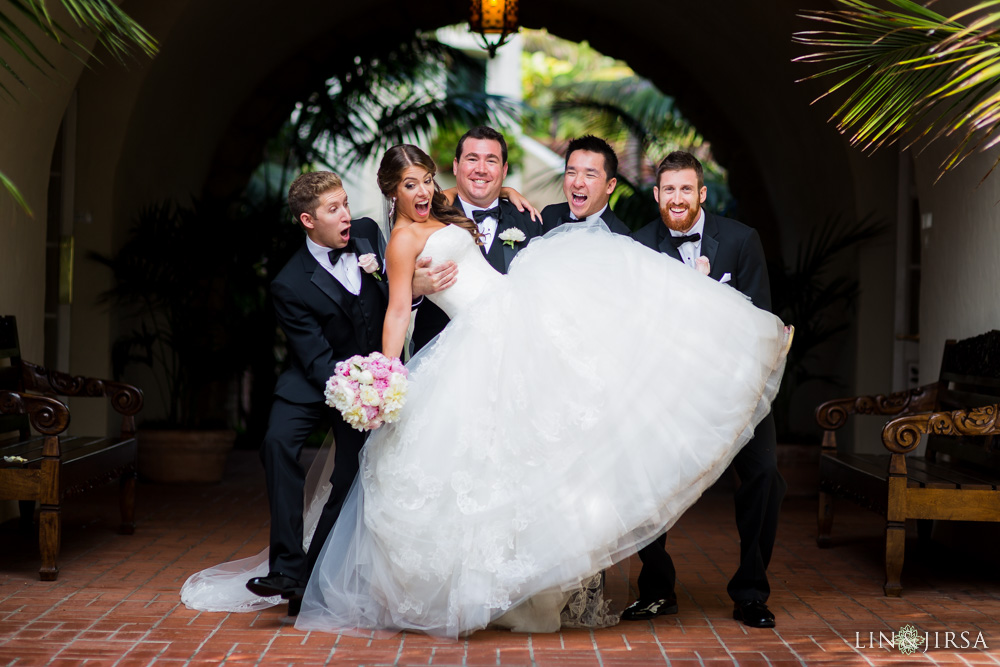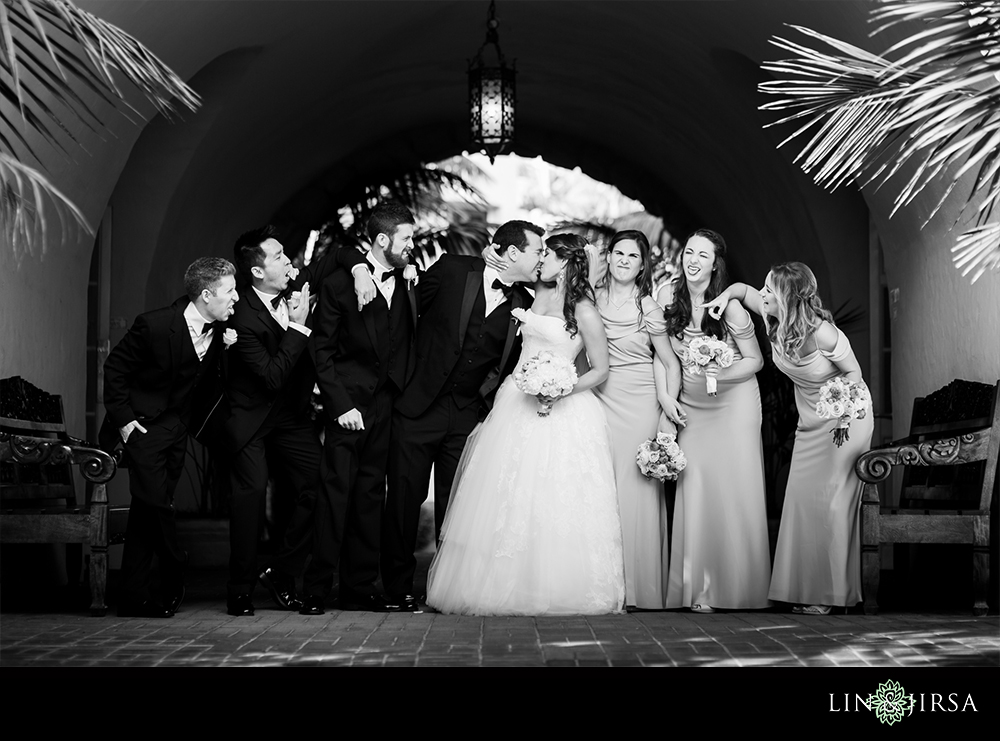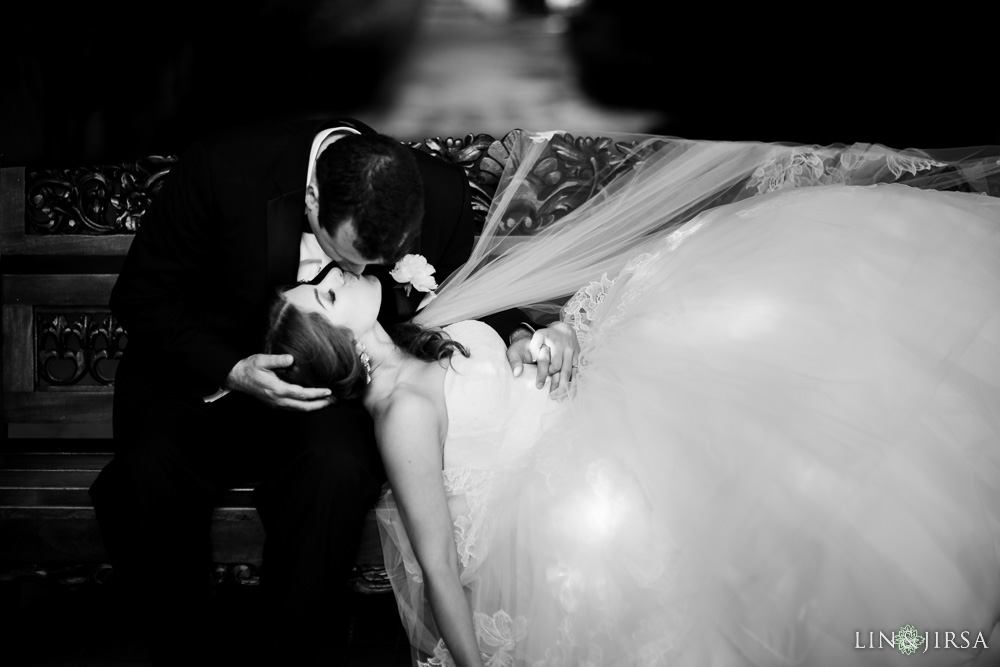 The Ketubah signing is a beautifully sacred moment between the two families involved in the wedding. This document is an integral part of a Jewish marriage which outlines the rights & responsibilities of the Groom in relation to the Bride.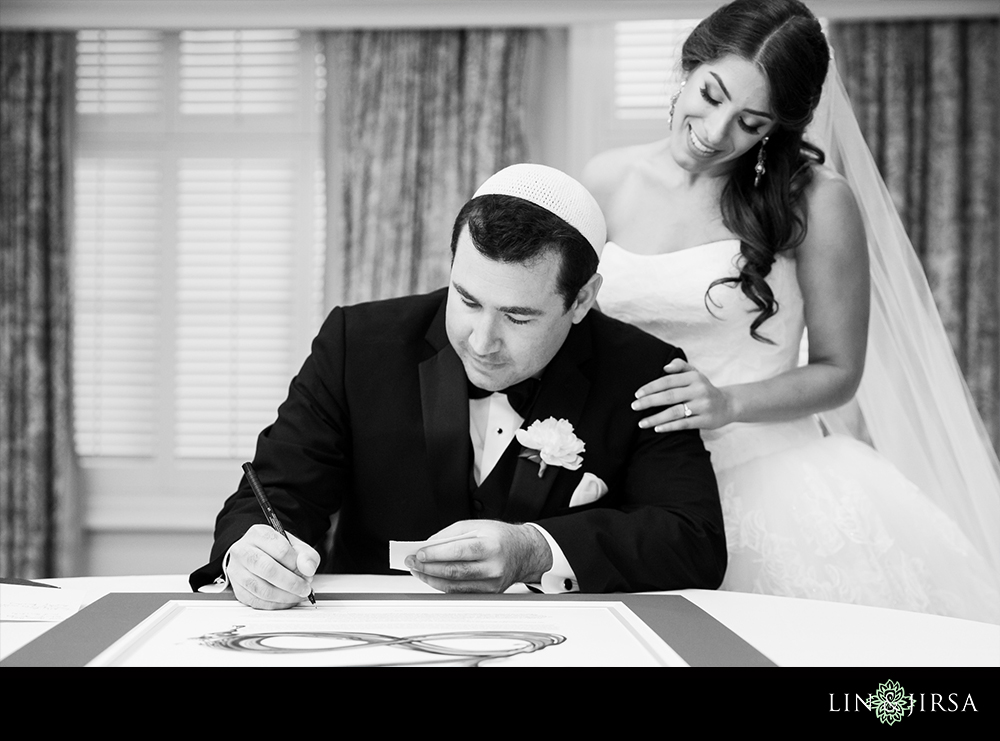 Wedding Ceremony
The rainy morning made for a sensational sky for our ceremony – bright blue skies served as the backdrop to Tara & Dan's Chuppah. Santa Barbara Wedding Style did a phenomenally elegant job decorating the venue, keeping the details minimalistic and classic.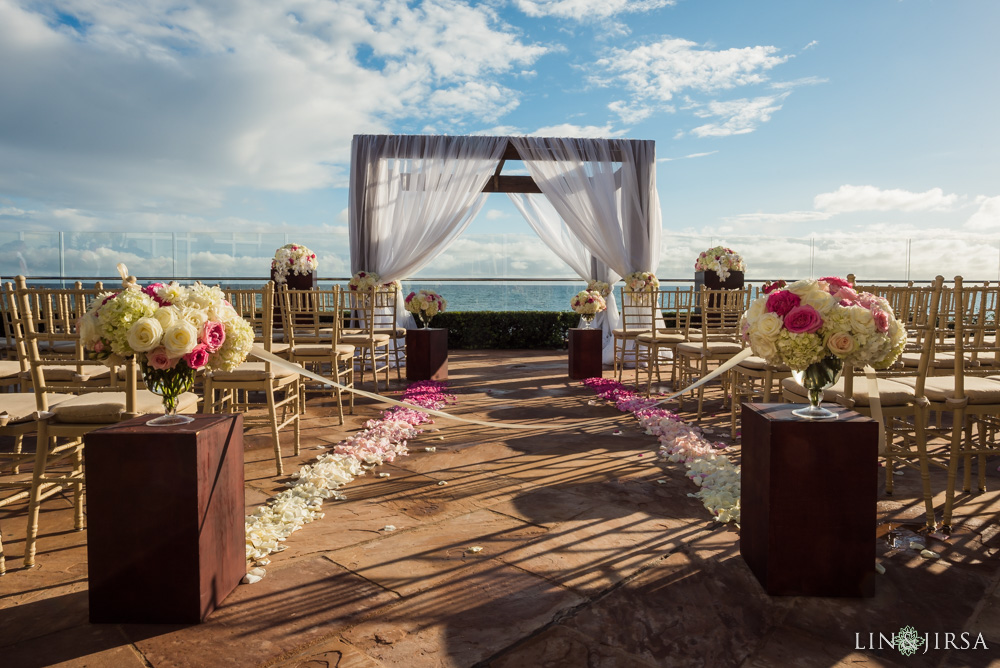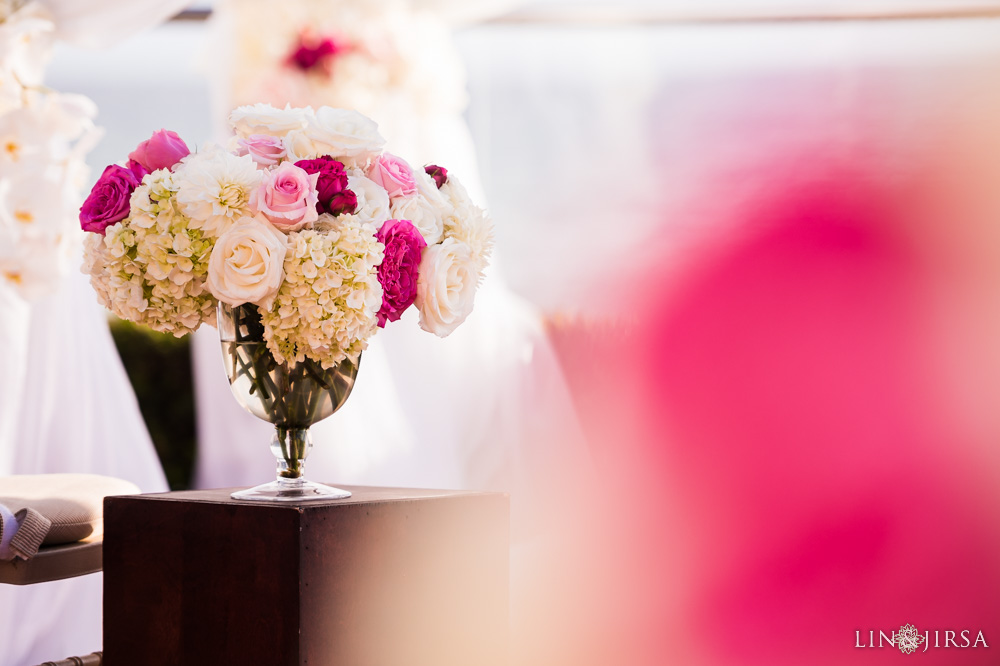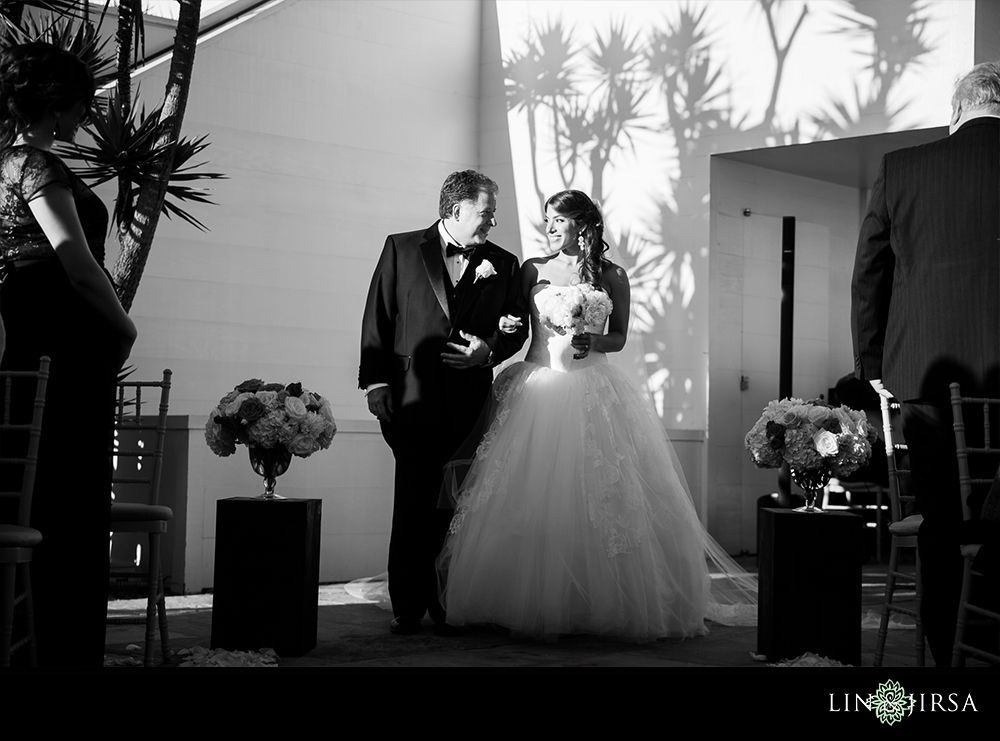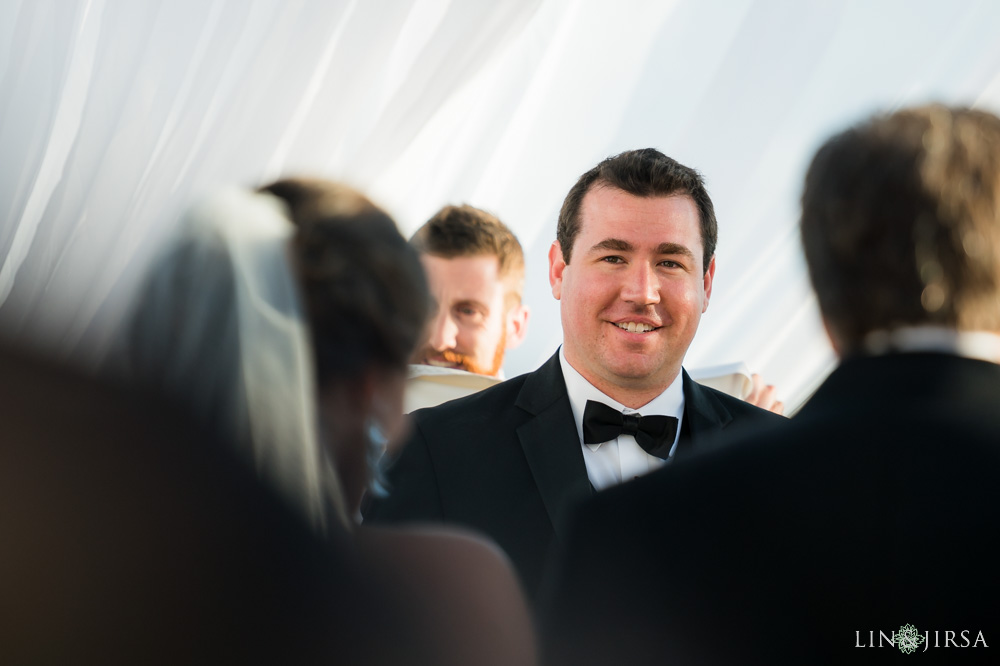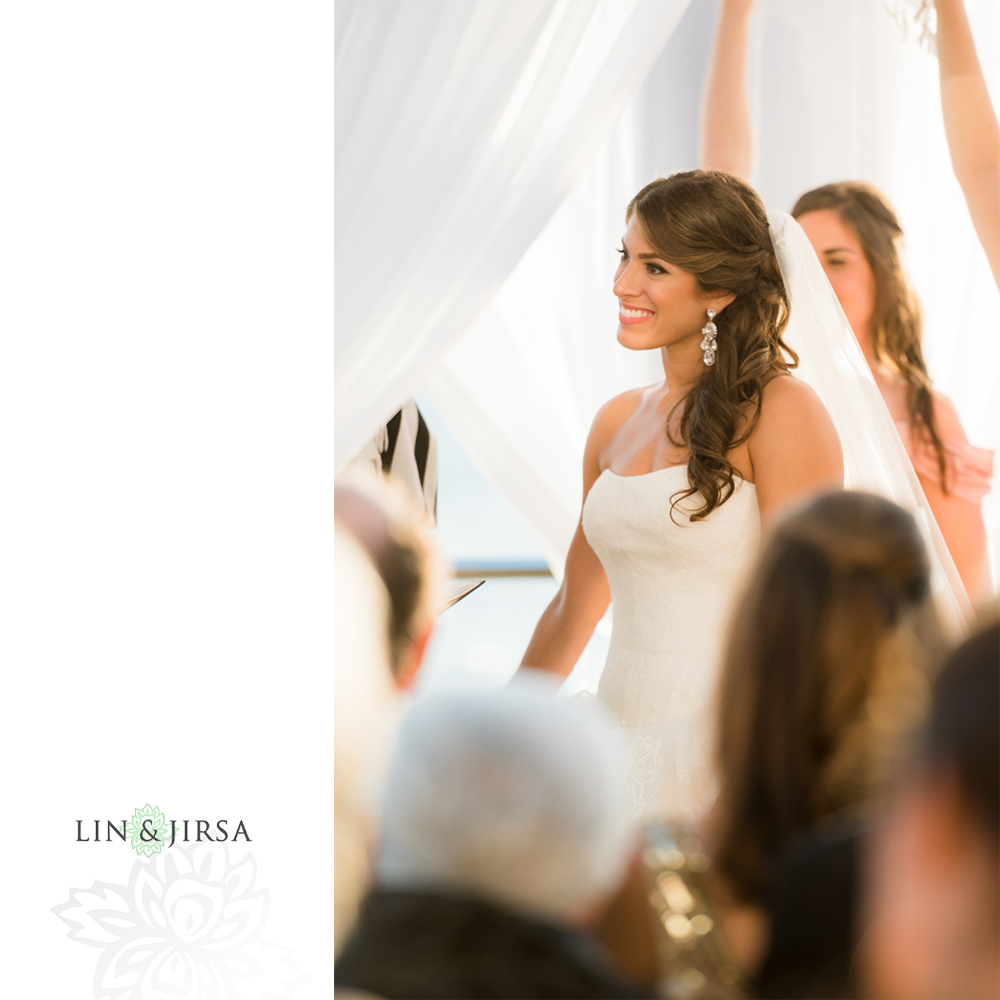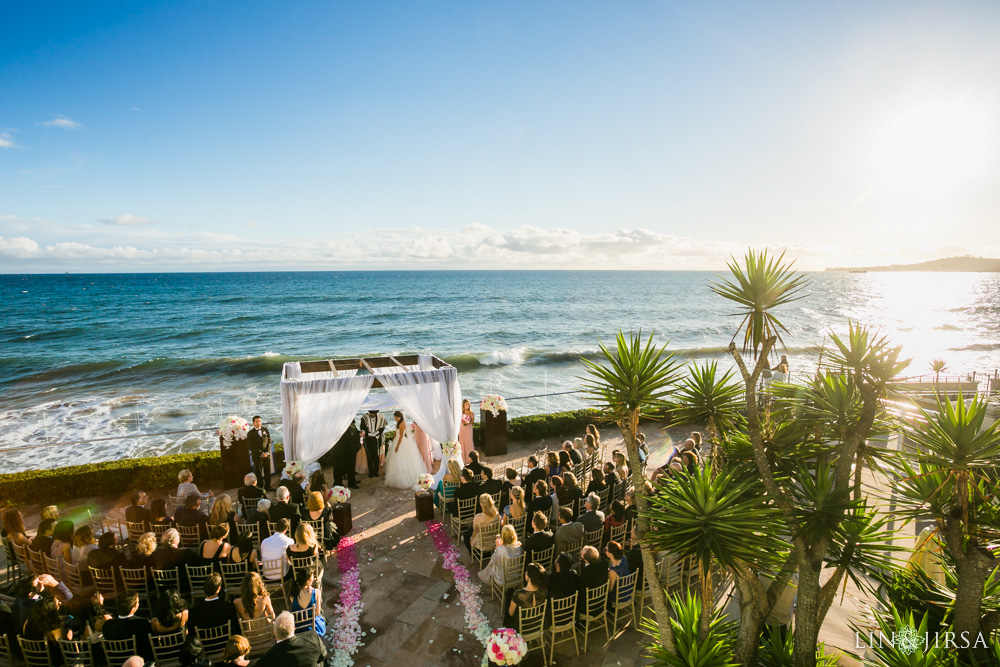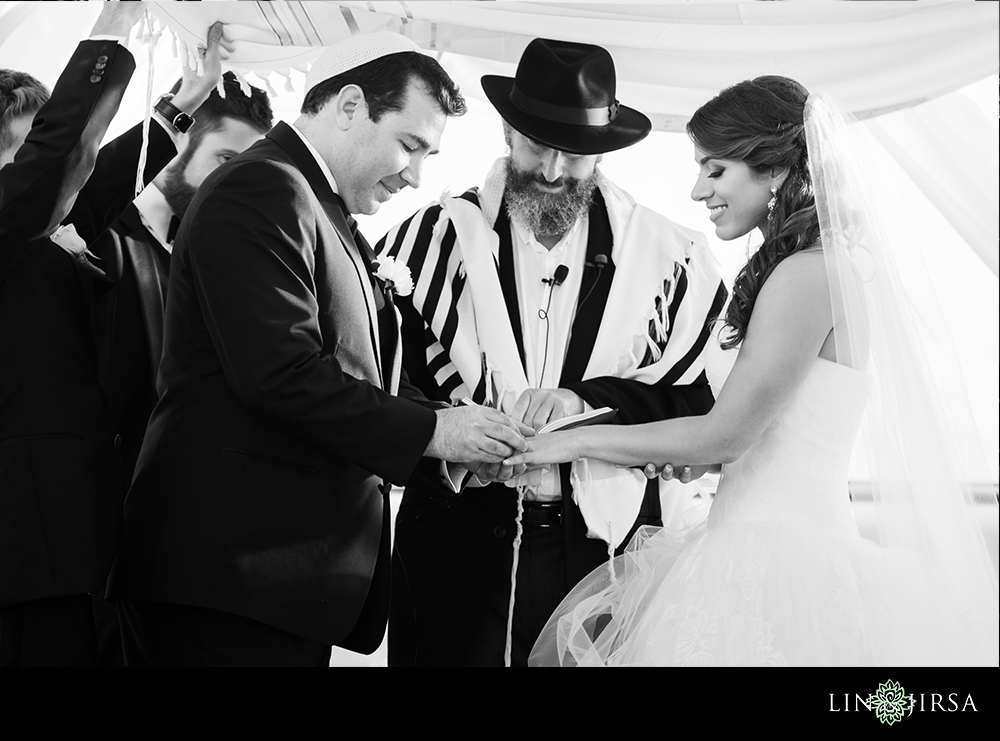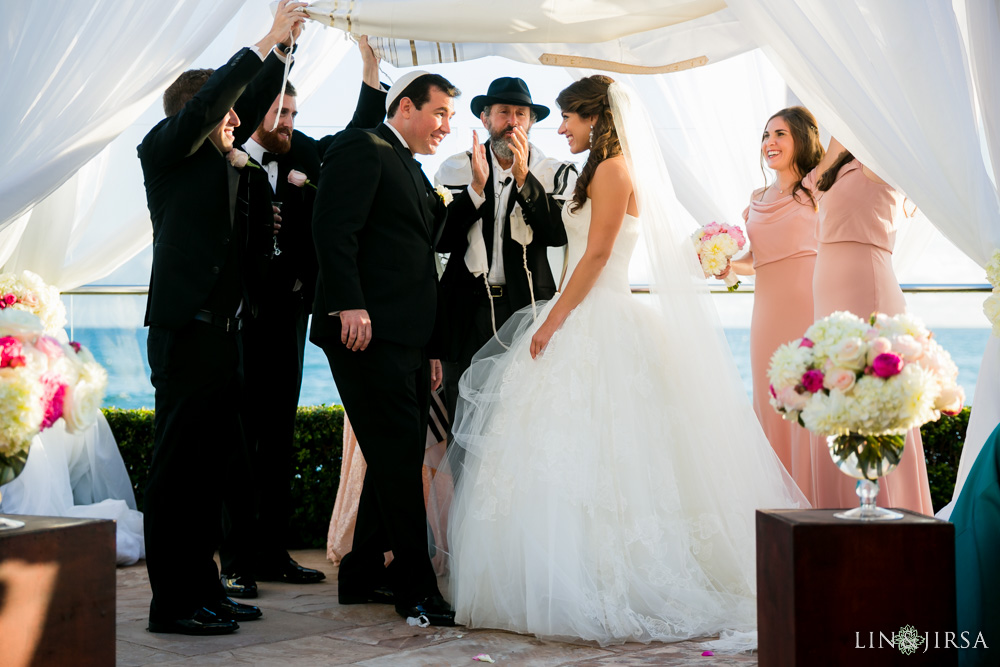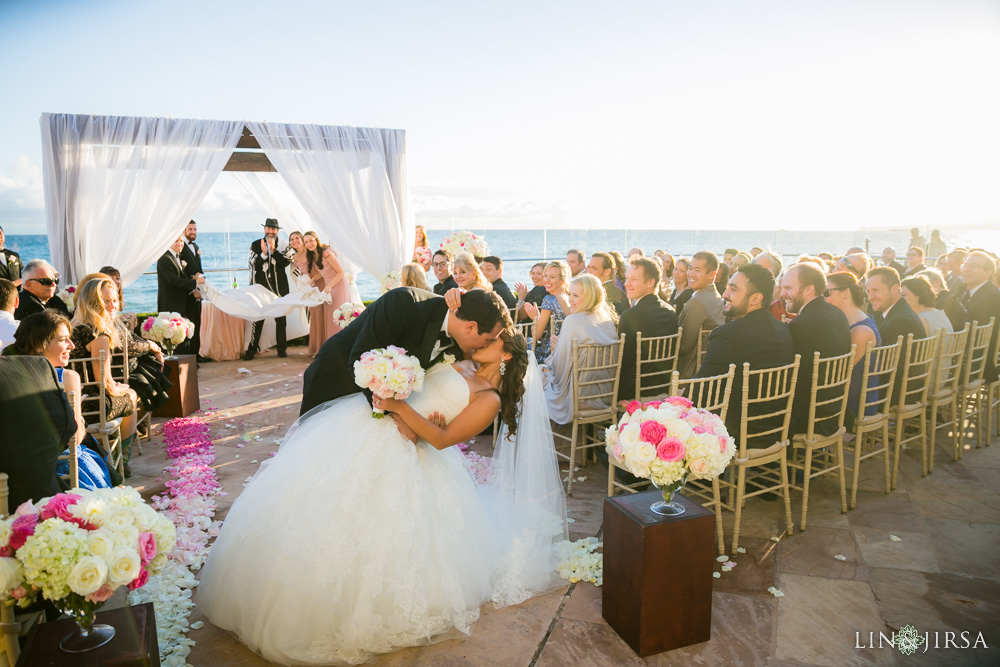 Wedding Couples Session
Following the ceremony, we took our couple to the beach front to capture their first moments as husband & wife. Tara & Dan were blessed with an absolutely stunning sunset golden hour – a rich golden orange fitting of its name. We utilized this beautiful tree as a background element in order to provide contrast to the hues in the sky. Combining natural elements such as this tree or the courtyard seen earlier for the first look, make for dramatic and interesting composition and an overall dynamic image.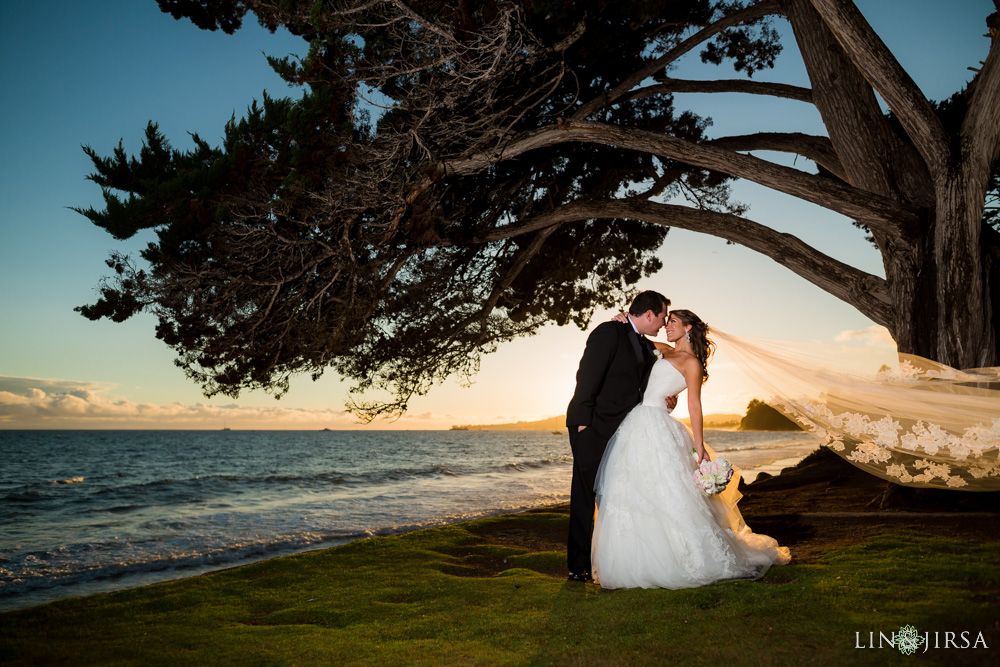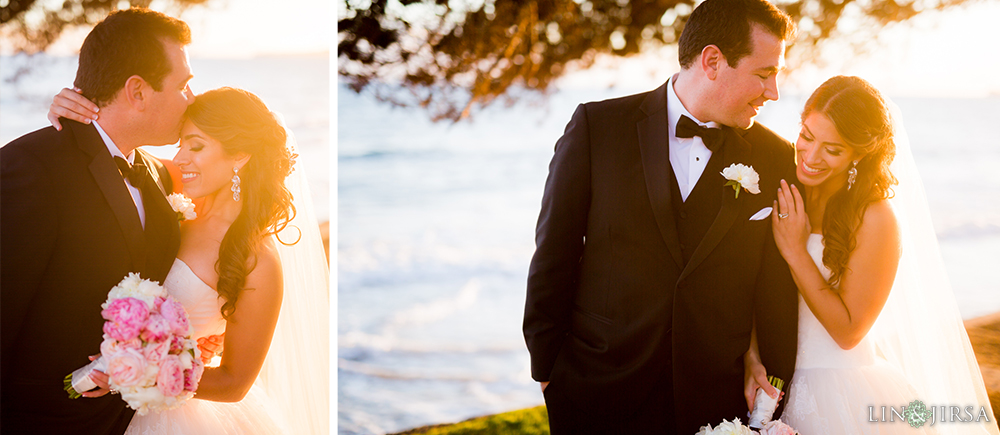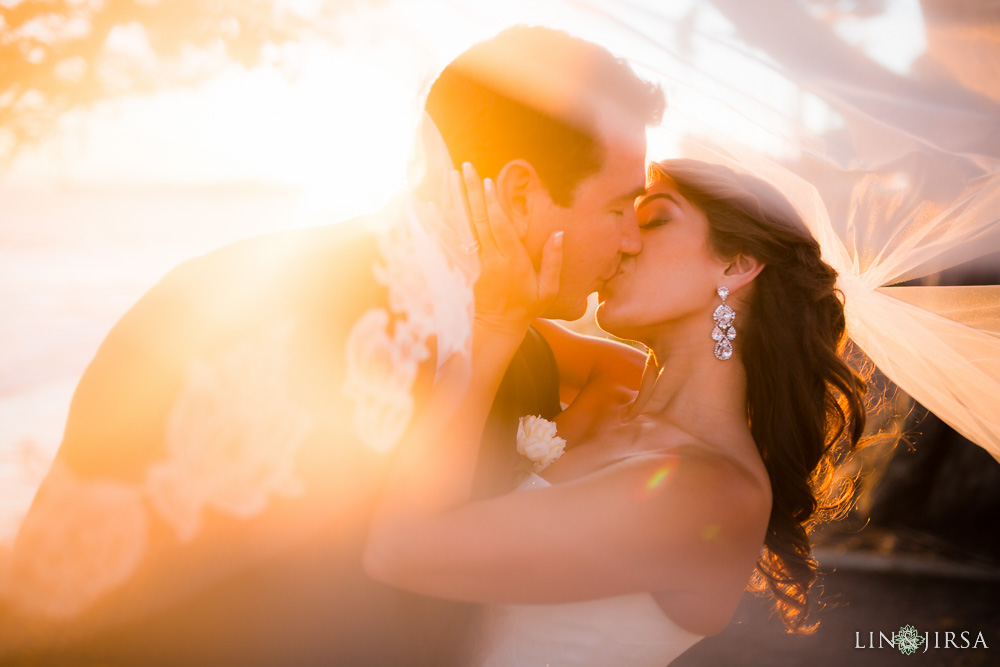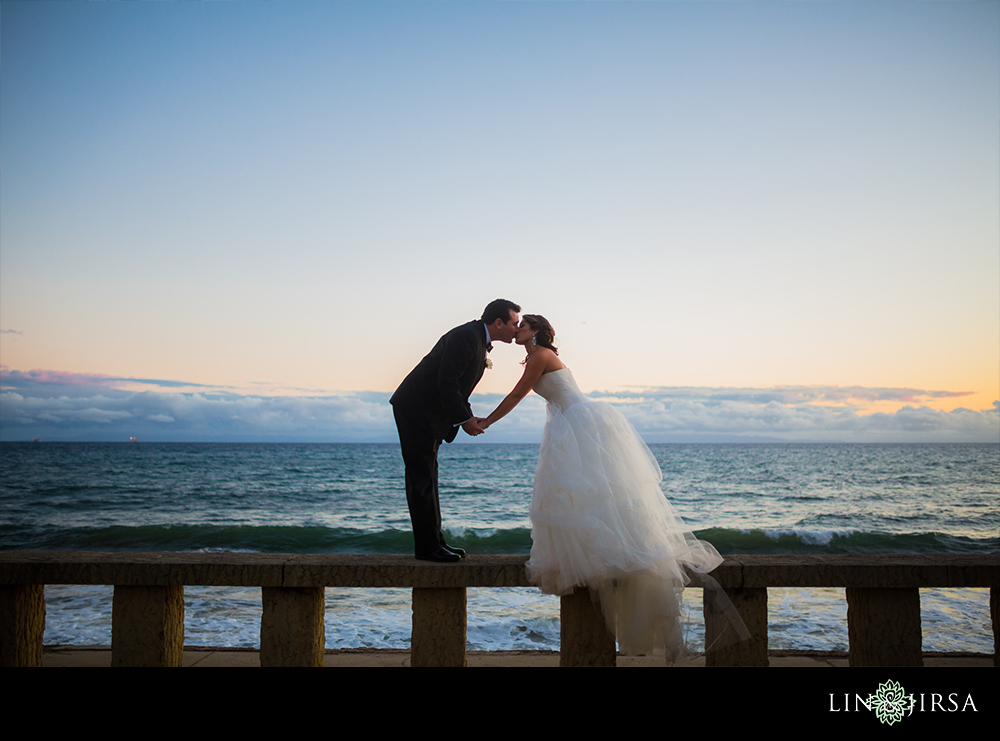 It is so important for us to make sure we get the VIP's at every wedding we photograph. Rather than just capturing a family formal picture, we want the Bride & Groom to have something unique and unforgettable – so we asked Grandma & Grandpa to make their funniest faces and this was the product!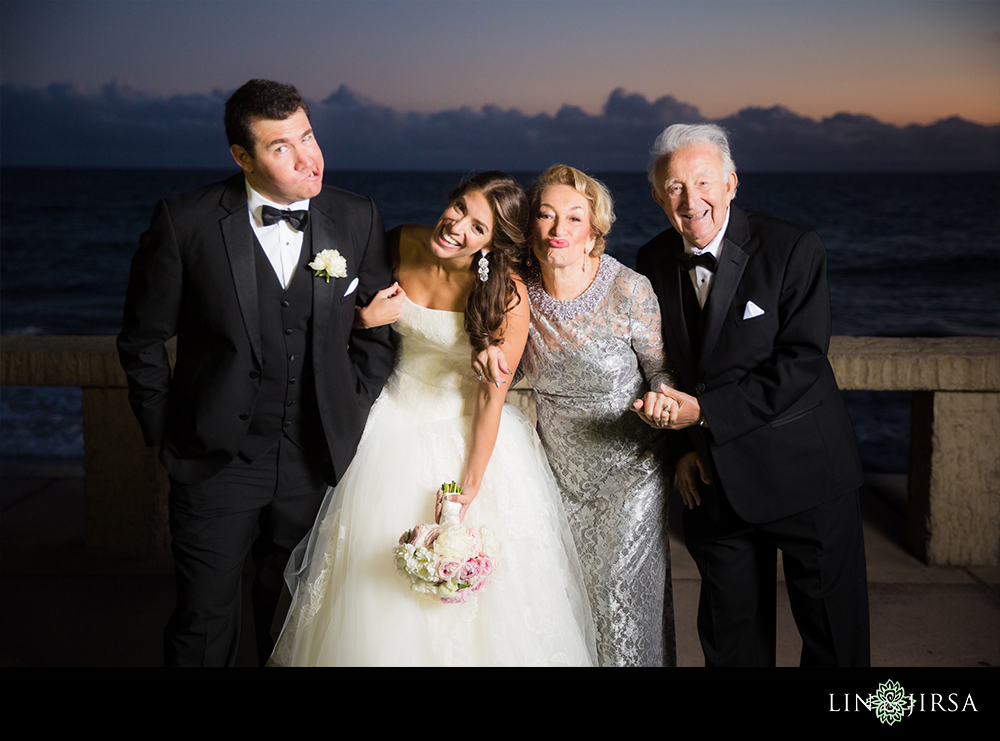 Wedding Reception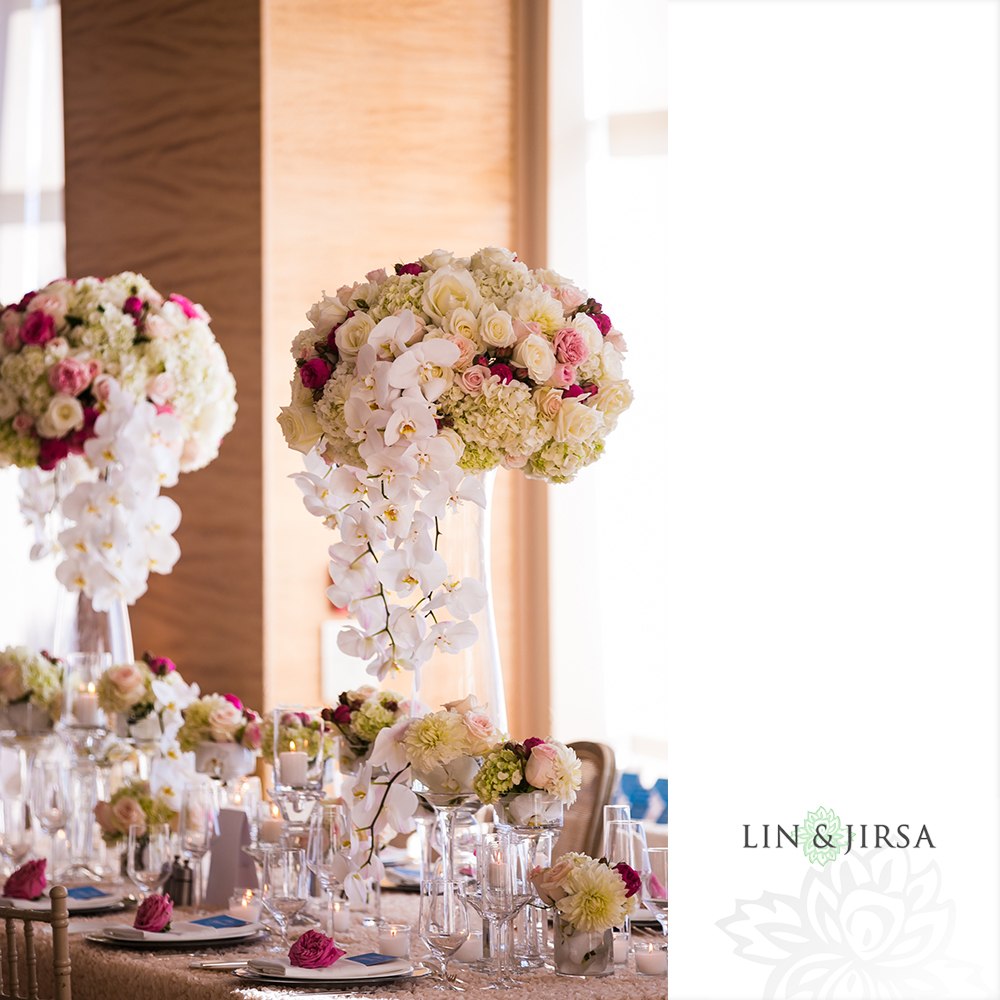 Santa Barbara Wedding Style did an extraordinary job creating these exquisite centerpieces and floral arrangements for Tara & Dan's reception banquet hall. Beautiful white orchids fell from the tops of the arrangements with contrasting pink roses, all atop slender glass vases.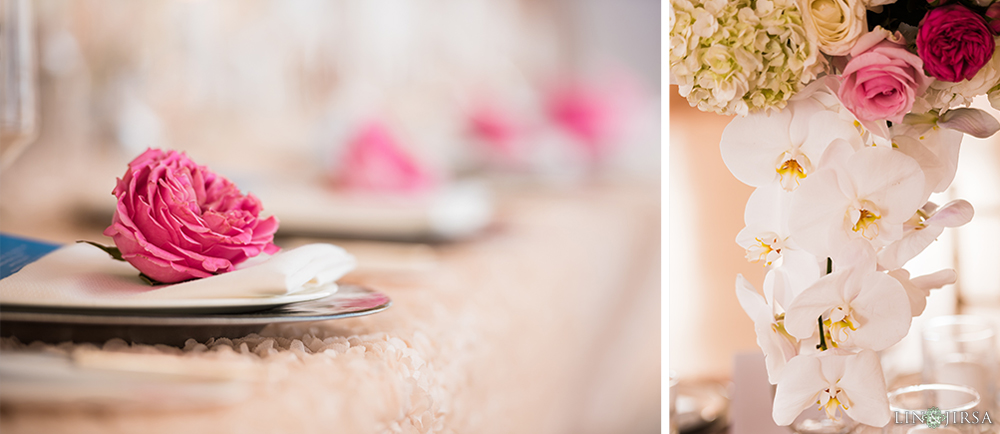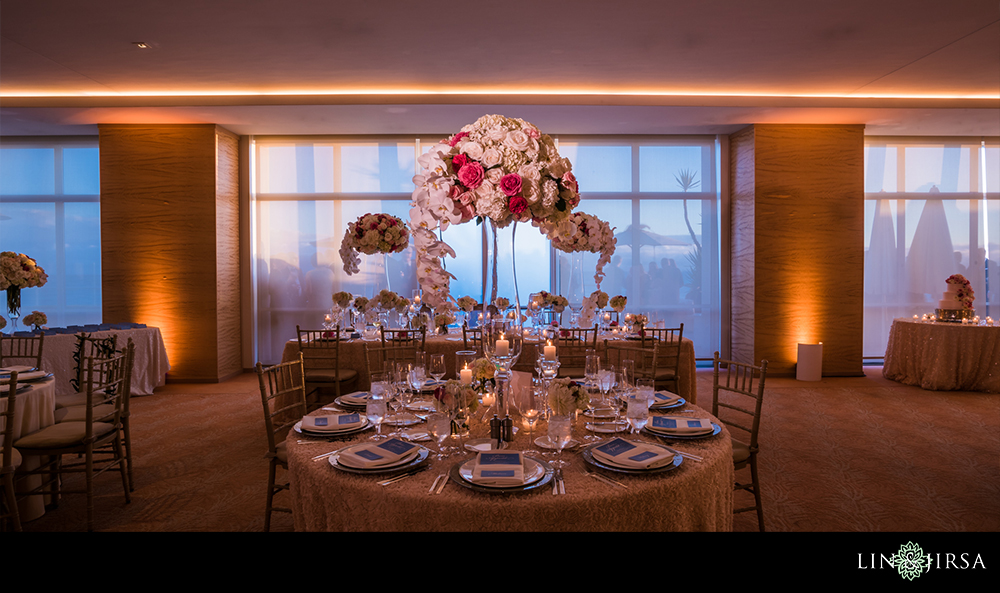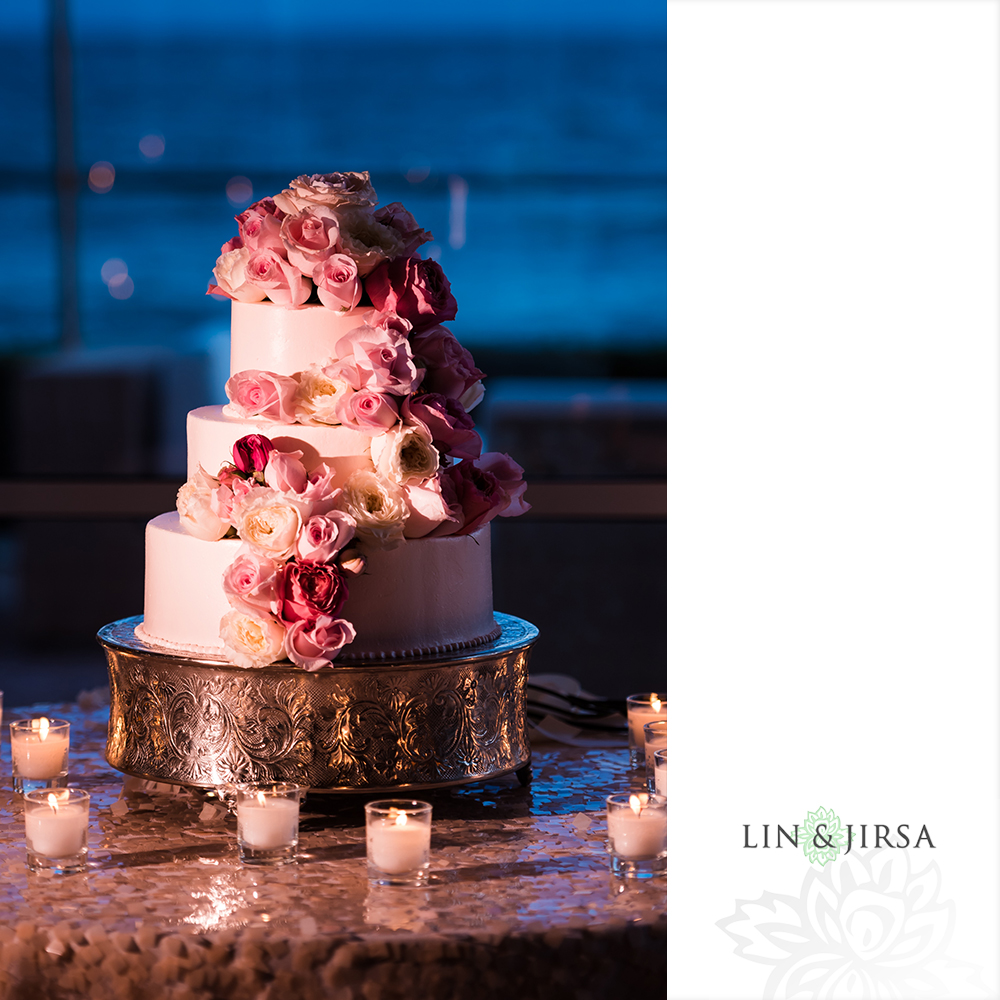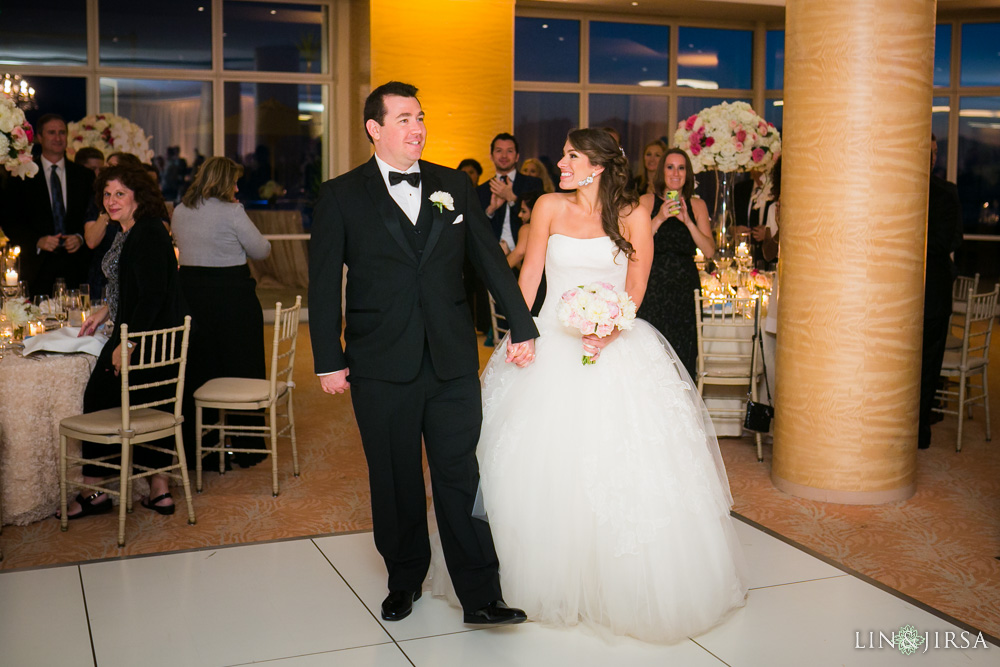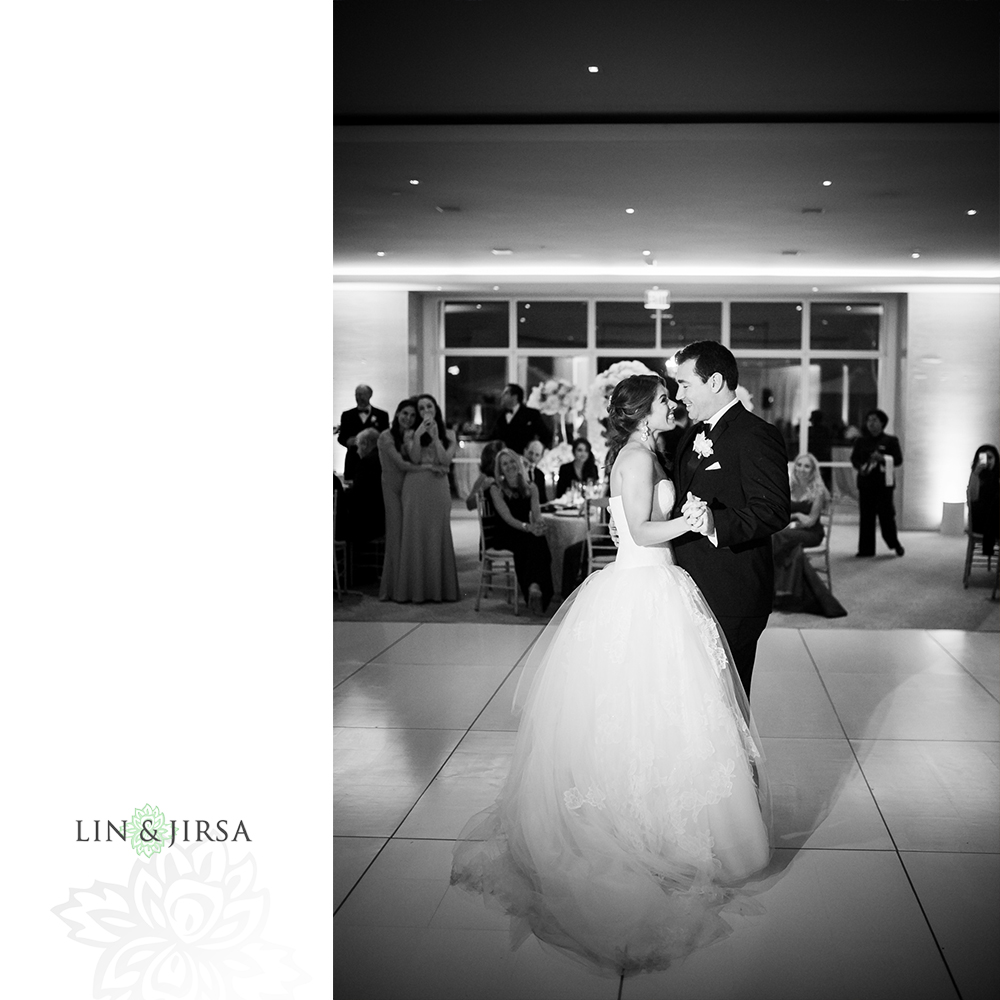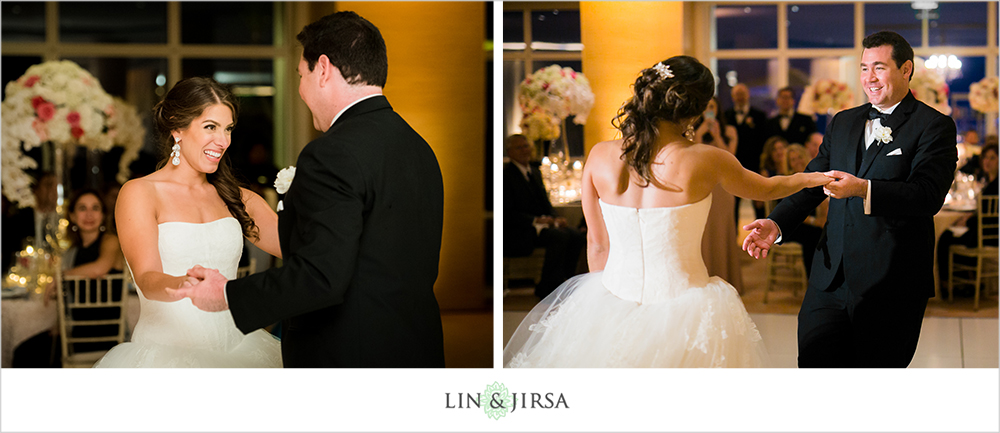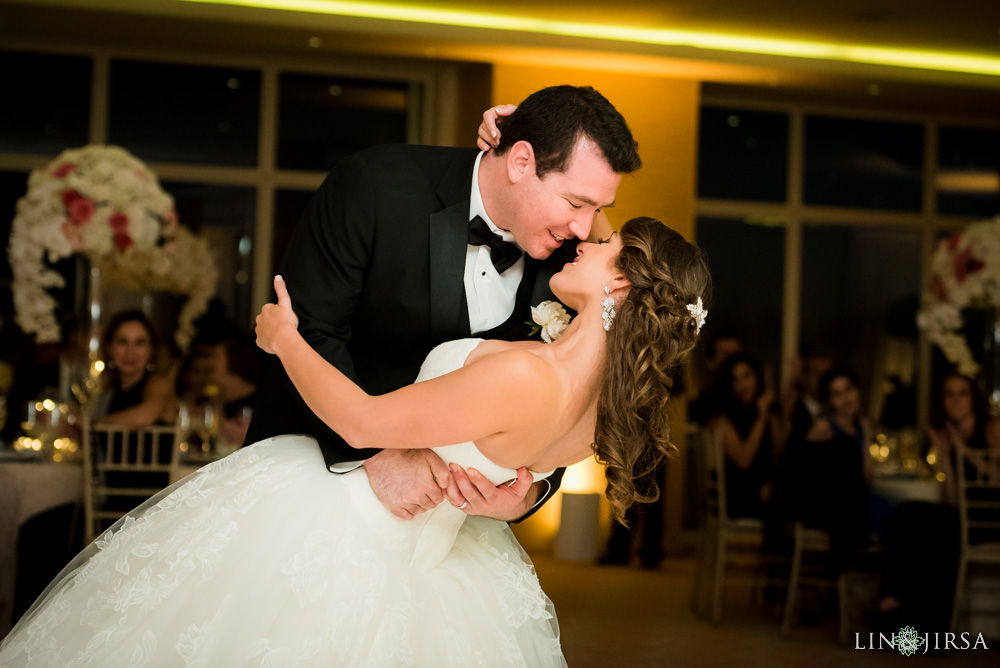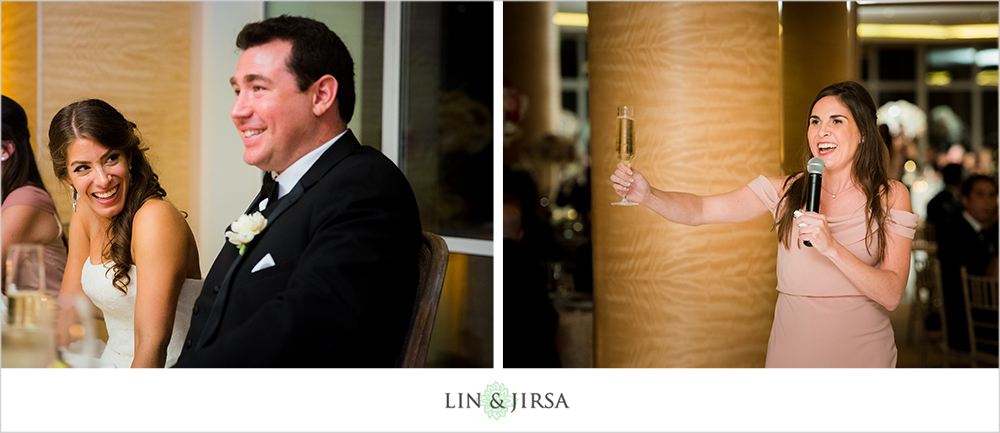 The night was filled with laughter, dancing, and sentimental moments as family members and friends recollected memories of Tara & Dan and shared in their newly wedded
bliss.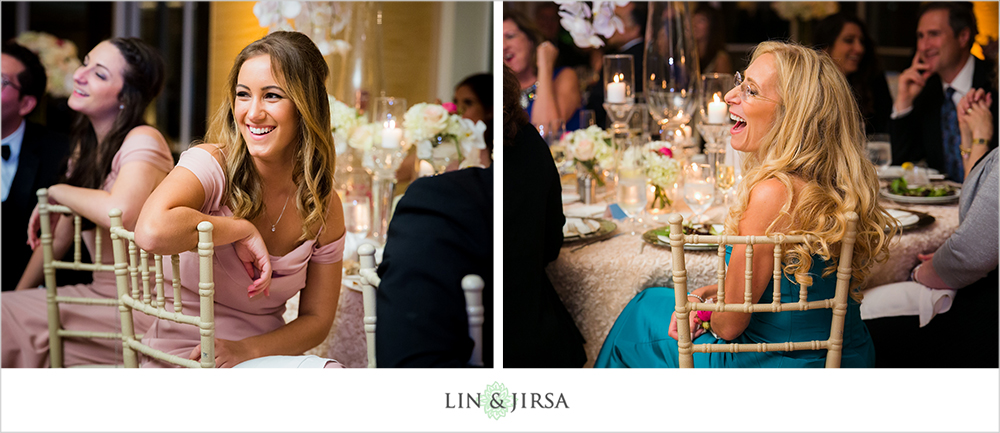 We love taking fun photos such as this one, where we told the wedding party and our couple to wreak some havoc behind the bar! This is a moment they are sure to never forget looking back on this day!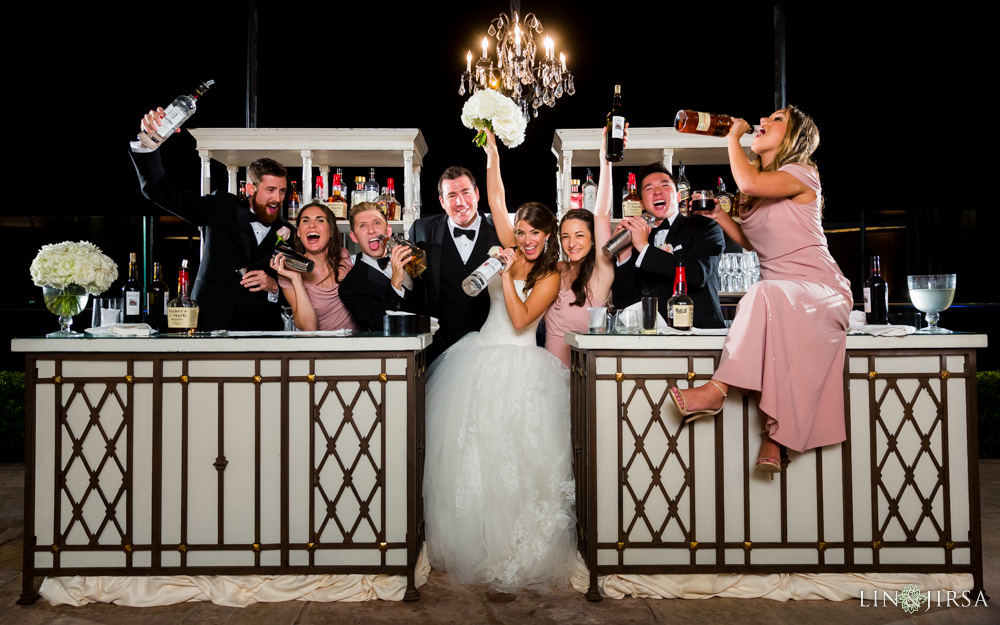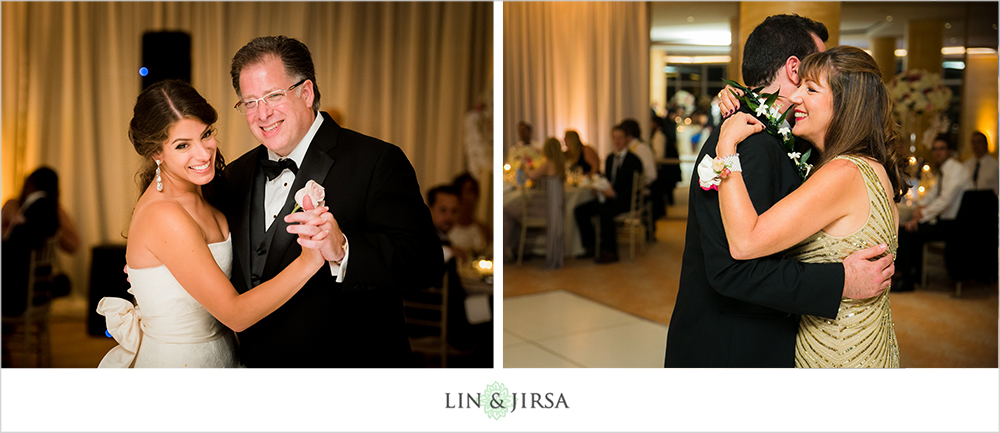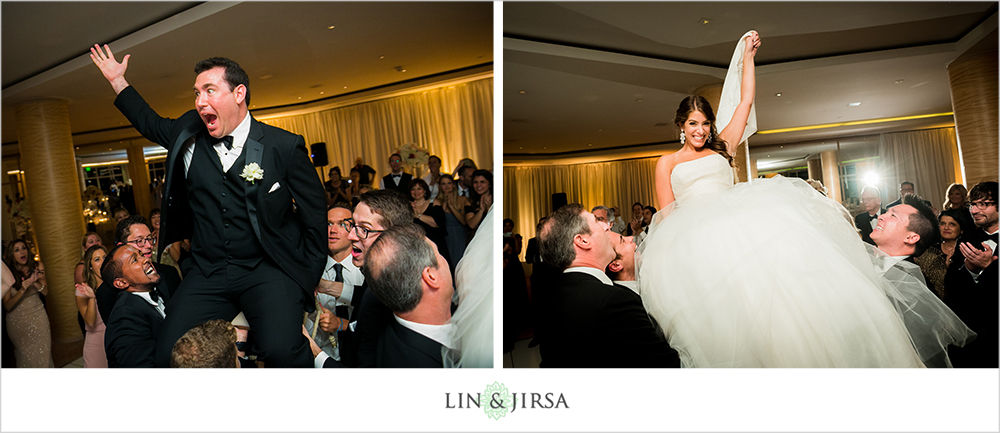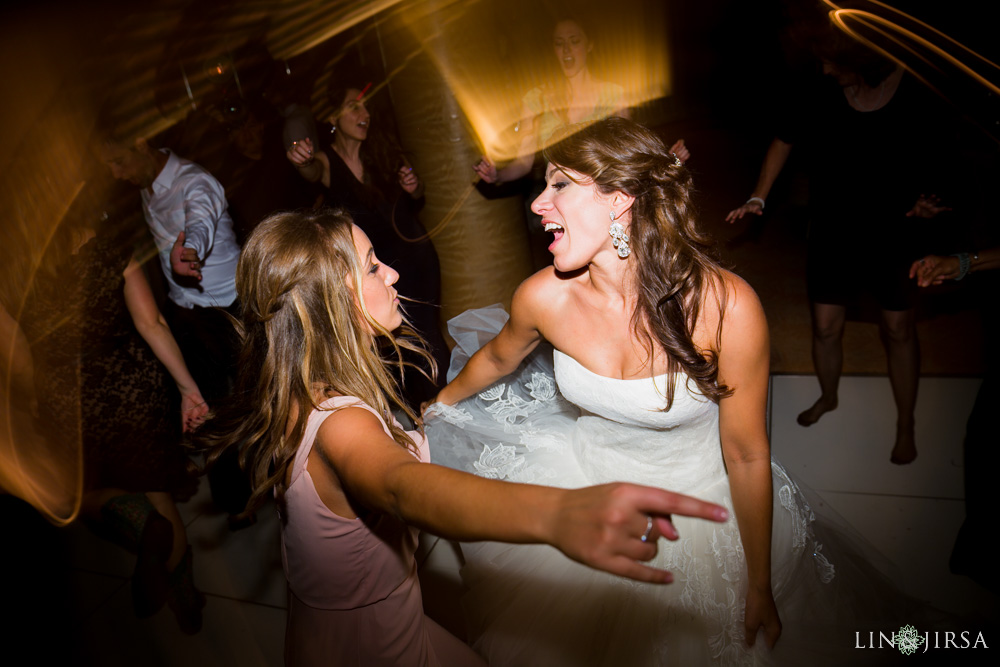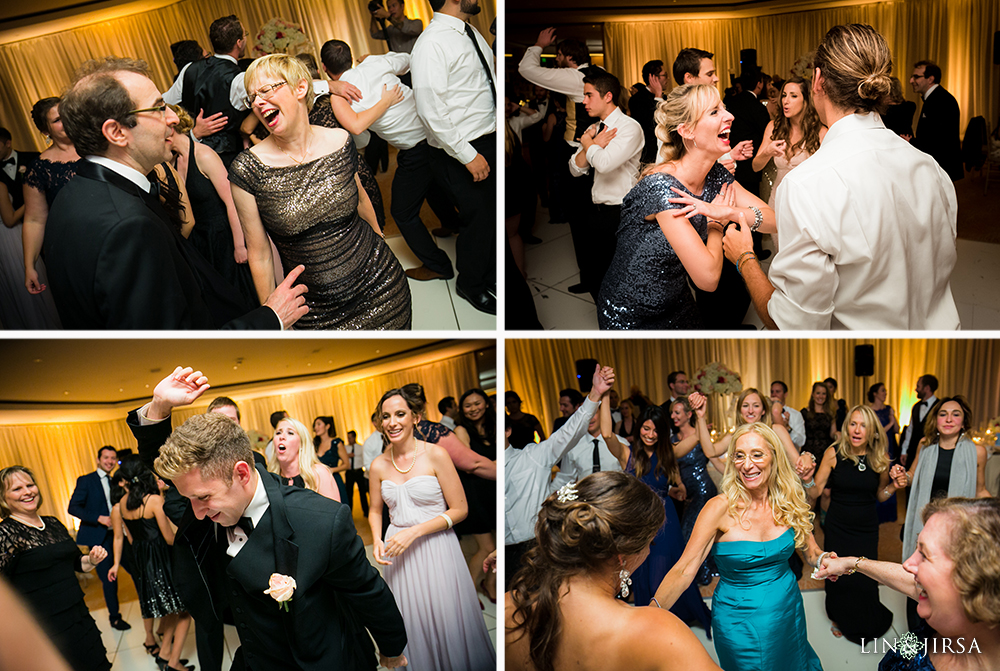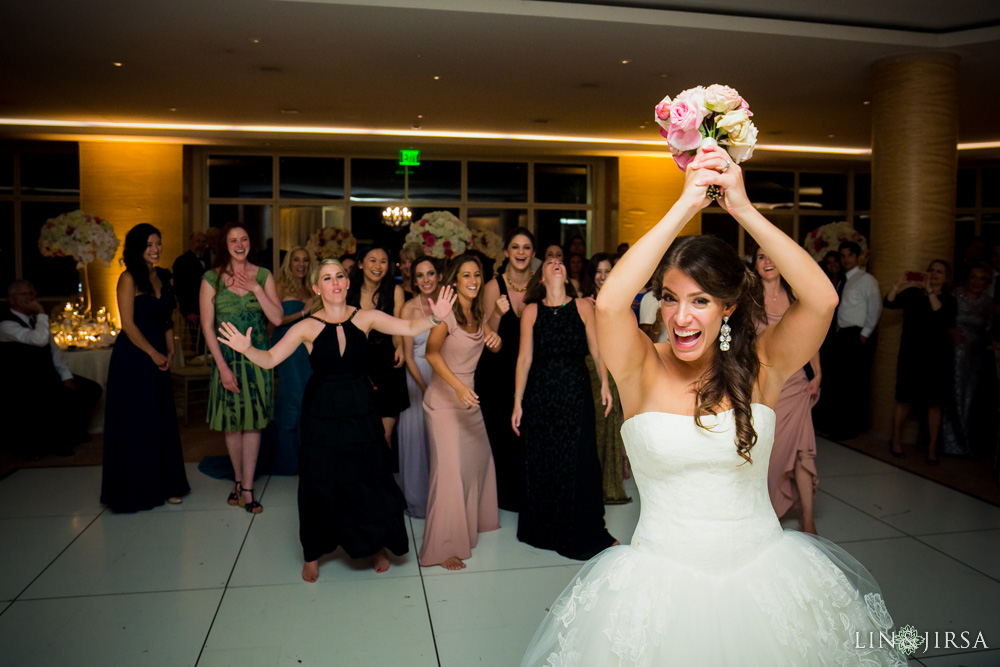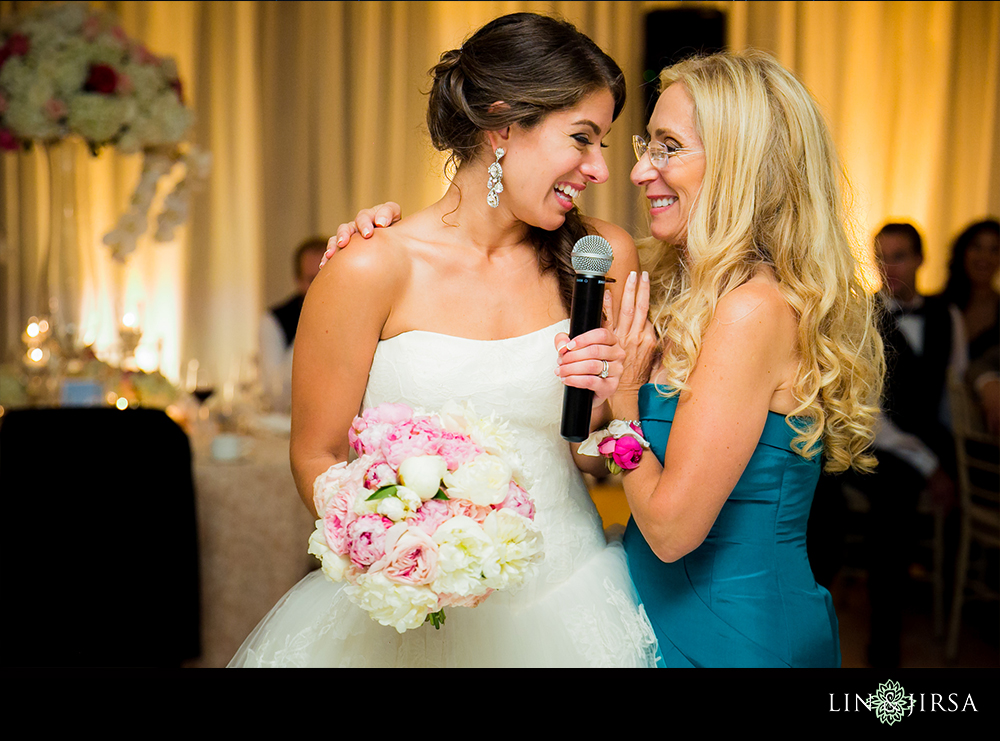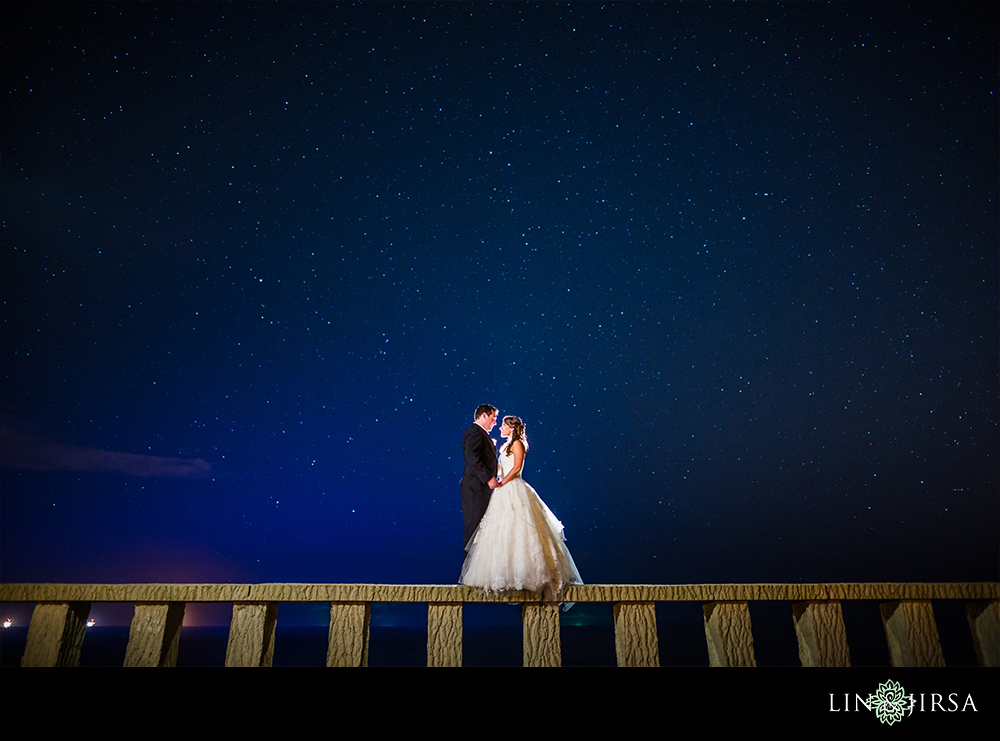 More Wedding Info:
Wedding Photography Location or Venue: Four Seasons Resort The Biltmore, Santa Barbara, CA, Website: http://www.fourseasons.com/santabarbara/
Wedding Coordinator: Wedding Kate, Website: http://www.weddingkate.com/, Contact: [email protected]
Make Up Artist: Jose Eber Salon, Website: http://www.fourseasons.com/santabarbara/spa/jose_eber/, Contact: [email protected]
Wedding Florist: Santa Barbara Wedding Style, Website: http://santabarbarawedding.com/, Contact: [email protected]
For more info on Lin and Jirsa Photography, please contact us via our Contact Page. We'd love to set up an appointment for you to come by and see our albums, meet the team, and find out more about our other services, including wedding videography and photobooth!
To learn about our Posing, Lighting, and other shooting theories, please see our Engagement Photography Tutorials.