Laguna Cliffs Marriott Wedding | Spencer and Kristin
July 17, 2015
Please enjoy this gorgeous Laguna Cliffs Marriott wedding featuring Spencer and Kristin.
A big thank you to Kerrie Underhill of Platinum Weddings by Kerrie for organizing this beautiful event.
Also, check out our Facebook Page for updates and the latest with Lin and Jirsa, Los Angeles!
Wedding Preparation
Spencer and Kristin's romantic wedding took place overlooking the beautiful Pacific Ocean at the Laguna Cliffs Marriott in Dana Point, CA. The rooms inside the Laguna Cliffs Marriott were the perfect place for the bride and groom to get ready. They were surrounded by their closest friends and family, which made the afternoon full of love and laughter. We opened the windows in Kristin's room to let in the soft, warm  light and crisp ocean breeze. The air was humming with excitement as Kristin and her bridesmaids anticipated the rest of the day.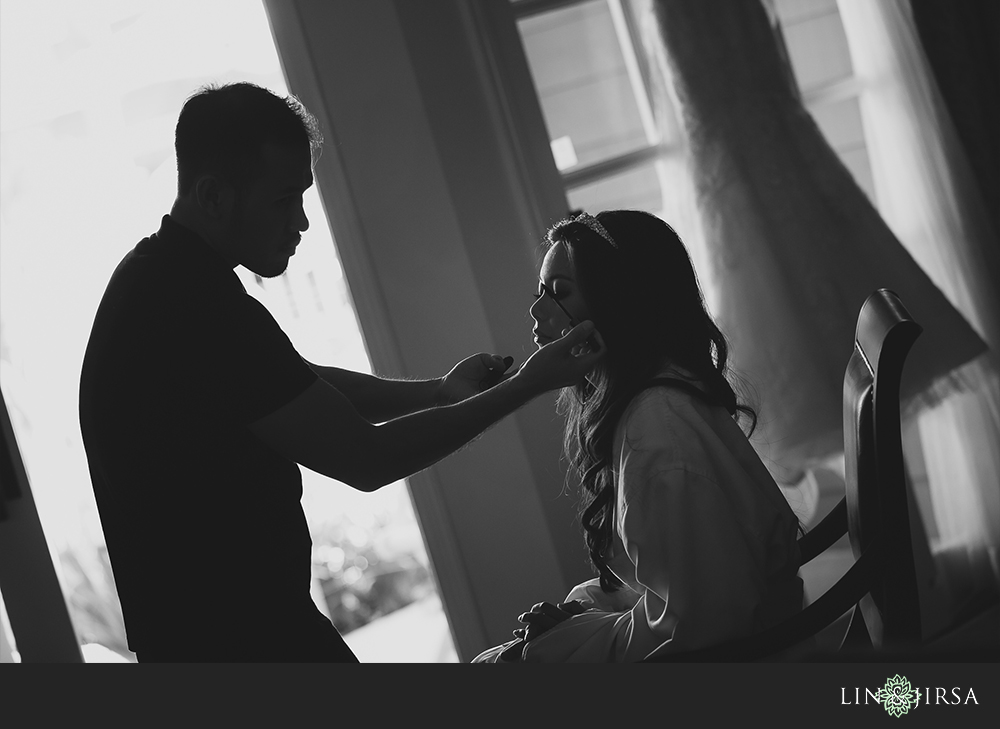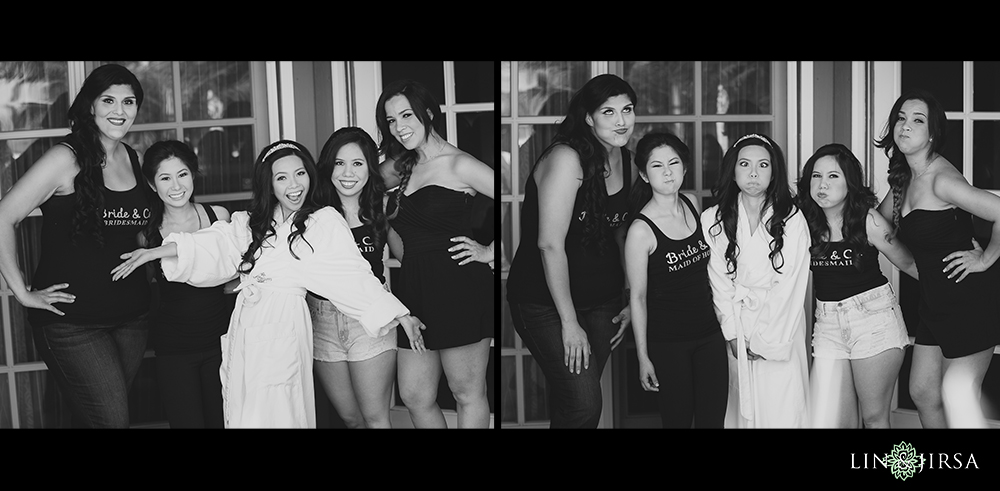 Lots of laughter, silly faces, and all around girlishness.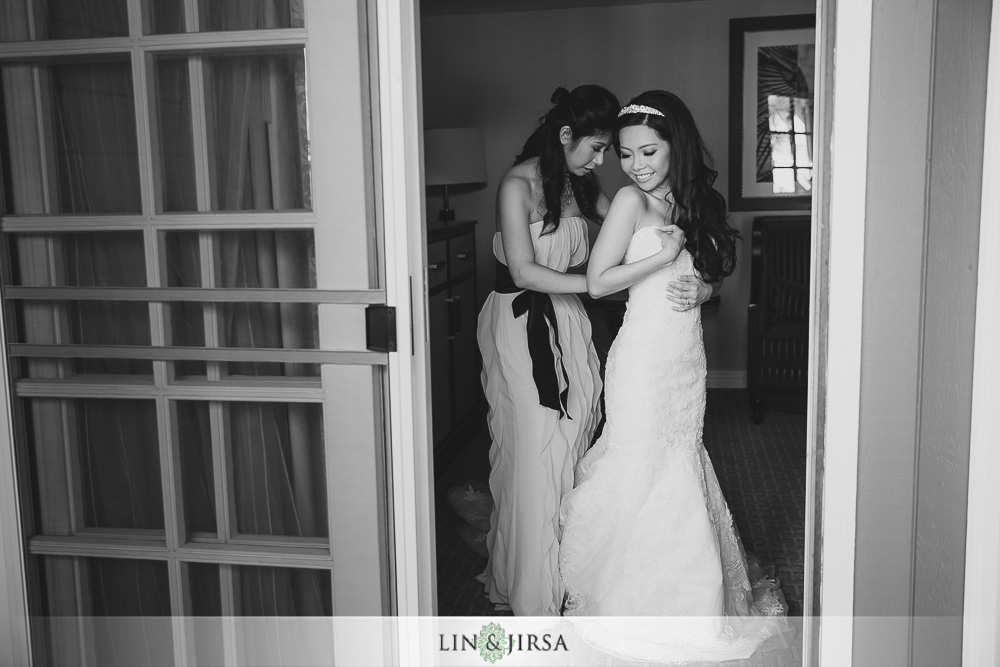 Making sure that Kristin is picture perfect…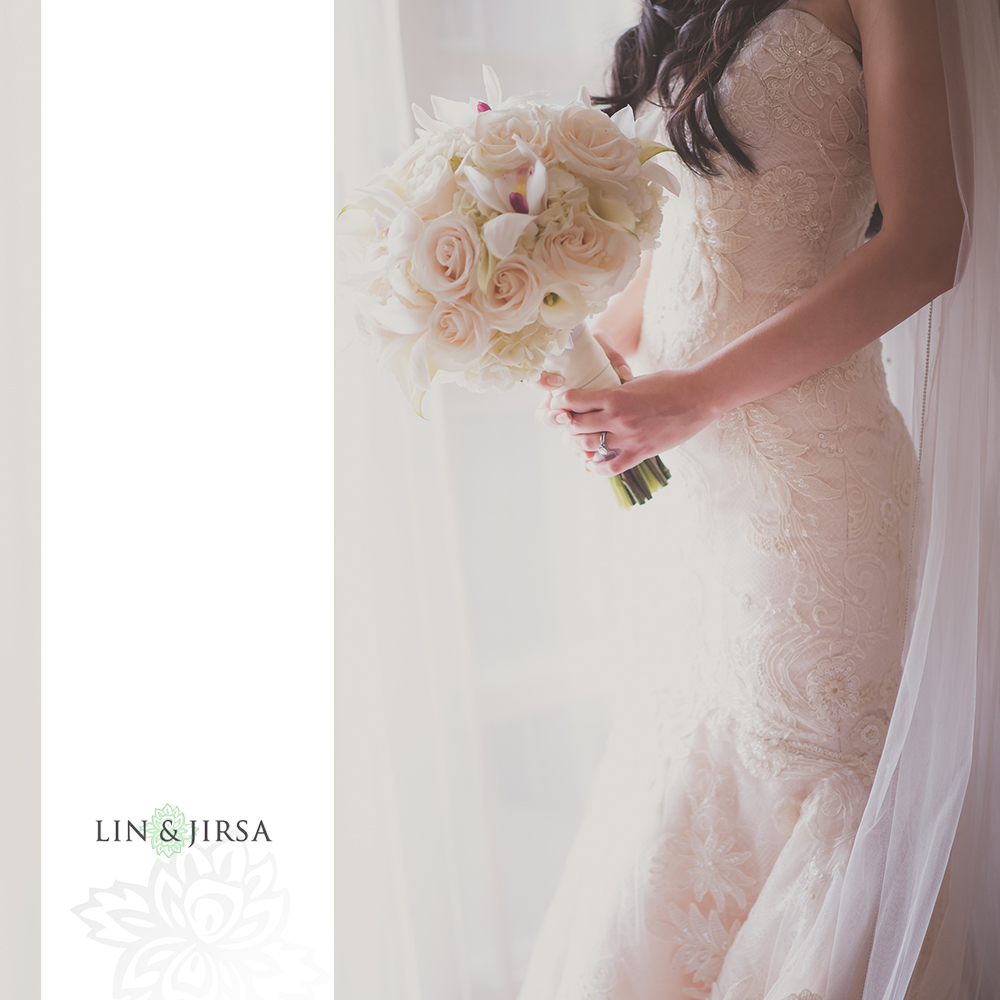 …Sneak peak…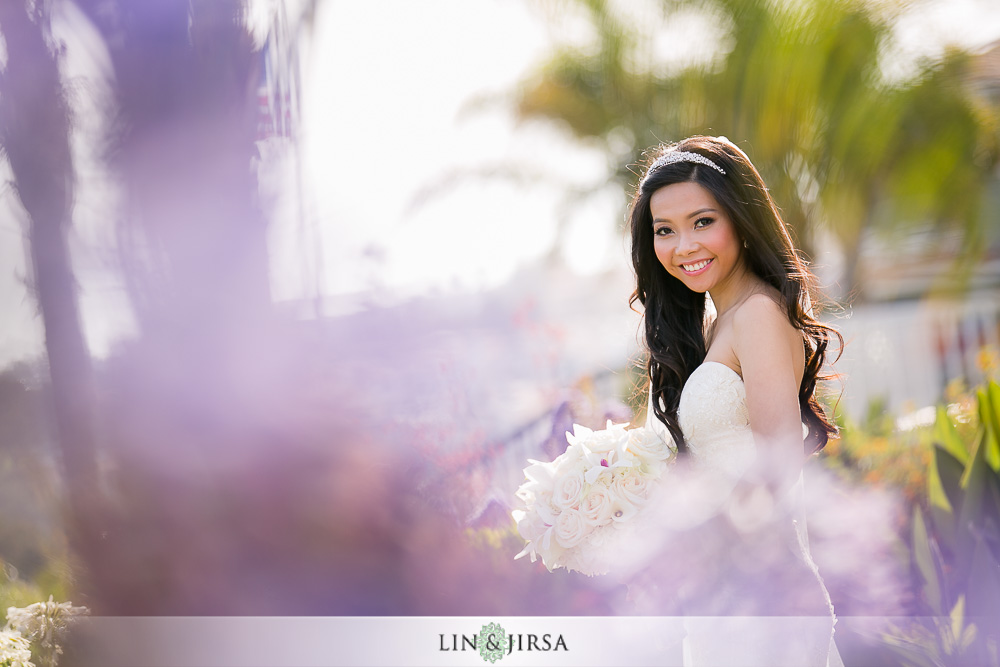 … And she is! How stunning does Kristin look? Her loose curls and gorgeous, fitted, lace dress bring out her natural beauty. She is glowing!!!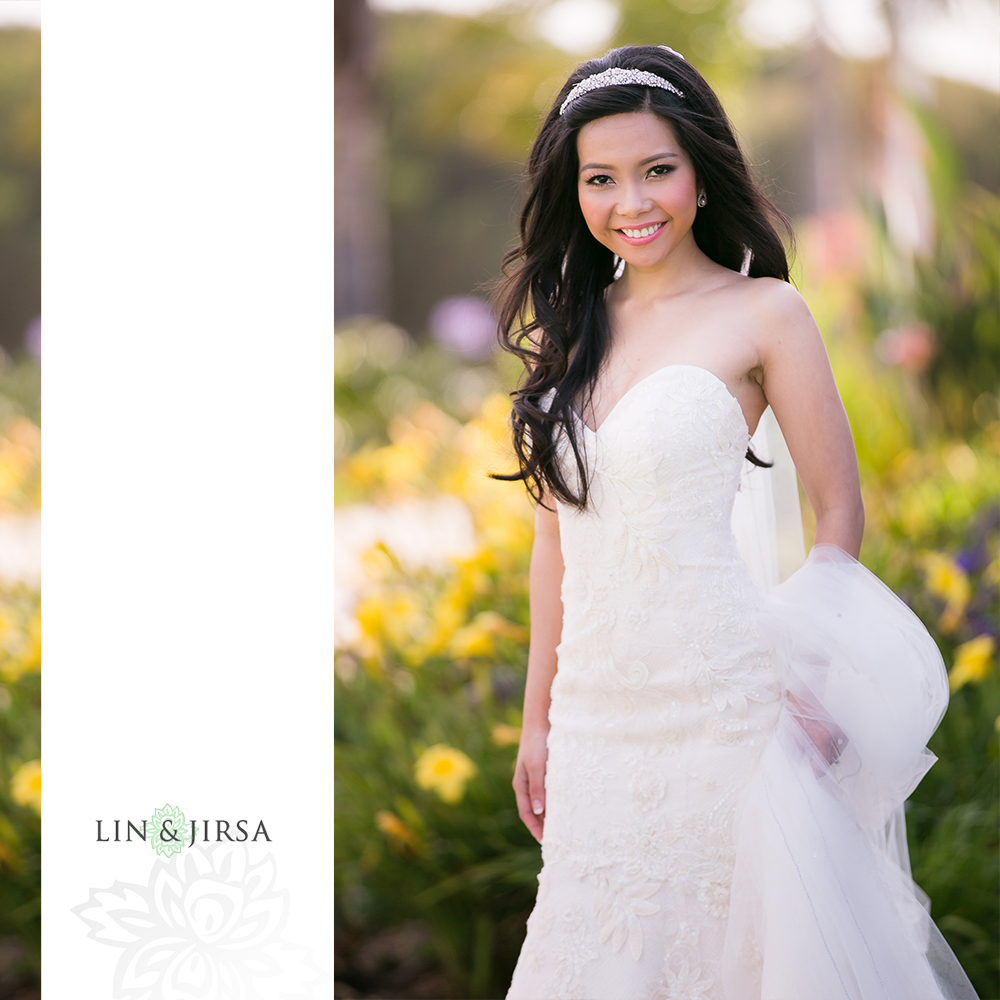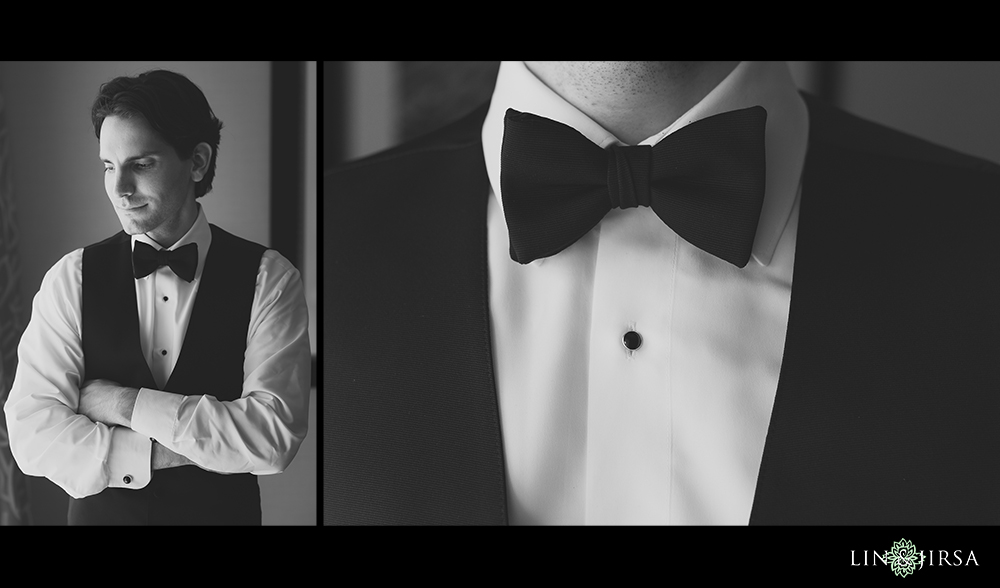 Spenser is looking pretty handsome himself.
Wedding Party
We made our way from the Laguna Cliffs Marriott down near the water to take photos of Spenser and his goofy groomsmen. The rocks and crystal blue water made for a unforgettable background.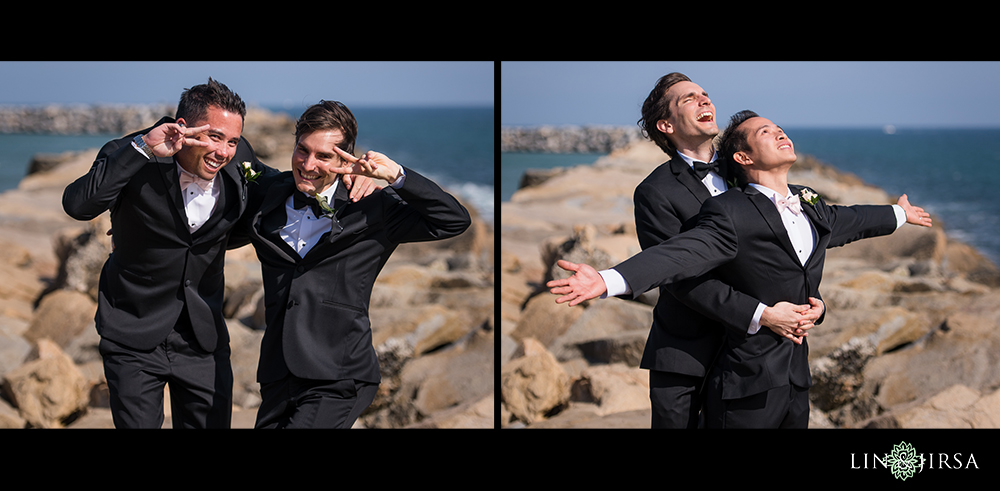 The ocean views inspired the traditional, Titanic, "I'm flying!" pose, which cracked us up. What a fun bunch of guys!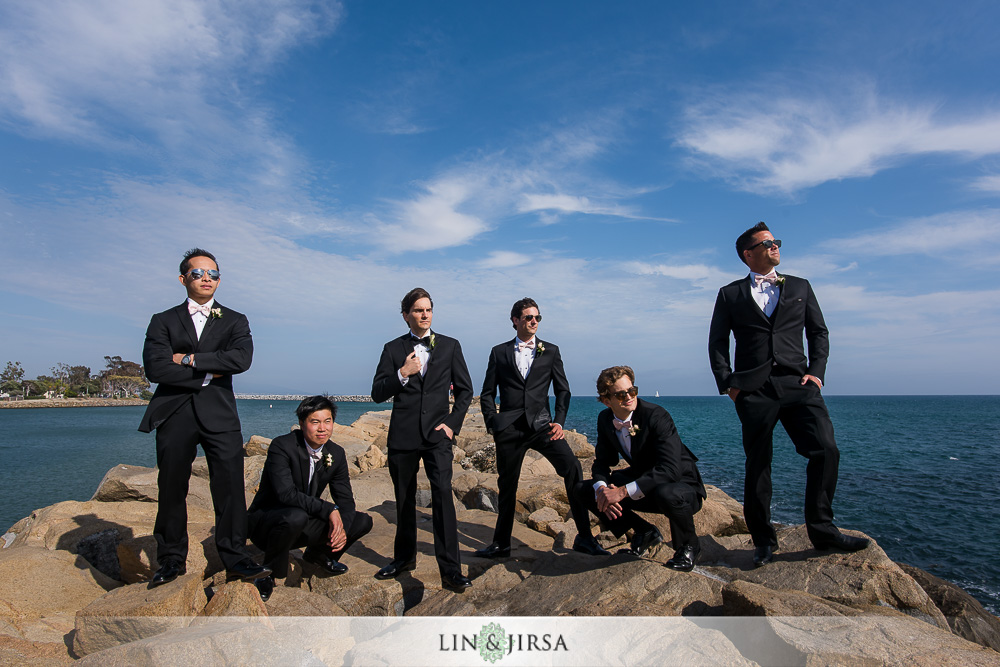 Too cool for school.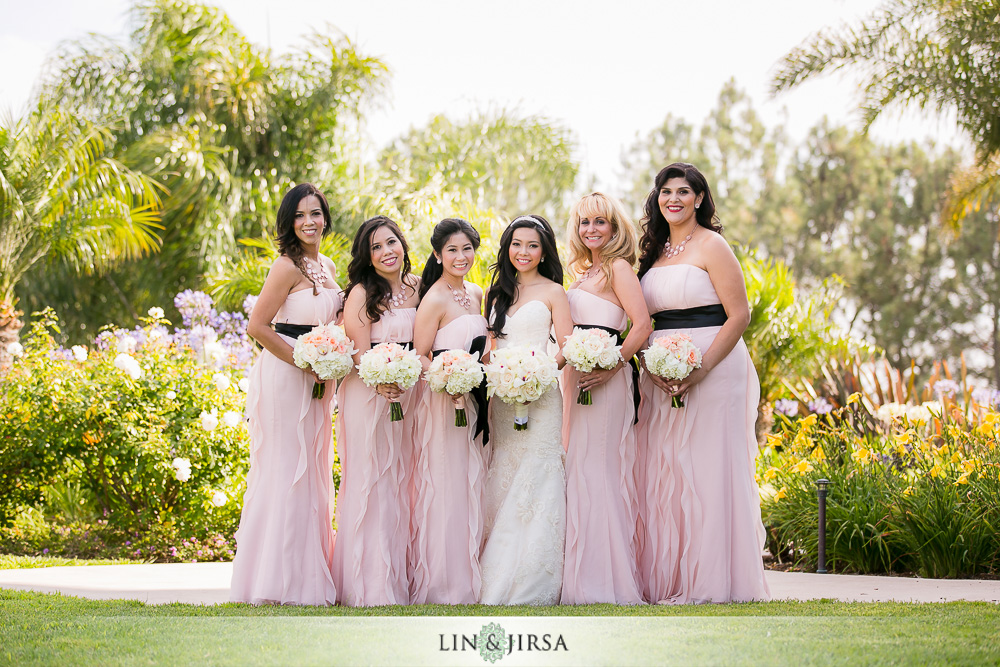 Such a gorgeous group of girls! We love how the soft pinks and whites in their bouquets complement their flowing, pink dresses.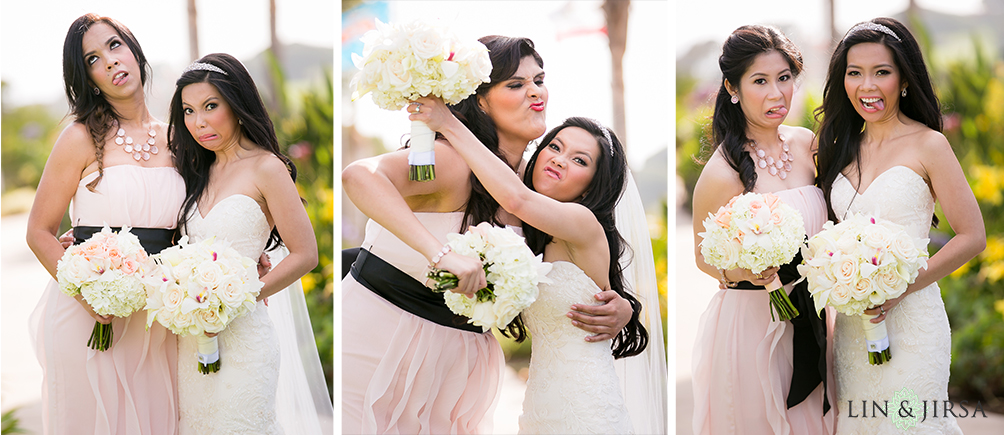 Showing off their best funny faces!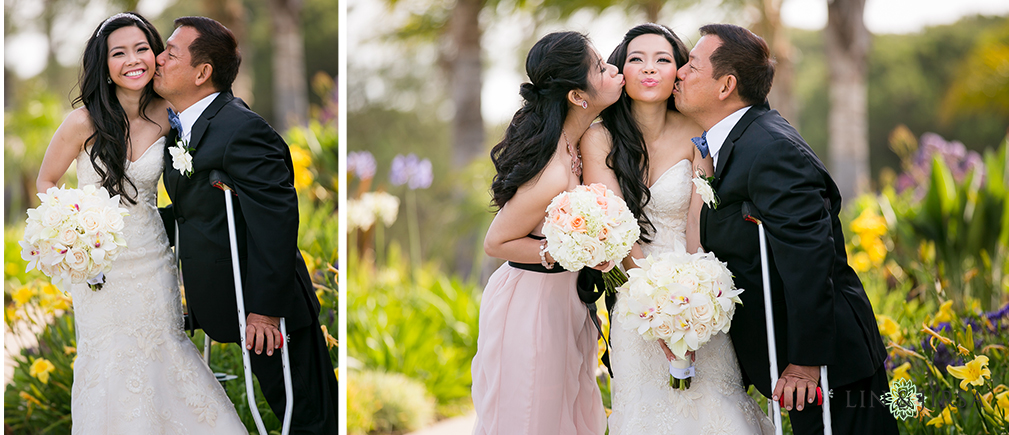 Such a sweet moment before dad walks Kristin down the isle.
Wedding Ceremony
The wedding ceremony took place on the lawn of the Laguna Cliffs Marriott. The venue is perched on a cliff just above the sparkling sea, and you can hear the gentle hum of the waves washing on the shore. It was the perfect place for Spencer and Kristen to say their "I do's."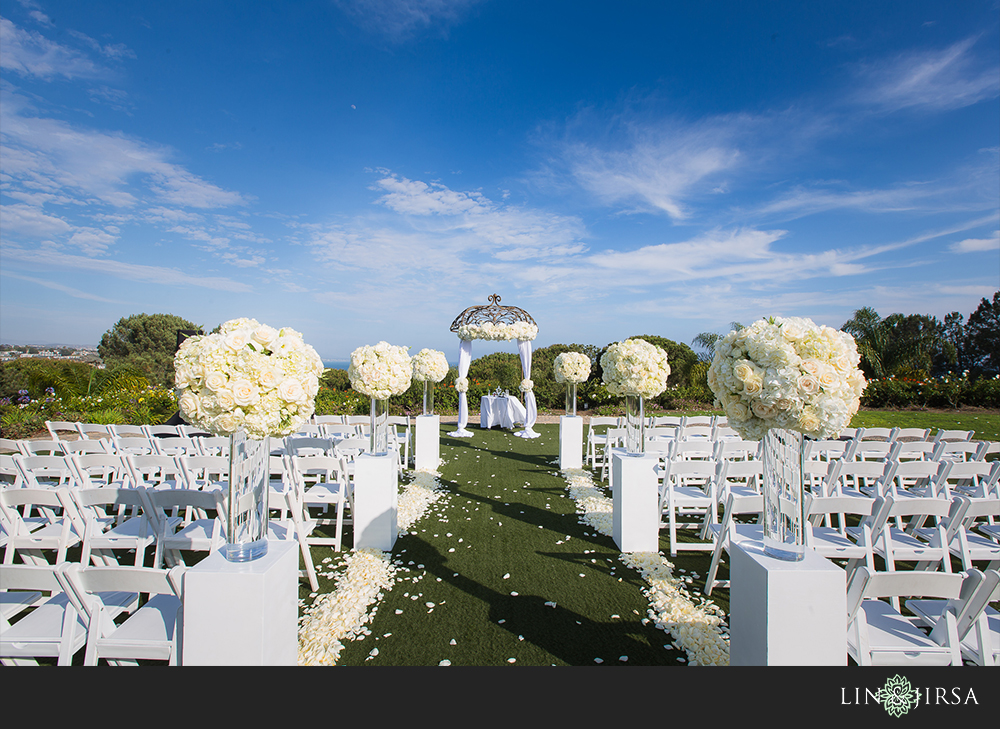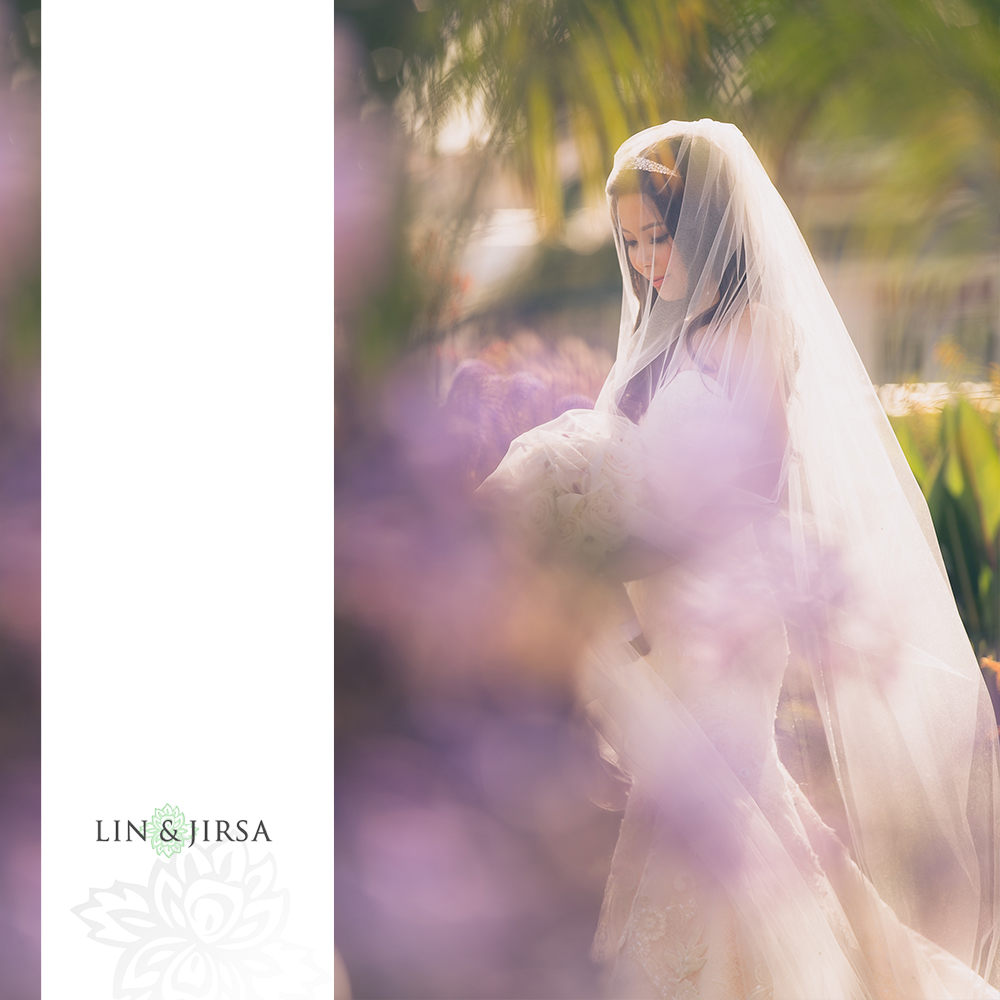 Kristen looks so perfect here!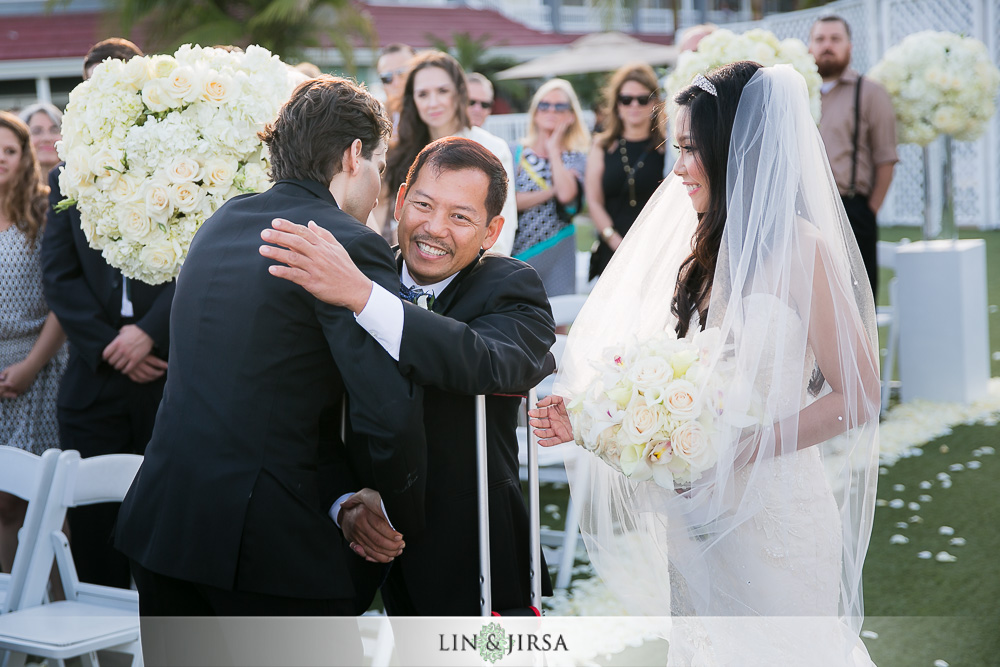 Watching a father give his daughter away is one of our favorite parts of the ceremony. Look how proud and happy he is!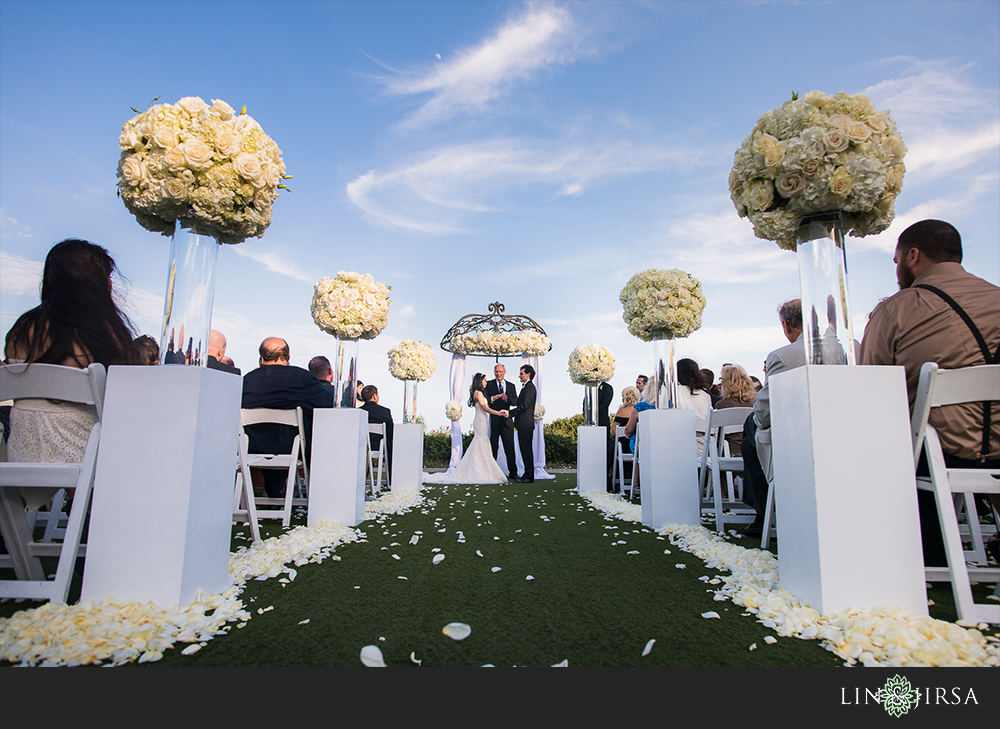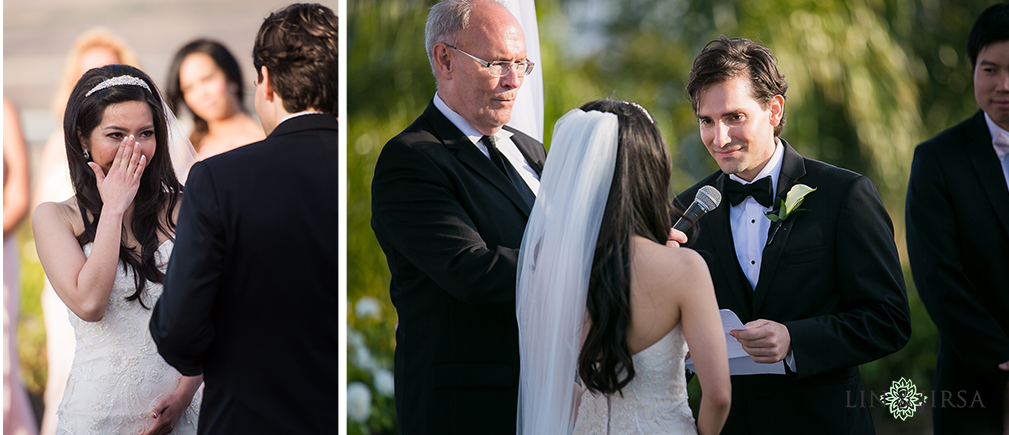 Spencer's vows brought Kristen to tears! So touching!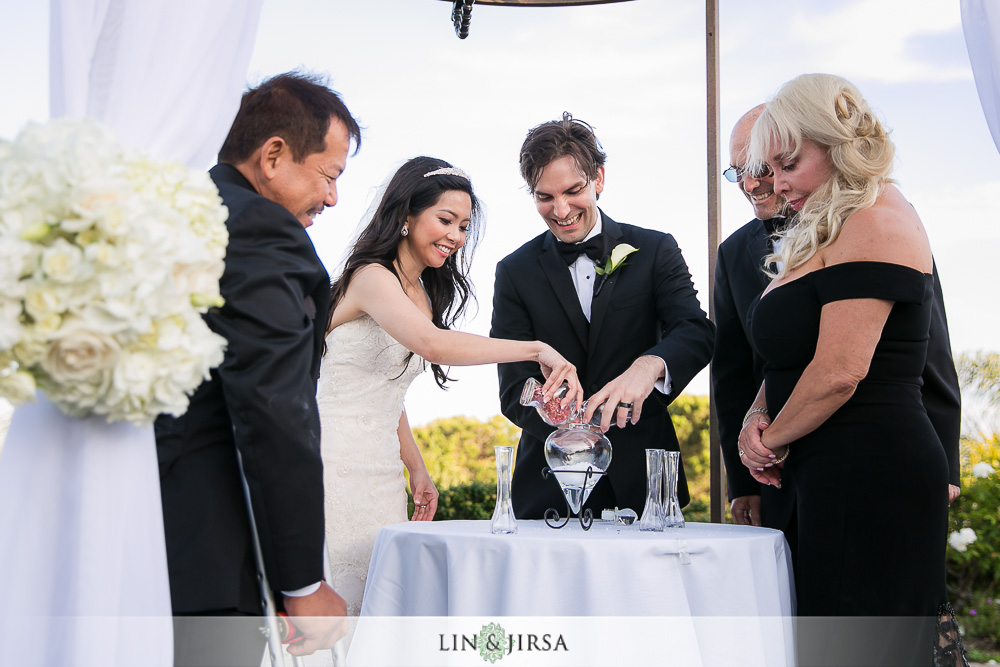 The "Blending of the Sands" to represent Kristen and Spencer joining as one.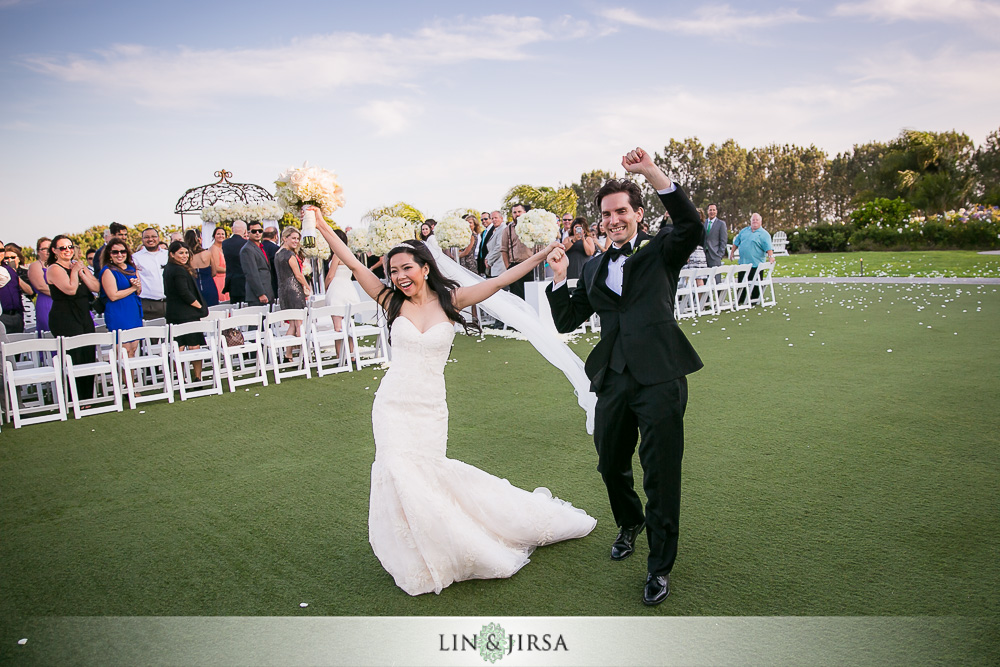 Maximum happiness achieved!
Wedding Couples Session
After the ceremony, we made our way to a garden area near the Laguna Cliffs Marriott for a wedding couples session. It was the perfect spot for the newlyweds to share a few special moments together before the reception.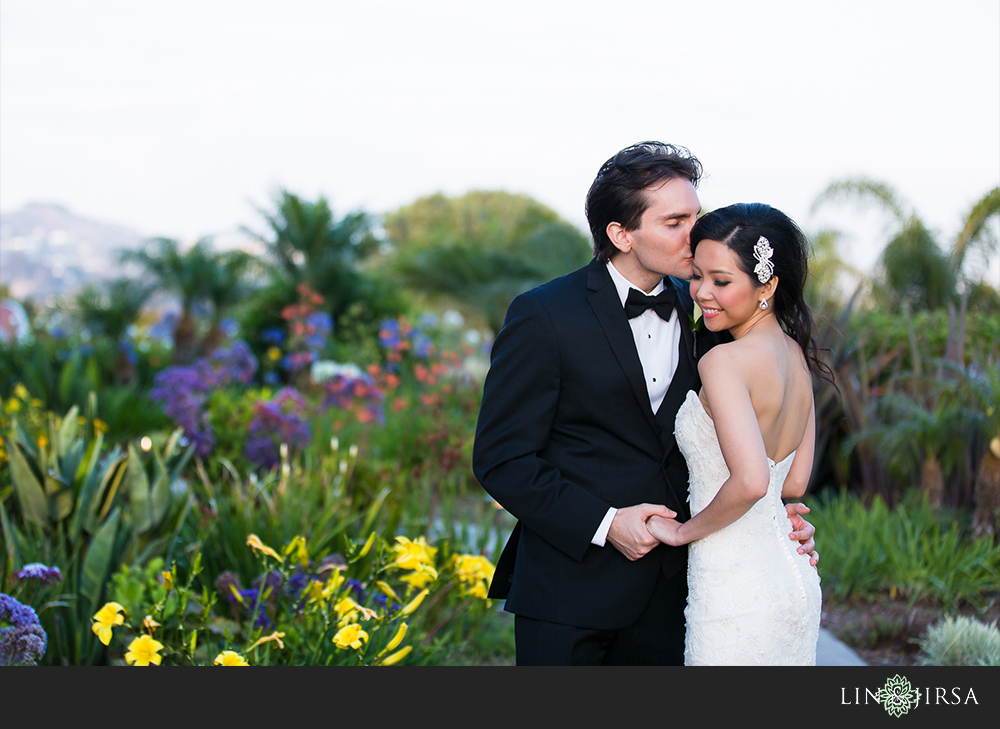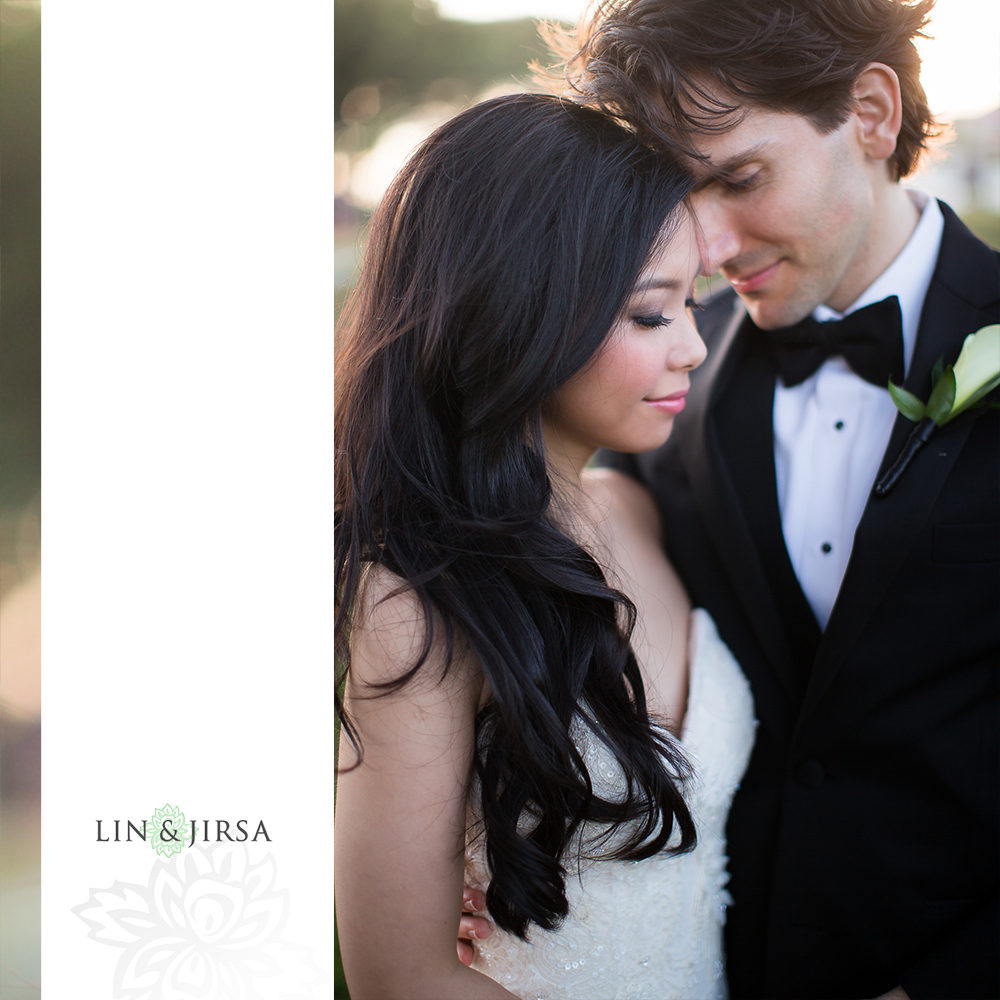 These two are breathtaking! They should be models!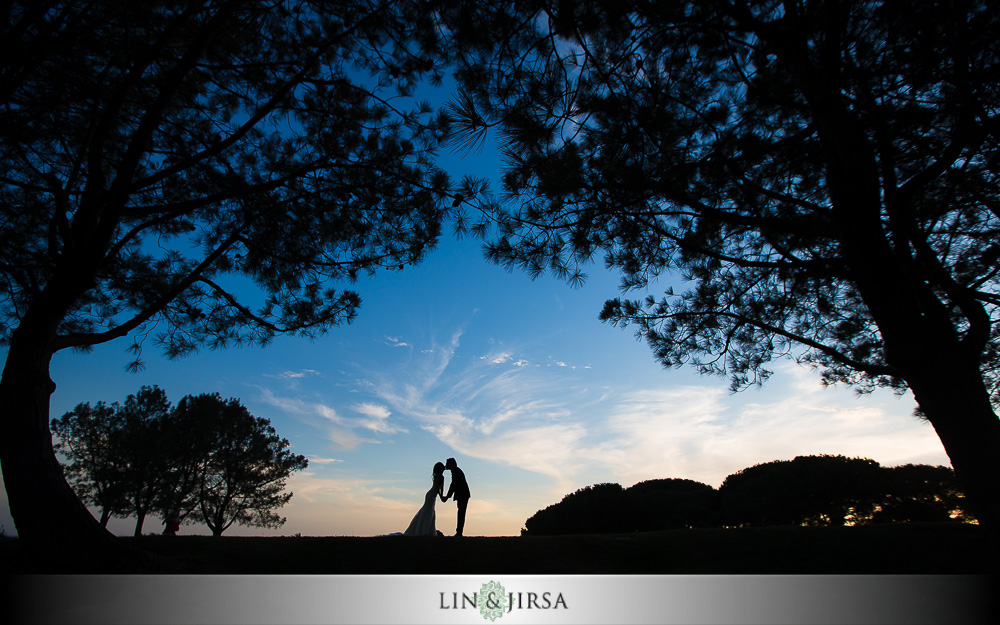 How perfect is this silhouette shot!?!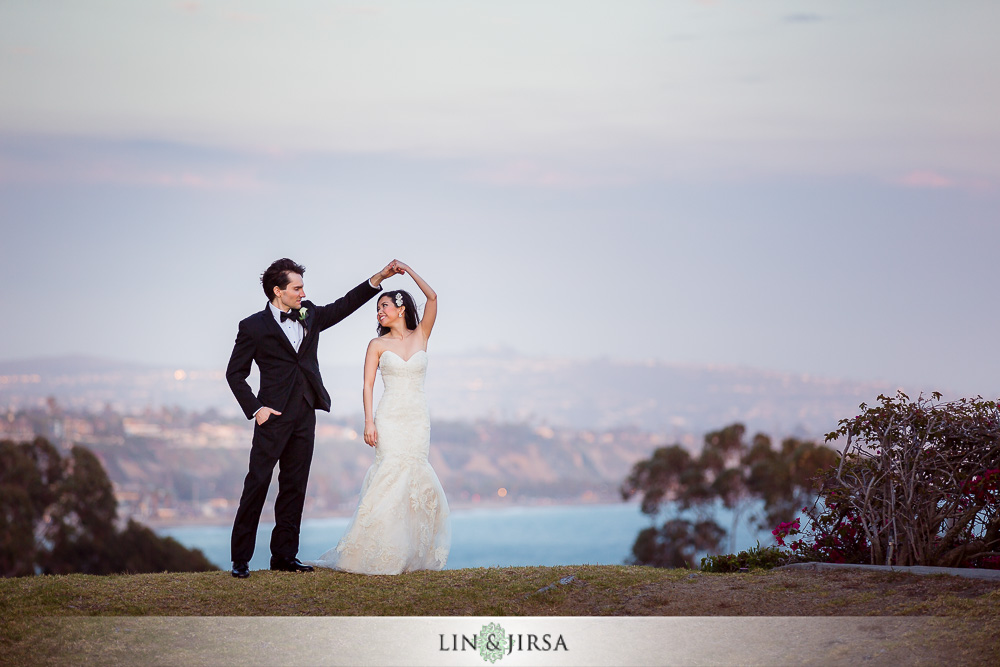 Having fun dancing above the Pacific Ocean! The view of Dana Point and the coastline from the Laguna Cliffs Marriott is simply beautiful.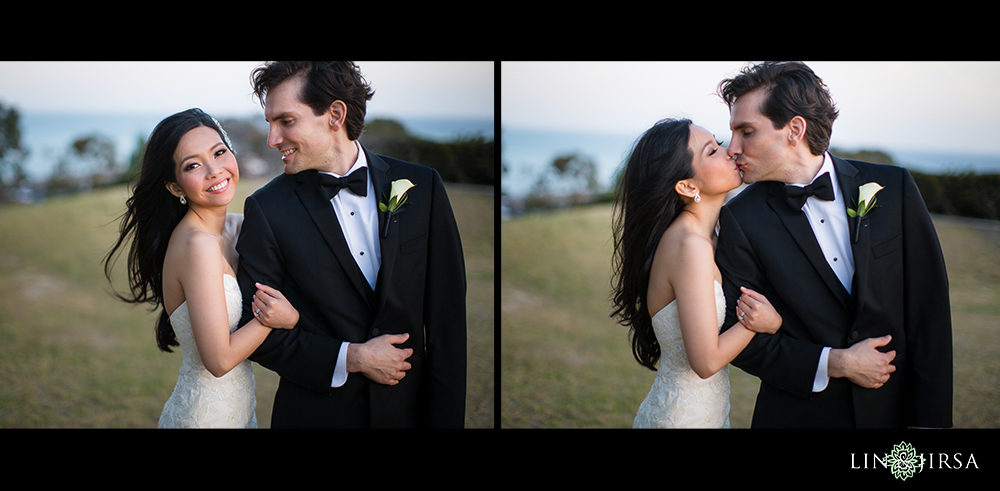 Wedding Reception
The wedding reception took pace inside this gorgeous ballroom at the Laguna Cliffs Marriott. Many thanks to Kerrie Underhill and her team for making sure everything looked flawless.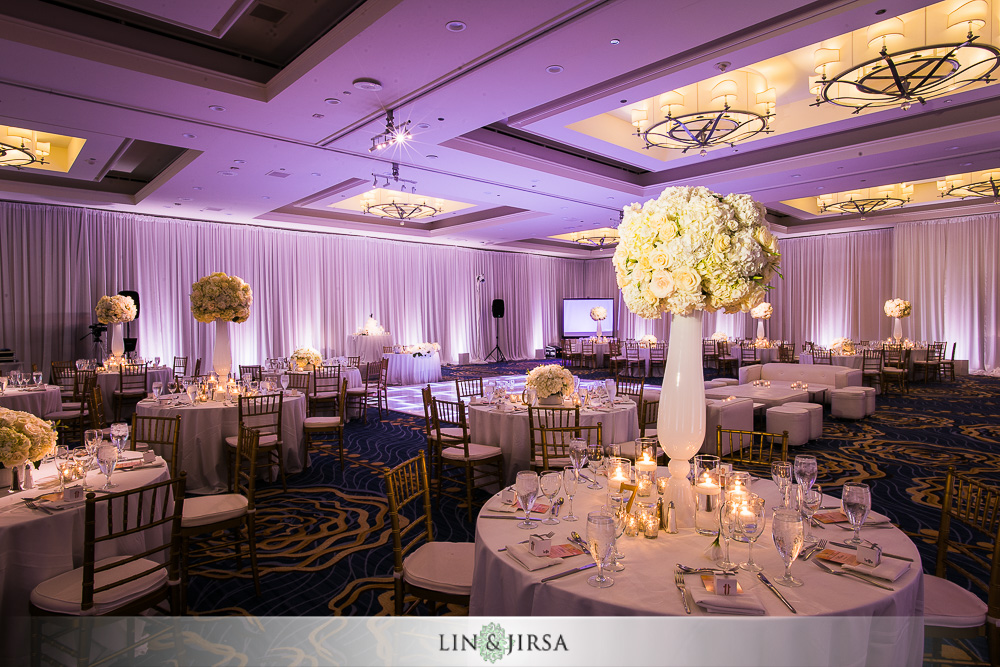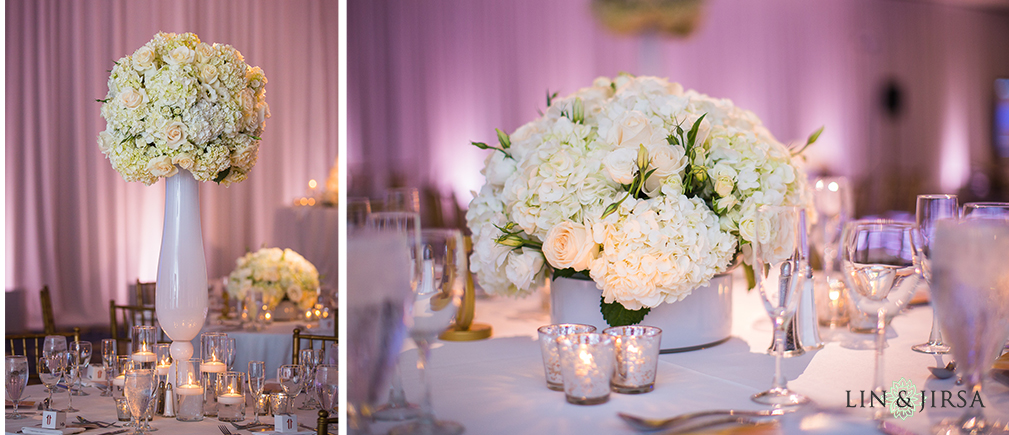 The white, floral centerpieces and candles filled the room with a inviting and romantic light.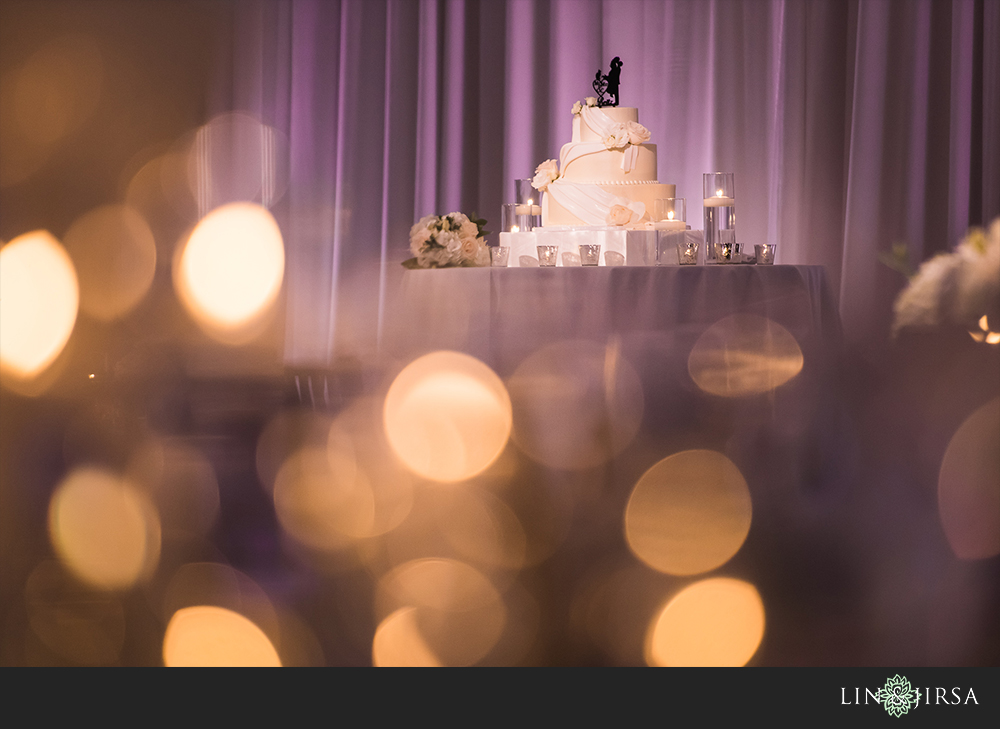 This cake by Heidelberg Pastry Shop looks gorgeous, and yummy!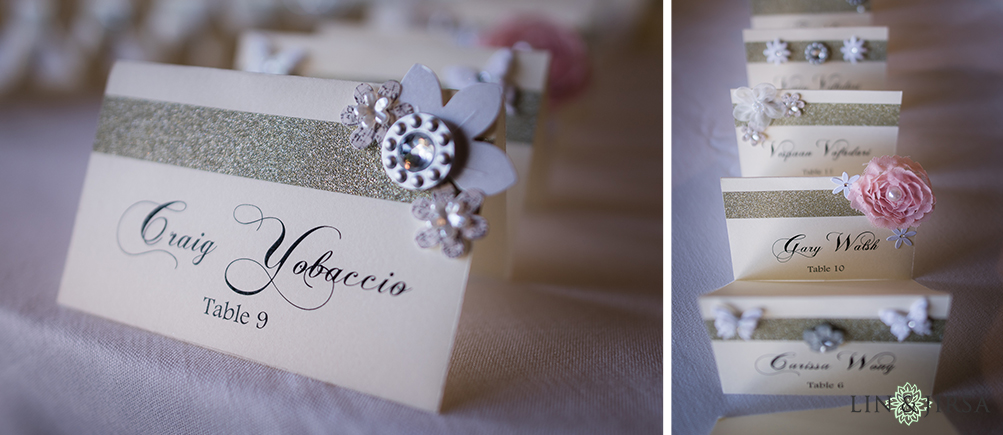 We just loved every detail! How special are these personalized name cards?!?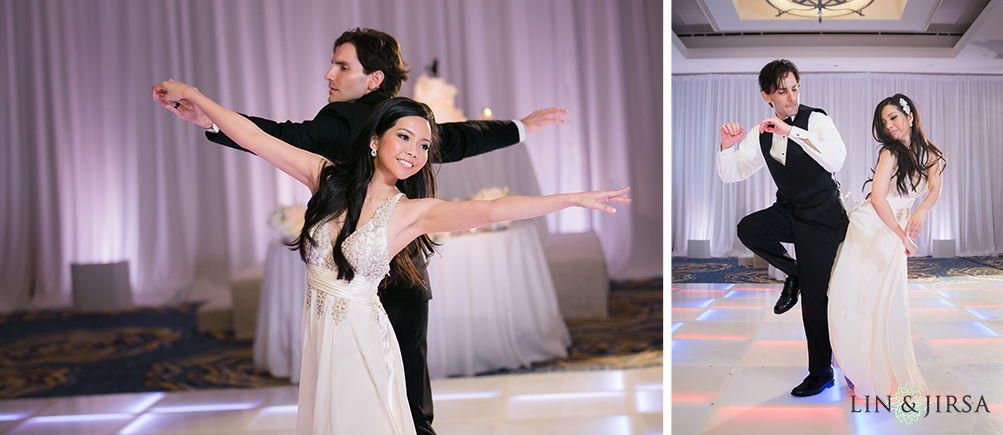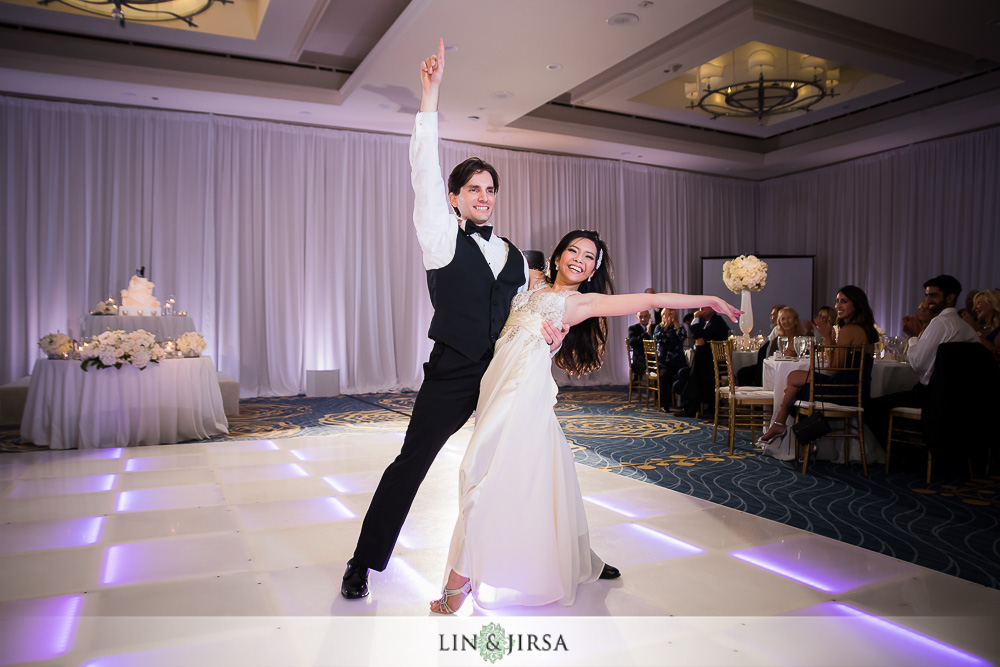 A fantastic first dance! Spencer and Kristin, you two are too much fun!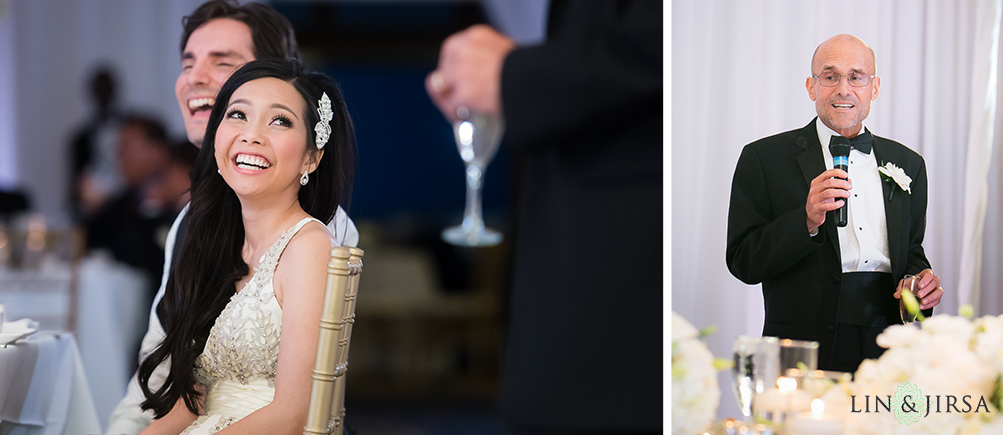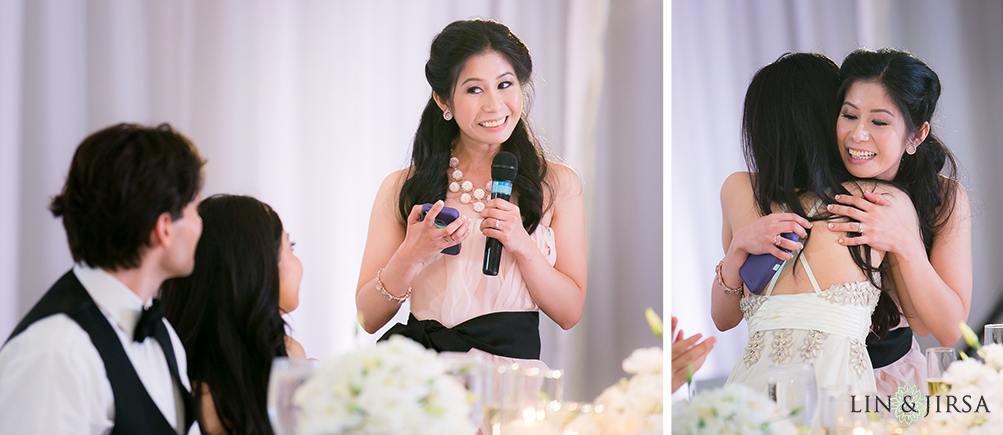 The toasts were so heartfelt!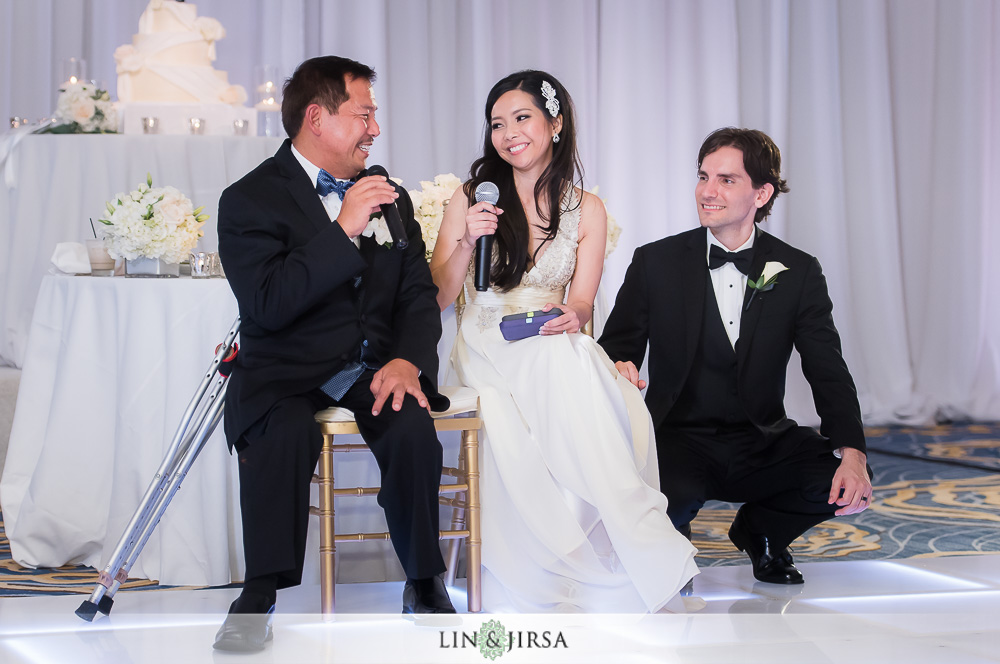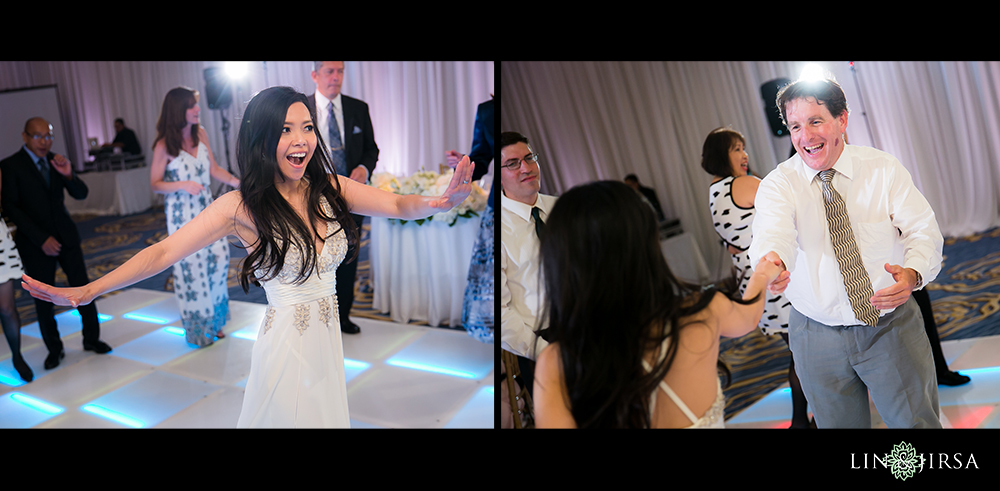 Time to boogie!
Kristin and Spencer's  friends and family really know how to get a party started!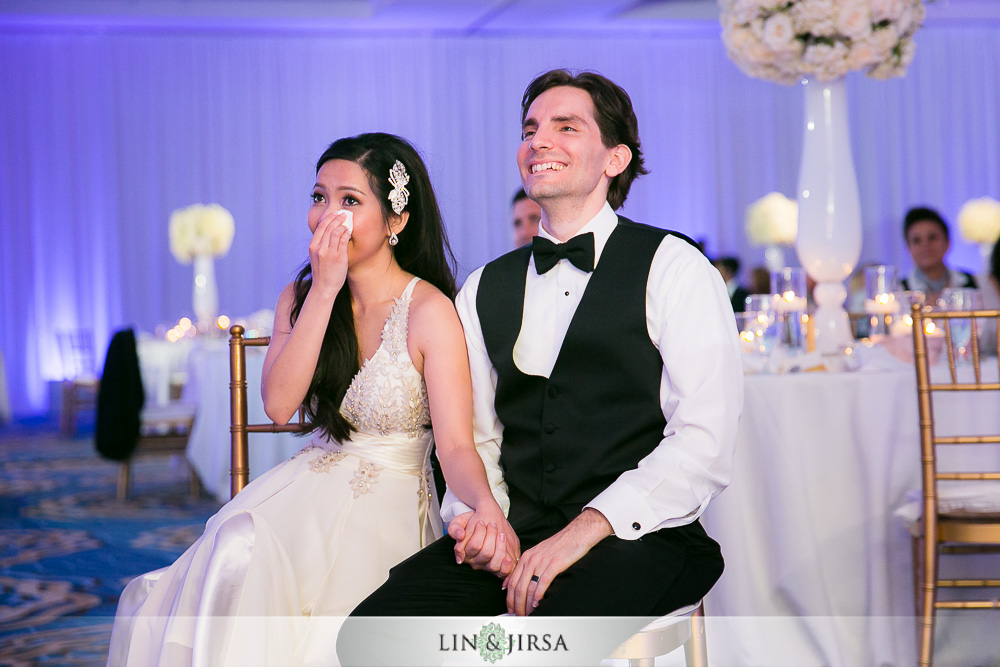 Sharing a few laughs and tears as they watch a touching video of their love story.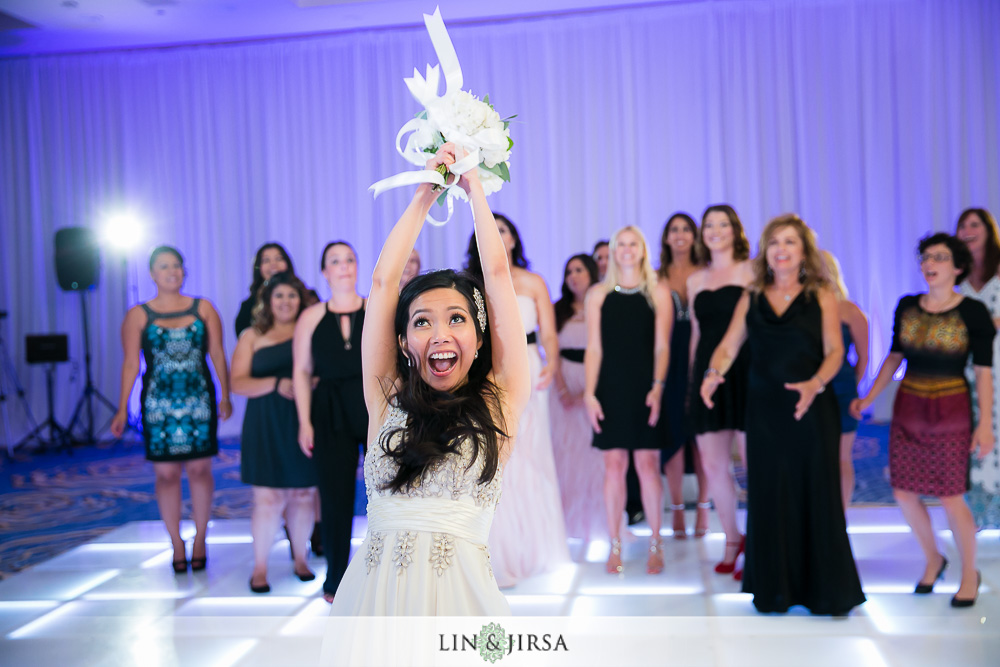 Get ready ladies!!!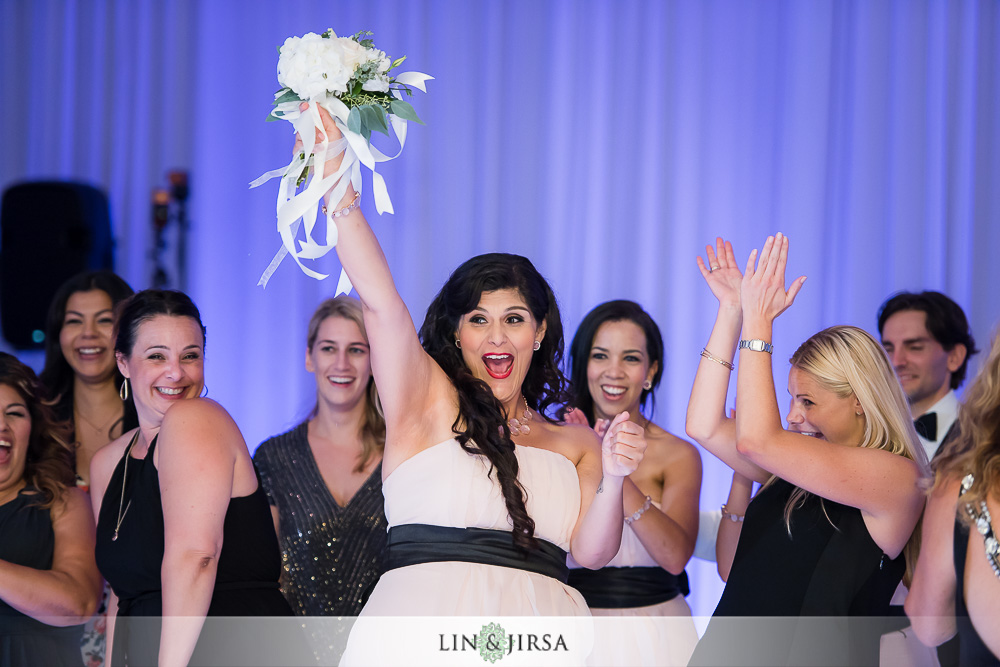 Success!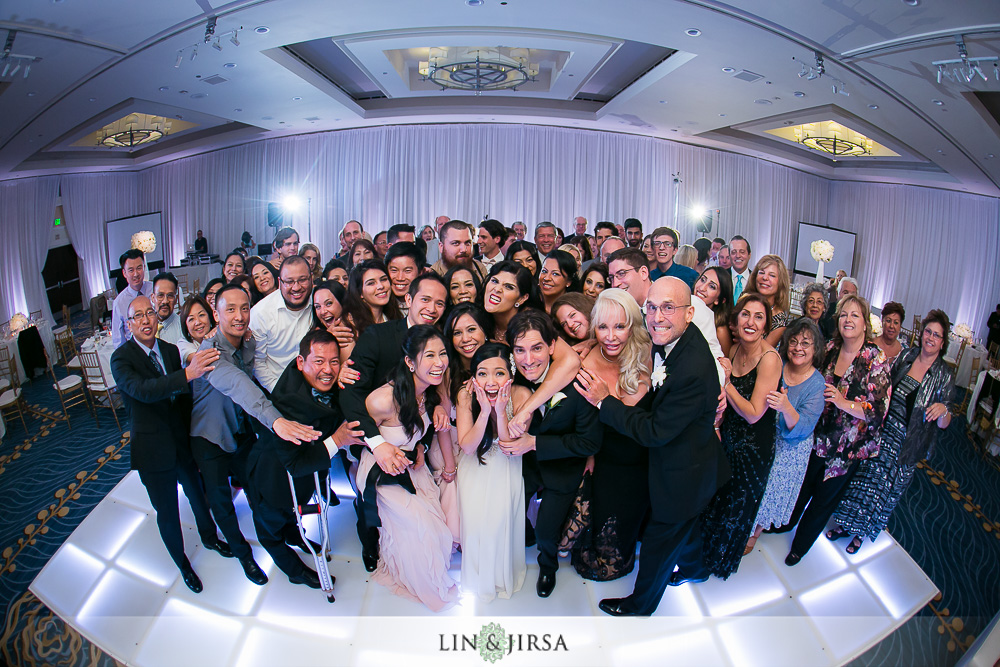 Group shot!
Their rings were simply stunning.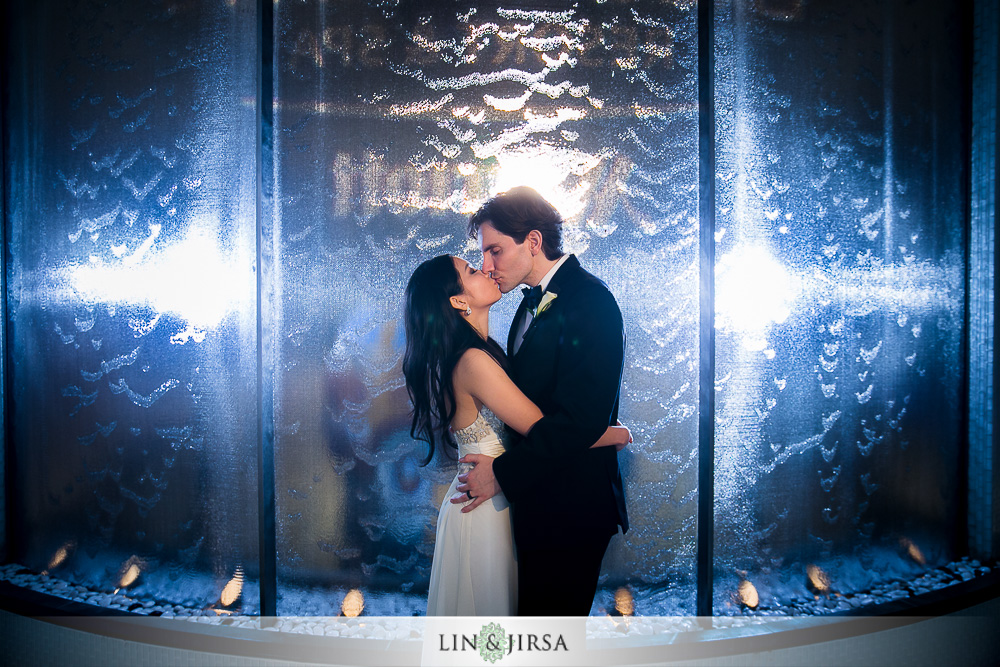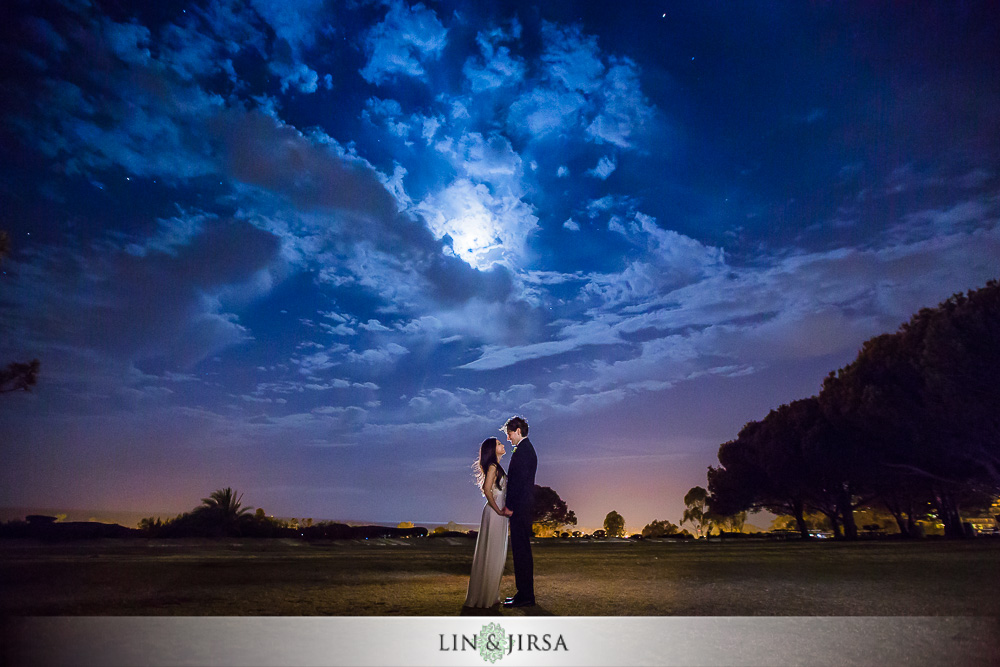 Outside the soft moonlight peaked through the clouds and we knew that we just had to whisk Kristin and Spencer away for a quick night shot. It was a spectacular ending to a beautiful day. Congrats Kristin and Spencer! 
More Wedding Info:
Wedding Photography Location or Venue: Laguna Cliffs Marriott 25135 Park Lantern, Dana Point, CA 92629 (949) 661-5000
Wedding Coordinator: Kerrie Underhill Contact: [email protected] Website: https://www.linandjirsa.com/platinum-weddings-by-kerrie-wedding-planning/
Make Up Artist: Vincent Tran Contact: [email protected]
Cake: Heidelberg Pastry Shop Contact: [email protected] Website: http://www.heidelbergbakery.net/
Wedding DJ: 3J Events Contact: [email protected] Website: www.3jevents.com
Wedding Florist: Flowers By Cina Contact: Website: http://www.flowersbycinaca.com/
Dance Floor: USA Dance Floor Website: http://www.usadancefloor.com/
Contact Us for more information on availability. We'd love to show you our studio in Orange County, California and walk you though our albums, canvases and other print photography products. We can also provide more information on our Wedding Videography and introduce you to our team!
To view more information about our post production, please view our Lightroom Presets and our Lightroom Tutorials.