Newport Beach LDS Temple Wedding | Olivia & Jeremy
Please enjoy this Newport Beach LDS Temple Wedding featuring Olivia & Jeremy. Special thanks to Renee Liu for helping to organize this wonderful event.
Also, check out our Facebook Page for updates and the latest with Lin and Jirsa, Los Angeles!
Olivia is the closest thing I have to a sister, making this wedding extremely dear to my heart. Her beauty is effortless which made photographing her an easy task.
Wedding Preparation
The rope textured detail on her shoes made for the perfect backdrop to photograph her earrings.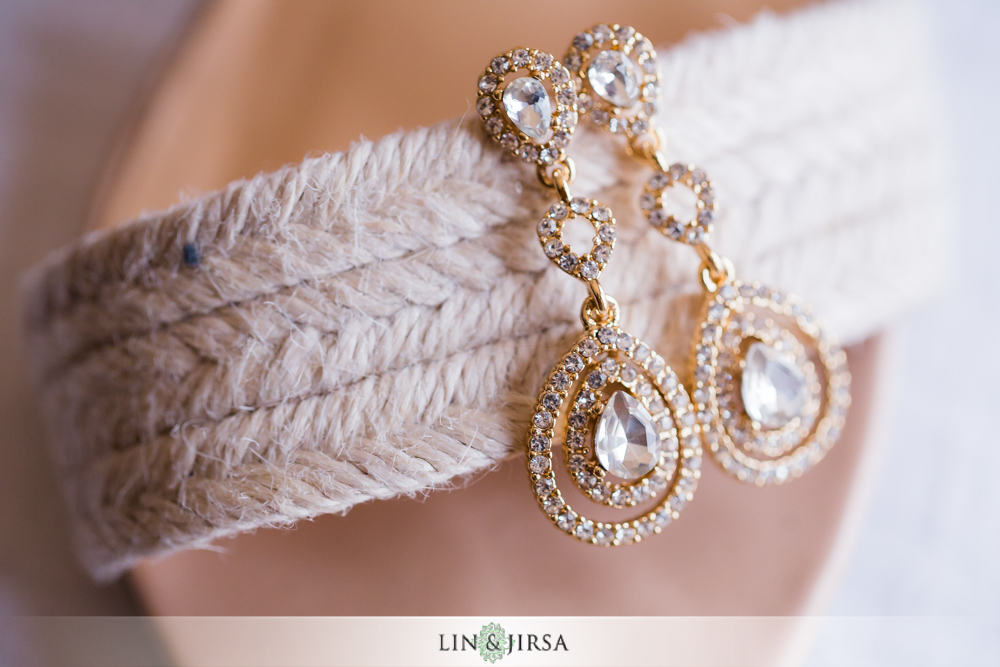 Olivia's mom Carlee found this beautiful "shuangxi" jewelry box which was such a perfect element for the rings. It is common at Chinese weddings to see the "shuangxi" characters as a blessing to the couple. The character "xi" stands for happiness, and placing two "shuang" of these characters together is symbolic of a couple living in happiness and joy.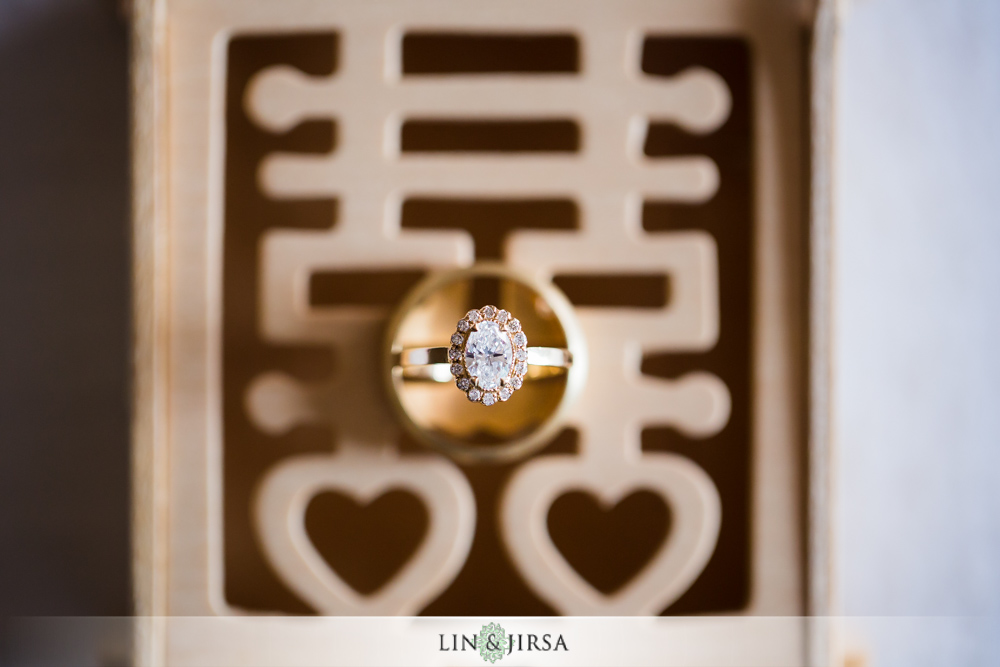 Her stunning gown was created by the Utah based designer Allyse's Bridal and Formal and paired perfectly with the rustic details of her wedding.
Allyse's Bridal specializes in modest wedding attire for LDS brides and Olivia's dress was the perfect balance of simple elegance.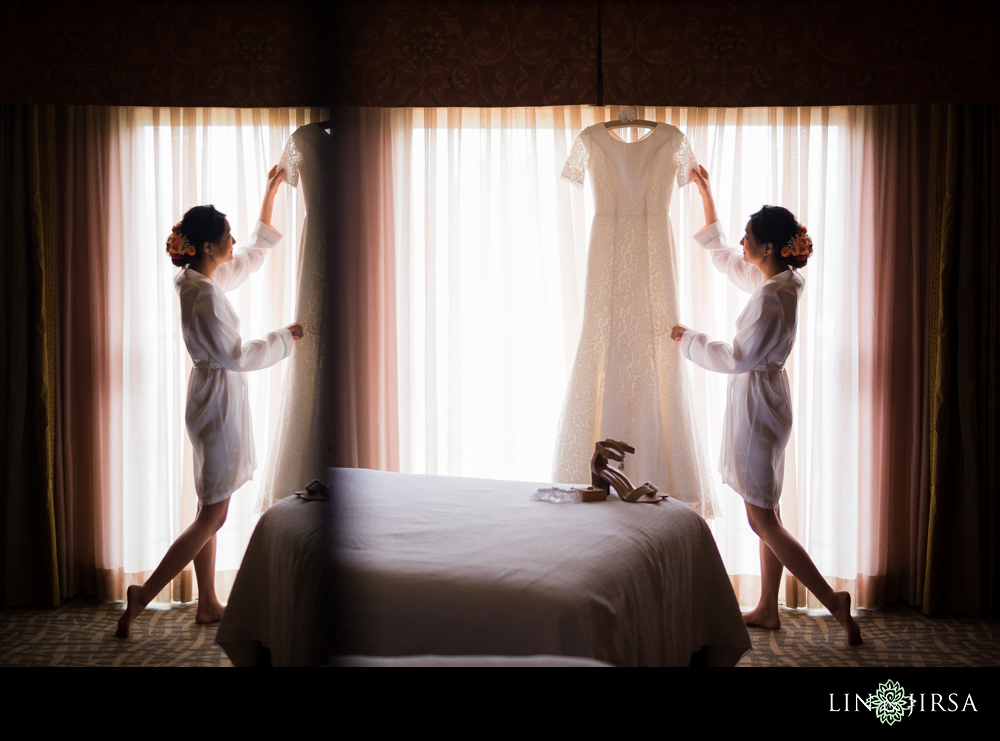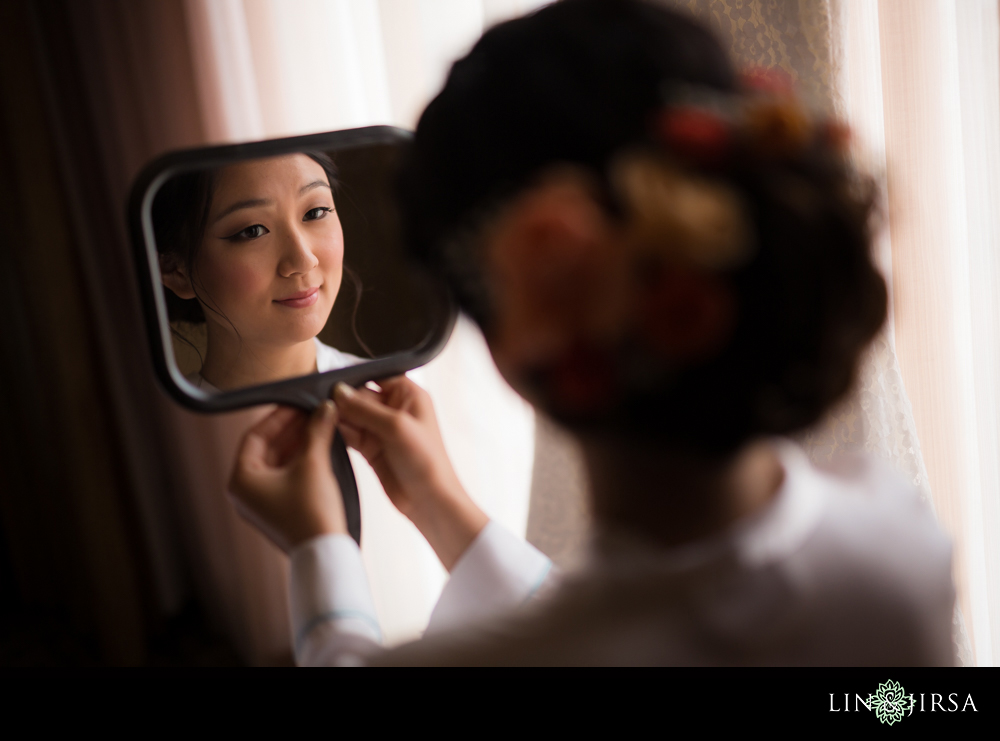 Olivia's hair was so beautiful and classic! Design Visage truly did an incredible job (as expected of course).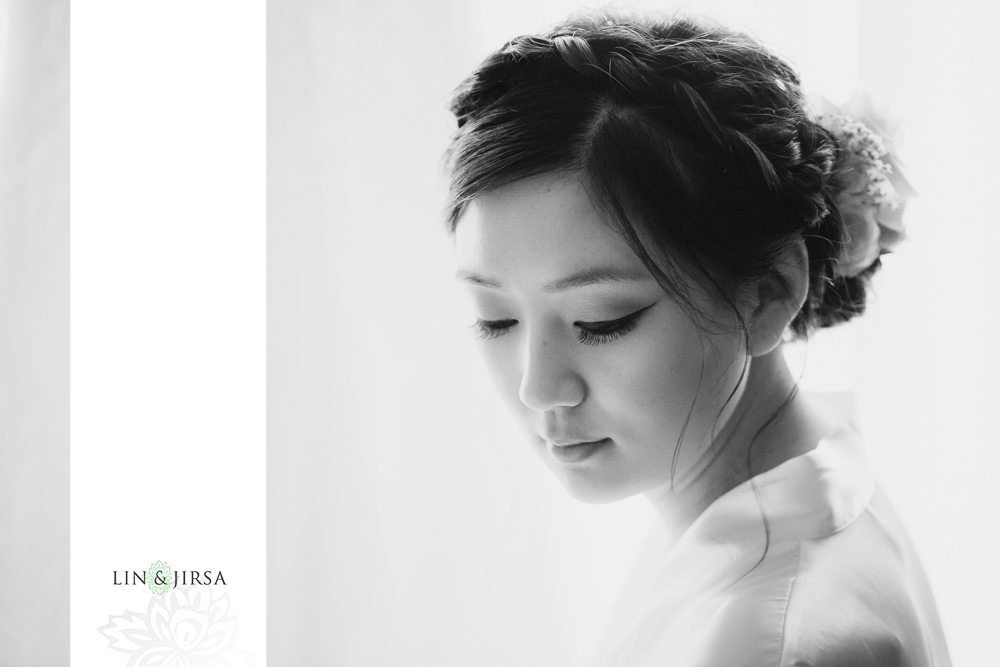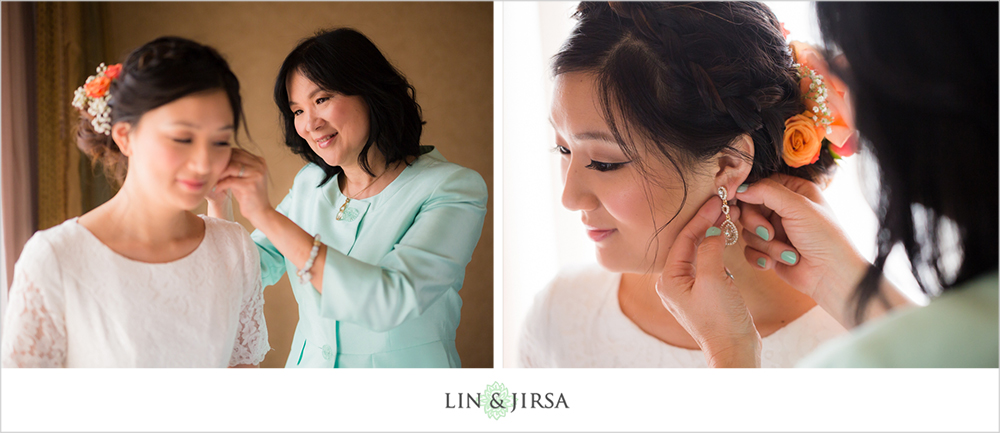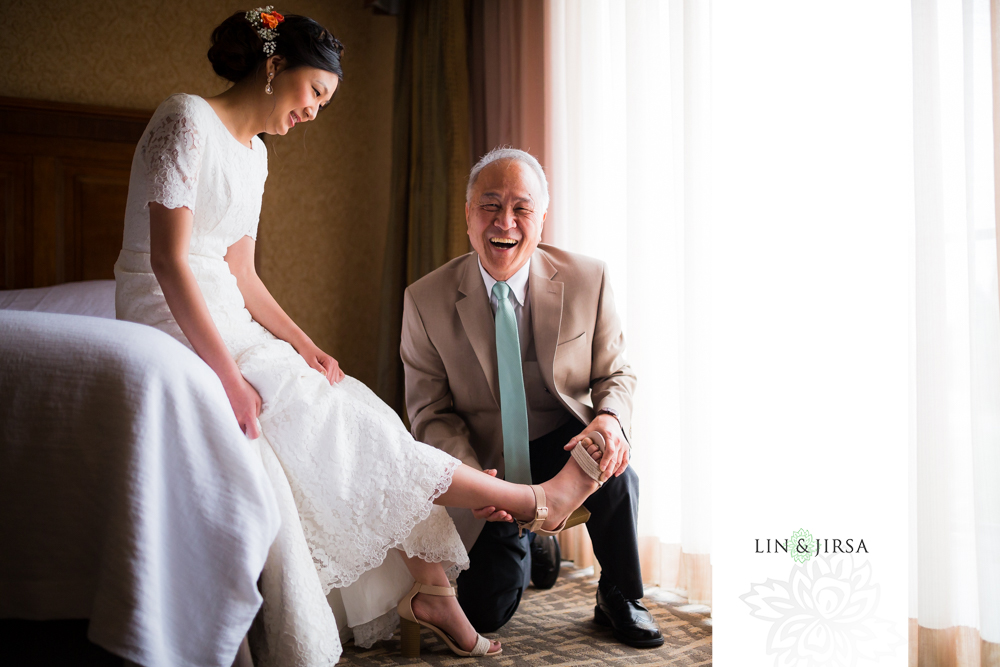 We love capturing these heartwarming moments between the Bride and her parents. Sometimes we help coach and guide moments like this as they often don't just happen on their own.
To do so, we find a nice spot of light and simply ask the Bride's parents to tell their daughter how beautiful she looks and offer their sentiments before she heads out on her special day. With just this simple amount of direction, we receive truly raw and emotional exchanges.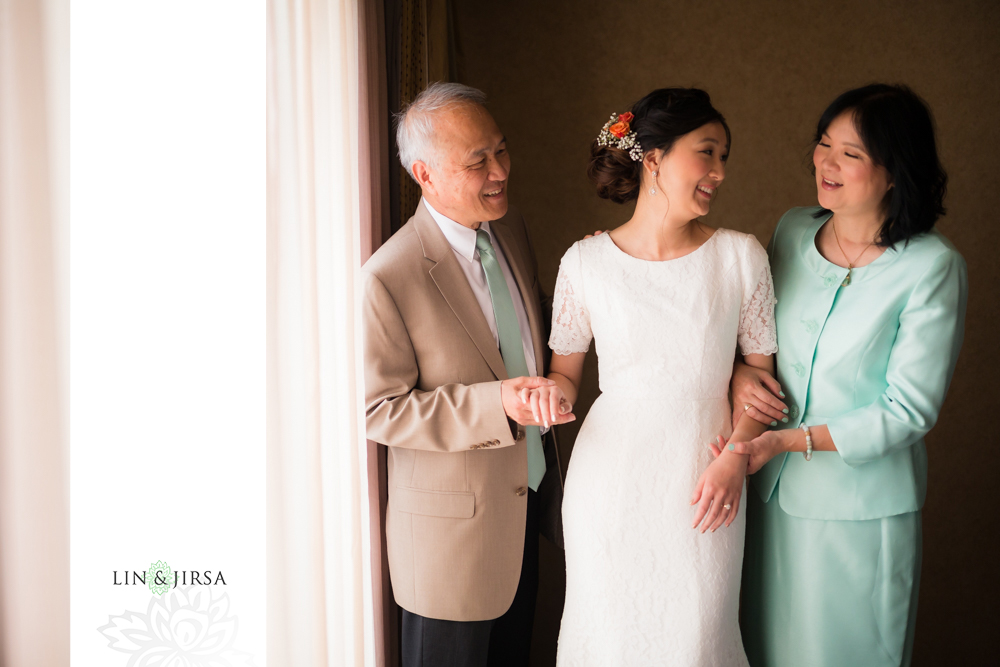 Just before the first look we captured some beautiful bridal portraits of Olivia. Simple. Elegant. Perfect.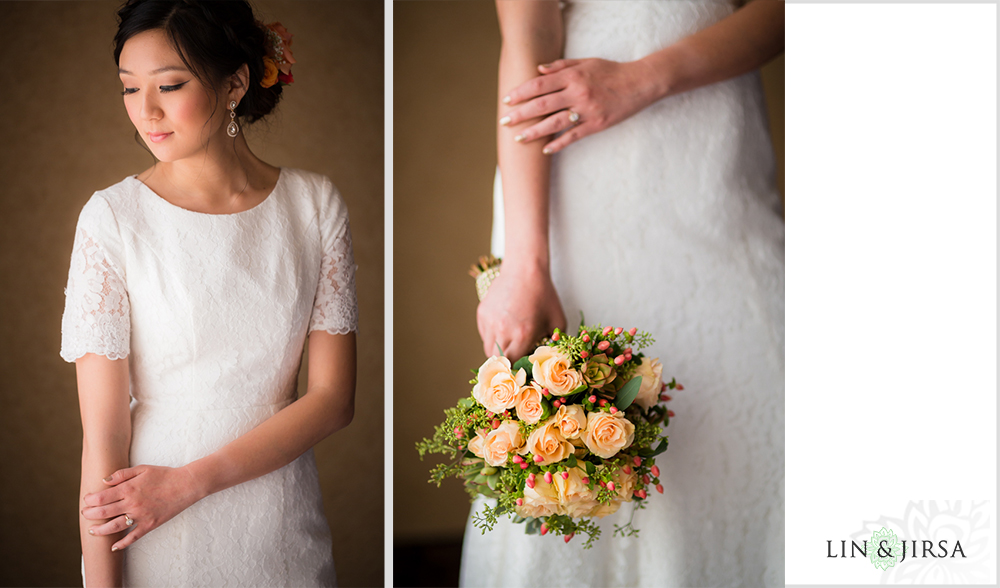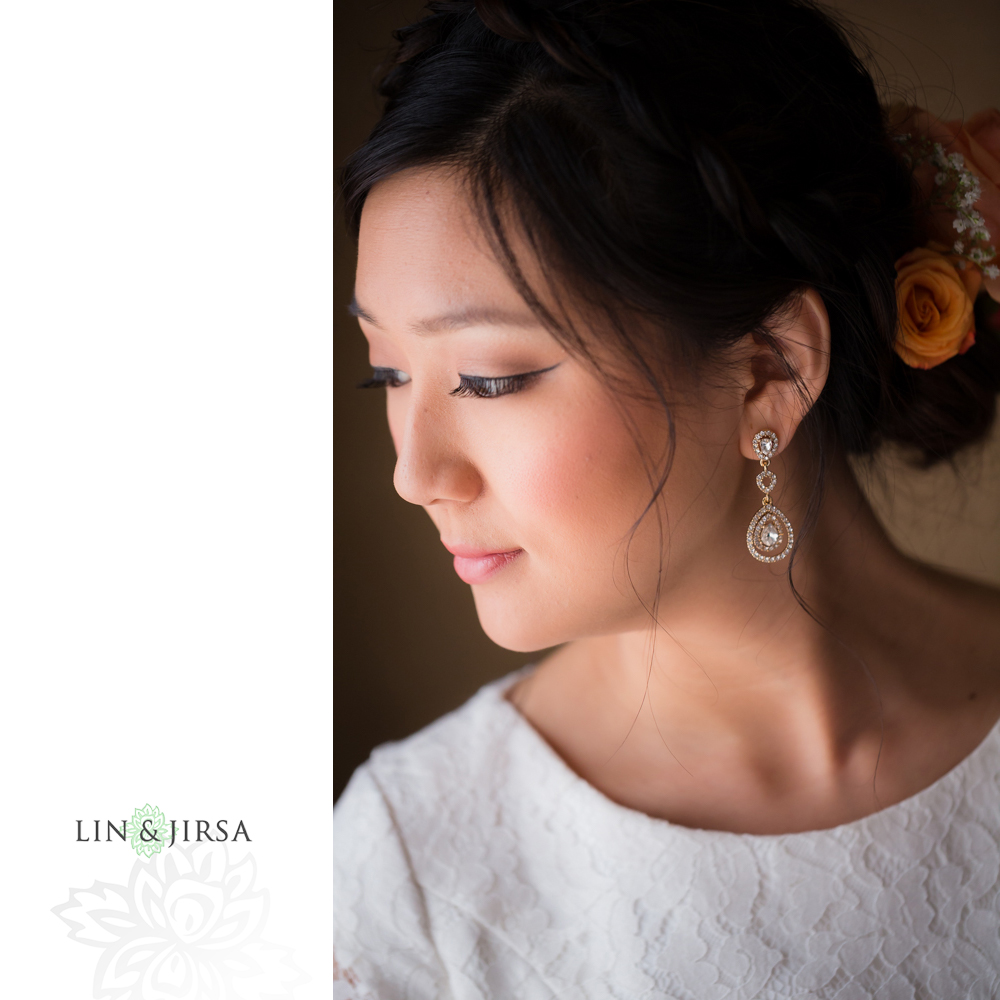 Jeremy is one of the more fashionable men that I have met and his accessories truly set the mood for the day adding a bright and colorful contrast to his dignified suit.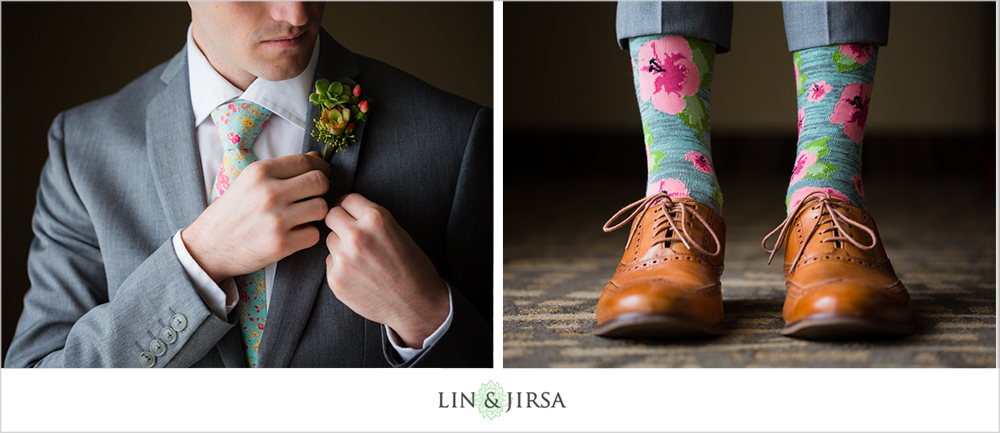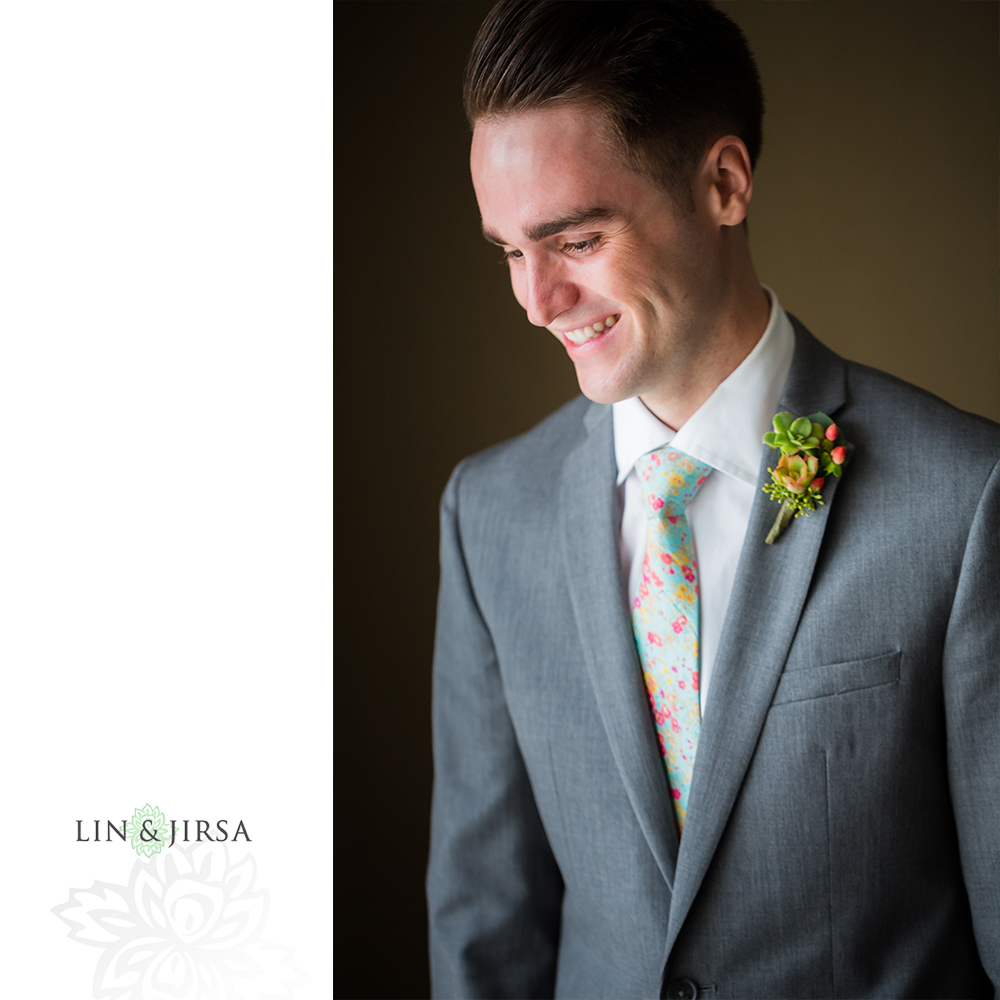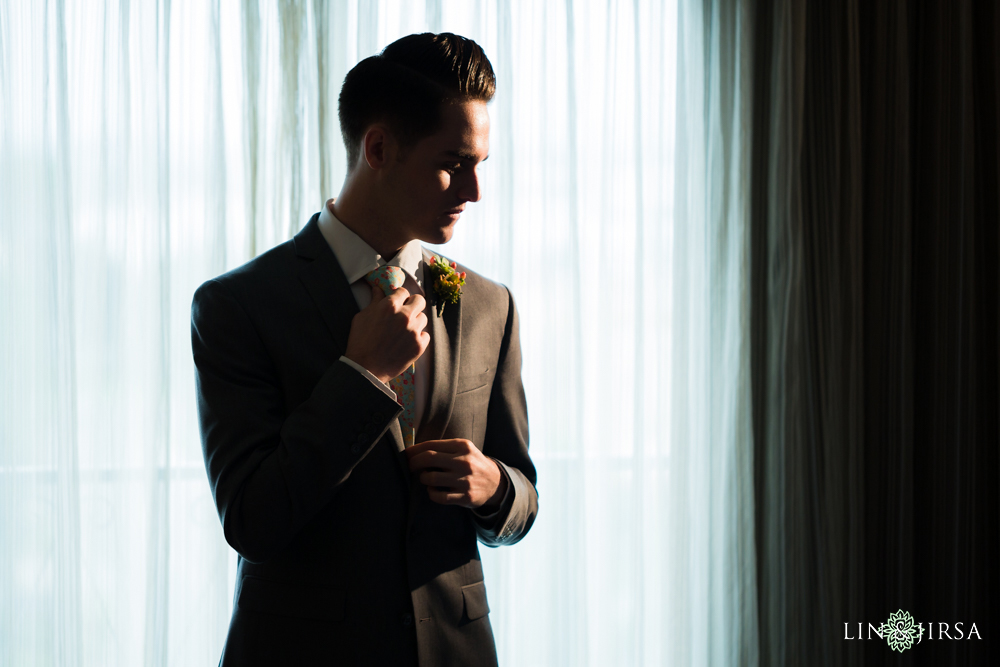 The First Look
Our plan was to head to Little Corona beach for our couples wedding portraits, as well as the wedding party portraits. So we decided for a first look at the hotel, starting with a first touch.
The first touch is becoming a favorite of ours. It involves the couple being able to touch and talk with each other for just a moment prior to the first look. It results in some of the most beautiful and emotional images that we capture.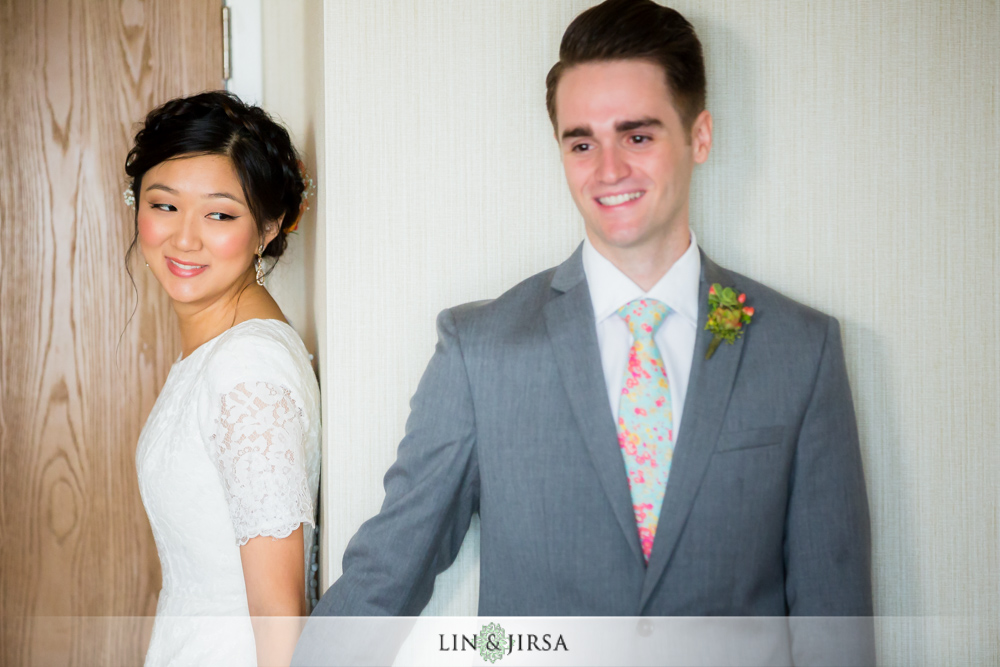 Just after the first touch, we hid Olivia and placed Jeremy in front of the window. We then walked Olivia out and simply captured the magic.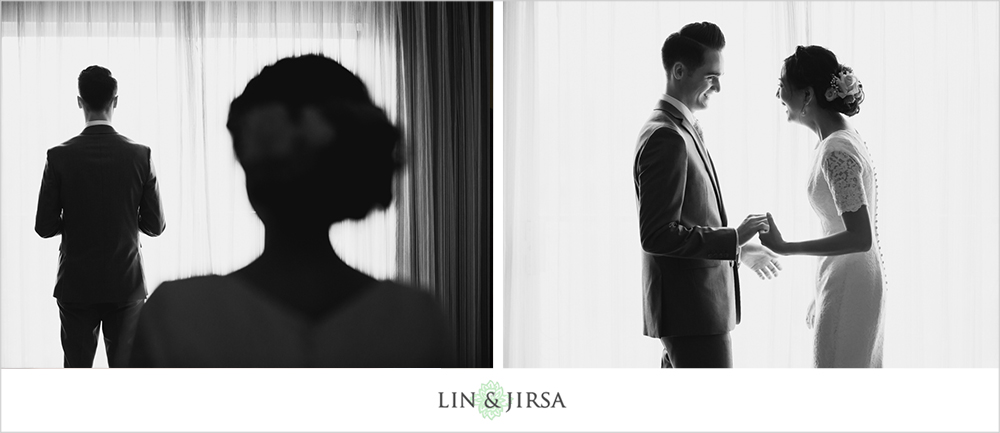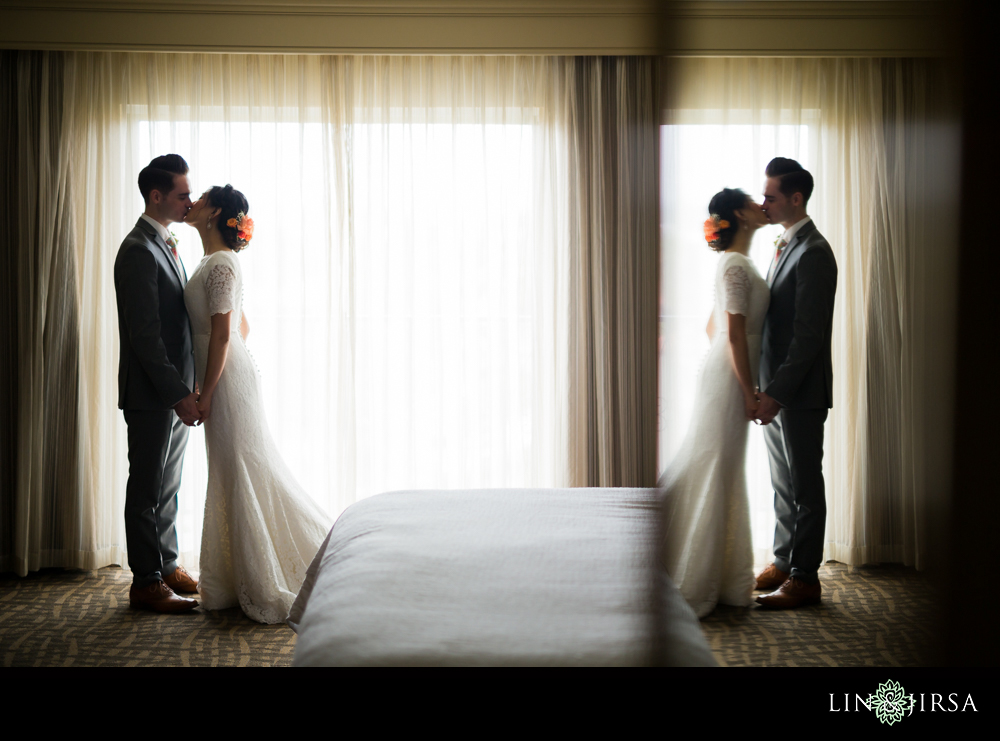 Photographing the Bridal Party
In order to accentuate the beautiful colors that Olivia had picked out for her Bridesmaids dresses, we wanted a contrasting background that wouldn't take away from the vibrancy and beauty of the girls.
We selected Little Corona Beach for their wedding photography since it was close to the Newport Beach Temple and offered a fantastic background with its mixture of beach and rocks.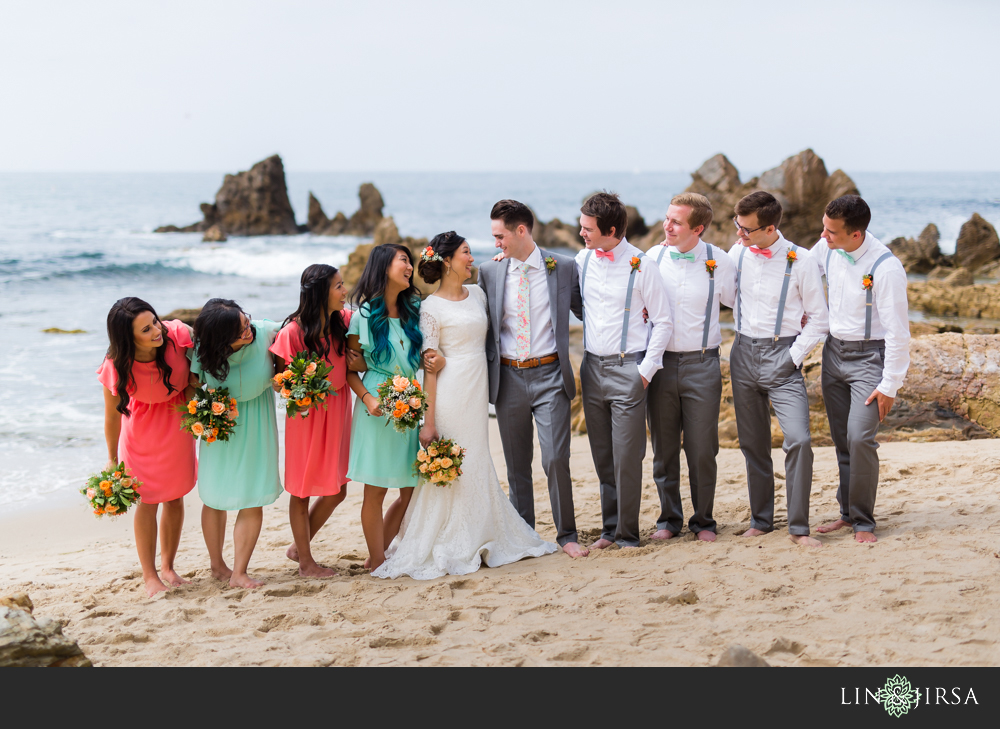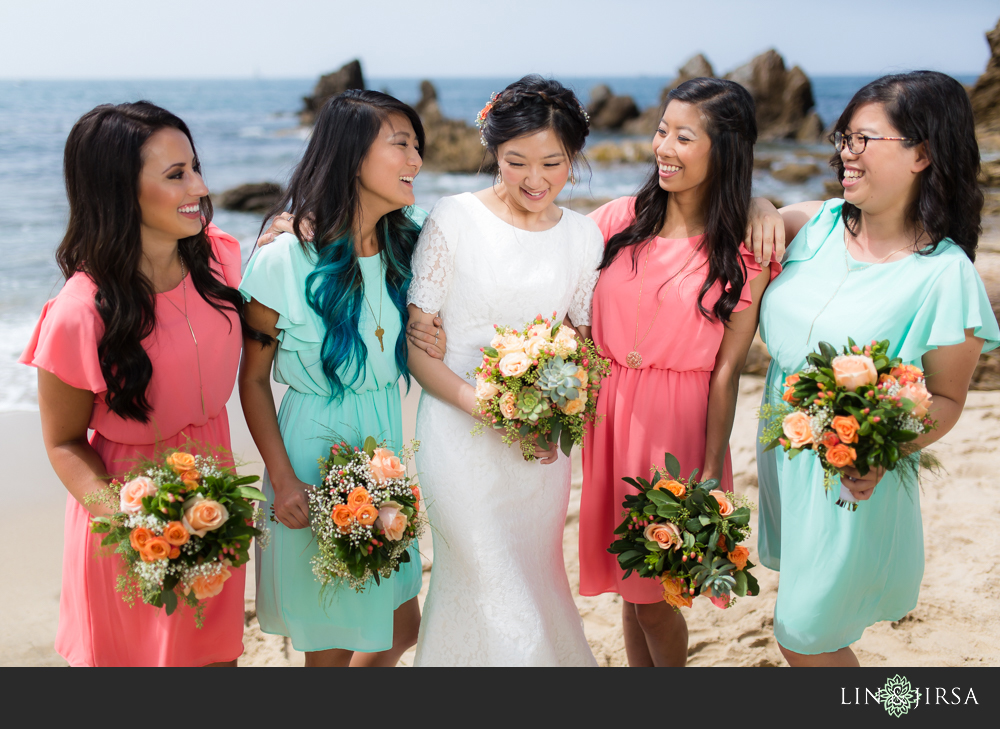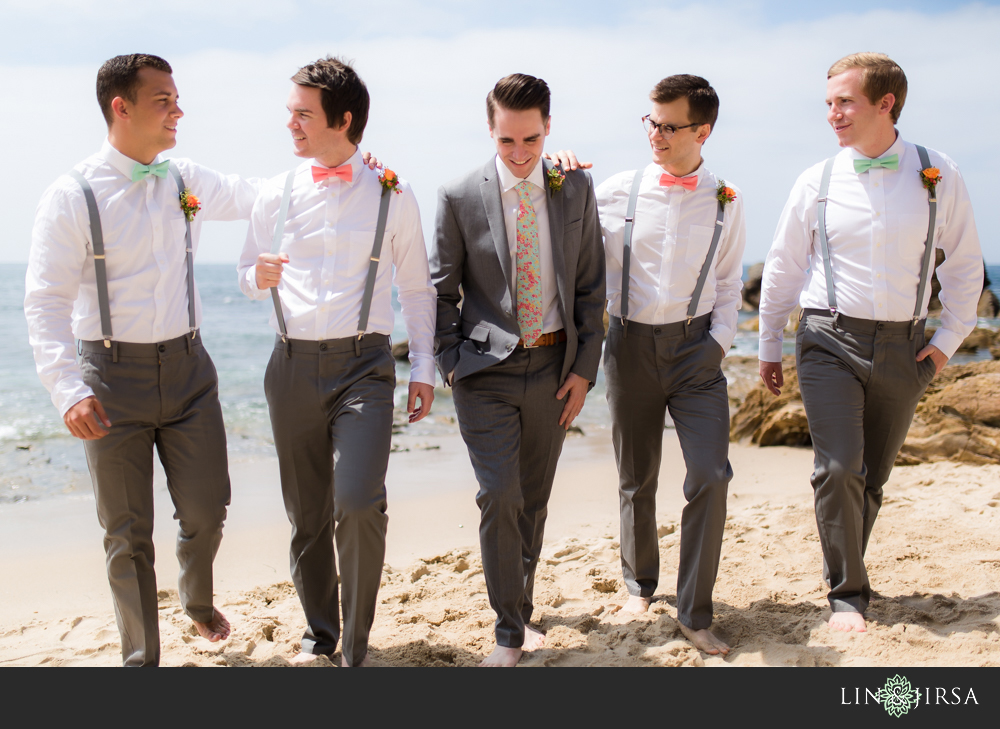 After capturing a great set of wedding party images, we placed the entire wedding party at the edge of the water, had them look out towards the ocean and simple told them "enjoy the moment." The following image was one of our favorites from the day.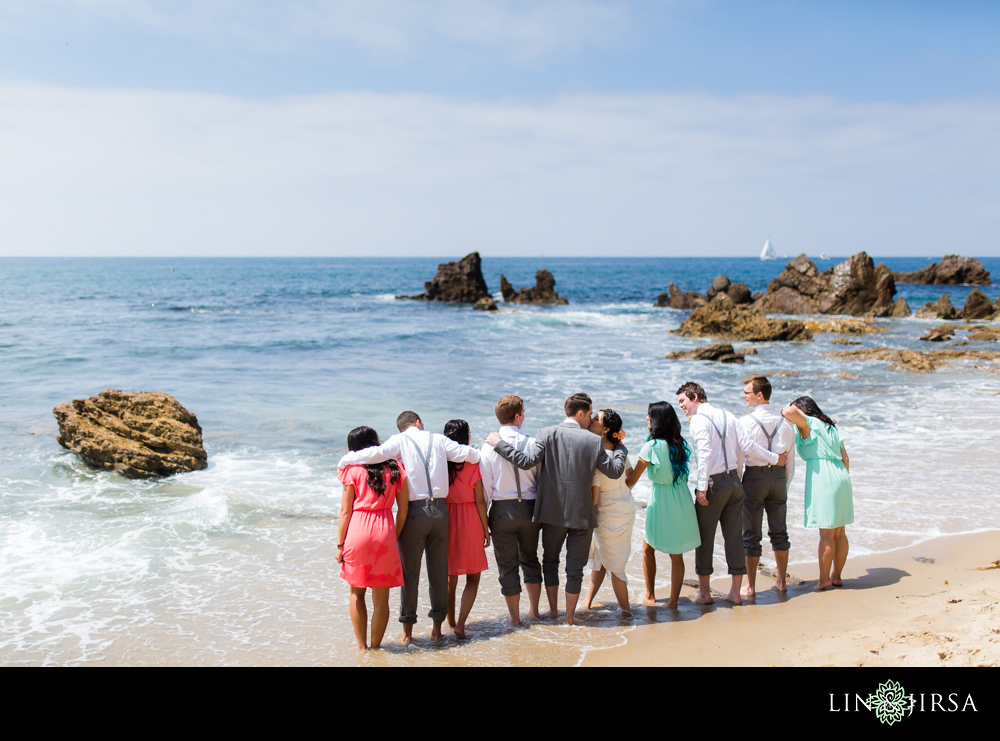 After our wedding party portraits we headed to the Newport Beach LDS Temple. Photography isn't allowed inside of the temple during the ceremony, so we waited for the couple to come out the side doors and be greeted by their excited family members (who were eagerly ready and waiting to celebrate).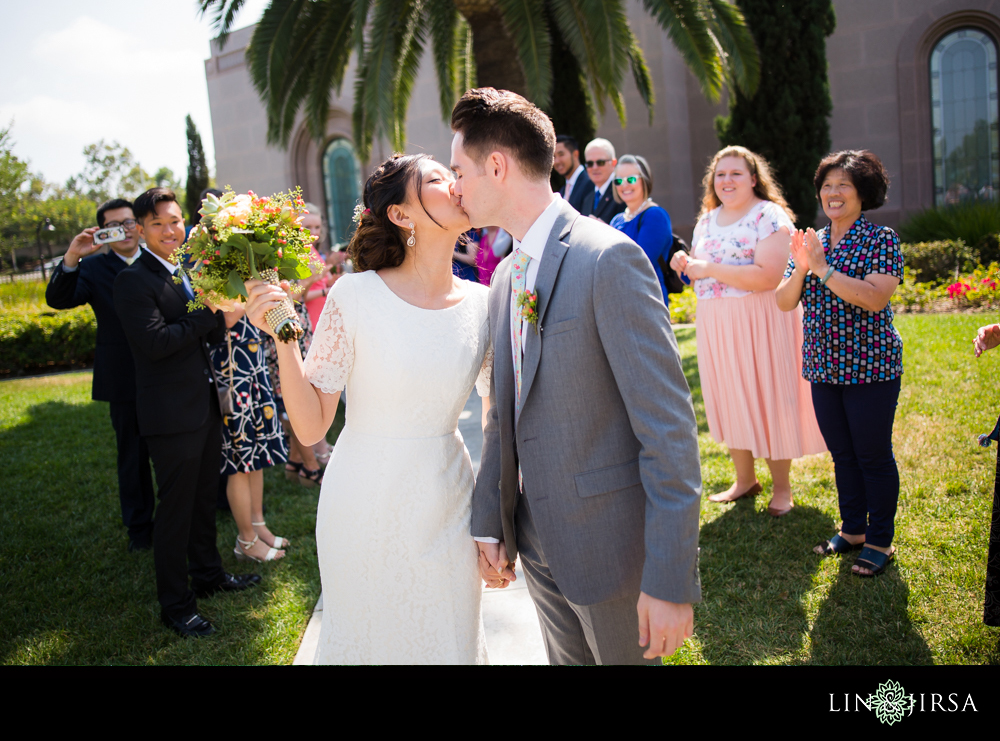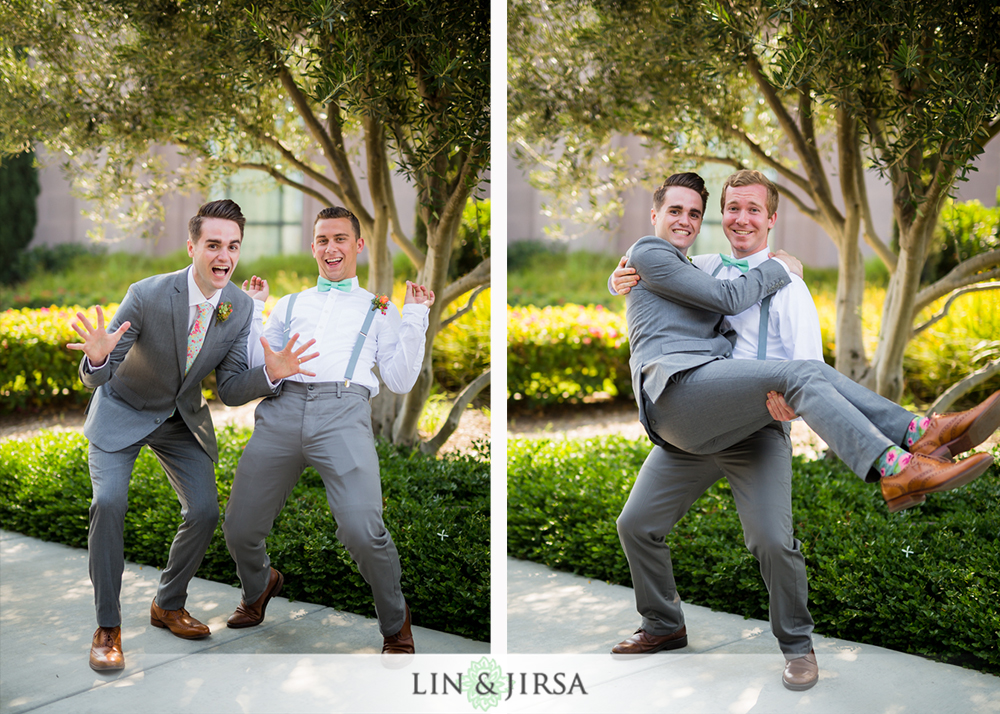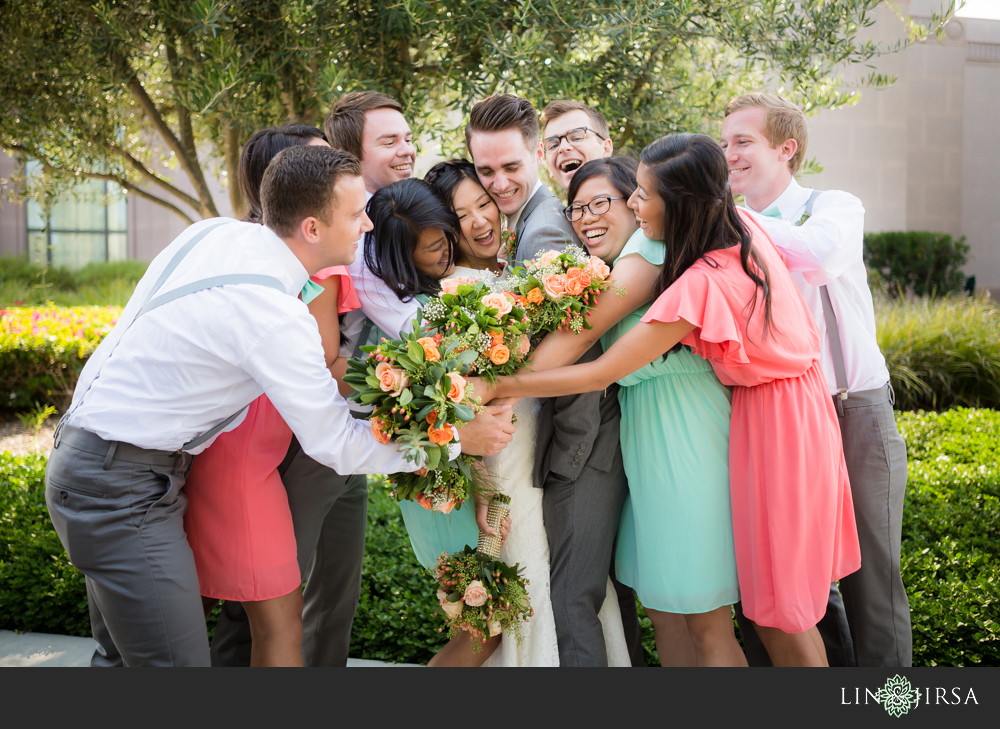 Wedding Couples Session
The Newport Beach LDS Temple is a beautiful location for wedding photography. So, after a couple of group shots, I took full advantage of the beautiful light surrounding the natural areas of the temple and focused on our newlyweds.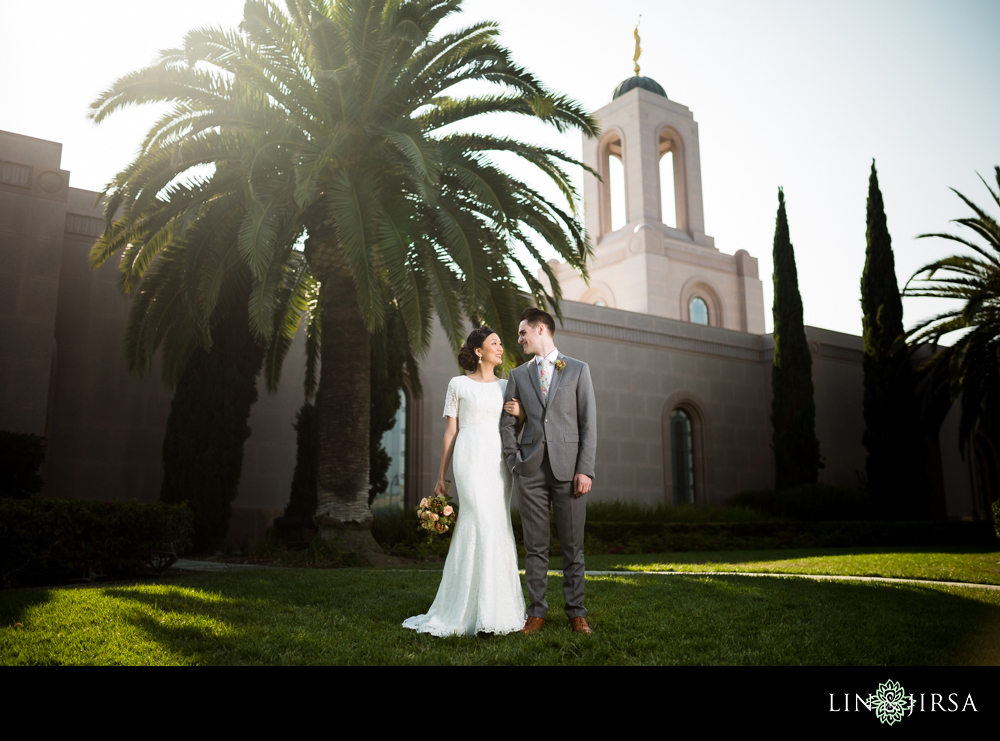 We love natural light, and we love off-camera flash photography. So in usual Lin and Jirsa fashion, we did a good amount of both on the temple grounds.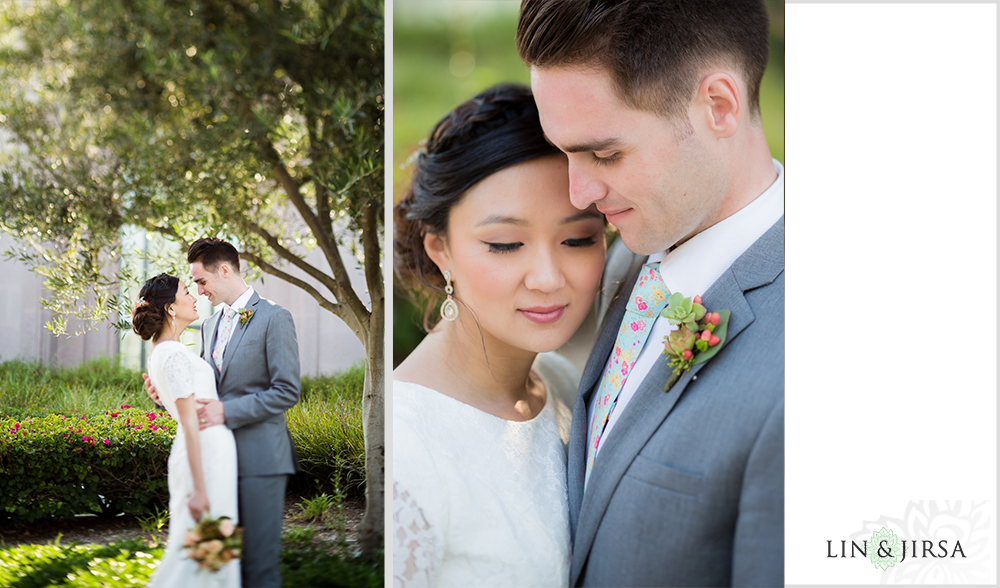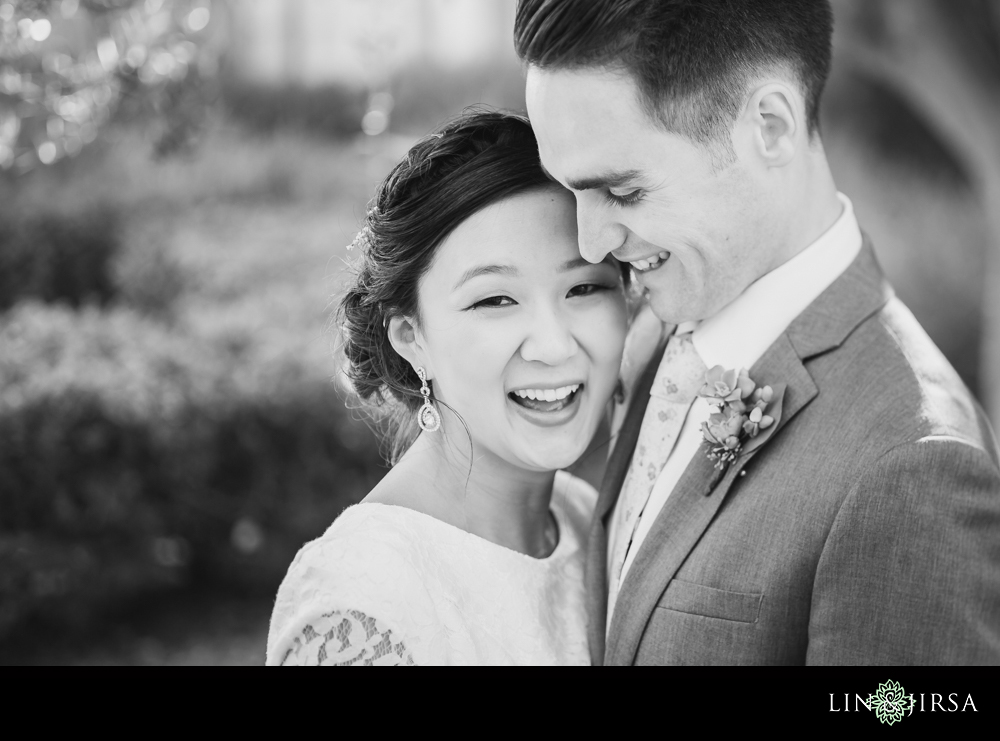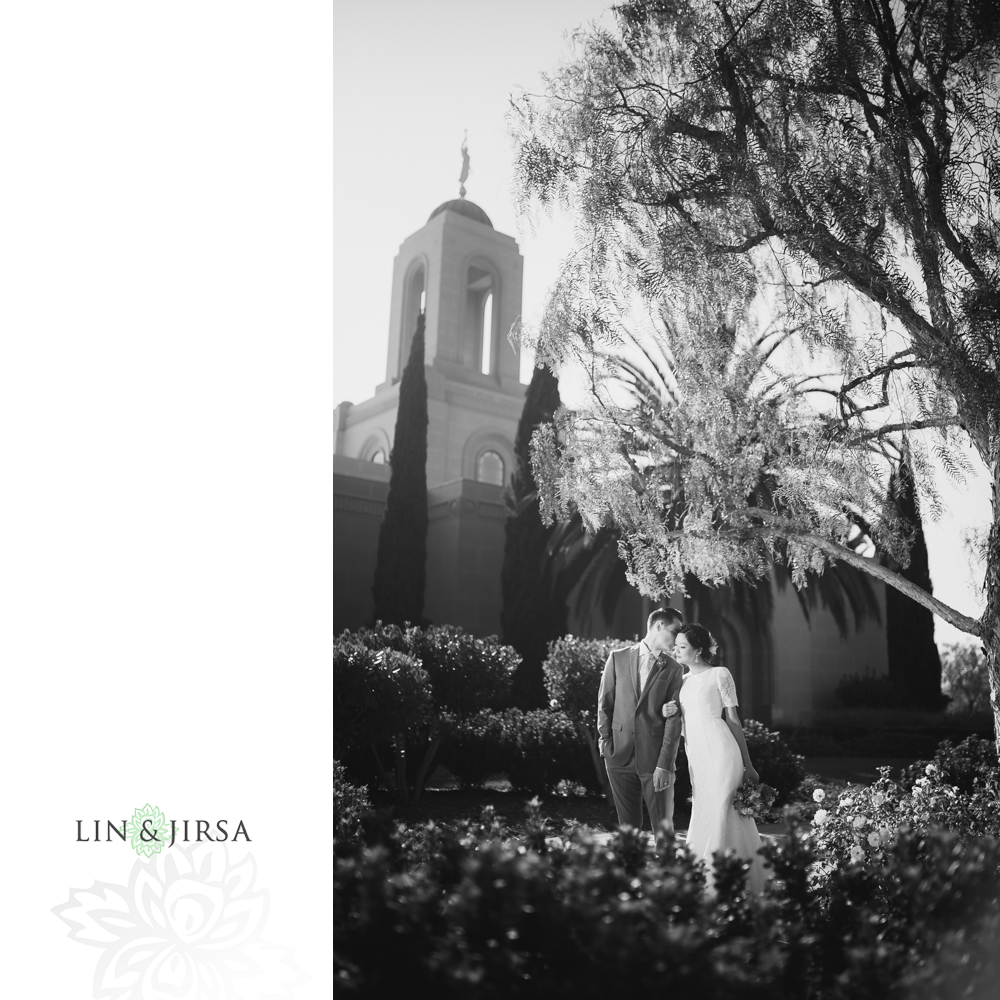 I could have spent all day shooting Jeremy and Olivia. Luckily we had the wonderful opportunity to photograph our wedding couple twice – check out their amazing wedding portrait session at Vasquez Rocks here!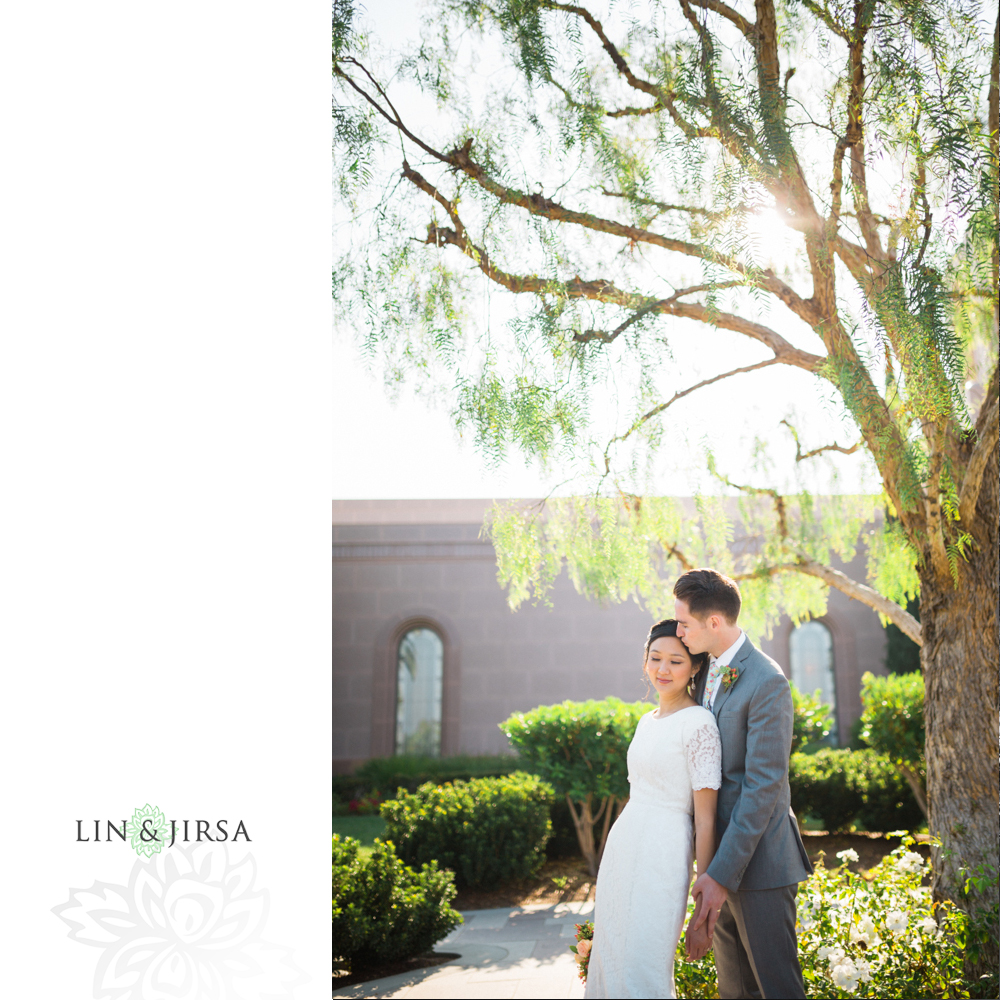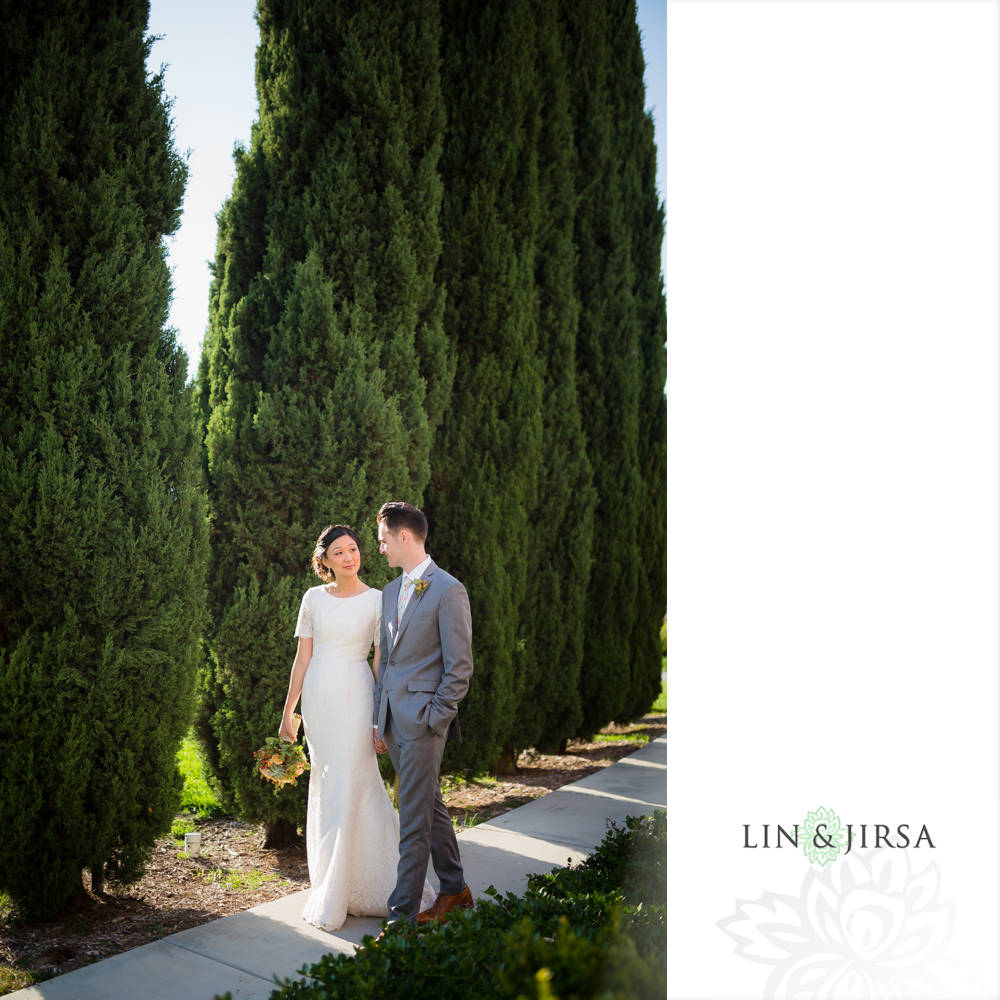 The Ring Ceremony
The Newport Beach Oasis Senior Center provided a perfect space for their simple yet elegant ring ceremony. A ring ceremony is common for LDS couples since non-LDS members aren't allowed into the temple.
Family and friends who didn't get a chance of witnessing the ceremony within the Newport Beach LDS Temple got to see and participate in the ring ceremony. It's also a fantastic photo-opp for us photographers =)
The quaint vintage decor was the perfect match for such an intimate couple.
The vibrant floral decor, provided by Newport Beach Flora, added the perfect pop of orange to the ceremony's color theme.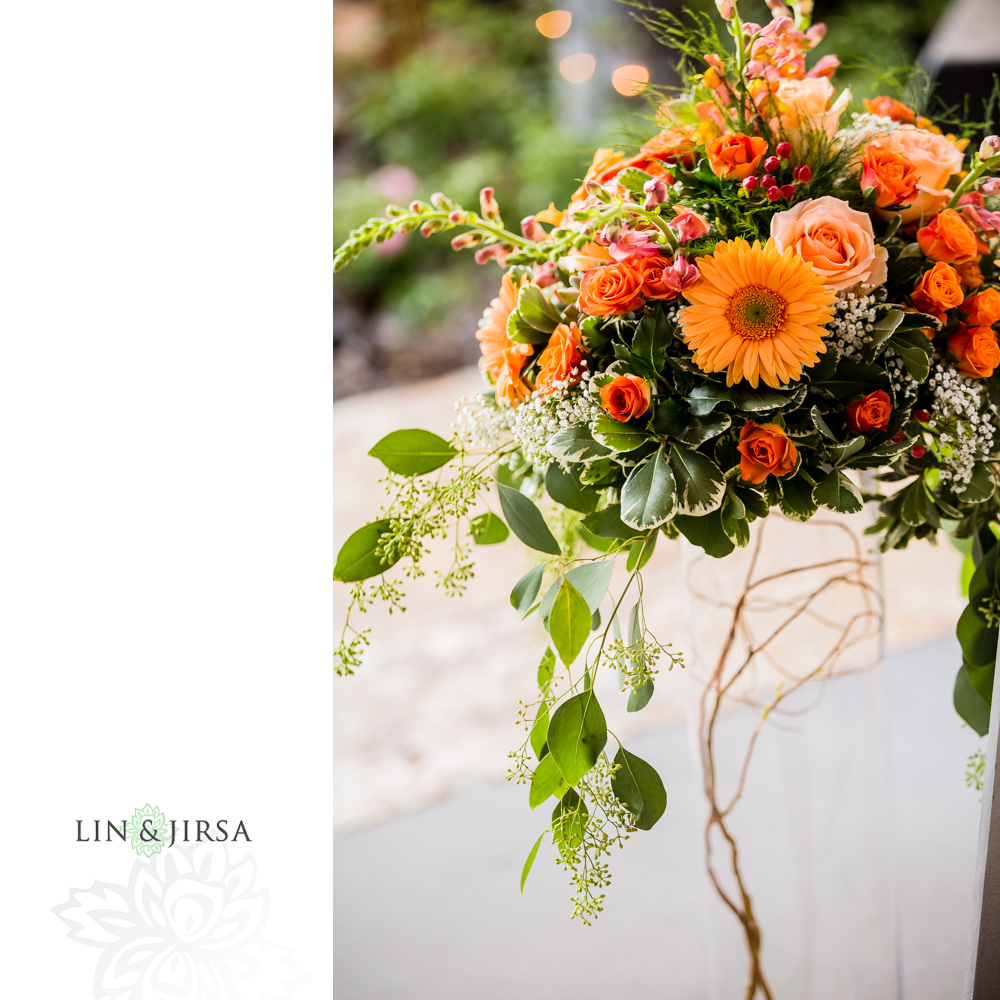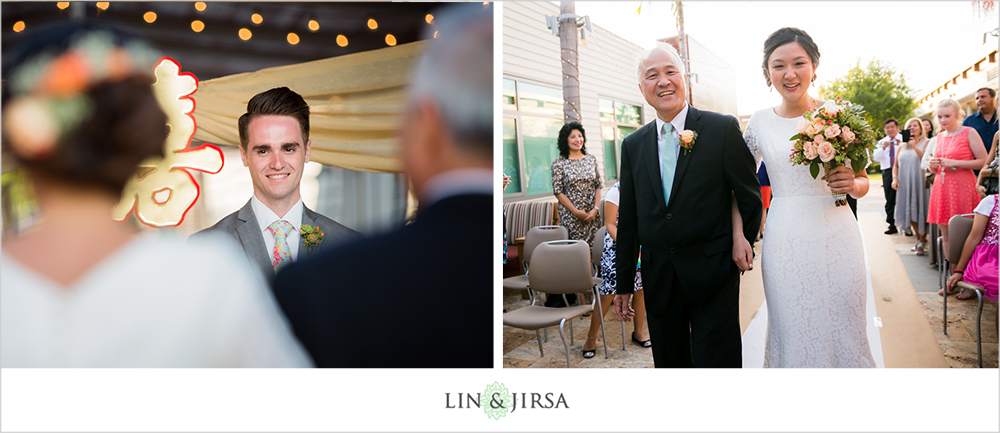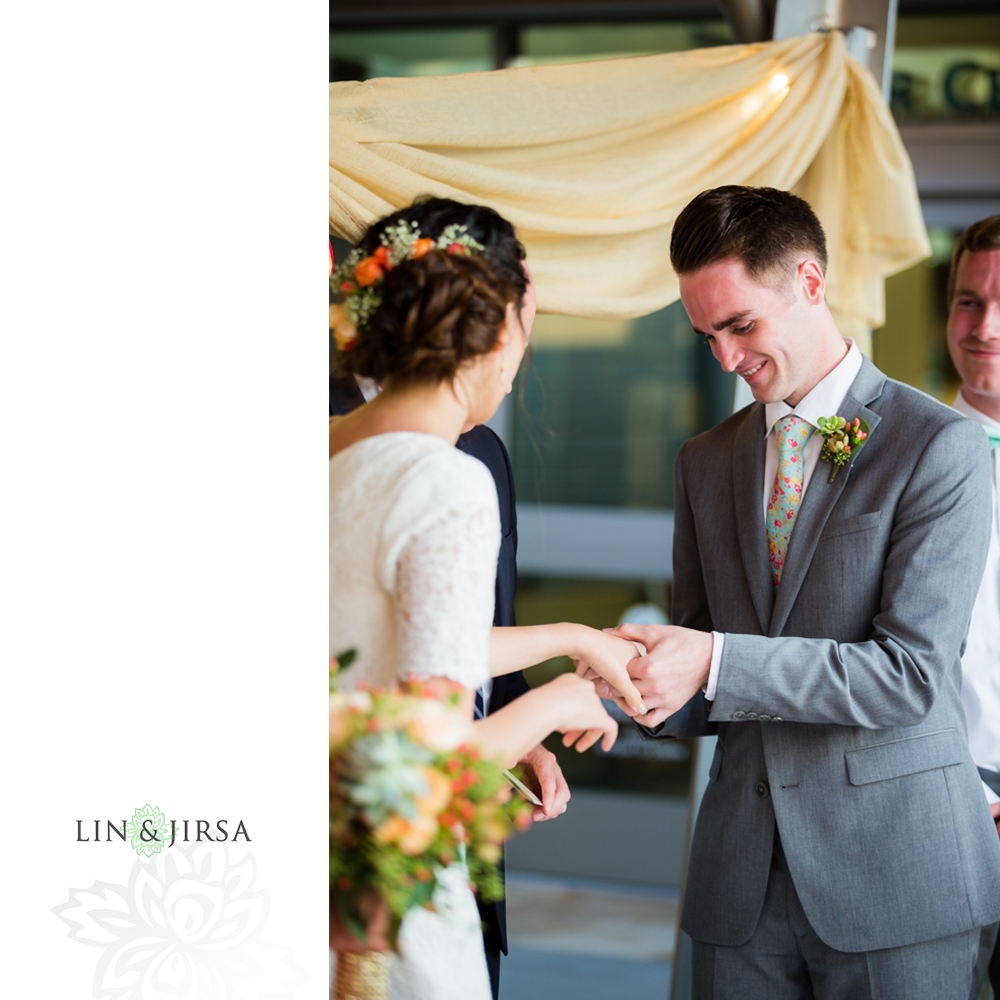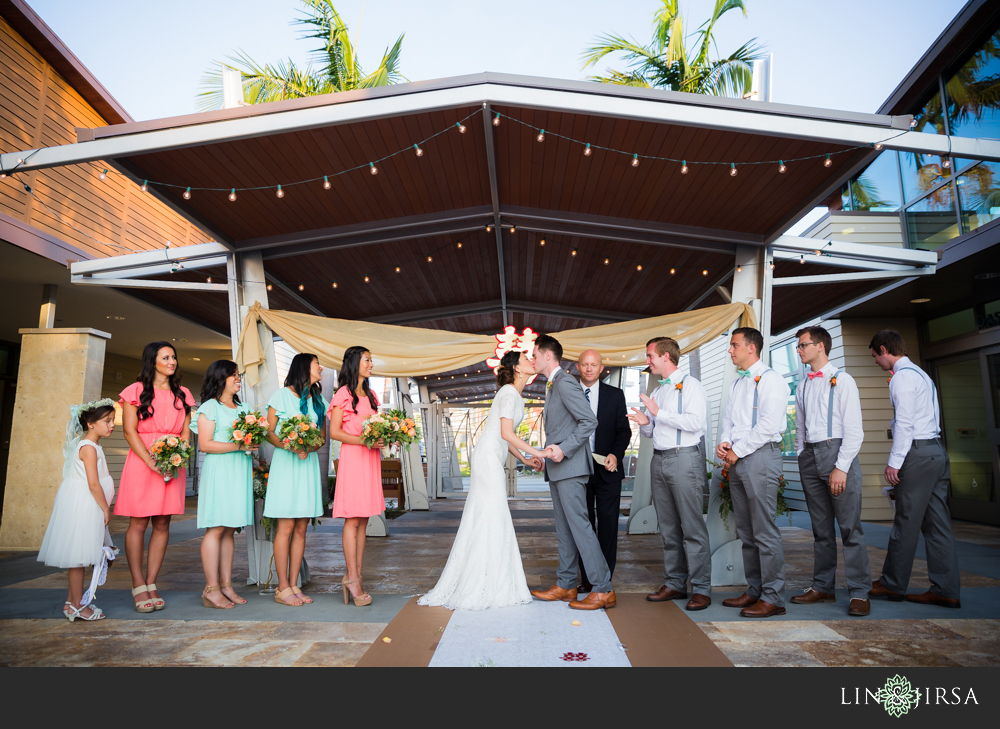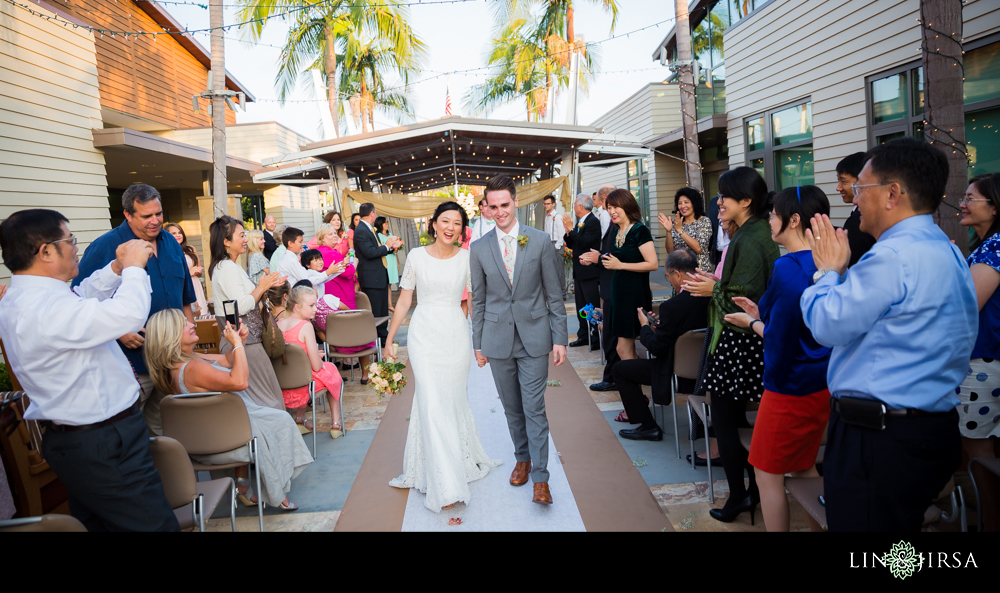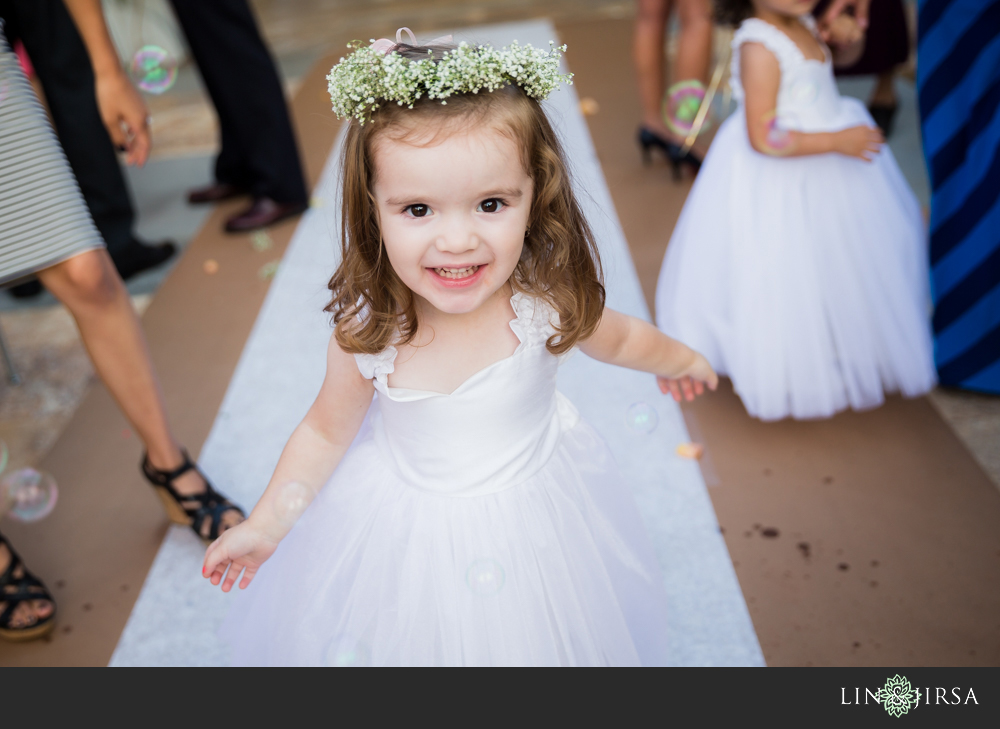 My own kids Ethan and Ellie were chosen to be a ring bearer and flower girl, so it presented a lovely little photo opportunity that I wasn't going to miss.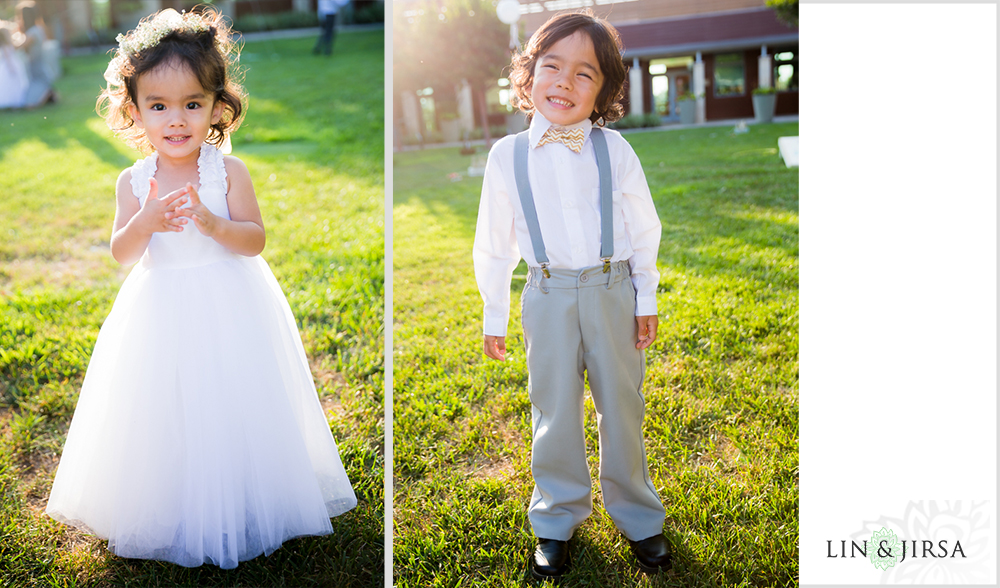 Wedding Reception
Both the ceremony and reception were filled with rustic details showcasing images of the two lovebirds. We thought it was such a cute idea to incorporate the shots we took from their engagement session as their table numbers for the reception – check out more from their Orange County engagement session here!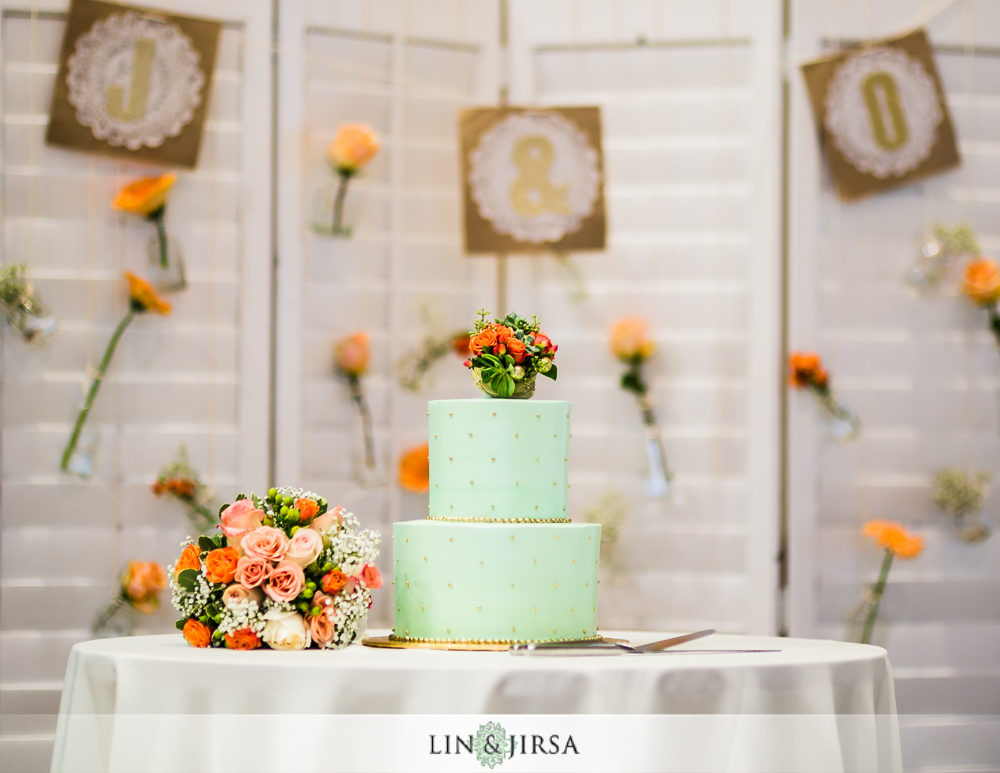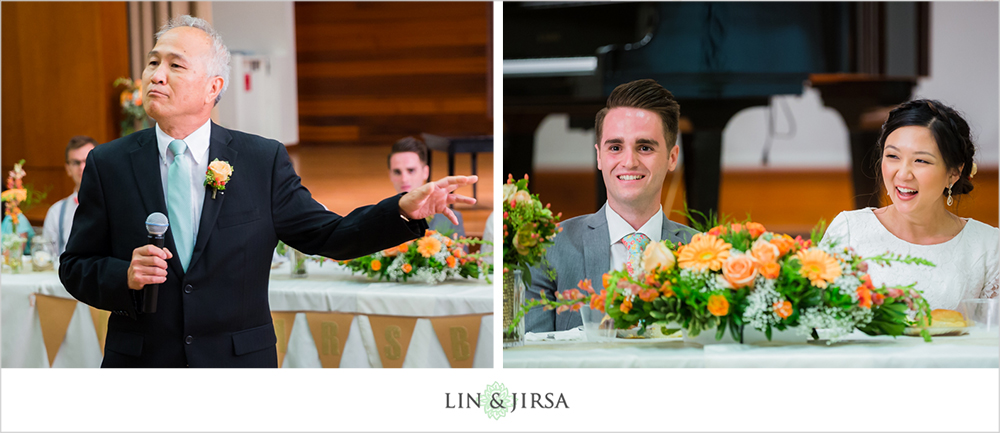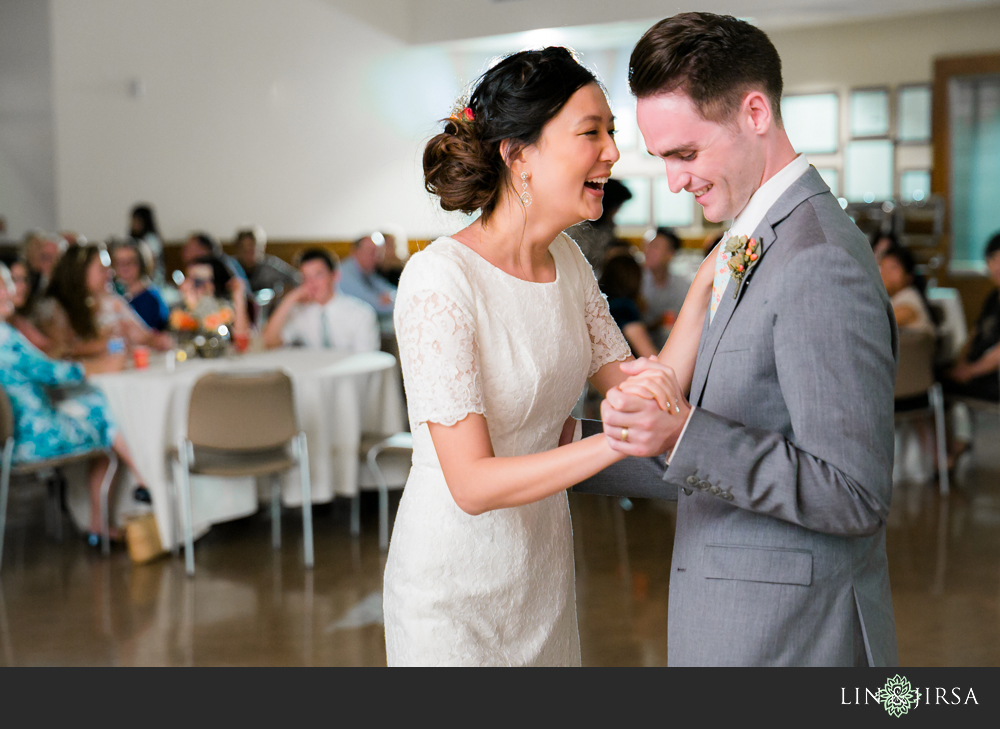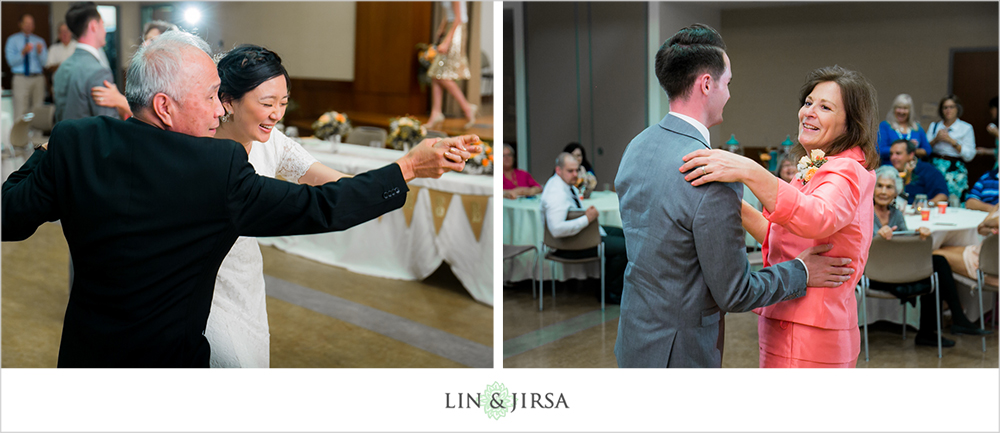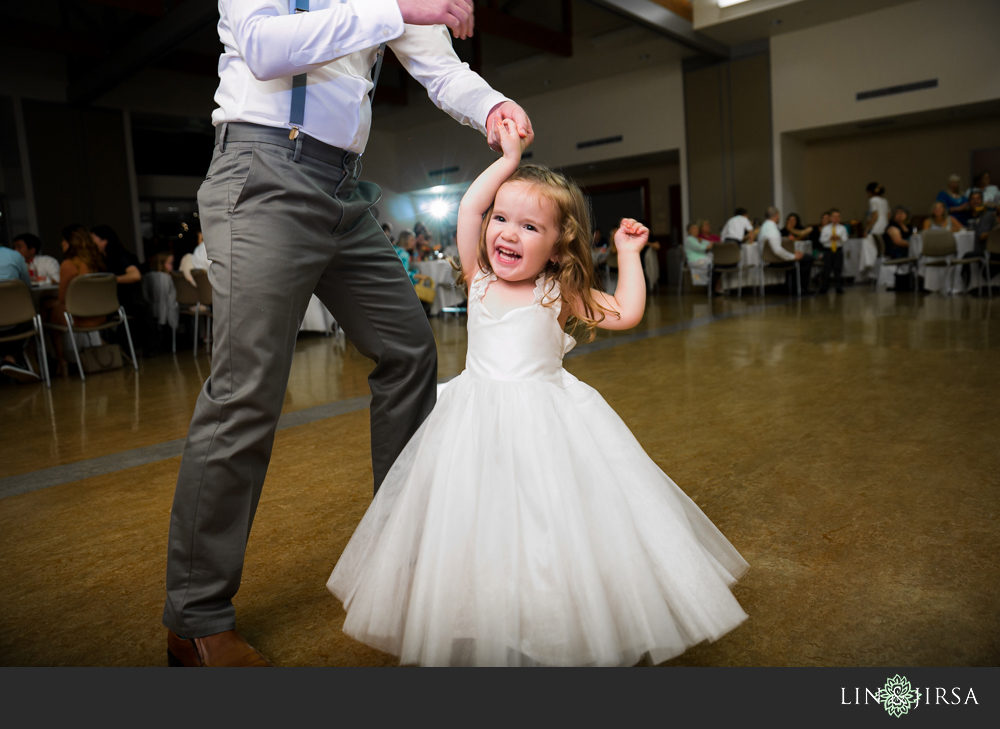 Nothing like a little Lin and Jirsa dance floor twists and spins to liven up any awesome party!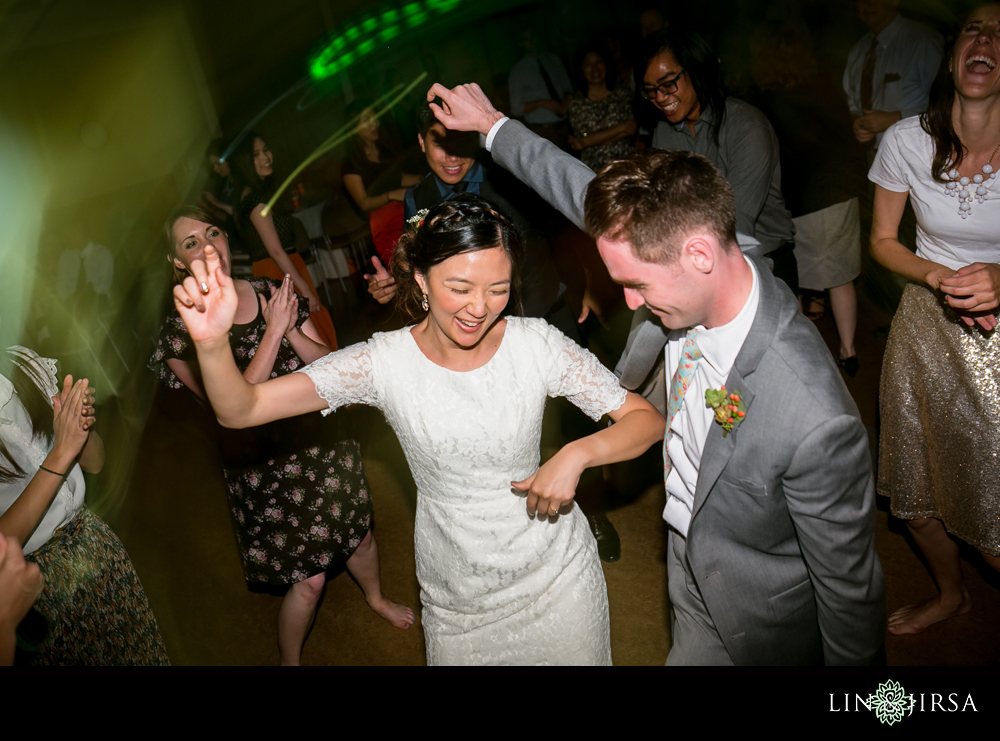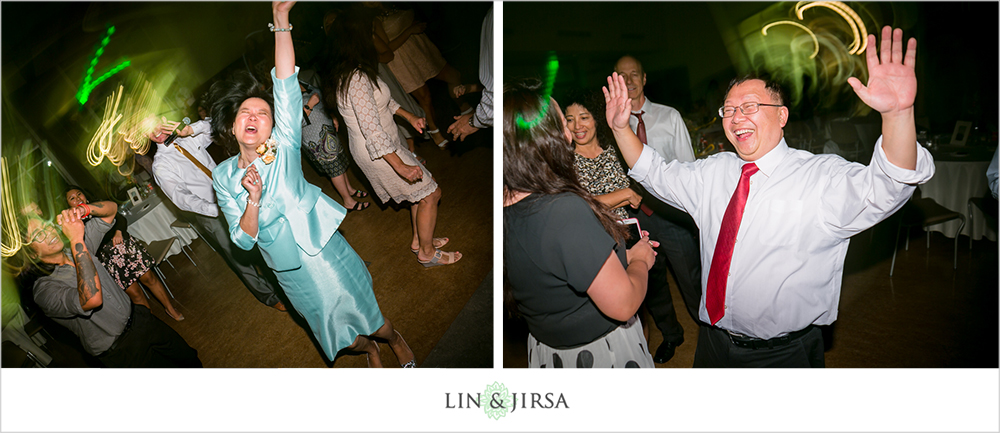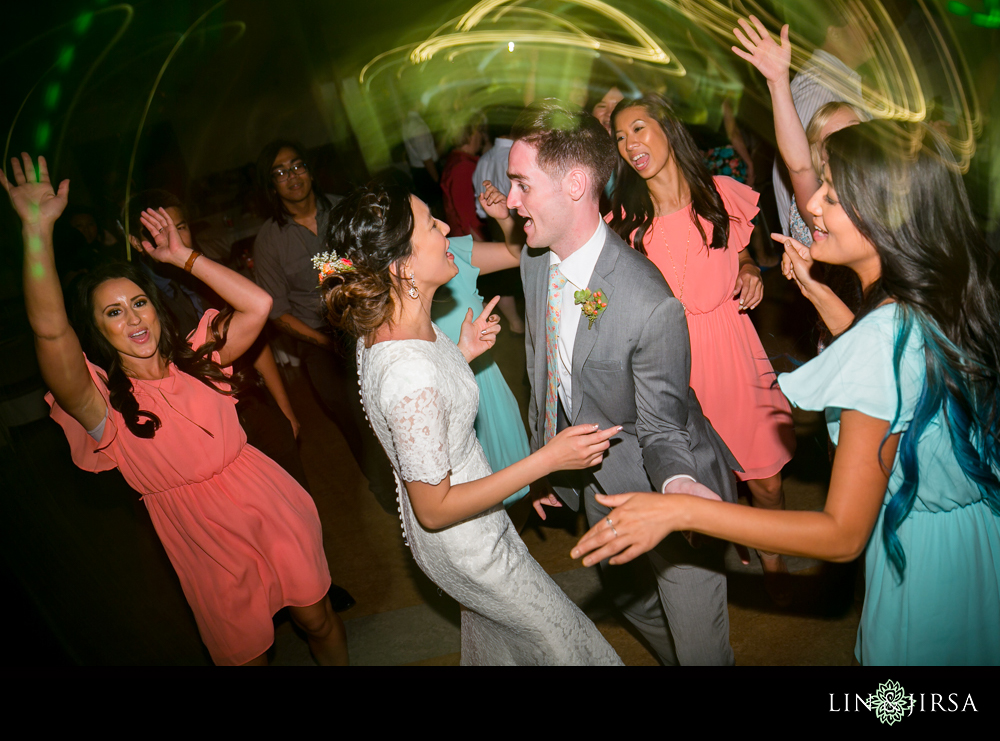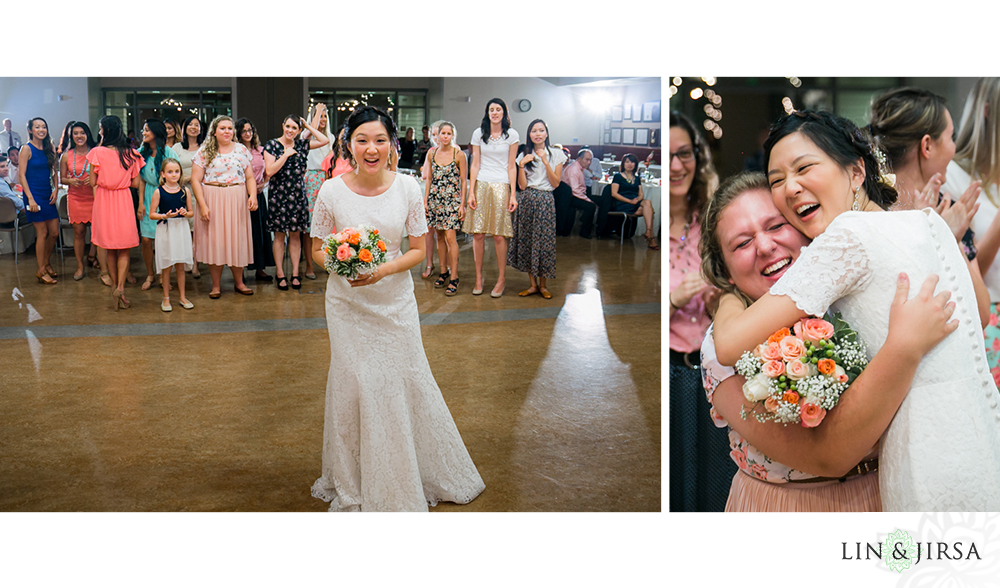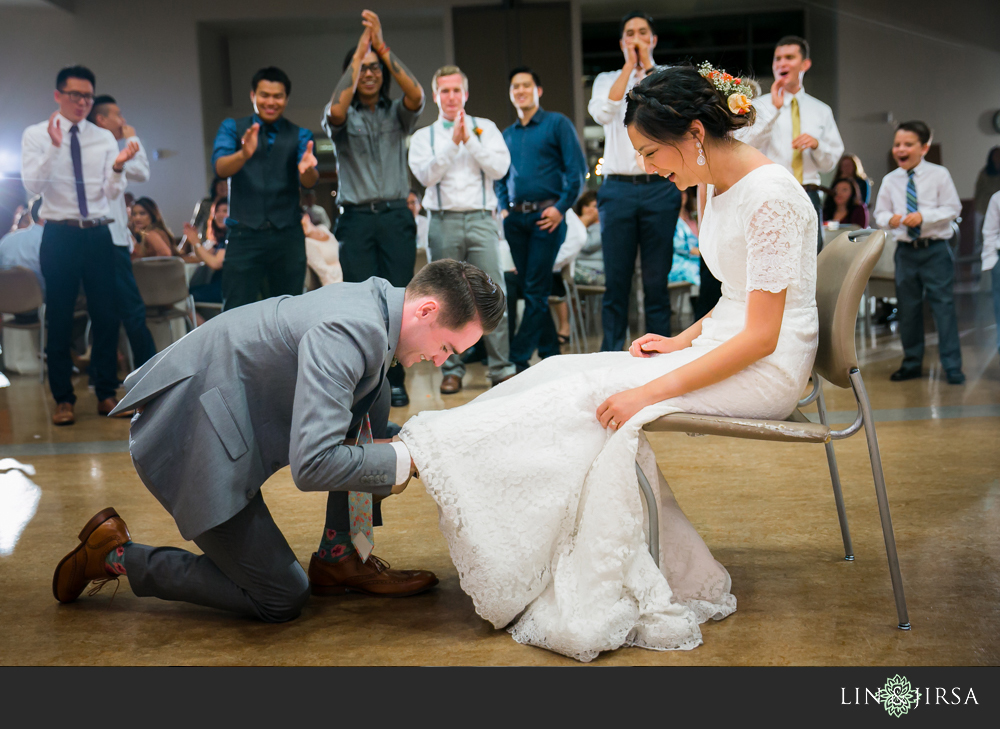 After dancing the night away, Olivia & Jeremy changed into traditional Chinese wedding attire and before we knew it, it was already time for their exit. Guests setup for a grand exit by blowing bubbles as they departed.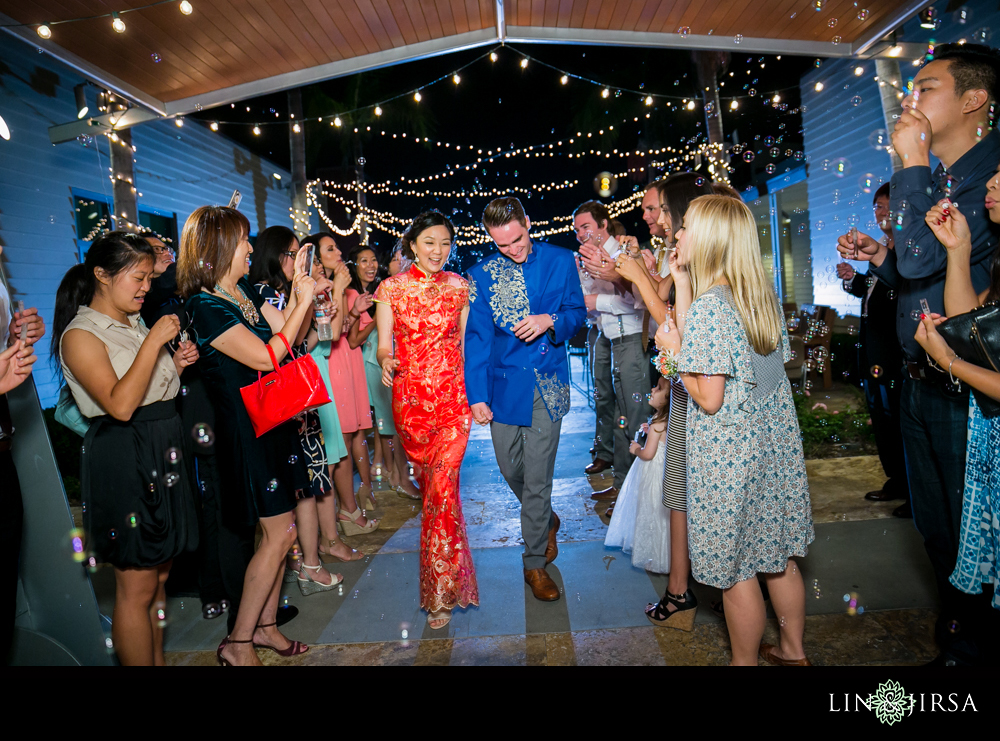 More Wedding Info:
Wedding Photography Location or Venue: Newport Beach Senior Center, Address: 801 Narcissus Ave, Corona Del Mar, CA 92625,
Wedding Coordinator: Renee Liu
Make Up Artist: Design Visage
Wedding Florist: Newport Beach Flora, Website: http://newportbeachflora.net/, Contact: [email protected]
Contact Us for more information on availability. We'd love to show you our studio in Orange County, California and walk you though our albums, canvases and other print photography products. We can also provide more information on our Wedding Videography and introduce you to our team!
To view more information about our post production, please view our Lightroom Presets and our Lightroom Tutorials.