Terranea Resort Stylized Indian Wedding
We teamed up with a group of talented wedding vendors, well versed in the South Asian wedding industry, to create this stunning Stylized Indian Wedding at the beautiful Terranea Resort.
Special thanks to Mili of Planning Elegance for coordinating with all of our vendors for the day and making sure everything ran smoothly!
Be sure to follow us on our Google Plus Page for updates and the latest with LJP, Los Angeles!
Wedding Preparation
Frontier Heritage provided all of the wardrobe and jewelry for the day – making our couple look like absolute royalty! The rich red of our Bride's ghagra looking absolutely stunning against the gold embroidery and Kundan jewelry.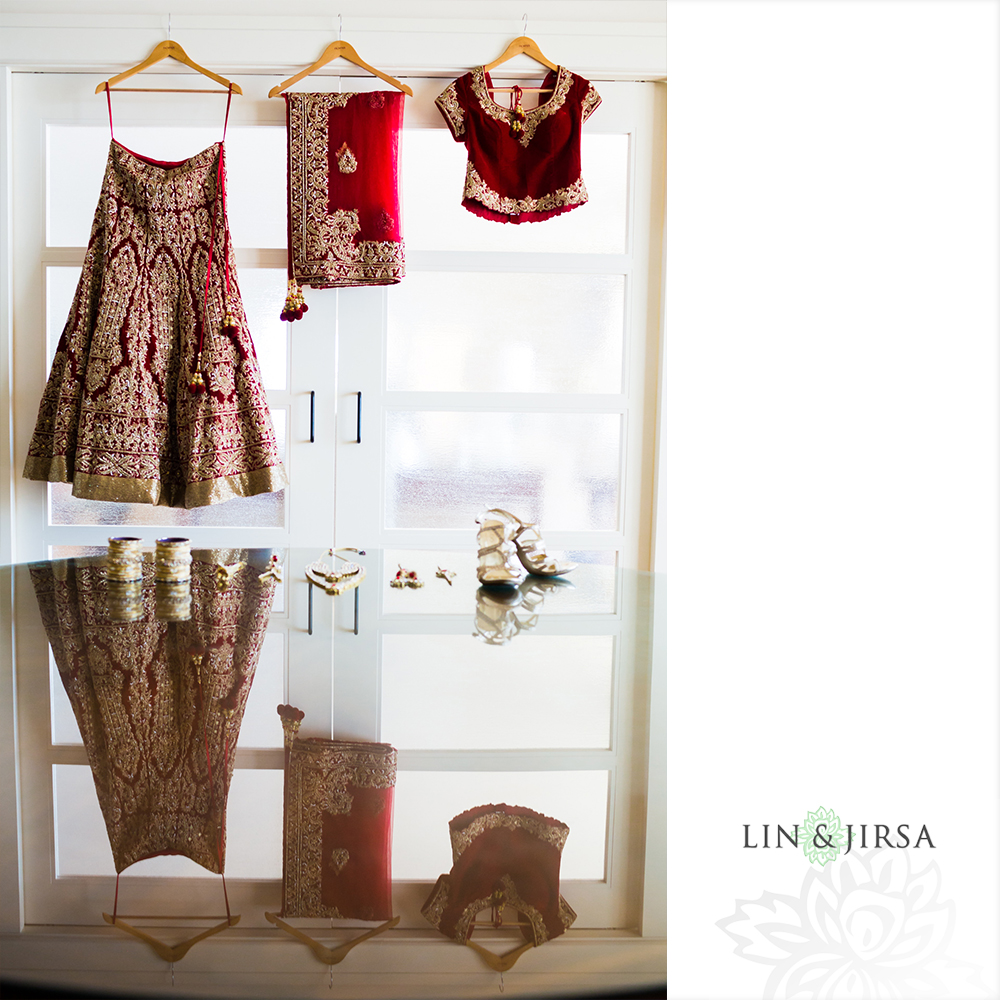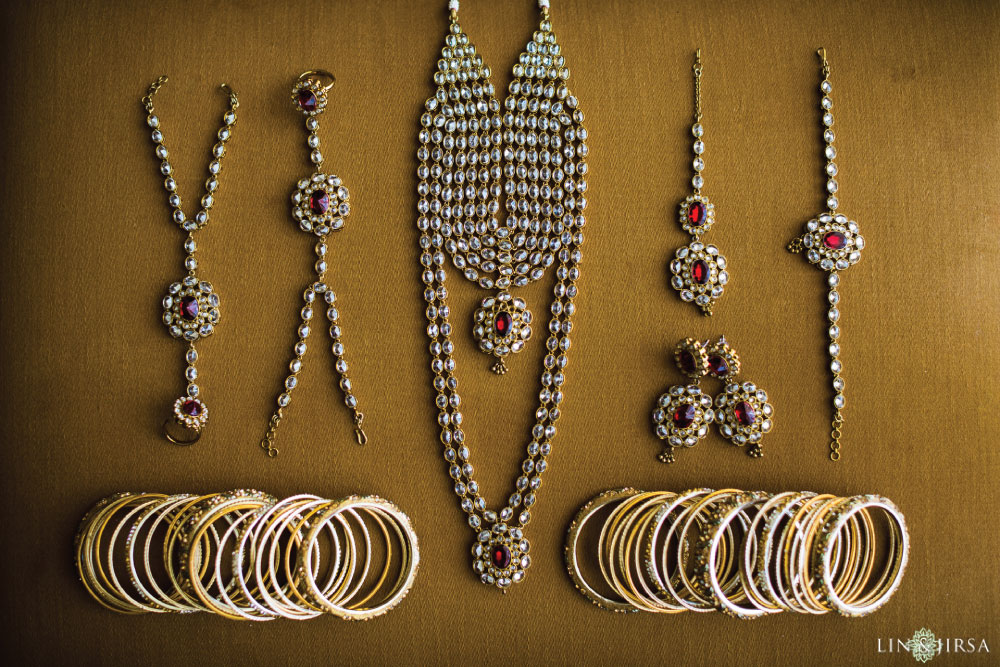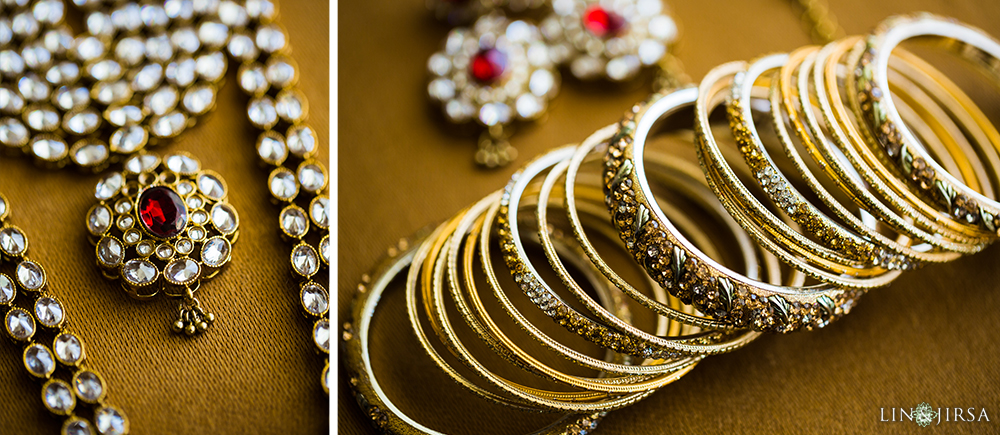 Henna Dil Se truly excels in the art of design and innovation when it comes to Mehndi design. This gold dusted intricate creation was the perfect addition to our bride's ensemble!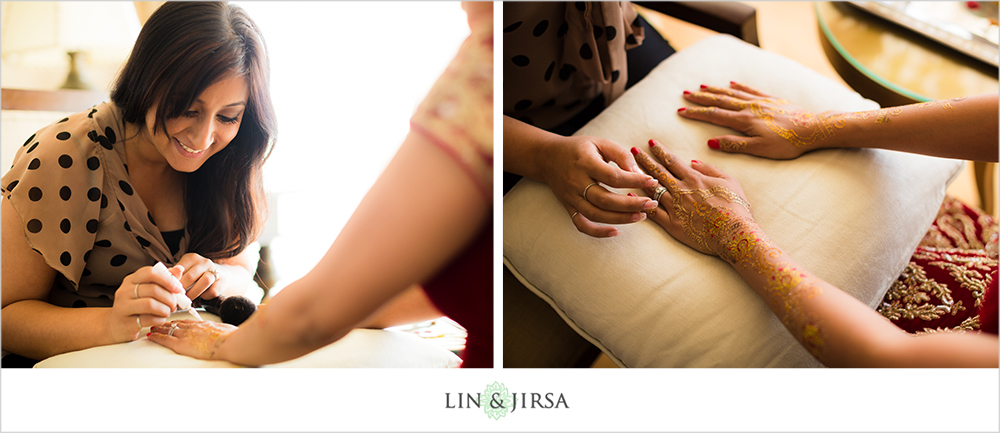 We started off the day with the incredibly talented Design Visage Hair & Makeup team! The girls at Design Visage always do a phenomenal job dolling up our bride for the day. They chose a subtle golden smokey eye & a nude-pink lip to allow the outfit and jewelry their moment to shine.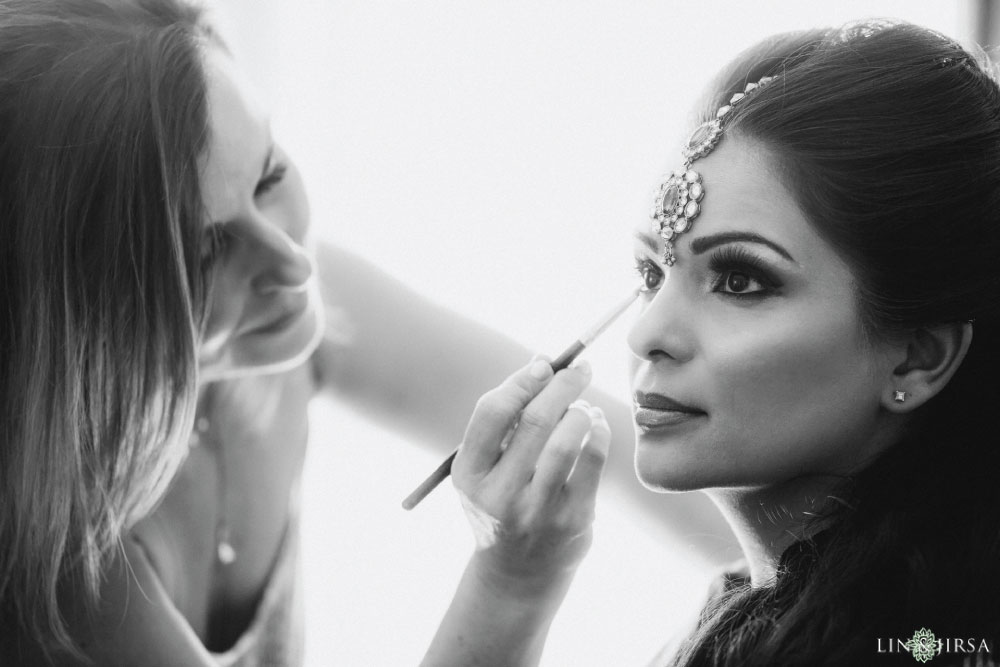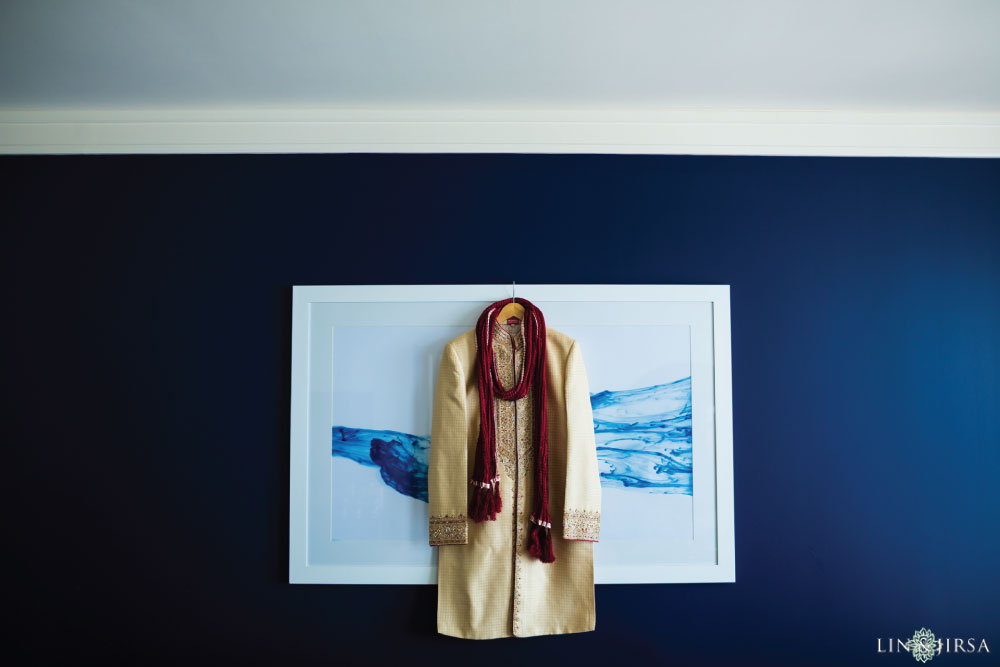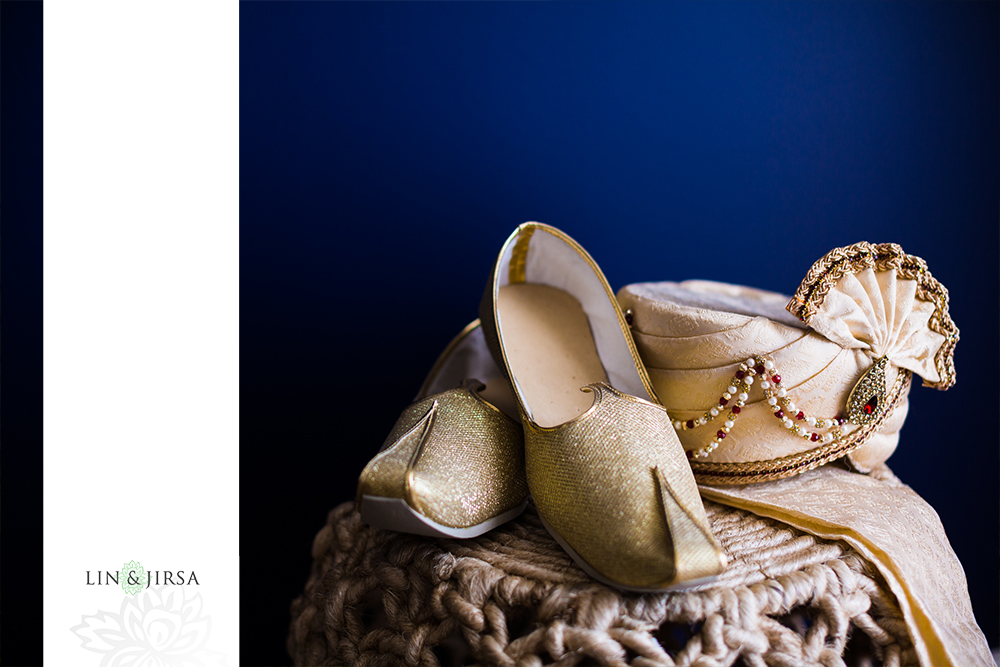 Our Groom looked absolutely dashing in this beige Sherwani, the perfect contrast to the vibrant red ghagra sported by our Bride.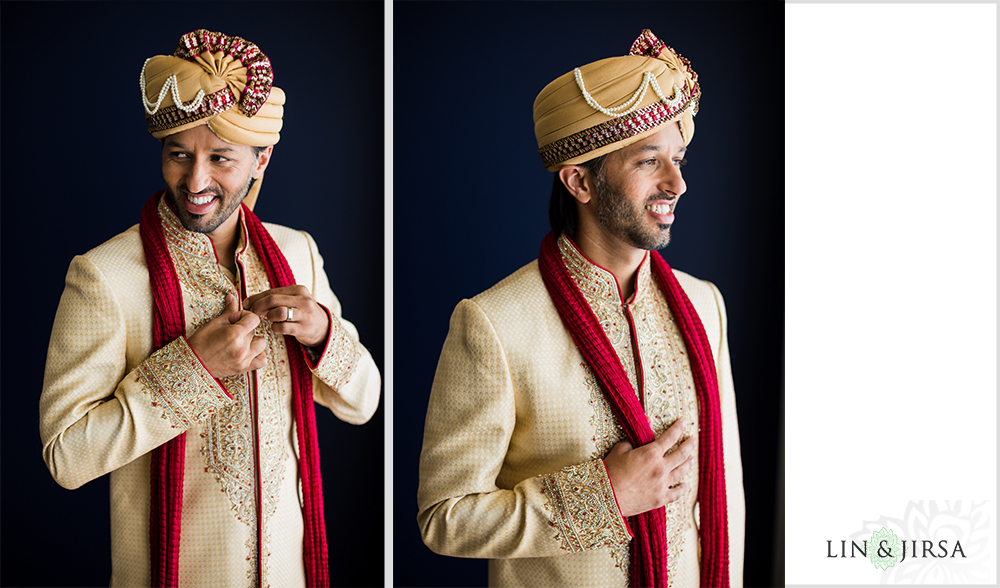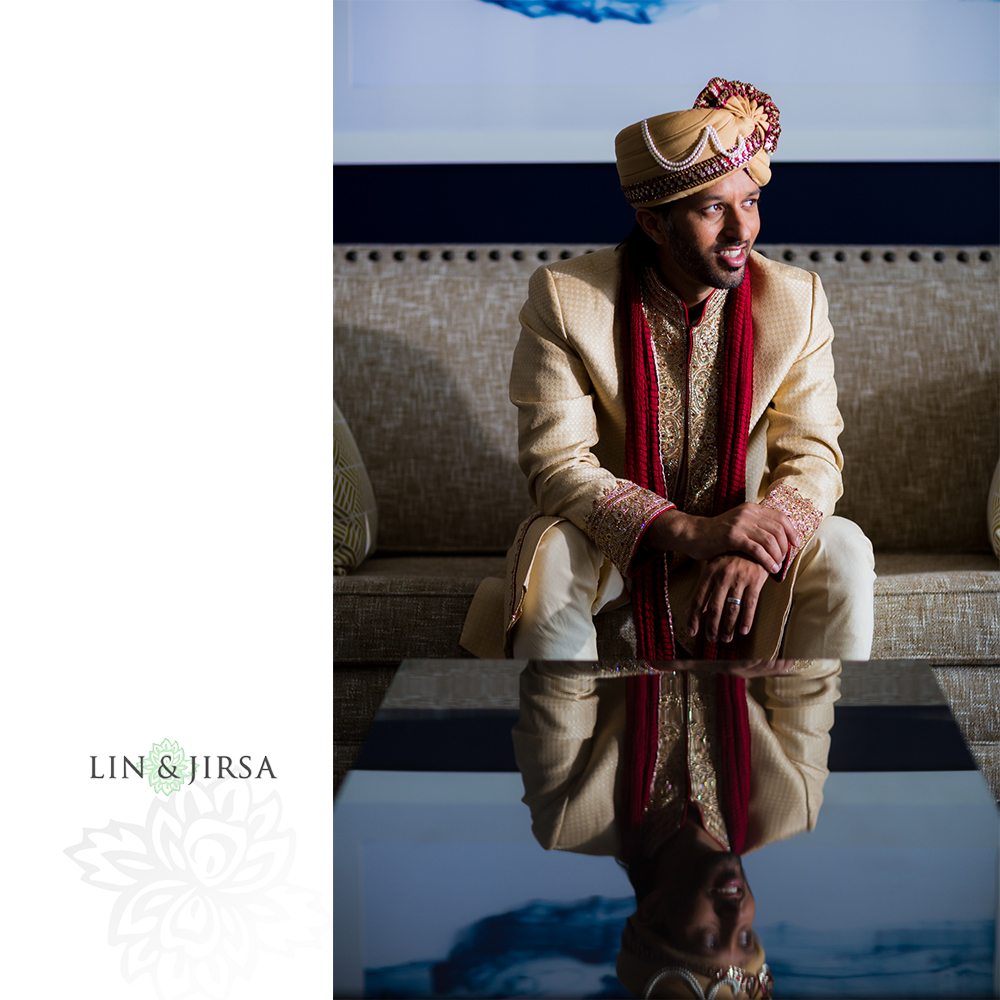 Wedding Portraits
After prep we like to get some solo portraits of our couple – focusing on all the lovely details of their ensemble. This beautiful pathway at Terranea Resort overlooking the bright blue skies & ocean served as the perfect backdrop for these portraits.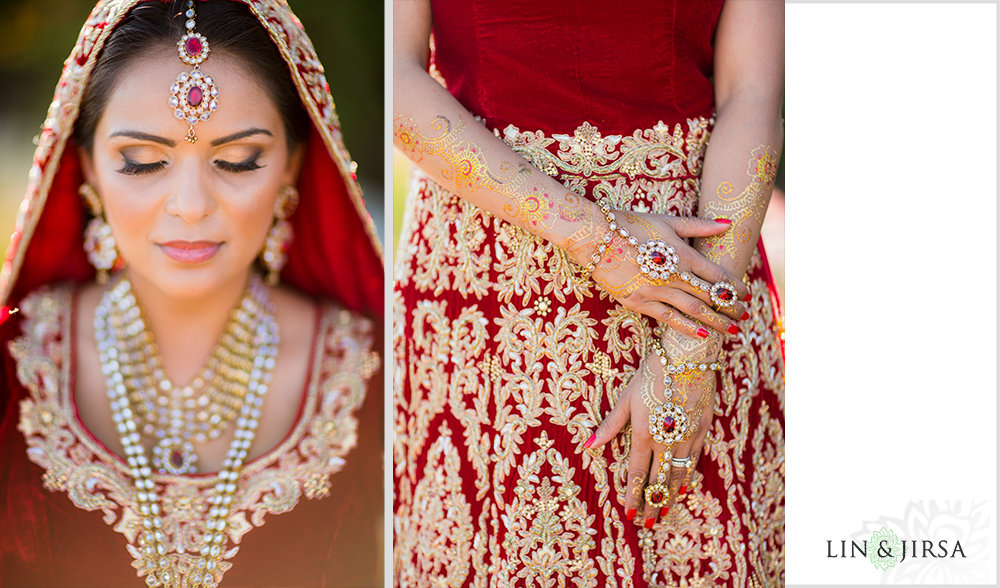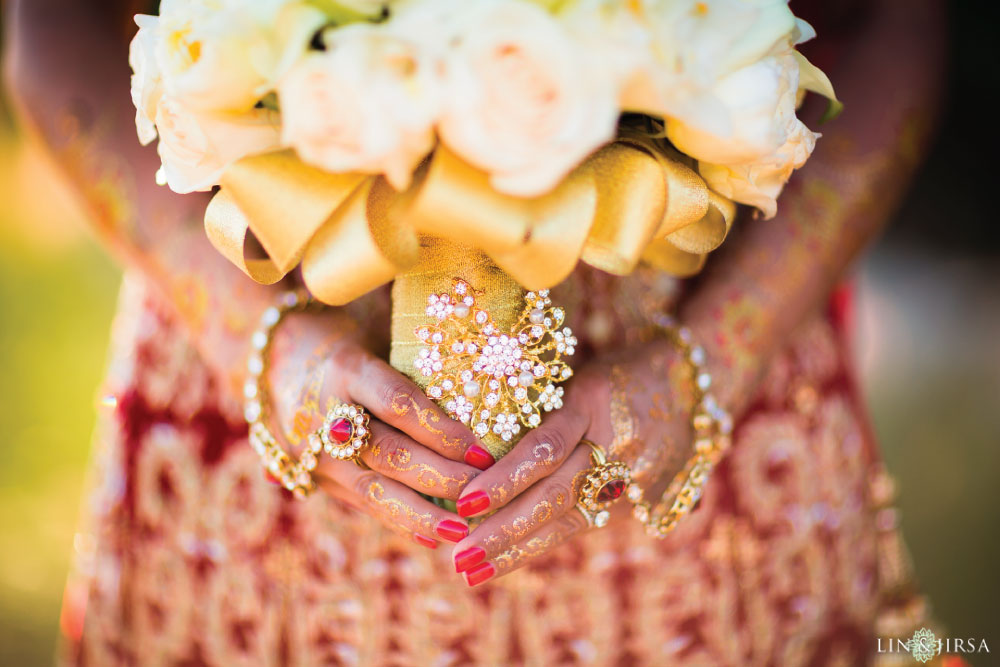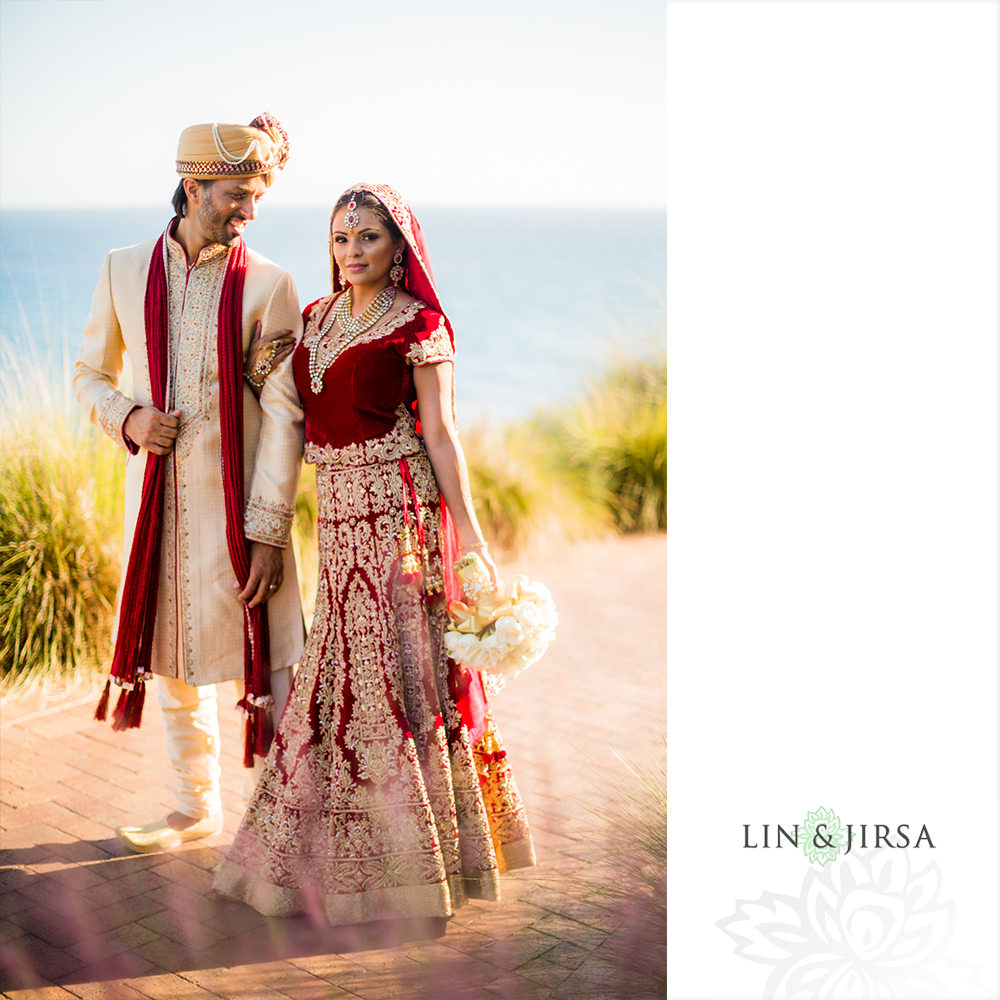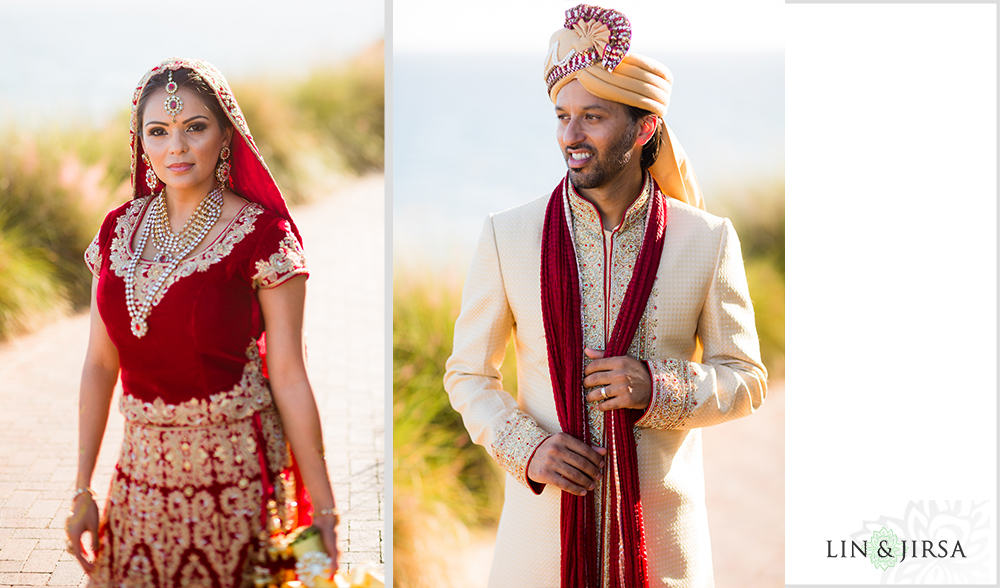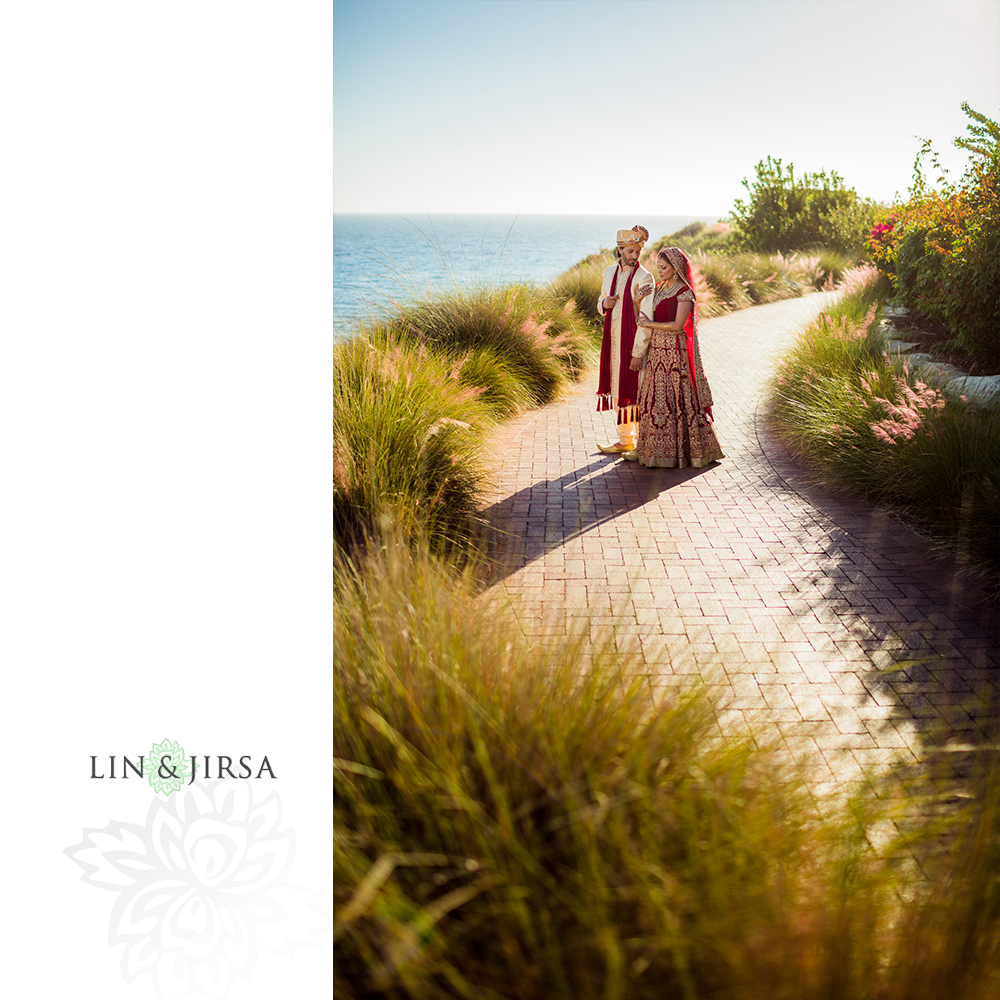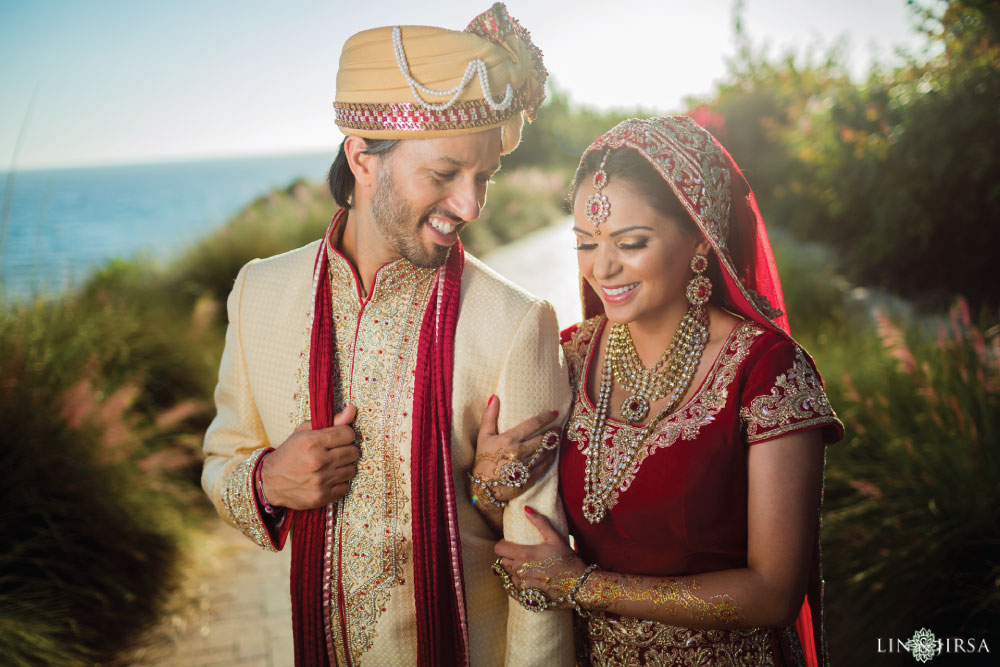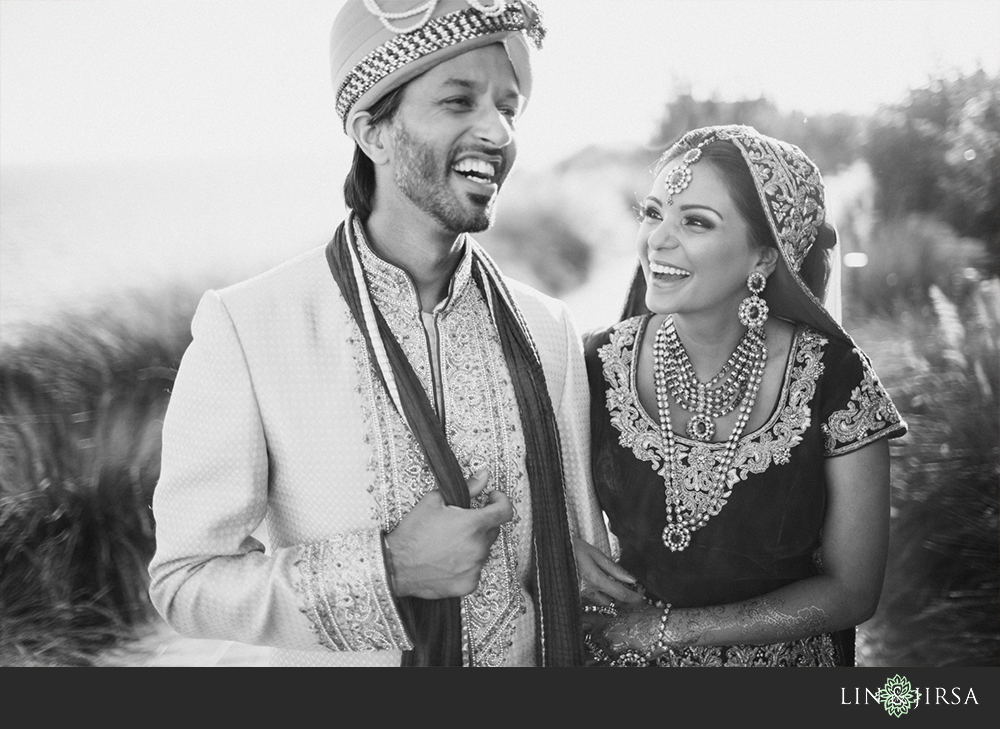 Baraat
The main star of this Baraat was Tai, our gorgeous elephant for our mock processional. We have photographed Tai probably more than 20 times, and he is so amazing. He takes verbal commands on que! "Tai walk, Tai trunk up, Tai open your mouth" it's so much fun!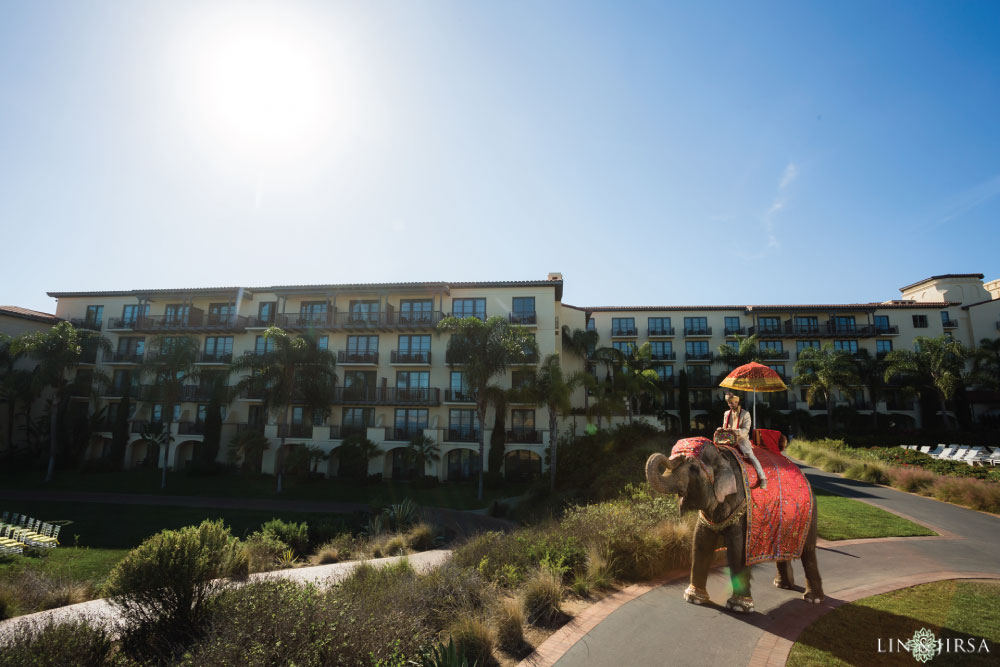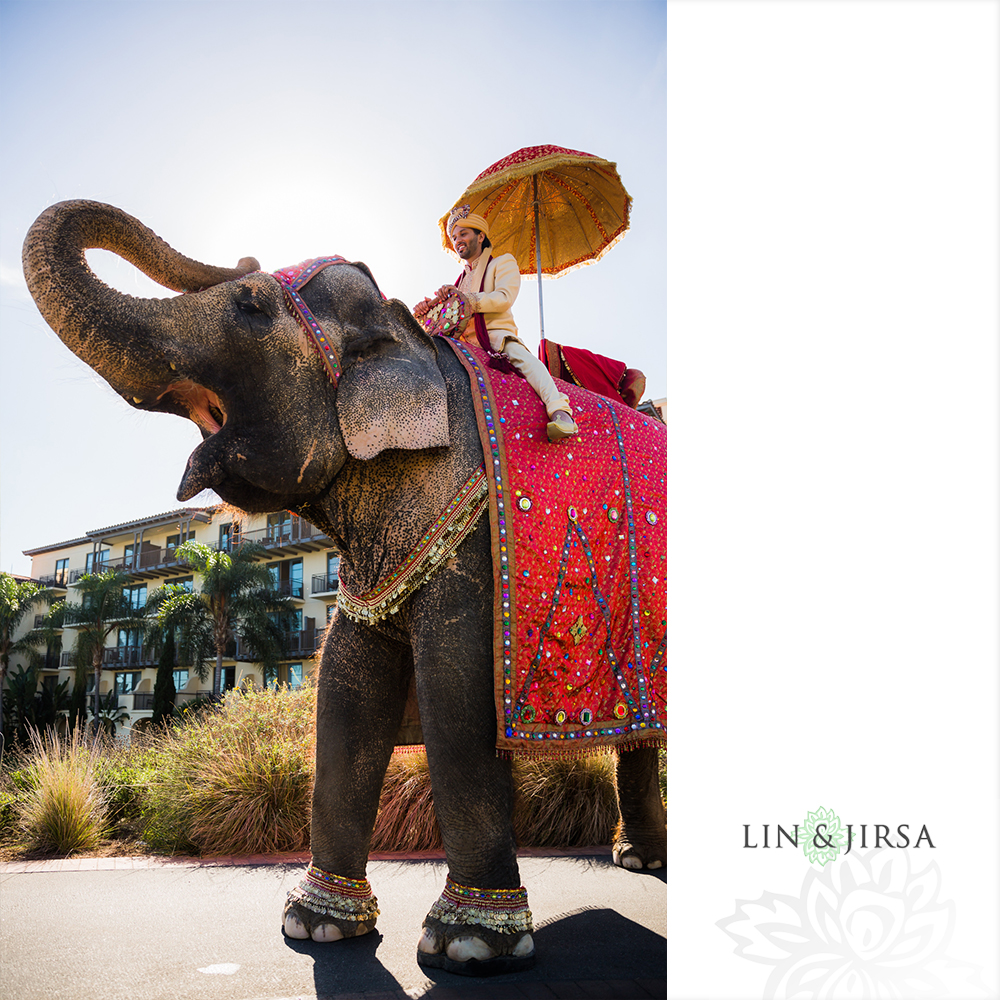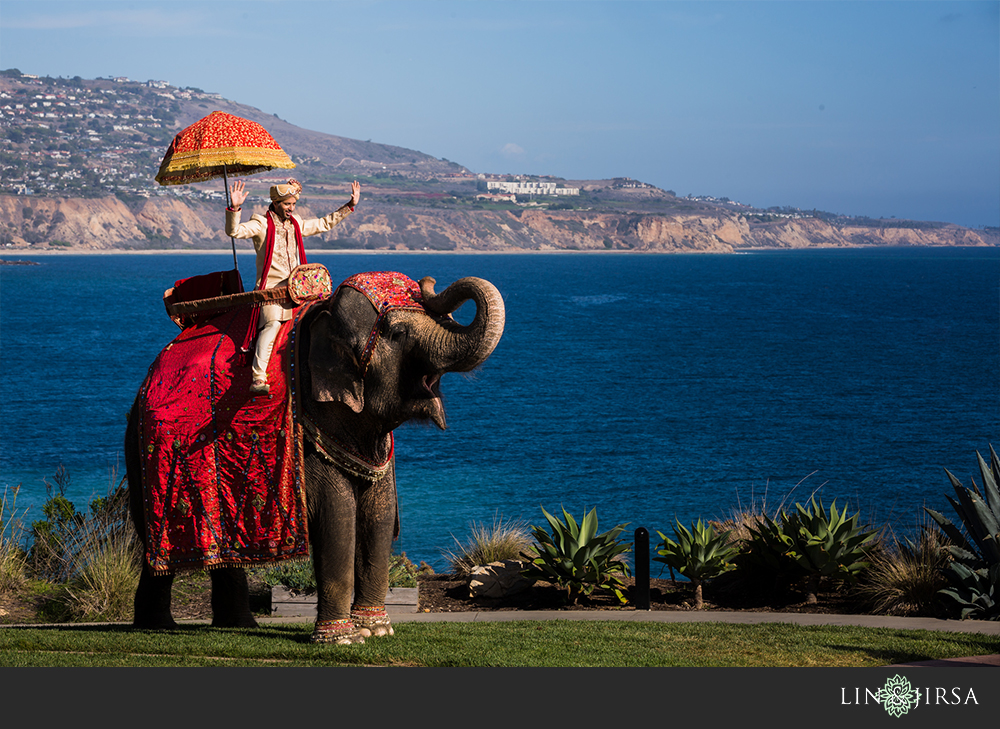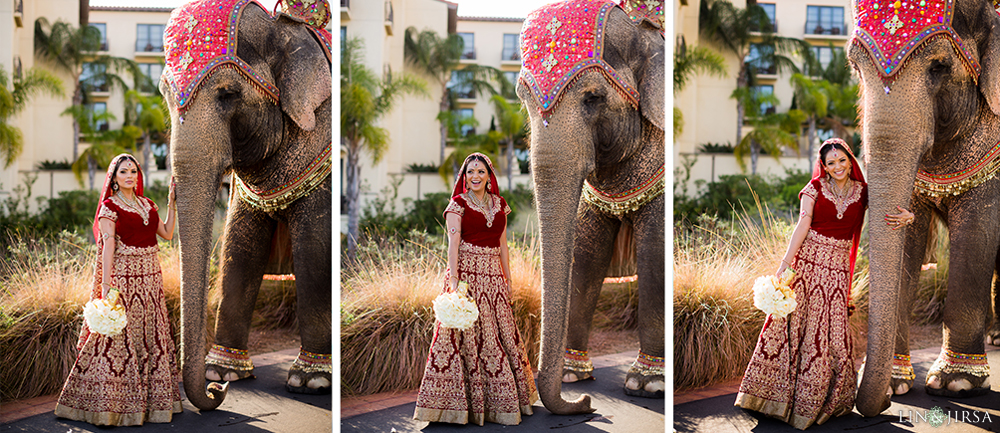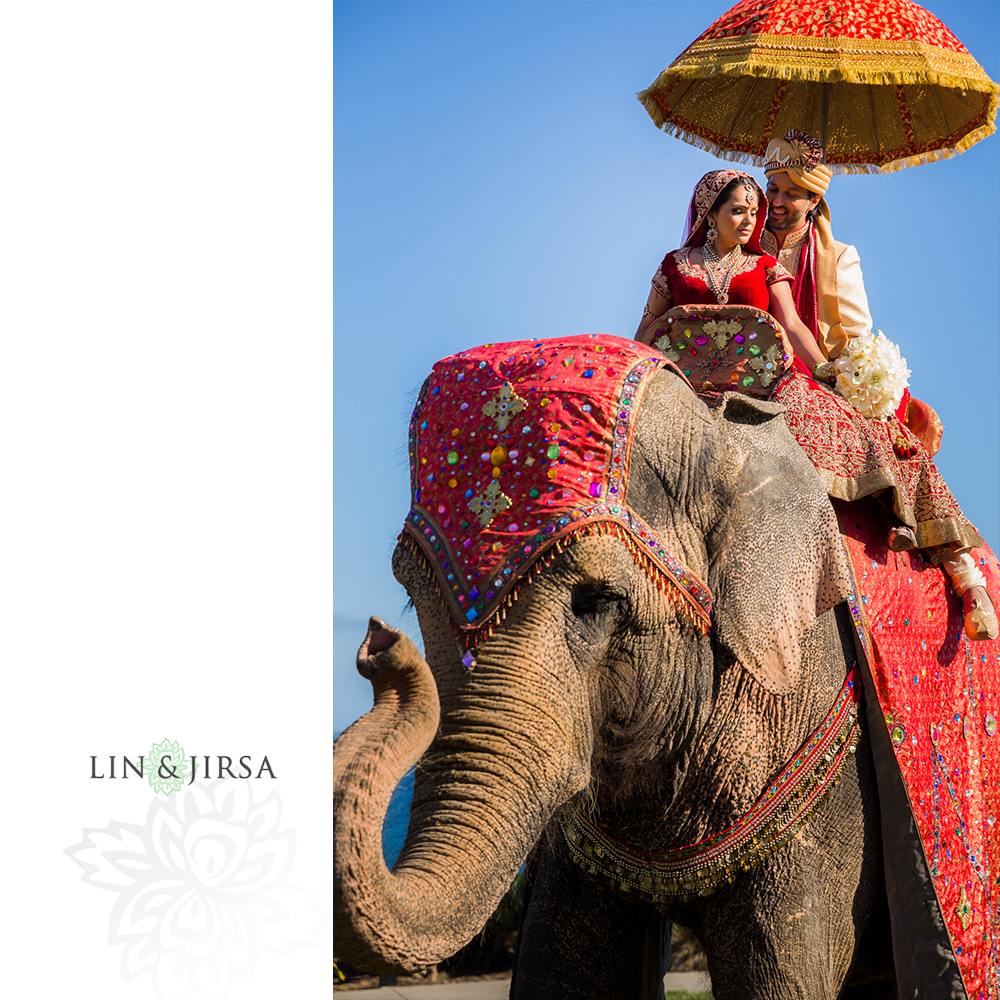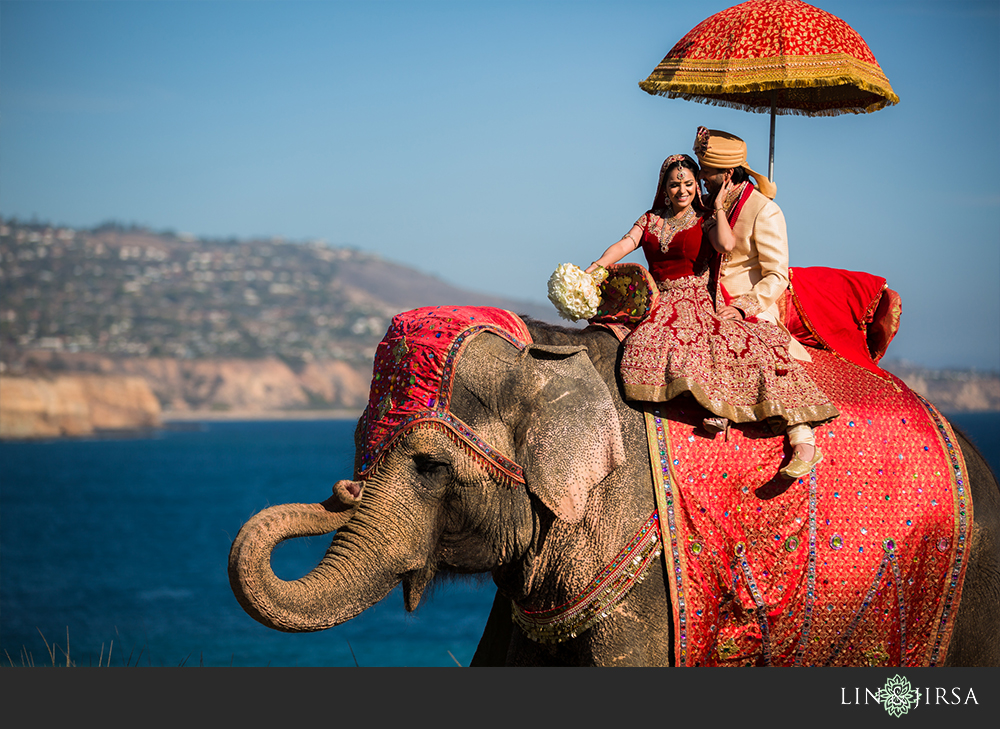 This next shot is by far one of the most epic photographs from the day! We placed a Profoto B1 light to the left of the camera in order to capture the couple and the gorgeous Terranea backdrop. In the middle left of the image, you can catch a glimpse of the ceremony & Mandap, which you will get a closer look at in the shots below.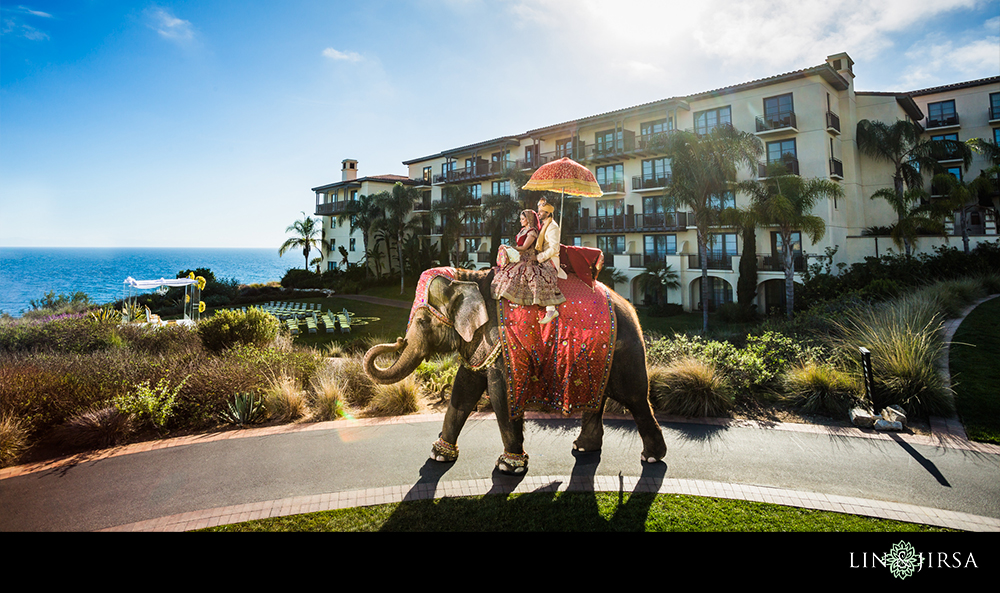 Wedding Ceremony
Saman from 2Create Designs is a true visionary. This simple and elegant white & yellow ceremony decor looked phenomenal with the Palos Verdes cliffs and gorgeous California blue skies. The rose patterned decal draws you in as it shifts your focus to the center of the aisle. A variety of yellow flowers were used to create statement pieces on the Mandap as well.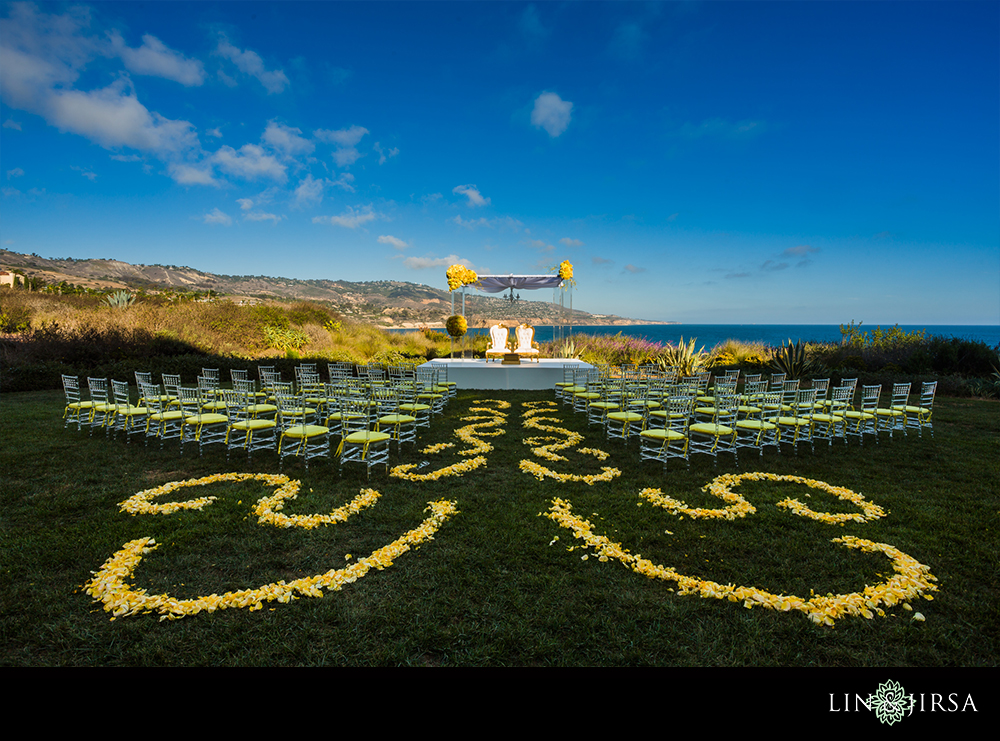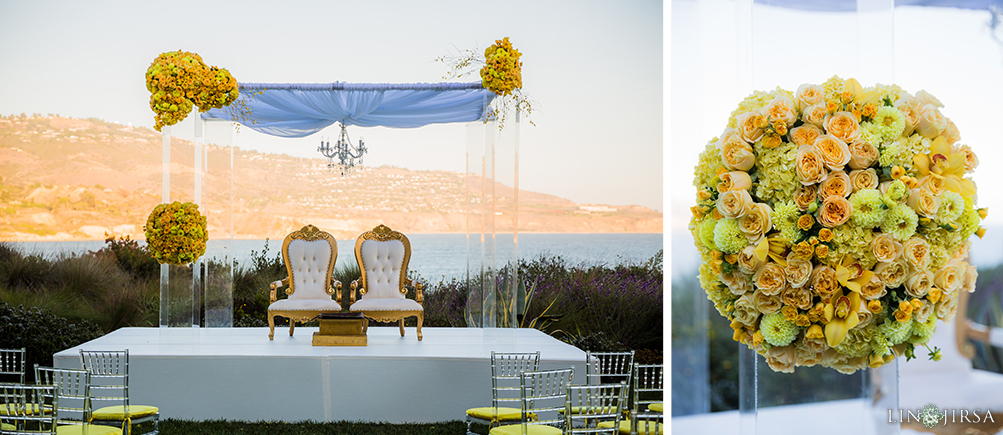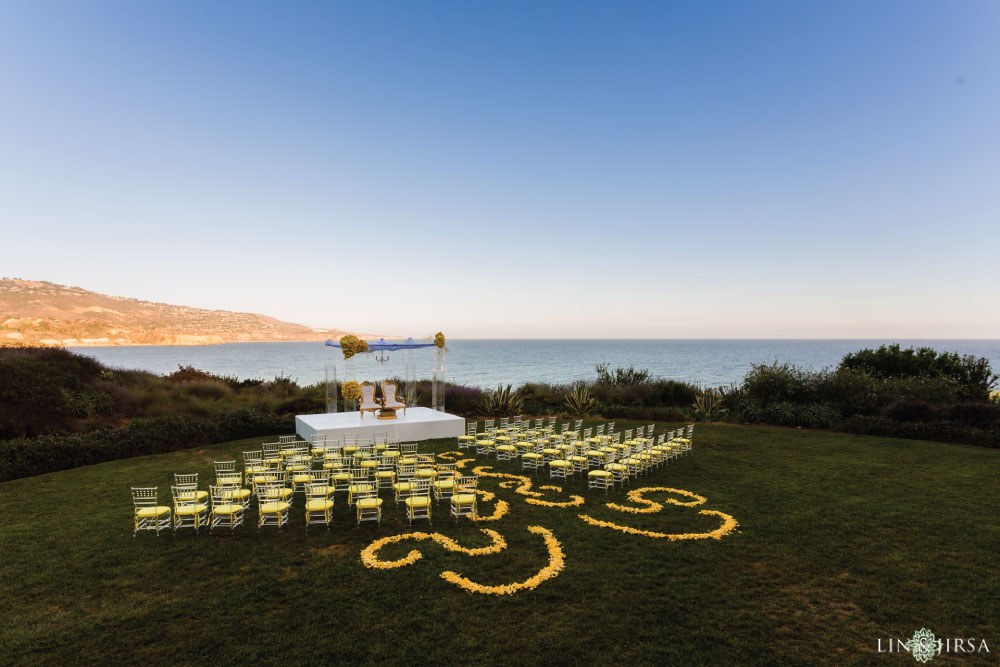 Wedding Couples Session
With golden hour upon us we took our couple to the cliffside of Terranea – with aged shrubs as a foreground element and rich golden skies in the background. Our bride's cream gown was the perfect tone for the beautiful blush toned sky once the sun had set. The filmic tone of these images sets the mood of romance as our couple watched the sun set over the ocean.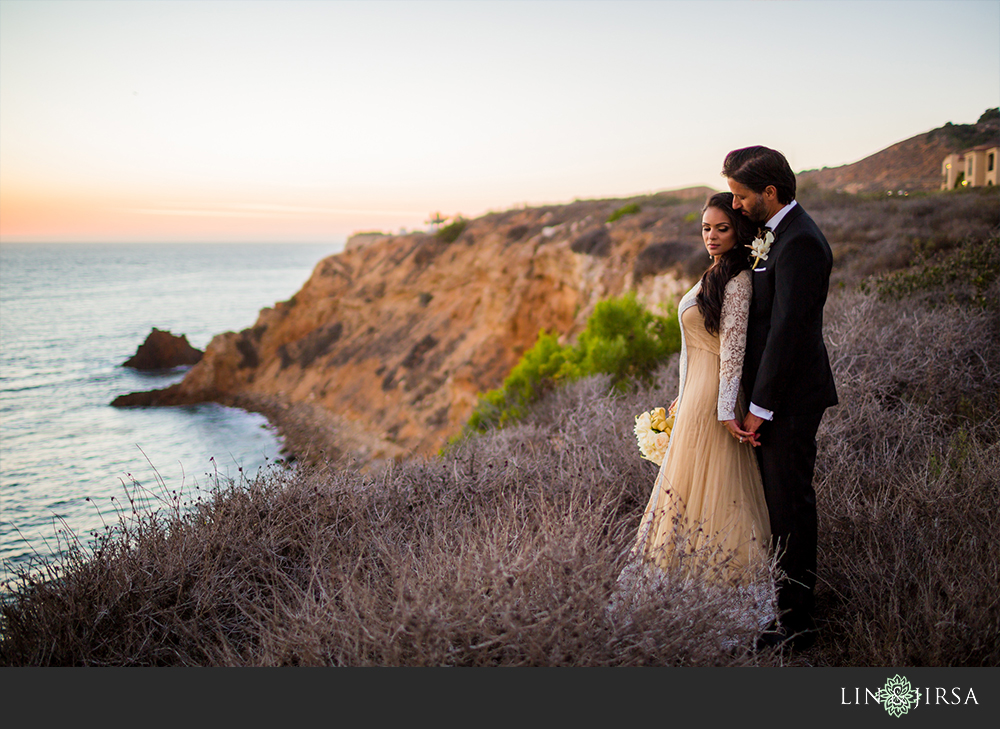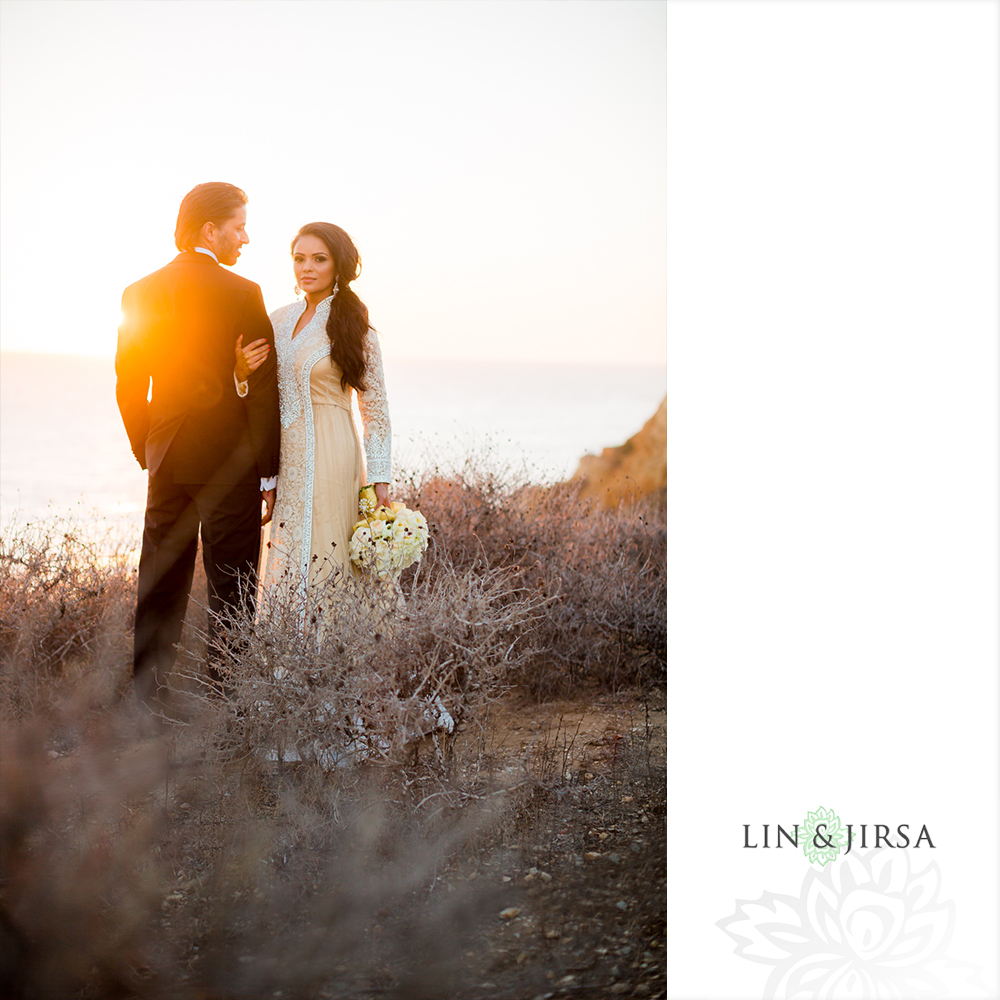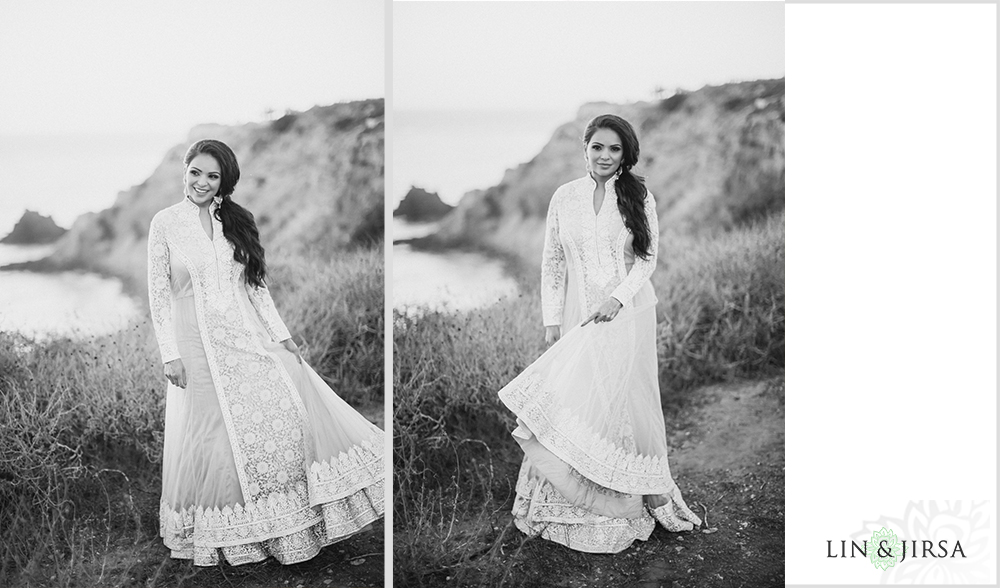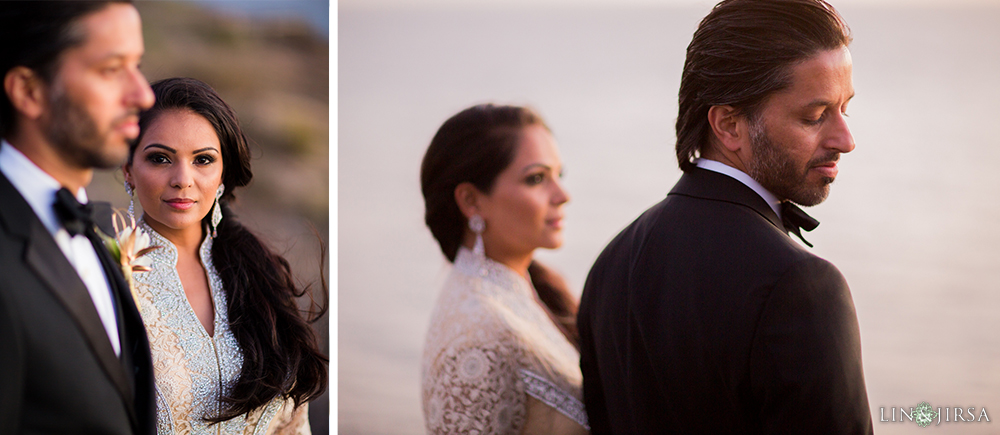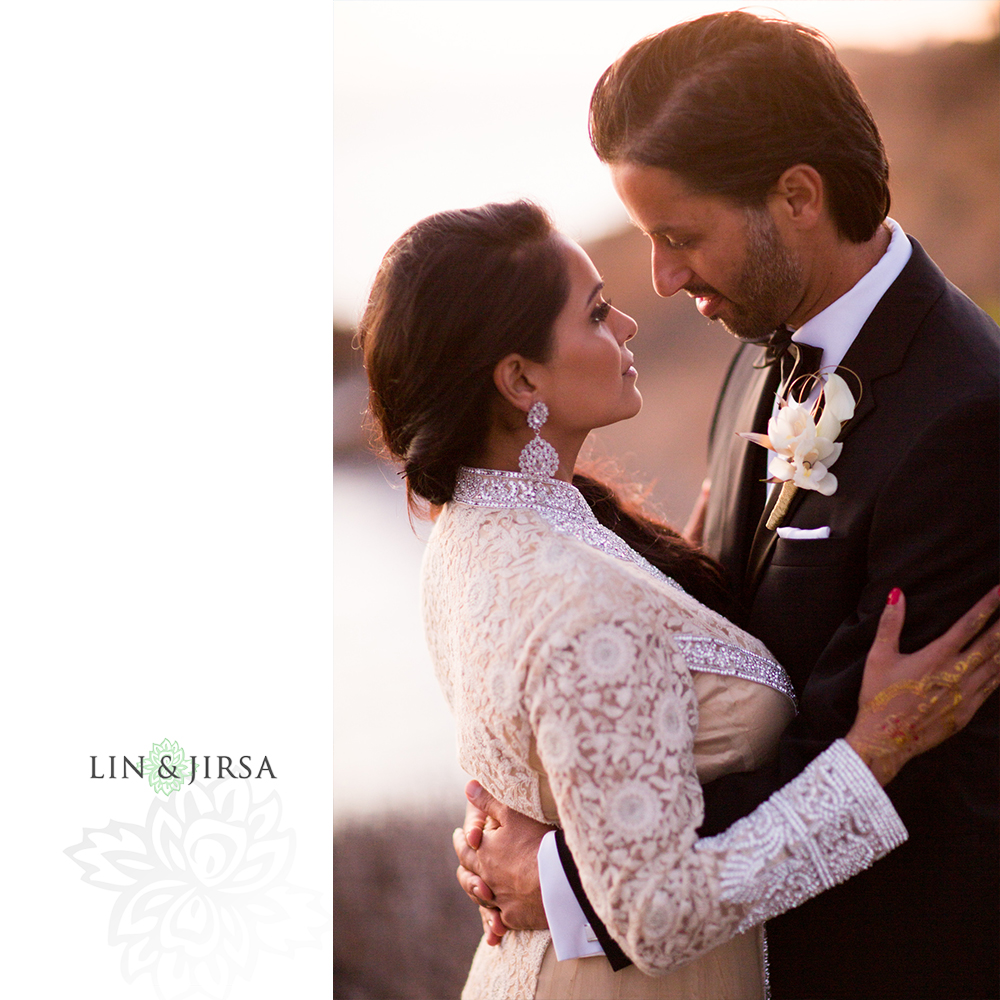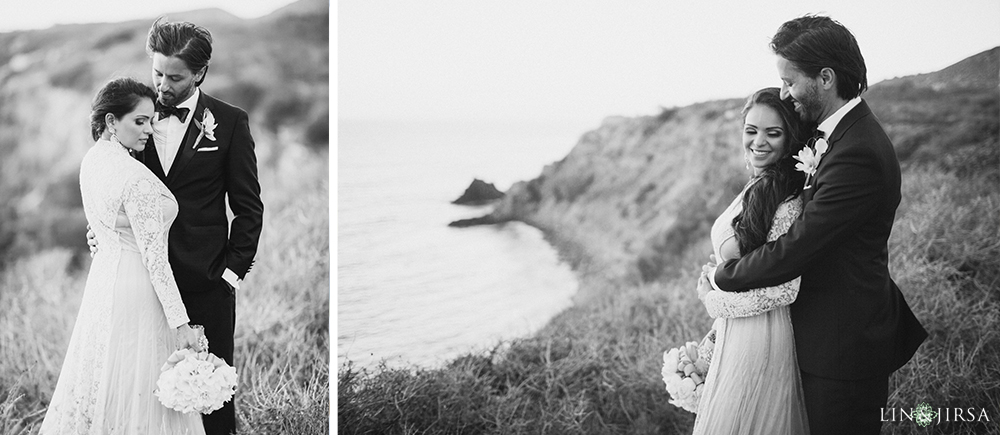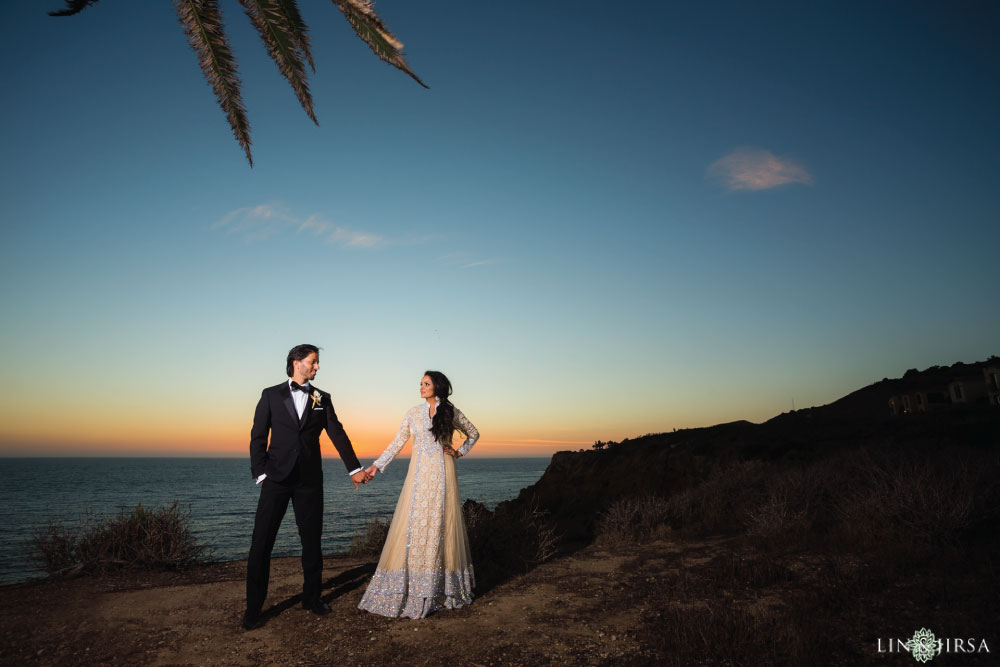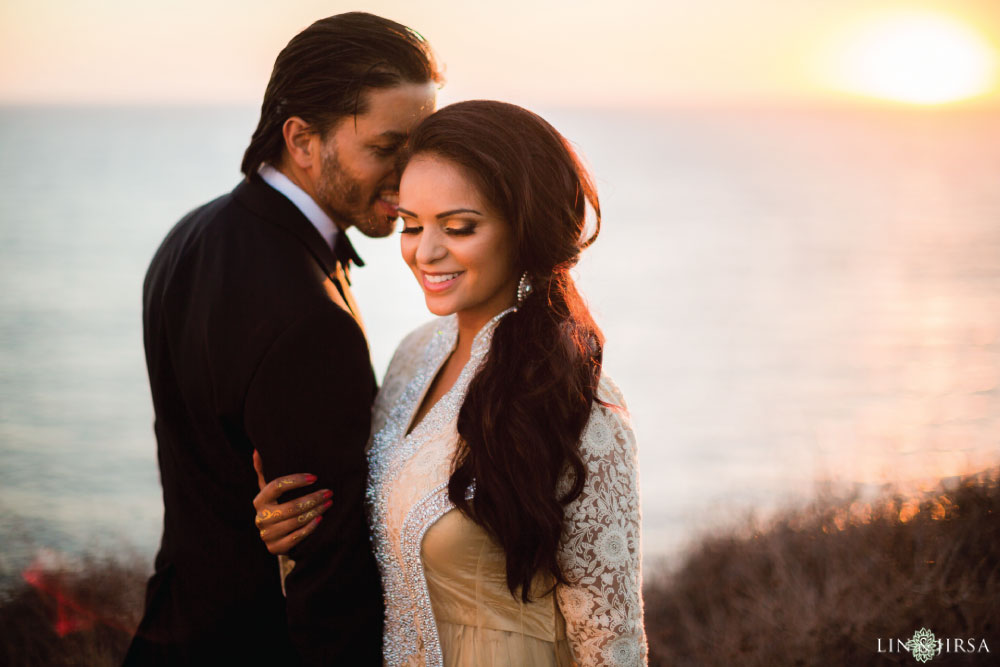 Wedding Reception
2Create Designs along with Special Occasions DJ worked together to create this magnificent masterpiece below. Rich corals & oranges with white and gold accents filled the Terranea reception hall. Special Ocassions always does an excellent job lighting up the room with their vibrant color range and design. This amber uplighting was one of many color choices offered as a backdrop for this scene.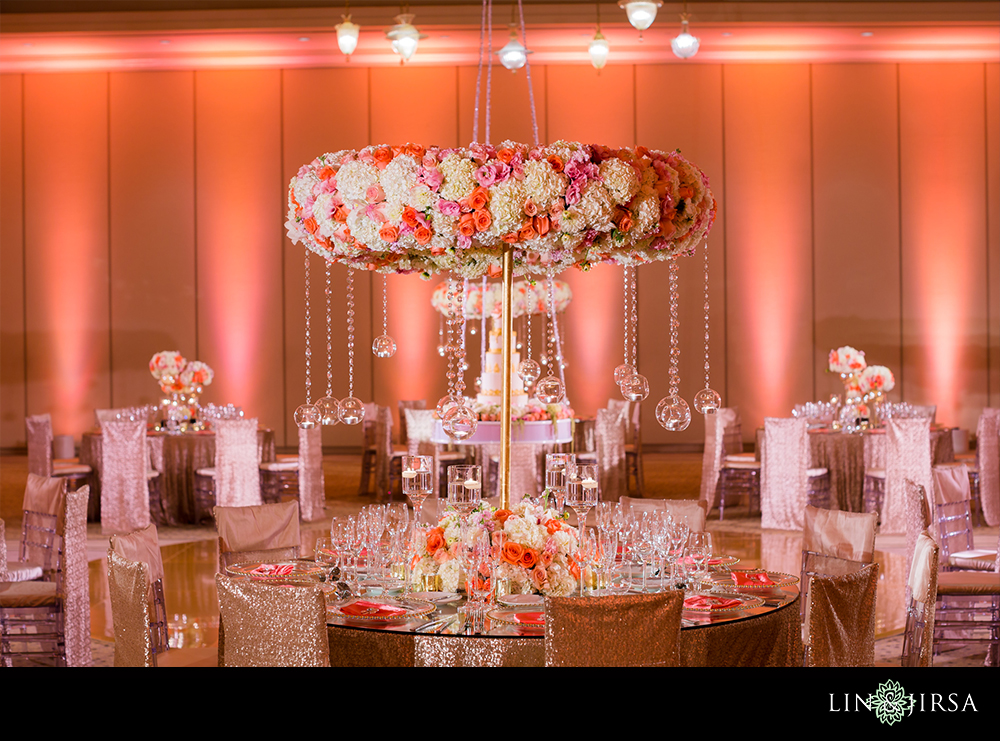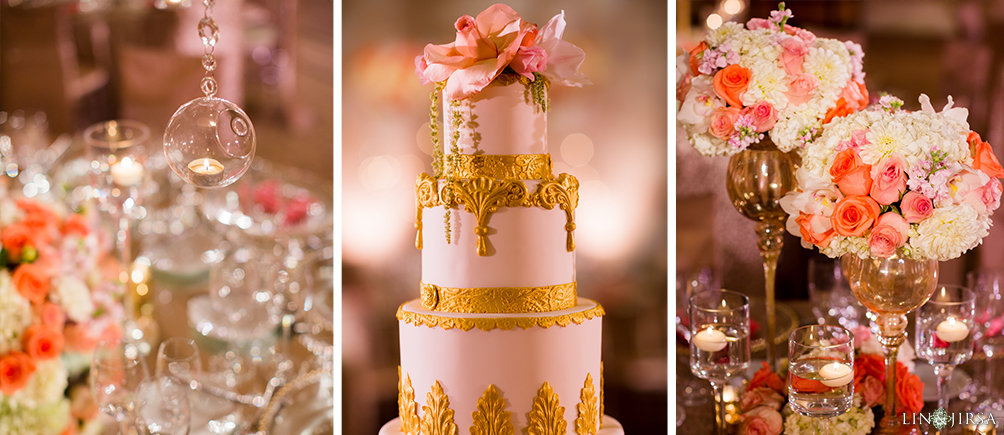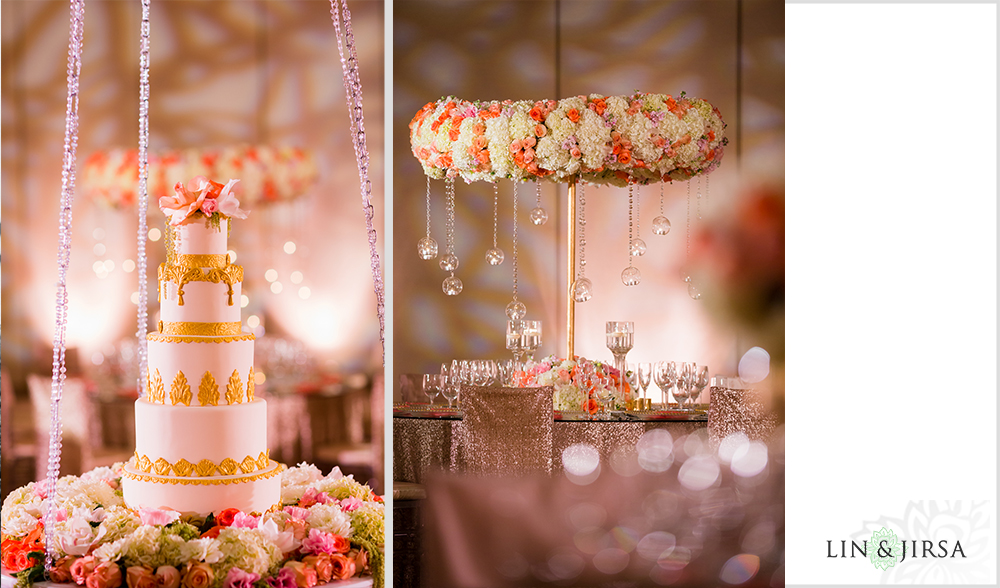 Vanilla Bake Shop created this masterpiece – it's not everyday that you see a cake on a swing! This magnificent structure, produced and decorated by 2Create designs, stood as the centerpiece of the reception hall attracting all the attention it deserved.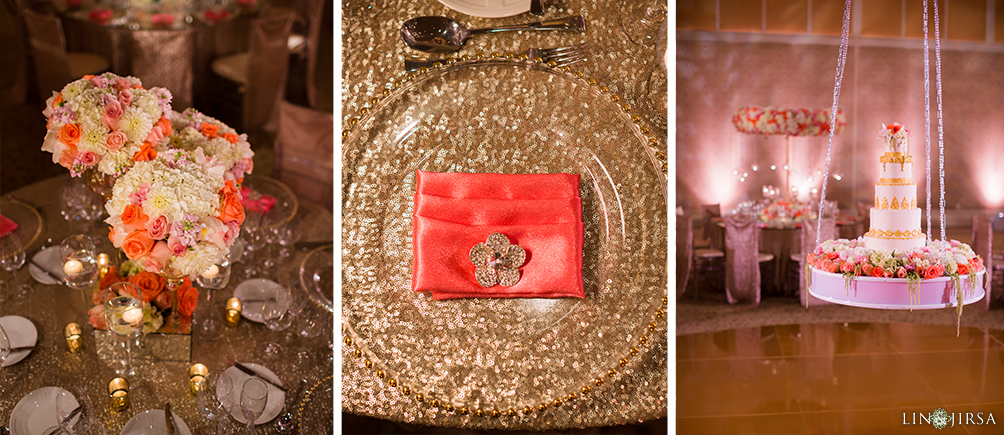 Natraj Cuisine did a remarkable job preparing the meals for the evening. With lentil crusted paneer and a beautiful array of meat & seafood options, it was hard to resist to eat these items instead of photographing them!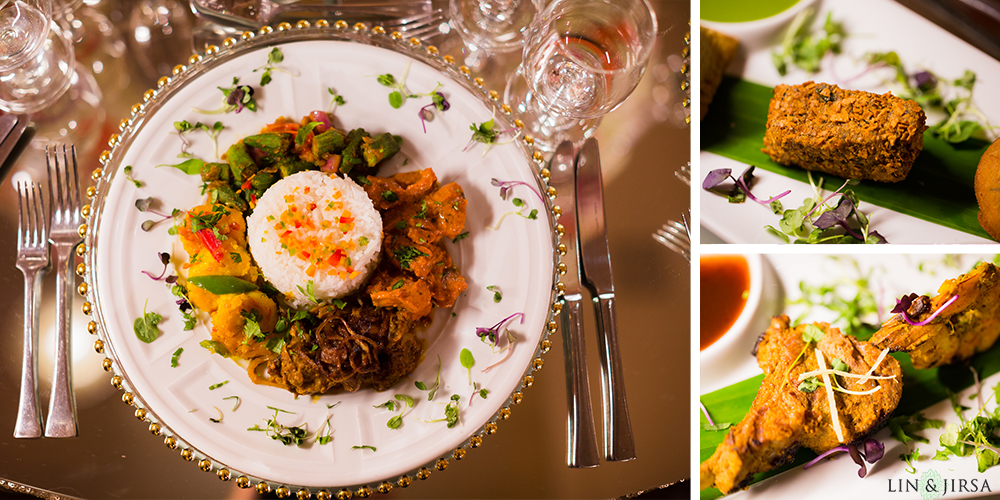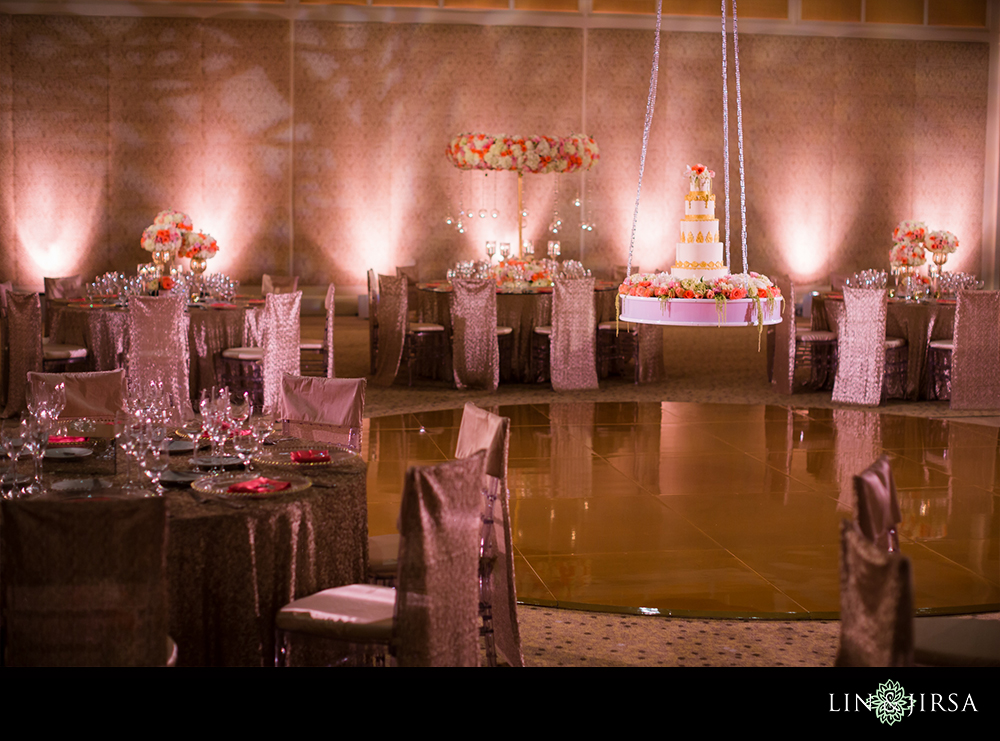 More Wedding Info:
Wedding Photography Location or Venue: Terranea Resort, Website: https://www.linandjirsa.com/la/terranea-resort-wedding/
Wedding Coordinator: Mili Planning Elegance, Website: https://www.linandjirsa.com/planning-elegance/
Hair/Make-Up Artist: Design Visage, Website: https://www.linandjirsa.com/design-visage-makeup-hair/
Wedding Outfit: Frontier Heritage, Website: http://frontierheritage.com/, Contact: [email protected]
Henna Artist: Henna Dil Se, Website: http://hennadilse.com/, Contact: [email protected]
Wedding DJ/Lighting: Special Ocassions DJ, Website: http://www.specialoccasionsla.com/, Contact: [email protected]
Wedding Florist/Decor: 2Create Designs, Website: http://2createdesigns.com/, Contact: [email protected]
Elephant: Have Trunk Will Travel, Website: http://www.havetrunkwilltravel.com/, Contact: [email protected]
Wedding Catering: Natraj USA, Website: http://www.natrajusa.com/, Contact: [email protected]
Wedding Cake: Vanilla Bake Shop, Website: https://www.vanillabakeshop.com/, Contact: [email protected]
For more info on Lin and Jirsa Photography, please contact us via our Contact Page. We'd love to set up an appointment for you to come by and see our albums, meet the team, and find out more about our other services, including wedding videography and photobooth!
To learn about our Posing, Lighting, and other shooting theories, please see our Engagement Photography Tutorials.