Downtown Los Angeles Engagement | Kai & Ryan
January 6, 2016
We're so excited to show you our latest engagement session featuring Kai & Ryan taken in stunning Downtown Los Angeles.
This shoot would not have been possible without the talented skills & efforts of Malyssa Lyles & Branwyne Smith, our shoot stylist and makeup & hair artist for the day! Their coordination and attention to detail provided us with an amazing end result – if only we had you both on every engagement session!
This is the second half of an all day shoot we produced together with Creative Live for Pye's Incredible Engagement Photography online class airing January 11th & 12th! If you're interested in learning more about creating unique engagement photographs, be sure to register here.
Check out teasers from the first part of the day here! Kai & Ryan helped us demonstrate the flexibility a photographer should have when it comes to varying lighting situations. We started photographing our couple right before the sun had set over Downtown LA and ended our session with a night blue sky.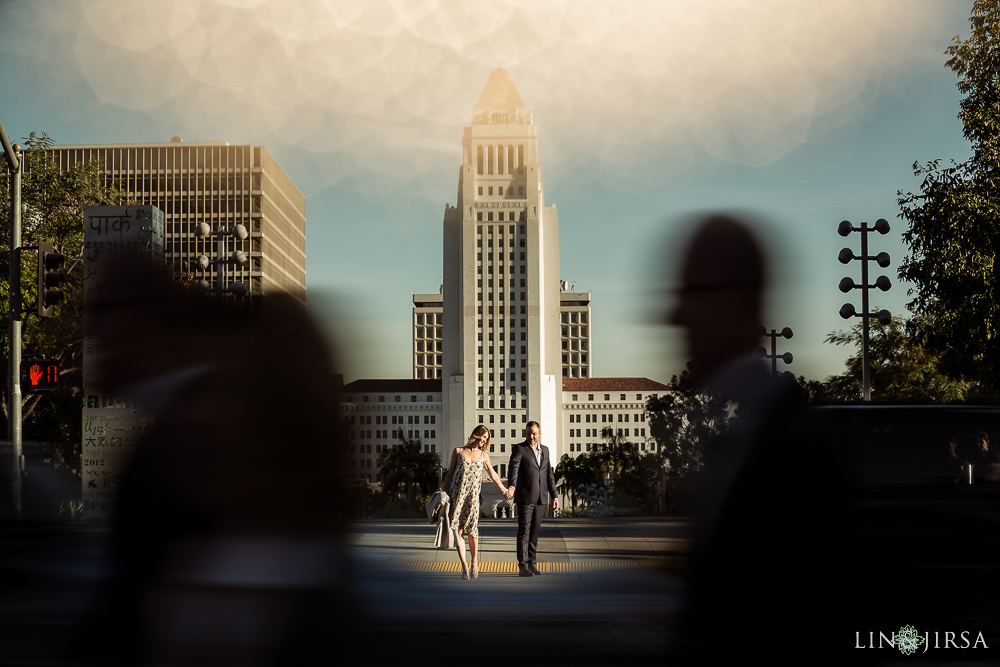 We kicked off Kai & Ryan's session with a bang! The hustle & bustle of Downtown LA made for a perfect moment to attempt a shutter drag shot. By creating motion blur and freezing our couple in time, you are not only composing a unique story but creating unique composition & using the elements that surround you to create art. Pye spritzed a little bit of filtered water onto his lens to create this awesome bokeh effect you see the top of the image.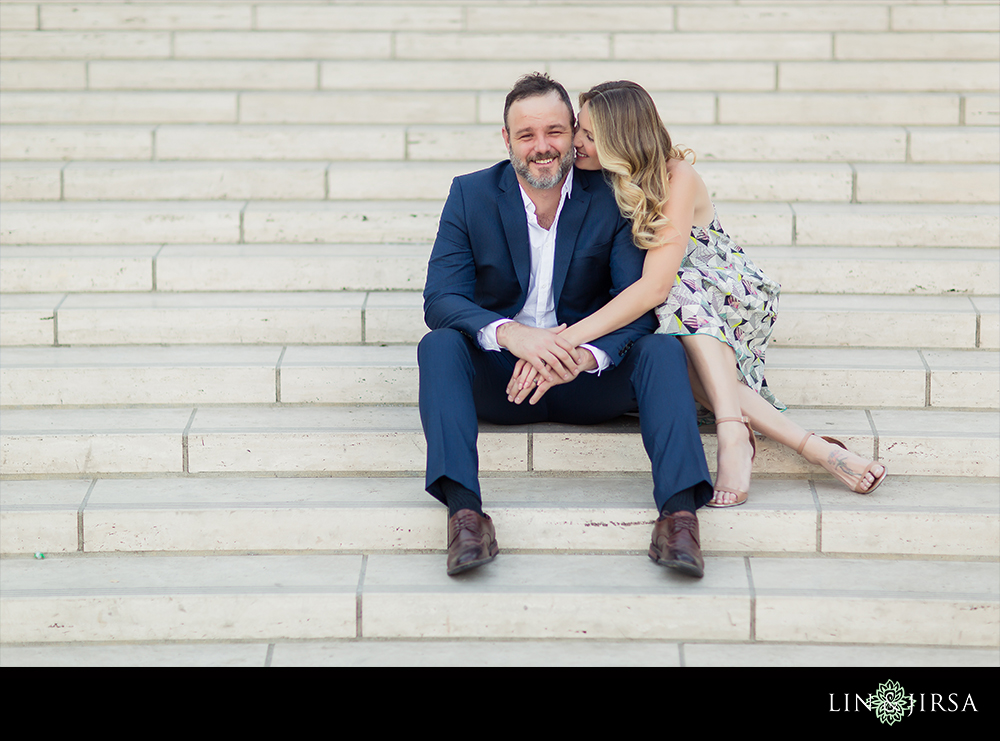 Sometimes a simple background, such as these stairs, can let the story speaks in ways that would be otherwise impossible. You can see the difference between blurring out the background and utilizing the pattern – each providing a different point of view.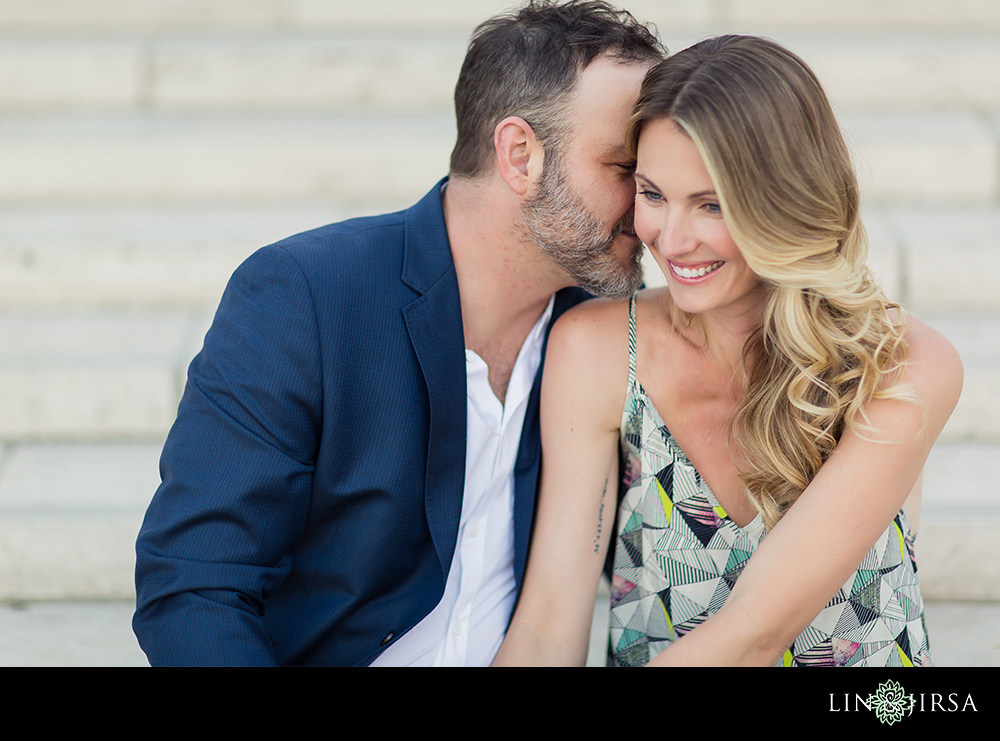 Walt Disney Concert Hall is known for its abstract architectural build, composed of curved metal edges and smooth lines. Using this edge and shooting from this angle allows us to follow the curve of the building and draws us directly into the couple.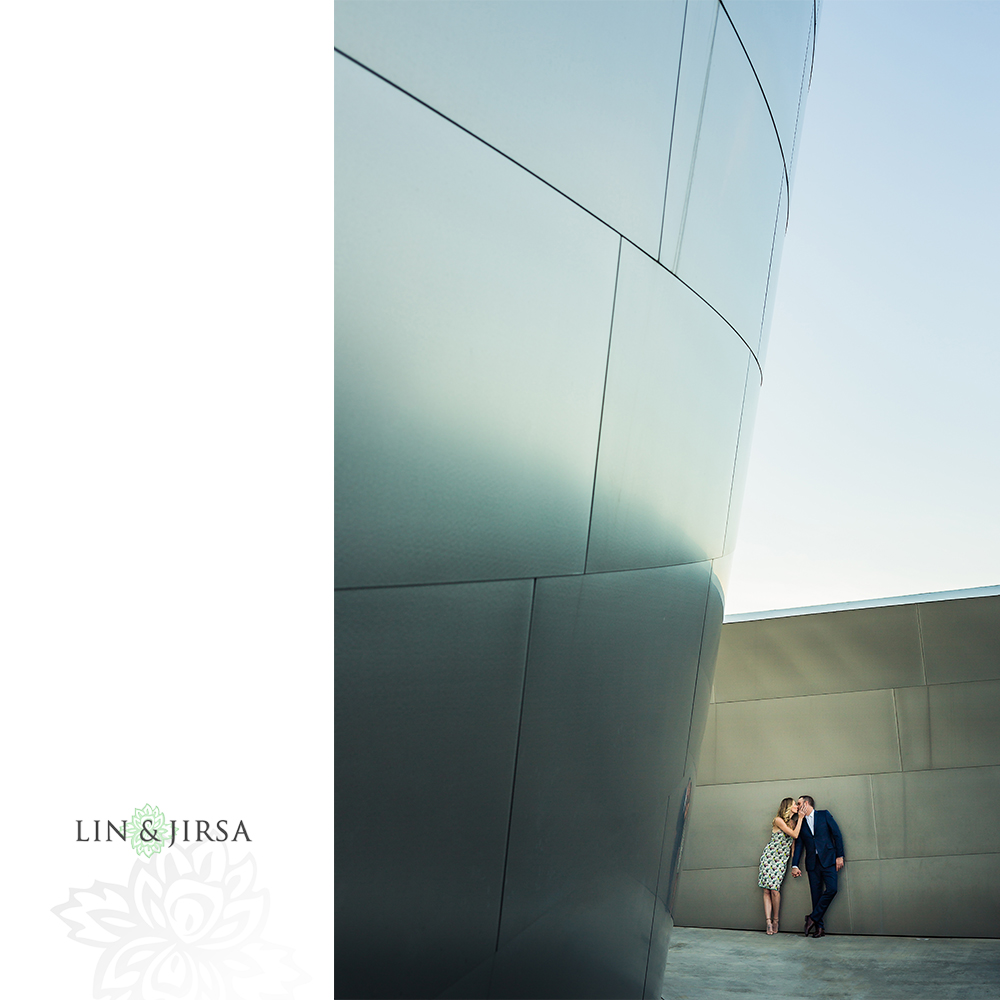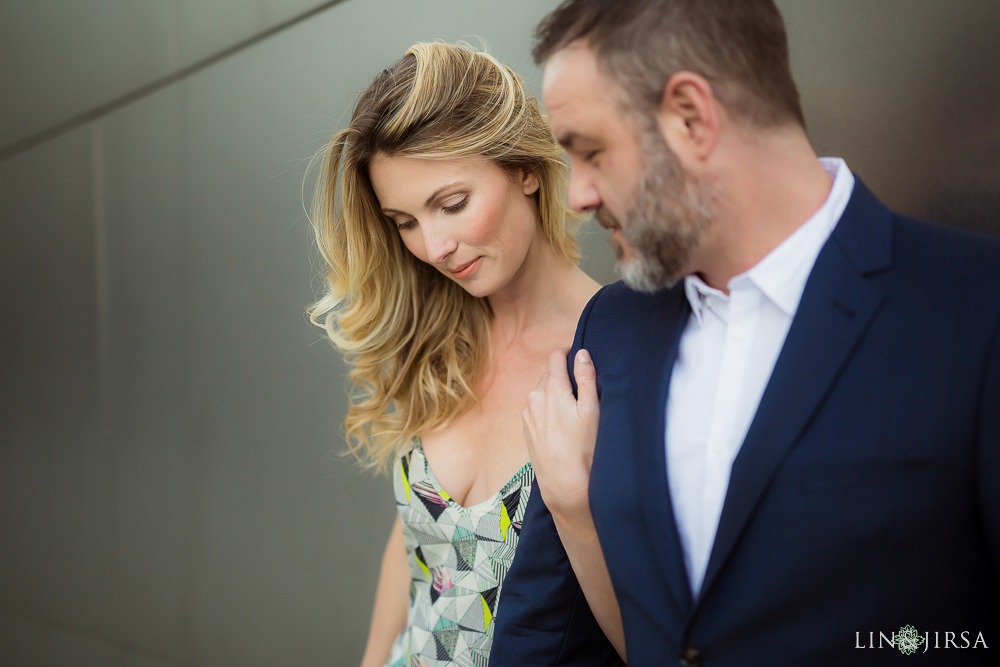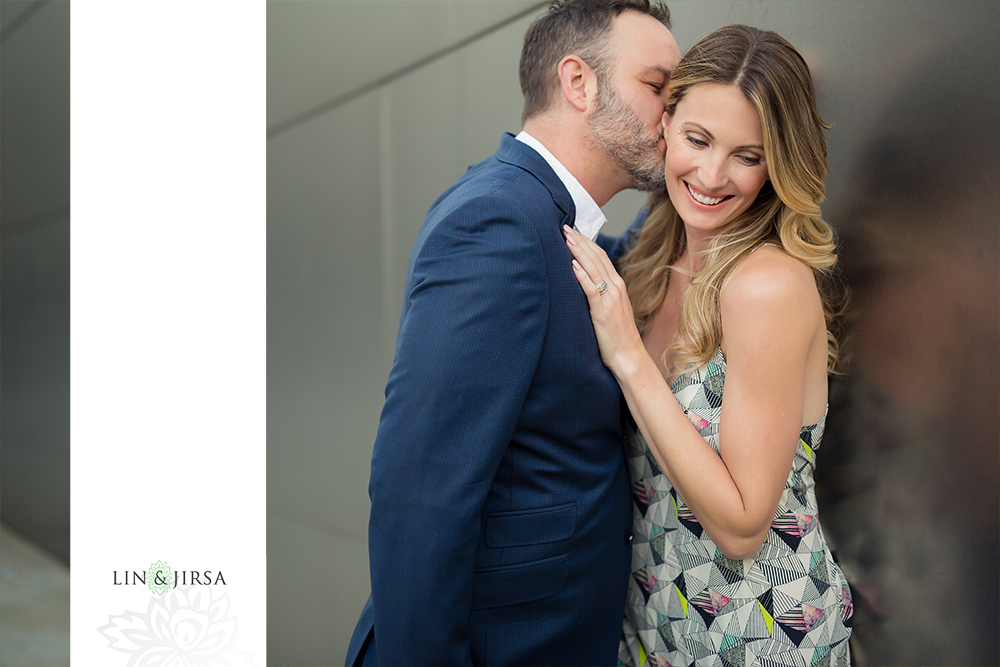 Breaking up the session by allowing the couple to goof around and let loose is essential in creating a comfortable experience for the clients. Kai & Ryan manage to make even goofy faces look editorial! Amidst all the hand holding, kissing on the forehead, and intimacy – these funny moments are much needed relief.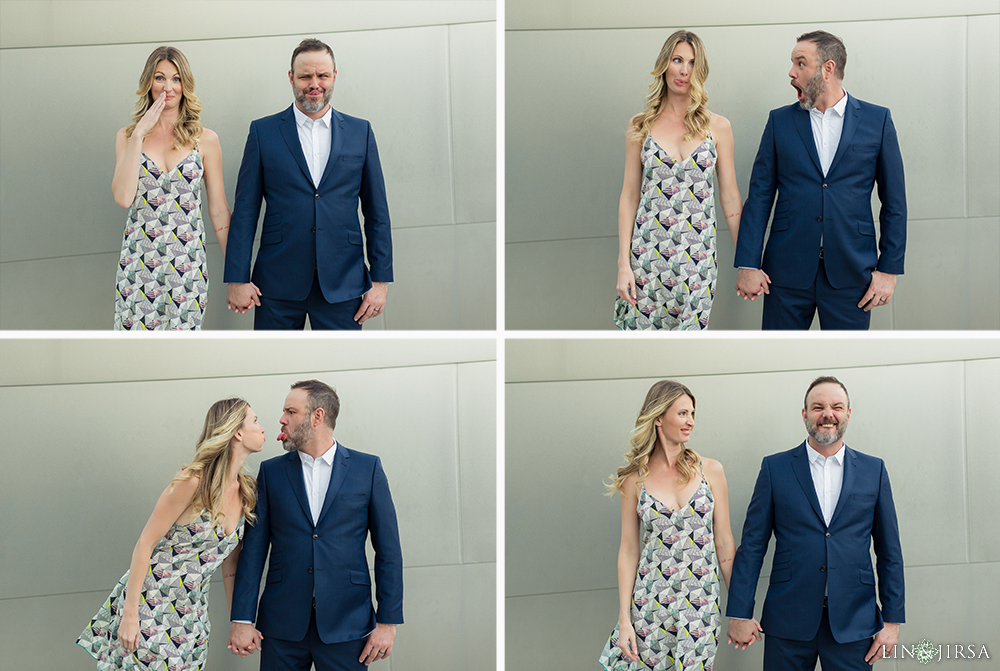 The Broad Museum of Contemporary Art has recently opened its doors in Downtown LA right beside the Walt Disney Concert Hall. Two magnificent structures complimenting each others' grand architecture. When we saw this textured pattern we knew it would make for a stunning backdrop for our couple. Here we play with temperature colors, keeping our couple in the warm light as to contrast with the bright blue behind them.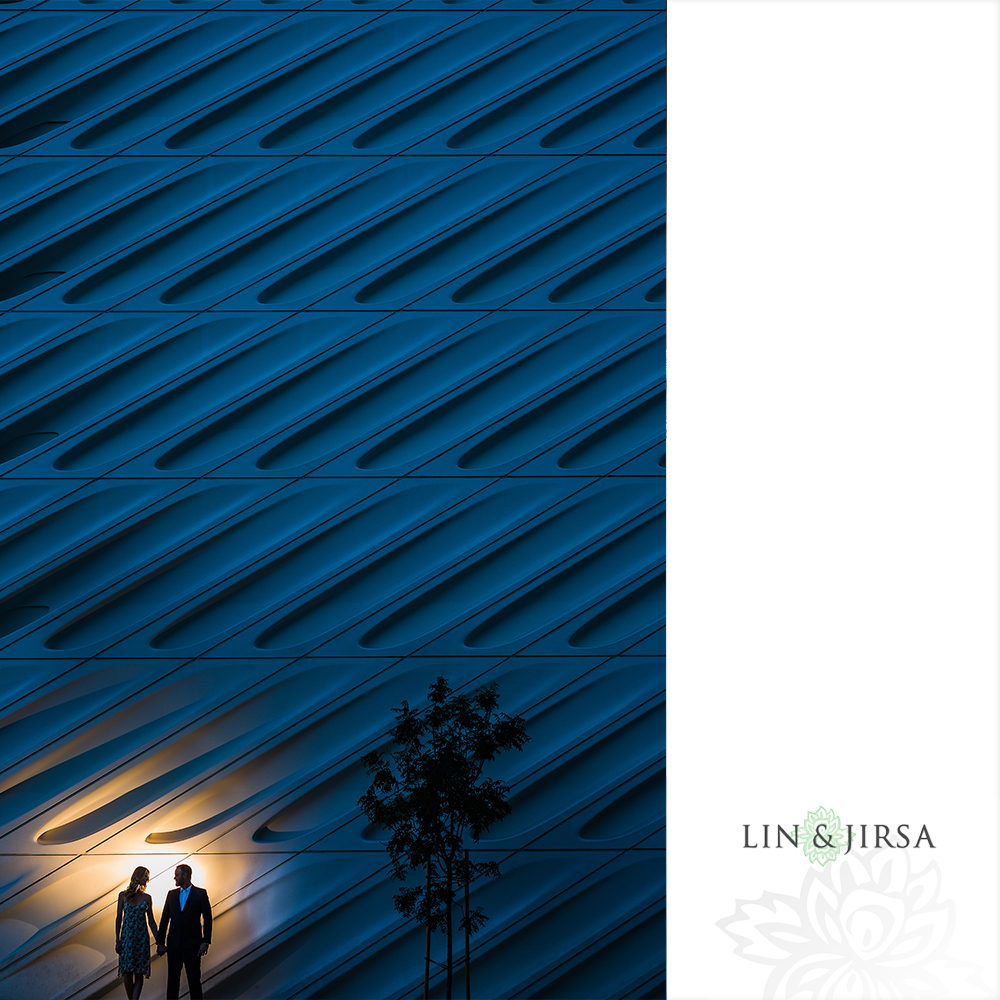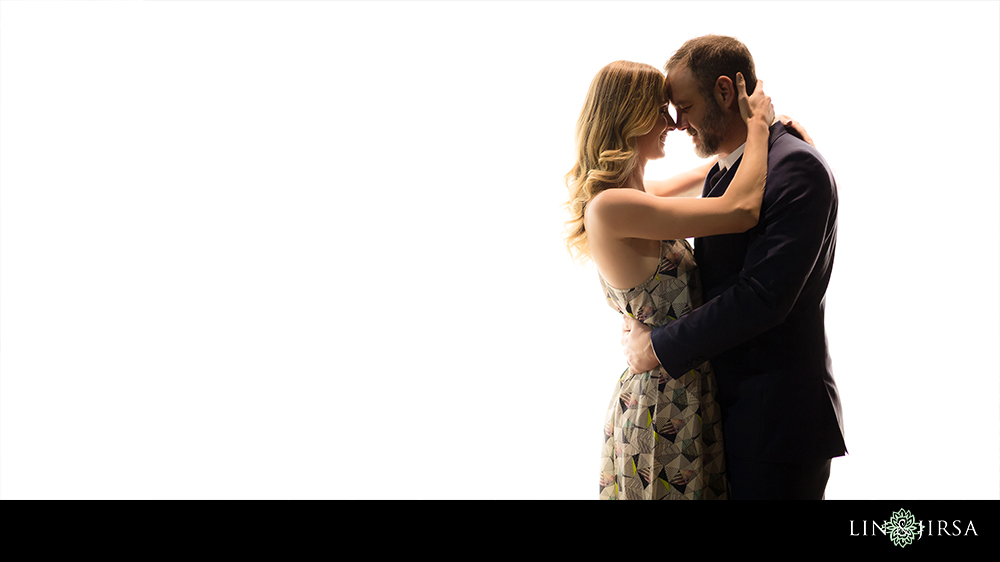 After the sun had set we knew the fun was about to begin – the time to play with light had finally arrived. We attempted a new angle of a very familiar scene – this street, just below Grand Ave. By slowing down our shutter, we were able to capture all the ambient light available to us in our sky & all of the added street lights. We placed a gelled flash behind our couple to better outline their silhouette and the result was this spectacular image! Patience is really the key here – waiting for the right amount of traffic to build around you to get these colorful streaks of light makes all the difference.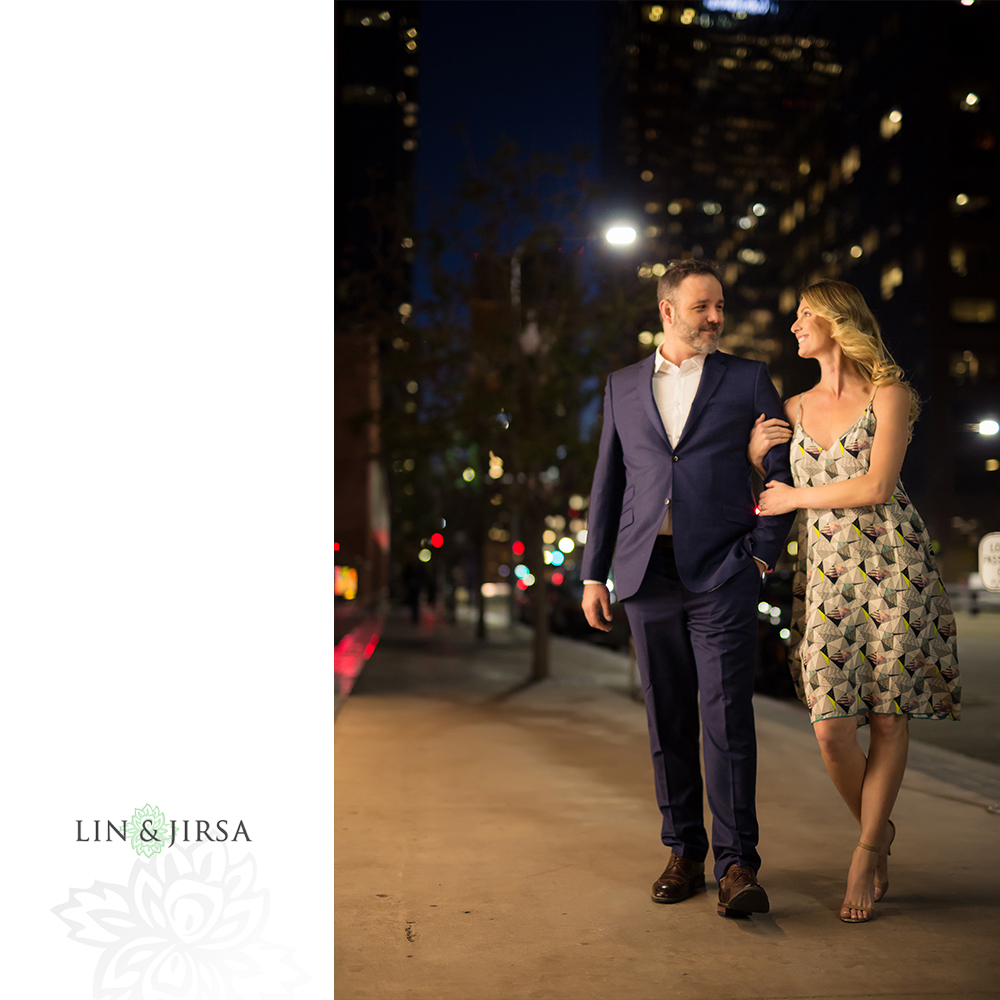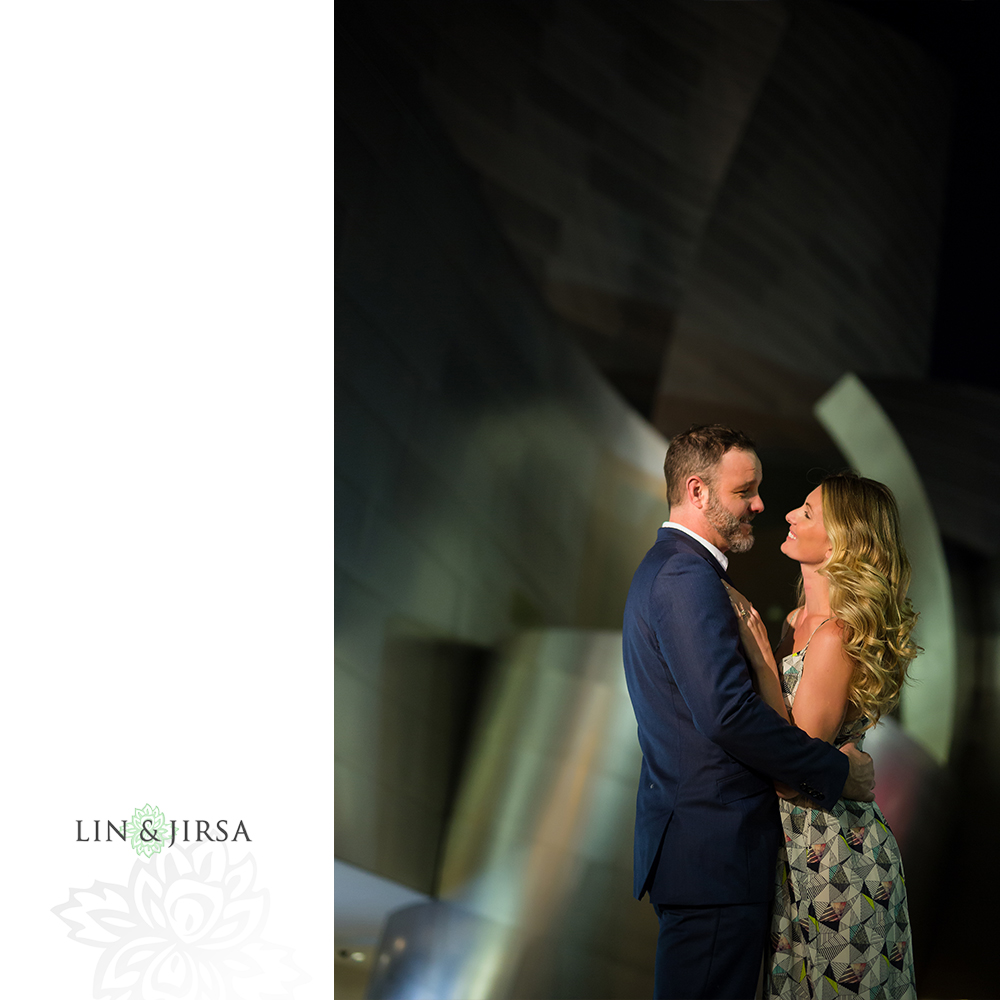 The frame is such a wonderful story-telling tool – allowing the artist to choose what to show and what to hide. We started in tight & close capturing this intimate warm embrace between Kai & Ryan.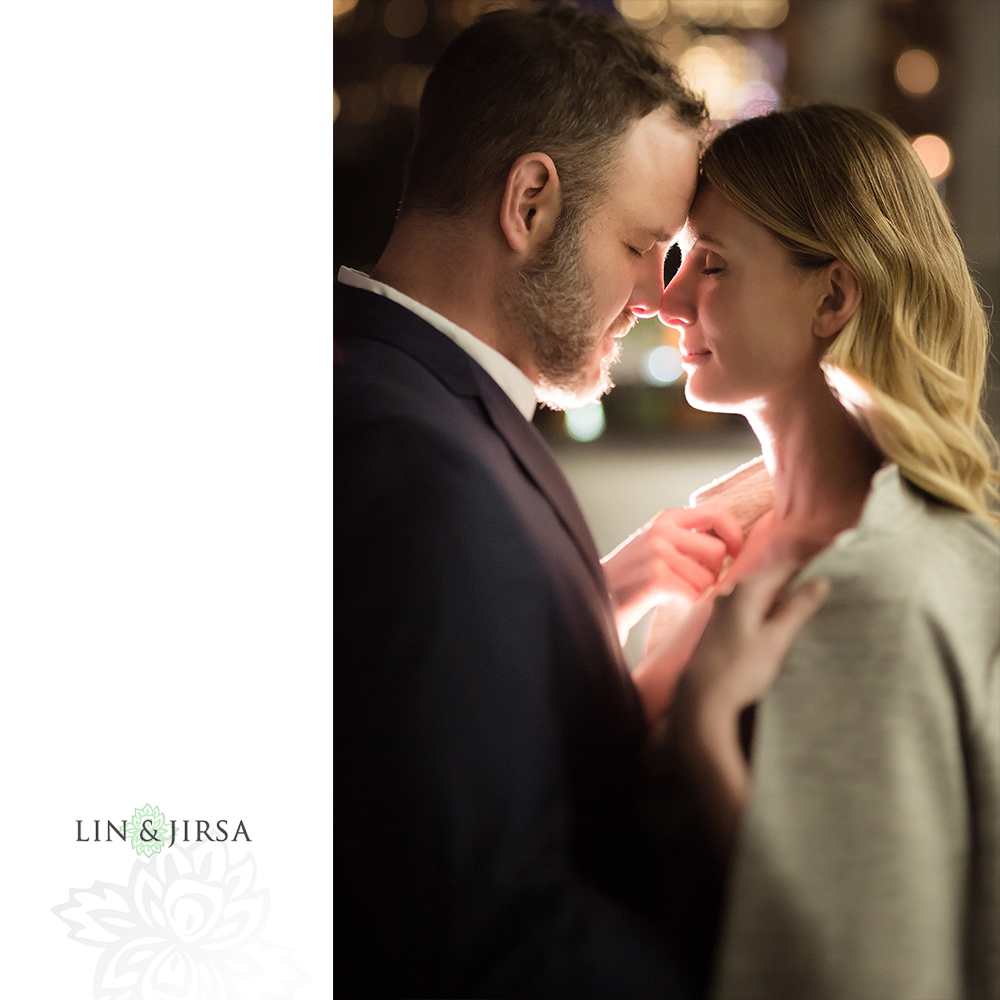 Moving out a little wider with our frame we see more of their bodies and her coat, telling a similar but varied story.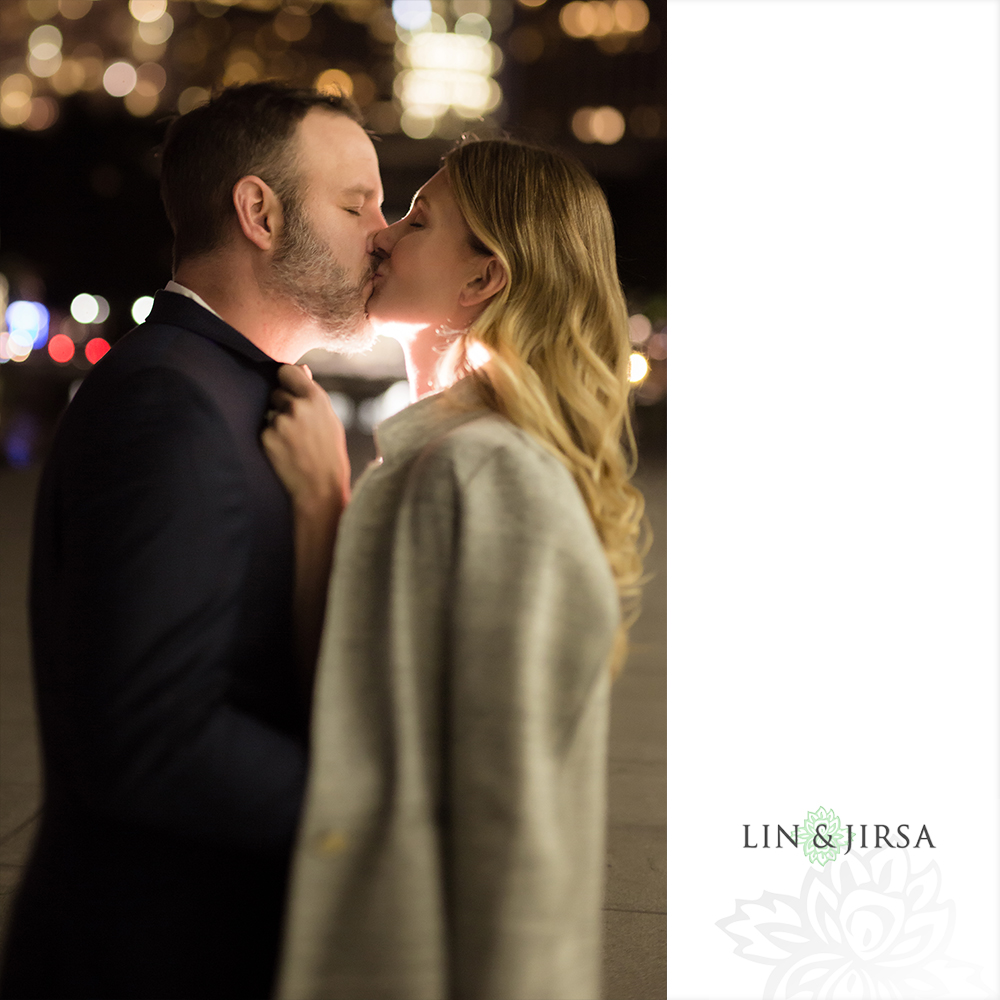 Using a tilt-shift lens, Pye focuses on keeping all eyes on our gorgeous couple. The bokeh background of city lights can be distracting at times and by blurring both the top and bottom portions of the images, the focus is drawn into the couples' sweet kiss.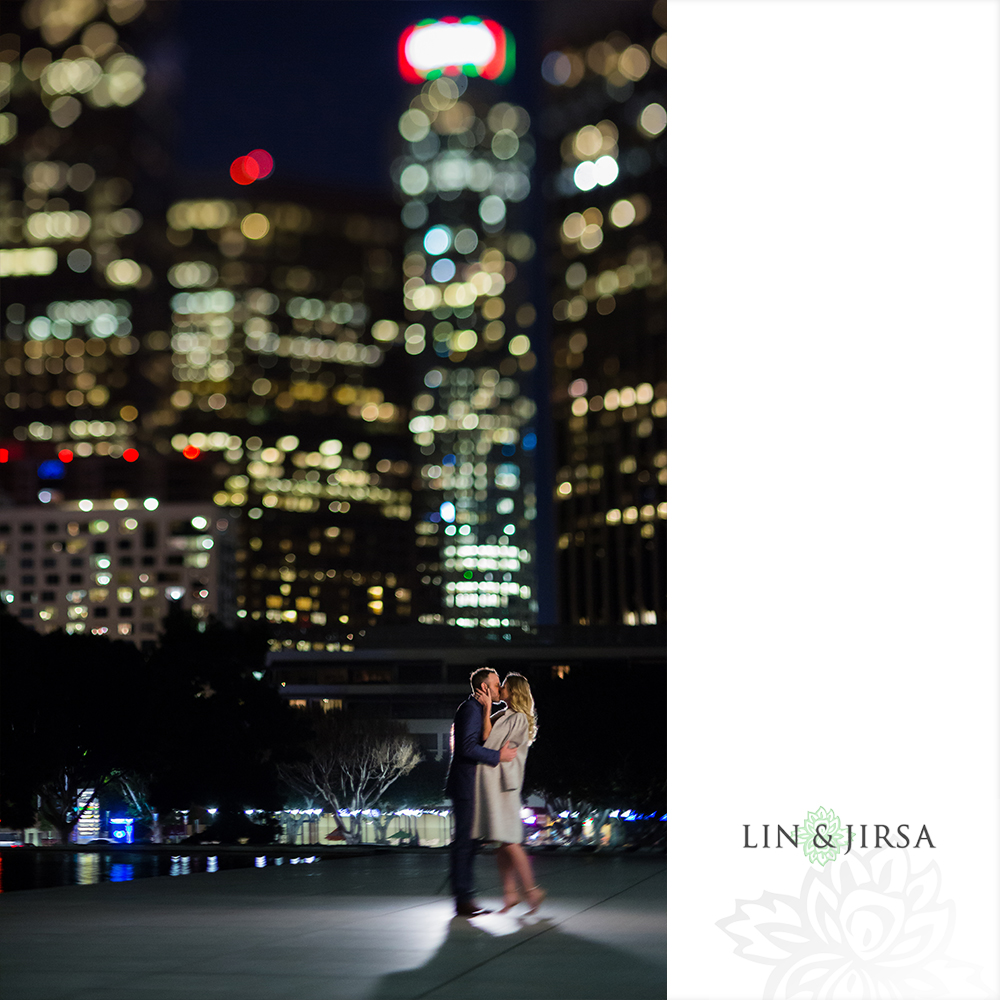 This next technique can be seen in one of SLR Lounge's tutorial videos here. Utilizing the many city lights we have in our background, Pye gives them purpose by whipping his camera on his tripod to create this extraordinary image!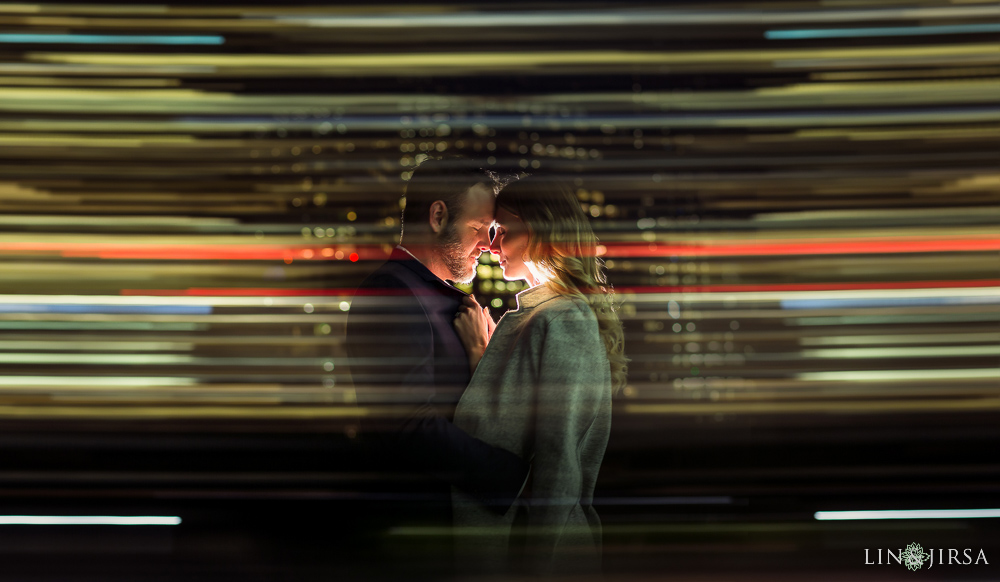 Conducting an engagement photography shoot requires a delicate mix of technical and interpersonal skills – but not an abundance of expensive, demanding equipment. Learn how Pye is able to juggle both technical and creative expectations by adapting to a variety of lighting situations and gaining a sense of the importance of storytelling and of developing a disarming interaction style for putting couples at ease during a shoot.
Engagement Photography Location: Downtown Los Angeles, CA
For more info on Lin and Jirsa Photography, please contact us via our Contact Page. We'd love to set up an appointment for you to come by and see our albums and meet the team!
Also, be sure to follow us on our Google Plus Page for updates and the latest with LJP!
For more info on our Engagement Photography Posing, Lighting, and methodology, please see our Engagement Photography Tutorials.
src="https://www.linandjirsablog.com/wp-content/uploads/new/2015/06/General-LJP-Workshop.jpg" alt="" />